Habersham County, Georgia
From Academic Kids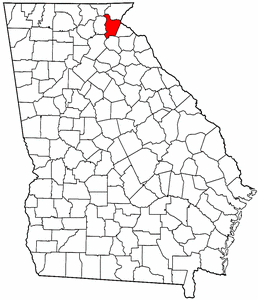 Habersham County is a county located in the state of Georgia. As of 2000, the population is 35,902. Clarkesville is the county seat.
It is named for Joseph Habersham, soldier and delegate to the first Continental Congress in 1776, who later served as Postmaster General (1795-1801).
Geography
According to the U.S. Census Bureau, the county has a total area of 723 km² (279 mi²). 720 km² (278 mi²) of it is land and 3 km² (1 mi²) of it is water. The total area is 0.37% water.
The Chattahoochee River rises in Habersham county, as immortalized in Sidney Lanier's poem, "Song of the Chattahoochee":
OUT of the hills of Habersham,
Down the valleys of Hall,
I hurry amain to reach the plain,
Run the rapid and leap the fall,
Split at the rock and together again,
See also Hall County, Georgia.
Demographics
As of the census2 of 2000, there are 35,902 people, 13,259 households, and 9,851 families residing in the county. The population density is 50/km² (129/mi²). There are 14,634 housing units at an average density of 20/km² (53/mi²). The racial makeup of the county is 88.88% White, 4.48% Black or African American, 0.29% Native American, 1.89% Asian, 0.10% Pacific Islander, 2.99% from other races, and 1.36% from two or more races. 7.66% of the population are Hispanic or Latino of any race.
There are 13,259 households out of which 32.00% have children under the age of 18 living with them, 60.90% are married couples living together, 9.30% have a female householder with no husband present, and 25.70% are non-families. 22.40% of all households are made up of individuals and 9.60% have someone living alone who is 65 years of age or older. The average household size is 2.57 and the average family size is 2.98.
In the county the population is spread out with 23.50% under the age of 18, 11.10% from 18 to 24, 28.50% from 25 to 44, 23.10% from 45 to 64, and 13.80% who are 65 years of age or older. The median age is 36 years. For every 100 females there are 105.50 males. For every 100 females age 18 and over, there are 103.00 males.
The median income for a household in the county is $36,321, and the median income for a family is $42,235. Males have a median income of $28,803 versus $23,046 for females. The per capita income for the county is $17,706. 12.20% of the population and 8.80% of families are below the poverty line. Out of the total population, 14.40% of those under the age of 18 and 15.00% of those 65 and older are living below the poverty line.
Cities and towns
External link
Habersham County (http://roadsidegeorgia.com/county/habersham.html) web site from Roadside Georgia