List of people on stamps of the United States
From Academic Kids
This article lists people who have been featured on stamps of the United States. For this purpose "featured" is not limited to portraits of the person, but includes any identifiable representation of their works. Thus the "Whistler's Mother" stamp of 1934 is considered to feature its painter (see also Artists of stamps of the United States). The date after the name refers to the year when that person first appeared on a stamp of the United States.
The United States Post Office issued its first stamp in 1847, but several cities had previously issued their own provisional stamps.
This list is complete through 2002.
Contents: Top - 0-9 A B C D E F G H I J K L M N O P Q R S T U V W X Y Z - Confederate States - Guam - Offices in China - Quotation
A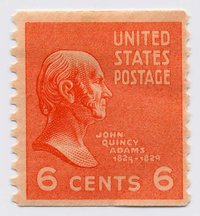 B
C
Missing image
Cesarchavezstamp.jpg
D
E
F
Missing image
Bfullerstamp.jpg
Buckminster Fuller


G
H
I
J
K
L
Missing image
Stamp.usa.mazzei.500pix.jpg
M
N
O
P
Q
Missing image
HarrietQuimby.stamp.jpg



R
S
T
U
V
W
X
Y
Z
Confederate States
Guam
These were contemporary stamps of the US, with a "GUAM" overprint.
Offices in China
Quotation
"We cannot put the face of a person on a stamp unless said person is deceased. My suggestion, therefore, is that you drop dead." -- J. Edward Day, Postmaster General, 1962. Day was replying to a request from an individual to be honored with a stamp. The letter was never mailed.