John Wayne
From Academic Kids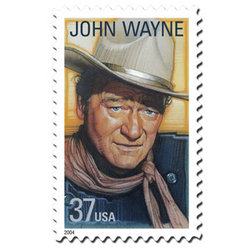 John Wayne (May 26, 1907 – June 11, 1979), nicknamed "Duke," was an American film actor whose career spanned the evolutionary phase of American cinema, appearing in silent movies and "talkies" alike. He remains, by many accounts, the most popular star in the history of American film.
Life and career
He was born Marion Robert Morrison in Winterset, Iowa, but the name became Marion Michael Morrison when his parents decided to name their next son Robert. His family moved to Glendale, California in 1911; it was neighbors in Glendale who started calling him "Big Duke," because he never went anywhere without his Airedale dog, who was Little Duke. He preferred "Duke" to "Marion," and the name stuck for the rest of his life.
After nearly gaining admission to the U.S. Naval Academy, he attended the University of Southern California, where he was a member of the Sigma Chi Fraternity. Wayne also played on the USC football team under legendary coach Howard Jones. An injury while swimming at the beach curtailed his athletic career, however; Wayne would later note that he was too terrified of Jones' reaction to reveal the actual cause of his injury.
While at the university, Wayne began working around the local film studios. Western star Tom Mix got him a summer job in the prop department in exchange for football tickets, and Wayne soon moved on to bit parts, establishing a long friendship with director John Ford. His first starring role was in the movie The Big Trail; it was the director of that movie, Raoul Walsh, who gave him the stage name "John Wayne," after Revolutionary War general "Mad Anthony" Wayne.
His friendship with Ford led them to work together on films which featured some of Wayne's most iconic roles. Beginning with three minor parts in 1928, Wayne would appear in over twenty of Ford's films in the next 35 years, including Stagecoach (1939), She Wore a Yellow Ribbon (1949), The Quiet Man (1952), The Searchers (1956), The Wings of Eagles (1957) and The Man Who Shot Liberty Valance (1962).
Wayne appeared in many strong masculine ("macho") roles in western films and war films, but he also had a down-to-earth sense of humour which allowed him to appear in a pink bunny suit for an episode of Rowan and Martin's Laugh-In, as well as in comedy movies. According to the Internet Movie Database Wayne played the male lead in 142 of his film appearances, an as yet unsurpassed record. One of Wayne's best roles was ironically in one of the few films he made that wasn't a Western or war picture. The film was The High And The Mighty released in 1954. The movie was directed by William Wellman and based on a novel by Ernest K. Gann. Wayne played the co-pilot of a plane that develops serious engine problems in flight. His portrayal of the heroic airman won widespread acclaim. Sadly, this film has not been seen for many years due to lawsuits and copyright issues with Wayne's estate. The film co-starred Robert Stack and Jan Sterling.
Although appearing in many war films and frequently being eulogized as an "American hero," Wayne never served in the Armed Forces, although he made an effort to, and he was greatly patriotic. Between 1940, when the military draft was reinstated and the end of World War II in 1945, he remained in Hollywood and made 21 movies. (Among them was Cecil B. DeMille's Reap the Wild Wind (1942), in which he portrayed one of the few less-than-honorable characters in his career.) He was of draft age (34) at the time of Pearl Harbor in 1941, but asked for and received a deferral for family dependency, a classification of 3-A. This was later changed to a deferment in the national interest, 2-A.
Despite his prolific output John Wayne won only a single Best Actor Oscar, for the 1969 movie True Grit. He received a nomination for Best Actor in Sands of Iwo Jima, and another as the producer of Best Picture nominee The Alamo, which he also directed. His production company was called Batjac, taken from the name of the fictional shipping company in The Wake of the Red Witch. In 1973, he released a best-selling spoken word album titled America, Why I Love Her, that was nominated for a Grammy, and re-released with similar success in 2001.
John Wayne died of stomach cancer on June 11, 1979 in Newport Beach, California, and was interred in the Pacific View Memorial Park cemetery in Corona del Mar, Orange County, California. Some trace his cancer back to his work in The Conqueror, filmed about 100 miles downwind of Nevada nuclear-weapons test sites. However, it should also be noted that Wayne was a chain smoker, which was more likely to have caused his cancer. Other actors who worked on movie and later died of cancer were also chain smokers, including Dick Powell, Agnes Moorehead and Susan Hayward.
Wayne was married three times; to Josephine Alicia Saenz, Esperanza Baur, and Pilar Palette. He had four children with Josephine, three with Pilar, most notably Patrick Wayne. All but one of his children went on to have minor Hollywood careers.
He is the most celebrated utterer, and apocryphal coiner, of the tmesis "ri-goddamn-diculous."
There is an airport named after him, John Wayne Airport, in Orange County, California. John Wayne was entered into the Hall of Great Western Performers of the National Cowboy and Western Heritage Museum in 1974, and is mentioned in the Paula Cole song Where Have All the Cowboys Gone.
Character deaths
A frequently asked trivia question is: In how many films did John Wayne's character die? The answer is as follows:
His death is seen in the following films:
His character death is not shown in the following:
The Man Who Shot Liberty Valance - His character is dead at the beginning of the film and the story is told in flashback by James Stewart who is attending his funeral.
The Sea Chase - Lana Turner and Wayne are on a ship when it sinks, but the possibility that the characters survived is left open.
The Deceiver - Ian Keith's character died, but the corpse was played by John Wayne.
Central Airport - John Wayne has a very minor role as the co-pilot of an aircraft that crashes into the ocean.
Filmography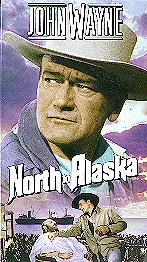 1920s
1930s
1940s
1950s
1960s
1970s
Quotes
"Tomorrow is the most important thing in life. Comes into us at midnight very clean. It's perfect when it arrives and it puts itself in our hands. It hopes we've learned something from yesterday."
External links
See also
da:John Wayne de:John Wayne es:John Wayne eo:John WAYNE fr:John Wayne nl:John Wayne ja:ジョン・ウェイン no:John Wayne sk:John Wayne sv:John Wayne