Cary Grant
From Academic Kids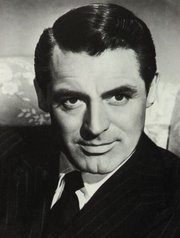 Cary Grant (January 18, 1904 – November 29, 1986) was a British-born actor in mostly American films. He was perhaps the foremost exemplar of the debonair leading man, not only handsome, but witty and charming.
Born Archibald Alexander Leach in Bristol, he had a confused and unhappy childhood. His mother was removed to a mental institution when Archie Leach was only nine. Grant's father never told him the truth, and he only learned twenty years later that his mother was still alive.
That left Archie Leach/Cary Grant with both a certain insecurity in his relations with women and a secretiveness about his inner life that may explain his bravado and charm. Those traits also come through more directly in many of his performances, in films as different as Suspicion and Notorious, directed by Alfred Hitchcock, and tear-jerkers, such as Mr. Lucky.
Missing image
Grantscottl.jpg
Grant's unhappy childhood, by his own account, led him to crave applause and attention and to create a new persona that would attract it. After being expelled, in 1918 (from Fairfield School, Bristol) for an incident involving the girls' toilets, he joined the Bob Pender stage troupe. Grant traveled with the troupe to the United States in 1920 for a two year tour; when the troupe returned to the United Kingdom, Grant stayed — creating over time that unique accent and persona that mixed working and upper class accents as he supported himself as, among other things, a hawker. After some success in light Broadway comedies, he made it to Hollywood in 1931, where he acquired the name "Cary Grant". In 1932 he met fellow actor Randolph Scott on the set of Hot Saturday, the two developed a close friendship, sharing a rented house for twelve years. Some biographers such as Marc Eliot have asserted that this relationship was romantic and that Grant was bisexual. [1] (http://www.web.apc.org/~jharnick/cemetary.html) Other contest that and argue that the beach house they shared was known as "Bachelor Hall" and was frequently visited by women. On June 26, 1942, he became a naturalized citizen of the United States and a some years later married the wealthy socialite Barbara Hutton. Grant became the surrogate father and had a lifelong influence on her son, Lance Reventlow.
Grant starred in some of the classic screwball comedies, including The Awful Truth with Irene Dunne, Bringing Up Baby with Katharine Hepburn, His Girl Friday with Rosalind Russell and Arsenic and Old Lace with Priscilla Lane. These performances solidifed his appeal, and The Philadelphia Story, with Hepburn, established his best-known screen role: the charming if sometimes unreliable man, formerly married to an intelligent and strong-willed woman who first divorced him, then realized that he was — with all his faults — irresistible. Grant subsequently took that character in a far darker direction in Suspicion, directed by Hitchcock, without somehow losing his charm or his audience's devotion.
Grant was one of Hollywood's top box-office attractions for several decades. He was a versatile actor, who did demanding physical comedy in movies like "Gunga Din" with the skills he had learned on the stage. Hitchcock, who was notorious for disliking actors, was very fond of Grant, saying that Grant was "the only actor I ever loved in my whole life". Howard Hawks was just as devoted, saying that Grant was "so far the best that there isn't anybody to be compared to him".
Missing image
Cary.grant.bristol.arp.500pix.jpg
In the September, 1959 issue of Look magazine, Grant related how treatment with LSD at a prestigious California clinic -- it was legal at the time -- had finally brought him inner peace after yoga, hypnotism, and mysticism had proved ineffective. In the mid-1950s Grant formed his own production company, Grantley Productions, and via a distribution deal with Universal produced some of his finest work, which included Operation Petticoat, Indiscreet, That Touch Of Mink (co-starring Doris Day), and Father Goose.
Although twice nominated for an Academy Award, he never won but was honored in 1970 with a special Academy Award for Lifetime Achievement. In 1981, he received the Kennedy Center Honors.
His fourth marriage was to actress Dyan Cannon, with whom he had his only child, a daughter, Jennifer Grant, who would later become an actress herself.
In the last few years of his life, Grant undertook tours of the USA with his "A Conversation with Cary Grant", in which he would show clips from his films and afterward hold a question-and-answer session with the audience. It was just before one of these performances — in Davenport, Iowa — that Grant suffered a severe stroke and died in hospital a few hours later. His cremated ashes were given to his family.
Quotations
"Everyone wants to be Cary Grant: even I want to be Cary Grant."
[Following his failed marriage to Barbara Hutton]: "She thought that she was marrying Cary Grant."
"I probably chose my profession because I was seeking approval, adulation, admiration and affection."
"I have spent the greater part of my life fluctuating between Archie Leach and Cary Grant, unsure of each, suspecting each."
-- Cary Grant
His personal dichotomy was referenced in films from time to time:
In His Girl Friday, he responds to a pointed comment by saying, "The last person who said that to me was Archie Leach, before he cut his throat."
His character in Gunga Din was named "Archie".
as per: [2] (http://www.eeggs.com/items/5985.html)

In one of his early films, She Done Him Wrong, Grant engages in this memorable dialogue with the film's sexy star, Mae West:
Mae: I always did like a man in a uniform. That one fits you grand. Why don't you come up sometime 'n see me? I'm home every evening.
Cary: Yeah, but I'm busy every evening.
Mae: Busy? So, what are you tryin' to do, insult me?
Cary: Why no, no, not at all. I'm just busy, that's all...
Mae: You ain't kiddin' me any. You know, I met your kind before. Why don't you come up sometime, huh?
Cary: Well, I...
Mae: Don't be afraid. I won't tell...Come up. I'll tell your fortune...Aw, you can be had.
as per: [3] (http://www.filmsite.org/shed.html)

Perhaps ironically, given the eventual rumors about his private life, and also indicating how old the term is, there is this exchange from Bringing Up Baby after his clothes get drenched and he puts on a woman's frilly bathrobe. Then May Robson comes in:
May (perplexed): What happened here? Cary (sarcastically): I went gay all of a sudden!
Filmography
External links
de:Cary Grant es:Cary Grant eo:Cary GRANT fr:Cary Grant it:Cary Grant fi:Cary Grant sv:Cary Grant