Eli Whitney
From Academic Kids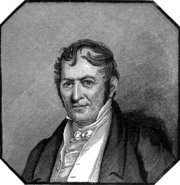 Eli Whitney (December 8, 1765 - January 8, 1825) was an American inventor and manufacturer.
Biography
Born in Westborough, Massachusetts, the son of a farmer, Whitney graduated from Yale College in 1792, where he was elected to Phi Beta Kappa. On January 6, 1817 he married Henrietta Edwards and they had four children.
Invention and innovation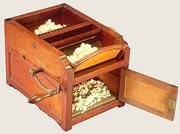 Cotton gin
Whitney is credited with creating the first cotton gin in 1793, a mechanical device which removed the seeds from cotton, a process which until that time had been extremely labor-intensive. This contributed to the economic development of the Southern states of the United States, a prime cotton growing area; some historians believe that this invention allowed for the African slavery system in the Southern United States to become more sustainable at a critical point in its development.
While his ideas were innovative and useful, they were so easy to understand and reproduce that the concepts and designs were readily duplicated by others. Whitney's company that produced cotton gins went out of business in 1797.
There exists question today over whether the cotton gin, which Whitney received a patent for on March 14, 1794, and its constituent elements should rightly be attributed to Eli Whitney; some contend that Catherine Littlefield Greene should be credited with the invention of the cotton gin, or at least its conception. It is known that she associated with Eli Whitney (along with other historical figures such as George and Martha Washington).
Other innovations
Whitney's greatest contribution to American industry was the development and implementation of the American System of manufacturing and the assembly line, which he was the first to use when producing muskets for the U.S. Government beginning in 1798 in a factory on the border between New Haven, Connecticut and Hamden, Connecticut, on a road which is now named Whitney Avenue.
This system differed from the traditional artisanal style of manufacturing, where a skilled workman constructed individual items out of handmade and fitted pieces. Whitney's innovation consisted of making parts and subassemblies as identical and interchangeable as possible by machinery, then assembling the parts on an assembly line by unskilled labor. Large volumes of goods could therefore be manufactured cheaply, because the supply of goods was no longer limited by the number of skilled artisans.
In Whitney's words, "A substitute for European skill must be sought in such an application of mechanism as to give all that regularity, accuracy, and finish to the work which is there affected by a skill." Whitney's concepts were later exploited by Henry Ford and others in manufacturing. He never patented his later inventions, one of which was a milling machine.
See also