Charles Lindbergh
From Academic Kids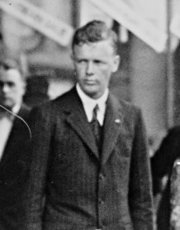 Charles Augustus Lindbergh (February 4, 1902 – August 26, 1974) was a pioneering United States aviator famous for piloting the first solo non-stop flight across the Atlantic Ocean in 1927.
Early life
Lindbergh was born in Detroit, Michigan, the son of Swedish immigrants. He grew up in Little Falls, Minnesota. His father, Charles August Lindbergh, was a lawyer and later a U.S. congressman who opposed the entry of the U.S. into World War I; his mother was a chemistry teacher. Early on he showed an interest in machines. In 1922 he quit a mechanical engineering program, joined a pilot and mechanist training with Nebraska Aircraft, bought his own airplane, a Curtiss JN-4 "Jenny", and became a stunt pilot. In 1924, he started training as a U.S. military aviator with the United States Army Air Corps. After finishing first in his class, he worked as a civilian airmail pilot on the line St. Louis in the 1920s.
First solo flight across the Atlantic Ocean
Lindbergh gained sudden great international fame as the first pilot to fly solo and non-stop across the Atlantic Ocean, flying from Roosevelt Airfield (Nassau County, Long Island), New York City to Paris on May 20-May 21, 1927 in his single-engine airplane The Spirit of St. Louis which had been designed by Donald Hall and custom built by Ryan Airlines of San Diego, California. He needed 33.5 hours for the trip. (His grandson Erik Lindbergh repeated this trip 75 years later in 2002.) Although Lindbergh was the first to fly from New York to Paris nonstop, he was not the first to make a Transatlantic flight. That had been done first by the crew of the NC-4 in 1919, with the first non-stop flight made by Alcock and Brown later that same year.
Lindbergh's accomplishment won him the Orteig Prize of $25,000 on offer since 1919. A ticker-tape parade was held for him down 5th Avenue in New York City on June 13, 1927.[1] (http://roynagl.topcities.com/lindbergh2.htm) His public stature following this flight was such that he became an important voice on behalf of aviation activities until his death. He served on a variety of national and international boards and committees, including the central committee of the National Advisory Committee for Aeronautics in the United States. On March 21, 1929 he was presented the Medal of Honor for his historic trans-Atlantic flight.
Lindbergh is recognized in aviation for demonstrating and charting polar air-routes, high altitude flying techniques, and increasing aircraft flying range by decreasing fuel consumption. These innovations are the basis of modern intercontinental air travel.
Template:Multi-video start Template:Multi-video item Template:Multi-video end
Marriage, children, kidnapping
He married the author Anne Morrow Lindbergh in 1929. He taught her how to fly and did much of the exploring and charting of air-routes together with her. The two had six children: Charles Augustus, Jr.(born 1930), Jon (1932), Land (1937), Anne (1940), Scott (1942) and Reeve (1945).
Main article: Lindbergh kidnapping
Their son Charles Augustus, 20 months old, was abducted on March 1, 1932 from their home. The boy was found dead on May 12 in Hopewell, New Jersey just a few miles from the Lindbergh's home, after a nation-wide ten week search and ransom negotiations with the kidnappers. More than three years later, a media circus ensued when the man accused of the murder, Bruno Hauptmann, went on trial. Tired of being in the spotlight and still mourning the loss of their son, the Lindberghs moved to Europe in December 1935. Hauptman, who maintained his innocence until the end, was found guilty and was executed on April 3, 1936.
World War II
In Europe during the rise of fascism, Lindbergh traveled to Germany several times at the behest of the U.S. military, where he reported on the Luftwaffe (air force). In 1938, Hermann G?g offered him a German medal of honor, and Lindbergh's acceptance caused an outcry in the United States when Lindbergh's closeness to the Nazis was criticized. Lindbergh declined to return the medal to the Germans because he claimed that to do so would be "an unnecessary insult" to the Nazi leadership. Lindbergh's letters and diaries of the time indicate that he approved of Nazi policies and of Hitler's leadership.
As Nazi Germany began World War II, Lindbergh became a prominent speaker in favor of isolationist and pro-German policies. On January 23, 1941, Lindbergh testified before Congress and recommended that the United States negotiate a neutrality pact with Adolf Hitler. Lindbergh was also major spokesman for America First, and at a rally in Des Moines, Iowa, on September 11, 1941, he accused "the Jewish race" of being behind the drive to have America enter World War II on the side of Allies. In the same speech, Lindbergh clearly communicated that he considered Jewish-Americans to not be patriotic when he says; "we cannot blame them for looking out for what they believe to be their own interests, but we also must look out for ours. We cannot allow the natural passions and prejudices of other people to lead our country to destruction." Although Lindbergh never returned his Nazi medal, he resigned his commission in the U.S. Army Air Corps when President Franklin D. Roosevelt openly questioned his loyalty.
However, after the attack on Pearl Harbor in 1941, he attempted to return to the Army Air Corps, but was denied when several of Roosevelt's cabinet secretaries registered objections. He went on to assist with the war effort by serving as a civilian consultant to aviation companies and the government, as well as flying about 50 combat missions (again as a civilian) in 1944 in the Pacific. His contributions include engine-leaning techniques that Lindbergh showed P-38 Lightning pilots. This improved fuel usage in cruise, and enabled aircraft to fly longer range missions such as the one that killed Admiral Yamamoto. He also showed Marine F4U pilots how to take off with twice the bomb load that the aircraft was rated for.
Later life
After World War II he lived quietly in Connecticut as a consultant both to the chief of staff of the U.S. Air Force and to Pan American World Airways. His 1953 book The Spirit of St. Louis, recounting his non-stop transatlantic flight, won the Pulitzer Prize in 1954. Dwight D. Eisenhower restored his assignment with the Army Air Corps and making him Brigadier General in 1954. In the 1960s, he became a spokesman for the conservation of the natural world, speaking in favor of the protection of whales, against super-sonic transport planes and was instrumental in establishing protections for the primitive Filipino group the Tasaday.
From 1957 until his death in 1974, Lindbergh had an affair with a woman 24 years his junior, the German hat maker Brigitte Hesshaimer. They had three children together: Dyrk (born 1958), Astrid (born 1960), and David (born 1967). The two managed to keep the affair completely secret; even the children did not know the true identity of their father, whom they met sporadically when he came to visit. Astrid later read a magazine article about Lindbergh and found snapshots and more than a hundred letters written from him to her mother. She disclosed the affair in 2003, two years after both Brigitte Hesshaimer and Anne Morrow Lindbergh had died.
Missing image
Time-magazine-cover-charles-lindberg.jpg
Lindbergh spent his final years on the Hawaiian island of Maui, where he died of cancer on August 26, 1974. He was buried on the grounds of the Palapala Ho'omau Church. His epitaph, which quotes Psalms 139:9, reads: Charles A. Lindbergh Born: Michigan, 1902. Died: Maui, 1974. If I take the wings of the morning, and dwell in the uttermost parts of the sea. — CAL
The Lindbergh Terminal at Minneapolis/Saint Paul International Airport was named after him and a replica of The Spirit of St. Louis hangs there. San Diego International Airport was also named after him.
Lindbergh in fiction
A fictional version of Lindbergh is a major character in Philip Roth's 2004 counterfactual alternative history novel, The Plot Against America; this portrayal engendered some controversy.
The Agatha Christie book and movie Murder on the Orient Express begin with a fictionalized depiction of the Lindbergh baby kidnapping.
James Stewart played Lindbergh in the biographical The Spirit of St. Louis, directed by Billy Wilder. The film begins with events leading up to the flight before giving a gripping and intense view of the flight itself.
External links
Sources
de:Charles Lindbergh es:Charles Lindbergh eo:Charles LINDBERGH fr:Charles Lindbergh it:Charles Lindbergh he:צ'ארלס לינדברג nl:Charles Lindbergh ja:チャールズ・リンドバーグ fi:Charles Lindbergh sv:Charles Lindbergh zh:查尔斯?林白