Robert F. Kennedy
From Academic Kids
Missing image
Robertkennedy.jpg
This is the most common use of RFK. For other uses, see RFK (disambiguation).
Robert Francis "Bobby" Kennedy, also called "RFK" (November 20, 1925 – June 6, 1968) was the younger brother of President John F. Kennedy, and was appointed by his brother as Attorney General for his administration. He worked closely with his brother during the Bay of Pigs Invasion and the Cuban Missile Crisis. After his brother's death, Kennedy ran in 1964 for the New York senate seat, winning that office in the November of that year. In 1968, he was assassinated during his campaign for the Democratic presidential nomination. RFK owned a home in the fabled Kennedy Compound. His family now owns and lives there.
Early Life
Robert Kennedy was the seventh child of Joseph P. Kennedy and Rose Kennedy born on November 20, 1925. He attended and graduated from Harvard University in 1948, after brief service in the Navy. Though Kennedy had a very strong work ethic, he did not make very high grades. As a result, he was not accepted to Harvard Law School, and instead received his law degree from the University of Virginia School of Law in 1951. Following this, he managed his brother John's successful U.S. Senate campaign in 1952. He worked as a Junior Counsel for an Investigations Subcommittee that was run by Senator McCarthy. However, when this committee began its communist purge, Kennedy left in favor of the Labor and Rackets Committee.
RFK soon made a name for himself as the chief counsel of the Senate Labor Rackets Committee hearings, which began in 1956. In a dramatic scene, Kennedy squared off against Jimmy Hoffa during the antagonistic argument that marked Hoffa's testimony. Kennedy left the Rackets Committee in 1959 in order to run his brother John's successful Presidential campaign.
Working for JFK
President Kennedy rewarded his younger brother's efforts by naming him to his Cabinet as Attorney General of the United States. During the Kennedy Administration, "Bobby" played a key advisory role for President Kennedy. Among the weighty issues they faced were the Bay of Pigs invasion of Cuba in 1961, the Cuban Missile Crisis of 18 months later, the escalation of military action in Vietnam and the widening spread of the Civil Rights Movement and its retaliatory violence. It is not clear if he gave J. Edgar Hoover permission to wiretap Martin Luther King, though it is certain that the FBI was required to ask the Attorney General for such permission. Kennedy is remembered most for his work on civil rights, namely the integration of the University of Mississippi in Oxford, MS (the student was James Meridith) and his support of the civil rights bill that passed in 1964. After the assassination of President Kennedy in 1963, Robert Kennedy remained the attorney general, though his relationship with President Lyndon Johnson was very cold.
Senator for New York
Soon after President John F. Kennedy's assassination, Robert Kennedy had his thoughts on being vice-president under President Lyndon Johnson. However, after LBJ told him that no Cabinet member could run for vice-president, he left the Cabinet to run for a seat in the United States Senate representing New York. Even though Kennedy was his nemesis, LBJ helped him campaign, as he was later to recall in his memoir of the White House years. He was elected in November of 1964, defeating Republican incumbent Kenneth Keating. At first Keating was able to portray Kennedy as an arrogant carpetbagger. However, after a tough campaign - in which Kennedy tied himself to Johnson, Kennedy was triumphant.
During his three and a half years as a US Senator, Kennedy visited Apartheid-ruled South Africa, helped to start a successful redevelopment project in poverty stricken Bedford-Stuyvesant in New York City, visited the Mississippi Delta as a member of the Senate committee on hunger and, reversing his prior stance, called for a halt in further escalation of the Vietnam War.
Presidential Candidacy and Assassination
See also: Robert F. Kennedy assassination
Originally Kennedy had declined speculations that he was going to try for the Democratic nomination in 1968 against the incumbent President Lyndon Johnson. Along with doubts of his ability to win the nomination, Kennedy feared that his candidacy would appear as being a product of a personal feud with President Johnson. After Johnson won only a very narrow victory in the New Hampshire primary on March 12, 1968 against Senator Eugene McCarthy of Minnesota, an anti-war candidate, Kennedy too declared his candidacy for the Presidency on March 16. Two weeks later Johnson appeared on television to state that he was no longer a candidate for re-election.
On April 4, during a campaign stop in Indianapolis, Kennedy learned of the assassination of Martin Luther King, Jr. During a heartfelt, impromptu speech in Indianapolis' inner city, Kennedy called for a reconciliation between the races. In the aftermath of King's murder, thousands of people were injured and 43 were killed in riots throughout the United States, but Indianapolis remained quiet. Kennedy's campaign relied largely on his ability to run an emotional and intensely personal campaign. Kennedy challenged students on the "hypocrisy" of draft deferments, visited numerous small towns, and made himself availible to the masses, by participating in long motorcades and street-corner stump speeches(often in troubled inner-cities). Kennedy made urban poverty a chief concern of his campaign, which in part lead to enormous crowds that would attend his events in troubled inner-cities such as Gary or Watts (Los Angeles).
Kennedy won the Indiana and Nebraska Democratic primaries, but lost the Oregon primary. On June 4, 1968 Kennedy scored a major victory in his drive toward the Democratic presidential nomination when he won primaries in South Dakota and in California. After Kennedy addressed his supporters in the early morning hours of June 5 in a ballroom at the Ambassador Hotel in downtown Los Angeles, he left the ballroom through a service area to greet supporters working in the hotel's kitchen. In a crowded kitchen passageway, Sirhan B. Sirhan, a 24-year-old Los Angeles resident of Palestinian ancestry, fired a .22 caliber revolver directly into the crowd surrounding Kennedy. Several people were wounded, including Kennedy, who had been shot at close range.
Sirhan confessed to the shooting, and is currently serving a life prison sentence for the crime although to this day he claims he has absolutely no memory of shooting at Kennedy. It is generally believed that Sirhan fired the shots that hit Kennedy. As with his elder brother John's death, however, many have suggested the official account of RFK's murder is inconsistent or incomplete, and that his death was the result of a conspiracy. See Robert F. Kennedy assassination for more informaiton.
Robert Kennedy died in the early morning hours of June 6, 1968 at the age of 42. He was buried near his brother in Arlington National Cemetery on June 8.
Personal life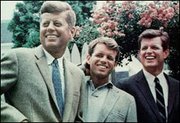 Missing image
BushDedicatingRFKJusticeDepartmentBuilding.jpg
See also: Kennedy political family.
In 1950, he married Ethel Skakel, who would eventually give birth to 11 children. The last child, Rory Kennedy, was born after Robert's assassination.
His pallbearers included Robert McNamara, John Glenn, Averell Harriman, C. Douglas Dillon, Kirk Lemoyne Billings (schoolmate of John F. Kennedy), Stephen Smith (husband to Jean Ann Kennedy), David Hackett, Jim Whittaker, John Seigenthaler Sr., and Lord Harlech.
Honors for RFK
D.C. Stadium in Washington, D.C. was renamed Robert F. Kennedy Memorial Stadium in 1969.
In 1998, the United States Mint released a special dollar coin that featured Kennedy on the obverse and the emblems of the United States Department of Justice and the United States Senate on the reverse. In Washington, DC on November 20, 2001, US President George W. Bush and Attorney General John Ashcroft dedicated the Department of Justice headquarters building as the Robert F. Kennedy Department of Justice Building, honoring RFK on what would have been his 76th birthday. They both spoke during the ceremony, as did Kennedy's eldest son, Joseph II, who made reference to his uncle's Pulitzer Prize-winning book, Profiles in Courage, when he said to the president as he spoke: "Mr. President, your strength since September 11 has been a profile in leadership." [1] (http://transcripts.cnn.com/TRANSCRIPTS/0111/20/se.07.html) [2] (http://www.whitehouse.gov/news/releases/2001/11/20011120-15.html) [3] (http://transcripts.cnn.com/TRANSCRIPTS/0111/20/se.08.html)
References
External links