J. Edgar Hoover
From Academic Kids
Missing image
Hoover-JEdgar-LOC.jpg
John Edgar Hoover (January 1, 1895 – May 2, 1972) was the Director of the Federal Bureau of Investigation (FBI) from May 10, 1924, until his death in 1972, having been appointed to that position for life by President John Calvin Coolidge. During his tenure, Hoover attained extraordinary power and unusual discretionary authority, while also feuding with many adversaries who accused of having links to the Mafia, gathering information for the purposes of blackmail and being a homosexual and transvestite while persecuting others with similar predilictions.
FBI legacy
To date, Hoover is the longest-serving leader of an executive branch agency in the United States, having served under a record eight presidents, from Coolidge to Richard Nixon; indeed, it is because of Hoover that, since his tenure, FBI Directors have been limited to ten-year terms.
Hoover is credited with creating an effective law enforcement organization, but has frequently been accused of flagrantly abusing his authority in blackmailing notable public figures and engaging in unwarranted political persecution. Hoover's COINTELPRO program allowed FBI agents to harass, disrupt, and destroy 'enemies' such as the Black Panther Party and other leftist political organizations. Hoover habitually fired FBI agents, either randomly or by singling out those who "looked like truck drivers" or had "pointy heads." He was also notorious for assigning agents who had displeased him to career-ending jobs in cities with little need for an FBI presence.
Nevertheless, in 1966, he received the Distinguished Achievement Award from President Lyndon Johnson for his role as Director of the FBI.
Early life and education
Hoover was born in Washington, DC, but details of his early life are murky; a birth certificate for him was not filed until 1938. What little is known about his upbringing generally can be traced back to a single 1937 profile by journalist Jack Alexander. Hoover was educated at George Washington University, graduating in 1917 with a law degree. During his time there, he became a member of Kappa Alpha Order (Alpha Nu 1914).
He was awarded an honorary Sc. D by Kalamazoo College in 1937.
Department of Justice and FBI career
Rather than enlisting for military service during World War I, he found work with the Justice Department. He soon proved himself capable and was promoted to head the Enemy Aliens Registration Section. In 1919, he became head of the new General Intelligence Division of the Justice Department (see the Palmer Raids). From there, in 1921, he joined the Bureau of Investigation as deputy head, and in 1924 the Attorney General made him the acting director. He became the permanent director of the Bureau in 1925.
When Hoover took over the Bureau of Investigation, it had approximately 650 employees, including 441 Special Agents. It was renamed and empowered as the Federal Bureau of Investigation in 1935. In 1939, the FBI became pre-eminent in the field of domestic intelligence. Hoover made changes such as expanding and combining fingerprint files in the Identification Division to compile the largest collection of fingerprints ever made. Hoover also helped to greatly expand the FBI's recruitment and create the FBI Laboratory, a division established in 1932 to examine evidence found by the FBI.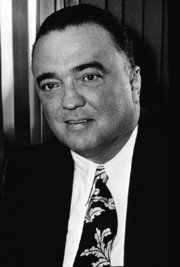 Hoover was noted for his concern about - some would say obsession with - subversion. He persecuted suspected subversives and radicals throughout his career as FBI director. Hoover tended to exaggerate the dangers of subversives, and many believe he overstepped his bounds in his pursuit of eliminating this perceived threat.
Hoover amassed significant power by collecting files on people, especially politicians, which were kept separate from official FBI records. On his orders, the files were destroyed immediately after Hoover's death. In the 1950s, evidence of Hoover's apparently cozy relations with the Mafia became grist for the media and his many detractors, after famed muckraker Jack Anderson exposed the immense scope of the Mafia's organized crime network, a threat Hoover had long downplayed. Hoover's retaliation and continual harassment of Anderson lasted into the 1970s.
Presidents Harry Truman, John F. Kennedy and Lyndon Johnson each considered firing Hoover, but concluded that the political cost of doing so would be too great. Hoover maintained strong support in Congress until his death, whereupon operational command of the Bureau passed to Associate Director Mark Felt. Soon thereafter Nixon appointed L. Patrick Gray, a Justice Department official with no FBI experience, as Acting Director with Felt remaining as Associate Director. As a historical note, Felt has recently claimed to have later became the legendary 'Deep Throat' during the Watergate scandal. Some of the people who Deep Throat's revelations helped put in prison—such as Nixon's chief counsel and born-again Christian Chuck Colson and convicted felon and radio peronality G. Gordon Liddy—contend that this was, at least in part, due to Felt's being passed over by Nixon as head of the FBI after Hoover's death in 1972.
The FBI Headquarters in Washington, D.C. is named after Hoover. Due to the controversial nature of Hoover's legacy, there have been periodic proposals to rename it.
Personal life
Missing image
Hoover_Tolson.jpg
Speculation and rumors that Hoover was a homosexual have never been definitively proven, although his enemies and critics have long suggested it. The allegation that he was also a crossdresser, however, has little if any basis in fact and is generally considered to be an urban legend. Hoover's right-hand man, Clyde Tolson, was a constant companion for more than 40 years, and they often vacationed together. Hoover and Tolson were both lifelong bachelors, and Hoover lived with his mother until her death in 1938, when he was 43 years old. Hoover was raised a devout Presbyterian and considered the ministry as a career; Some critics said that he used this to try to render his personal conduct (sexual or otherwise) above reproach during his tenure at the FBI.
It has long been rumored that the Chicago Mafia blackmailed Hoover with photos of him in drag, which may partially explain why he allegedly never went after them (these were detailed by journalist Anthony Summers), but according to sources in the Mafia, no such photos existed[1] (http://www.straightdope.com/columns/021206.html). After Hoover was ordered to go after the Mafia, other sources claim, he pursued them zealously. However, Peter Maas, a notable journalist, has criticized accusations that Hoover had deep ties with the Kennedy family, and these allegations in turn were heavily criticized in Anthony Summers's book on Marilyn Monroe.
An FBI memorandum dated June 11, 1943, mentions rumors of Hoover being "queer" and keeping "a large group of young boys around him," noting such rumors had circulated since at least two years earlier.[2] (http://www.thesmokinggun.com/archive/hoover1.html)
Further reading
External links
de:J. Edgar Hoover et:J. Edgar Hoover fr:J. Edgar Hoover it:Edgar J. Hoover nl:J. Edgar Hoover no:J. Edgar Hoover ja:ジョン・エドガー・フーヴァー pl:J. Edgar Hoover sv:J. Edgar Hoover