List of countries
From Academic Kids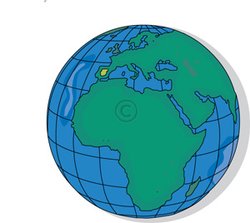 A
country
, a
land
, or a
state
, is a
geographical
area that connotes an independent
political
entity, with its own
government
, administration,
laws
, often a
constitution
,
police
,
military
,
tax
rules, and
population
, who are one another's
countrymen
. "Country" is the English equivalent of French
pays,
Compare the concept of
nation
, below.
All internationally recognized states follow to some degree international standards in terms of the creation of official national symbols such as flags, and political rights such as citizenship. There are currently 192 countries recognized by the United Nations.
Some countries are nation states – for example, France or Israel. In these nation states one particular nation is dominant. Other states, such as Canada, the People's Republic of China, Spain or the United Kingdom contain several nations (or, at least, some parts of the population call themselves a nation), in spite of some of them considering themselves as nation states.
Sometimes, parts of states with a distinct history or culture are called "lands" or "countries": England, Scotland and Wales – the three nations on the island of Great Britain – are known as countries, even though they are effectively governed as "components" of the British state. Tibet, an autonomous region of China, is similarly called a country in everyday speech. Ireland is also sometimes called a country, even though it consists of one nation-state (the Republic of Ireland) and one component of a different state (Northern Ireland).
The terms country, nation, state and land are casually used as synonyms, but in a more strict usage they are distinguished:
country is the geographical area
nation designates a people, however national and international both confusingly refer as well to matters pertaining to what are strictly states, as in national capital, international law
state is about government, and an entity in international law
This is an alphabetical list of countries of the world, including both de jure and de facto independent states as well as (inhabited) dependent territories. For a list of sovereign states only, see the list of sovereign states.
---
List of countries
A
B
C
D
E
F
G
H
I
J
K
L
M
N
O
P
Q
R
S
T
U
V
W
Y
Yemen - Republic of Yemen
Z
Note
Note 1: Palestine: "State of Palestine" was declared in 1988 and currently recognized by 93 countries. The international status of Palestine is further supported, short of further present recognition as a state, by non-recognizing countries' according the (at least closely associated) Palestinian Authority a pivotal role in the process that may involve their eventually recognizing a State of Palestine. See also: proposals for a Palestinian state and Palestinian territories. Gaza Strip, West Bank, Israel include country articles about areas proposed for inclusion in various versions of a future more widely recognized state.
Other listings
For more sources, see Geographic references.
Related topics