Syracuse, New York
From Academic Kids
Syracuse is a city located in Onondaga County, New York, USA. As of the 2000 U.S. Census, the city had a total population of 147,306, and its metropolitan area had a population of 732,117. It is the county seat of Onondaga County and the economical and educational hub of Central New York, a region with over a million inhabitants. Syracuse is also a relatively large convention city, with a downtown convention complex and the Empire Expo Center directly west of the city, which hosts the annual Great New York State Fair. Syracuse was named after the original Syracuse, a city on the eastern coast of Sicily, Italy, which shares some similarities with this one, including a formerly-important salt industry and a neighboring town of Salina.

City of Syracuse, New York
Missing image
Syracuse_seal.gif
Image:syracuse_seal.gif


Missing image
Syracuse_Seal.jpg
Image:Syracuse_Seal.jpg


City flag
City seal
City nickname: "The Salt City"
Missing image
Map_of_New_York_highlighting_Syracuse.png



Location in the state of New York
County
Onondaga County
Area
- Total
- Water

66.4 km² (25.6 mi²)
1.4 km² (0.6 mi²) 2.15%
Population
- Density


147,306
735,920


2,266.8/km² (5,871.0/mi²)
Time zone
Eastern: UTC-5

Latitude
Longitude


43°2' N
76°8' W
History
Missing image
SyracuseSalinaHistoric.jpg
The Syracuse area was first seen by Europeans when French missionaries came to the area in the 1600s. A group of Jesuits, soldiers, and coureurs des bois (including Pierre Esprit Radisson) set up a mission on the southwest shore of Lake Onondaga at the invitation of the Onondaga Nation, one of the five constituent members of the Iroquois confederacy.
The mission was short lived, as the Mohawk Nation hinted to the Onondaga that they should sever their ties to the French, or the Onondaga's guests would suffer some horrible fate. The men in the mission caught wind of this and somehow left under cover of a cold night in March. Their entire stay was less than two years.
After the Revolutionary War, more settlers came to the area, mostly to trade with the Onondaga Nation. Salt was discovered in several swamps in Syracuse, which brought more settlers to the area, and eventually gave the city the nickname "Salt City".
The original settlement went through several name changes until 1824, first being called Webster's Landing (1786), then Bogardus Corners (1796), Milan (1809), South Salina (1812), Cossits' Corners (1814), and Corinth (1817). The U.S. Postal Service rejected the name Corinth upon its application for a post office, stating there was already a post office by this name in New York. Due to similarities such as a salt industry and a neighboring village named Salina, the name Syracuse was chosen, after Syracuse, Italy.
In 1820, the Village of Syracuse was officially incorporated. Five years later, the Erie Canal, which ran through the village, was created. In 1839, Syracuse merged with the nearby Salina to become the city of Syracuse.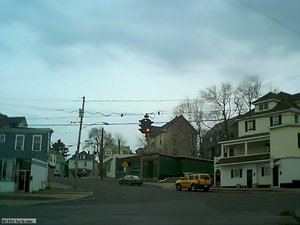 Along with the growing salt industry, Syracuse became a hot spot for the growing abolitionist movement. On October 1, 1851, a freed slave known only as "Jerry" was arrested under the Fugitive Slave Law. The anti-slavery Liberty Party was holding its state convention in the city, and when word of the arrest spread, several hundred abolitionists broke into the city jail and freed Jerry. The event came to be known as the Jerry Rescue. During the Civil War, Syracuse was also a stop on the Underground Railroad.
The salt industry declined after the Civil War, but a new manufacturing industry arose in its place. Throughout the late 1800s and early 1900s, numerous businesses and stores were established, including the Franklin Automobile Company, which produced the first air-cooled engine in the world, and the Craftsman Workshops, the center of Gustav Stickley's handmade furniture empire.
Many of Syracuse's landmark buildings were demolished in the 1950s and 1960s, and several new museums and government buildings were built. Syracuse's population peaked at 221,000 in 1950. In the 1980s, many immigrants from Africa and Central America moved to Syracuse, under the auspices of several religious charities. However, these new Syracusans could not compete with the flow of residents out of Syracuse to either its suburbs or out of state due to job loss.
The manufacturing industry in Syracuse began to falter in the 1970s. Many small businesses went out of business during this time, which contributed to an already increasing unemployment rate. Nevertheless, Syracuse metropolitan area population has remained stable, even growing by three percent since 1970.
Geography
Missing image
Syracuse_High_View.jpg
Syracuse is located at 43°2'49" North, 76°8'40" West (43.046899, -76.144423)Template:GR.
According to the United States Census Bureau, the city has a total area of 66.4 km² (25.6 mi²). 65.0 km² (25.1 mi²) of it is land and 1.4 km² (0.6 mi²) of it is water. The total area is 2.15% water, with the major water body being Onondaga Lake.
The city is seen as the northeast gateway to the Finger Lakes Region. The city has many vibrant neighborhoods which were originally various villages that joined the city over the years. Although the central part of Syracuse is flat, many of its neighborhoods are located on small hills such as University Hill and Tipperary Hill. Land to the north of Syracuse is generally flat while land to the south is hilly.
Major parks in the area include Burnet Park on Tipperary Hill, Onondaga Lake Park and Kirk Park (connected) in Strathmore, and Thornden Park between the University Hill and Westcott neighborhoods. Burnet Park is home to the Rosamond Gifford Zoo. Also worth mentioning is Schiller Park in the Near Northeast neighborhood, and Sunnycrest Park in Eastwood.
Demographics
As of the censusTemplate:GR of 2000, there are 147,306 people, 59,482 households, and 30,335 families residing in the city. The population density is 2,266.8/km² (5,871.0/mi²). There are 68,192 housing units at an average density of 1,049.4/km² (2,717.8/mi²). The racial makeup of the city is 64.26% White, 25.35% African American, 1.13% Native American, 3.37% Asian, 0.05% Pacific Islander, 2.23% from other races, and 3.61% from two or more races. 5.27% of the population are Hispanic or Latino of any race.
There are 59,482 households out of which 27.5% have children under the age of 18 living with them, 27.5% are married couples living together, 19.3% have a female householder with no husband present, and 49.0% are non-families. 38.2% of all households are made up of individuals and 11.9% have someone living alone who is 65 years of age or older. The average household size is 2.29 and the average family size is 3.11.
In the city the population is spread out with 25.0% under the age of 18, 16.8% from 18 to 24, 27.9% from 25 to 44, 17.5% from 45 to 64, and 12.9% who are 65 years of age or older. The median age is 30 years. For every 100 females there are 88.9 males. For every 100 females age 18 and over, there are 84.7 males.
The median income for a household in the city is $25,000, and the median income for a family is $33,026. Males have a median income of $30,312 versus $23,997 for females. The per capita income for the city is $15,168. 27.3% of the population and 21.7% of families are below the poverty line. Out of the total population, 35.1% of those under the age of 18 and 12.4% of those 65 and older are living below the poverty line.
Economy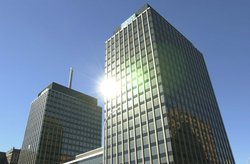 Syracuse's economy has faced challenges over the past decades as industrial jobs have left the area. This trend continued into the 1990s and picked up speed again after September 11, 2001. Syracuse's top employers are now primarily in education and in the service industry.
Top employers
The top employers in the Syracuse region and the size of their workforce, as of January 1, 2004:
(source: Syracuse Post Standard)
Future
Missing image
DestinyUSAResearchPark.jpg
The Canadian Magna_International bought the New Process Gear Division of New Venture Gear, saving it from being shut down by Daimler-Chrysler. Several smaller companies in the area continue to add a small number of jobs. In June 2004 the Bank of New York announced it would bring up to 800 jobs to Downtown Syracuse. In August it was reported that the job growth rate of the area was 1.4%. In October Lockheed Martin announced it would add up to 300 electrical, mechanical, and software engineering positions by 2007. In January 2005, AXA, which recently purchased MONY, announced it was bringing 300 more jobs downtown, and Sutherland Global Services said it would add 125. Other companies that continue to grow in the area include Welch-Allyn, Anaren, and Sensis. Today the Syracuse area has no extremely large employers, but rather many smaller ones, which provides for a certain amount of stability. Additionally, seven of the area's top nine employers are in the education or service industry, which tend to be much more stable than the manufacturing industry.
If the Pyramid Companies have their way, Syracuse will be transformed into an extremely large tourist destination, anchored by their proposed five-billion-dollar DestiNY USA resort. Except for a ceremonial groundbreaking in 2002 the project has seen no construction since it was proposed over four years ago. Recently it was announced that construction is scheduled to begin in 2005. In addition, the Pyramid Companies plan to build a massive technology park in the suburb of Salina.
Neighborhoods
The City of Syracuse officially recognizes 26 neighborhoods within its boundaries. Some of these have small neighborhoods inside of them. In addition, Syracuse also owns and operates Syracuse Hancock International Airport, located on the territory of four towns north of the city. Template:Syracuse Neighborhoods
Transportation
Public transportation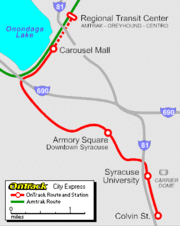 Syracuse is served by the Central New York Regional Transportation Authority, or CENTRO. CENTRO runs over a hundred bus lines around Syracuse and into the suburbs.
OnTrack is the Syracuse commuter train line. Syracuse is the smallest city in the United States to have local train service. The line runs from Colvin Street on the city's South Side via Syracuse University and Armory Square to the Carousel Center. Financing was finally approved in April 2004 to build a bridge that will allow OnTrack to reach the William F. Walsh Regional Transportation Center, Regional Market, and Alliance Bank Stadium. This service sees roughly 60 people a day and is used mostly by Syracuse University students.
The Pyramid Companies have also proposed a monorail linking the university to the airport via downtown, their proposed DestiNY Resort, the transportation center, and their proposed DestiNY Technology Park. The cost of such a line has been estimated at $750 million.
Local millionaire Tom McDonald has also proposed a gondola lift system, called Salt City Aerial Transit (S.C.A.T.), to link the university to the transportation center using a similar route. The first segment from SU to Downtown has been estimated to cost $5 million.
Bus & rail
The city lies on Amtrak's Empire Service, Lake Shore Limited, and Maple Leaf lines. Greyhound Lines and Trailways provide long-distance bus service. All three use the William F. Walsh Regional Transportation Center in the north of the city.
Air service
Syracuse is served by the Syracuse Hancock International Airport in nearby Salina, near Mattydale. The airport is served by 17 airlines (9 major), which provide non-stop flights to destinations as far away as Orlando, as well as several daily flights to important airline hubs and business centers such as Atlanta, Baltimore, Boston, Charlotte, Chicago, Cincinnati, Cleveland, Dallas-Fort Worth (Starting in August), Detroit, New York City, Philadelphia, Pittsburgh, and Washington, DC. Six cargo carriers also serve the airport.
Roads
Missing image
SyracuseHighways.jpg
Interstate 81 (Canada to Knoxville) runs north-south through Syracuse, and provides access to Canada, Pennsylvania and points south.
Interstate 90 (Seattle to Boston), also known as the New York State Thruway runs east-west, just north of the city. It provides access to Rochester, Buffalo, Albany, and the north-south (Interstate 87) part of the Thruway which leads to New York City.
Interstate 690 runs east-west through the city, and provides access to Interstate 90, as well as to Syracuse's northwestern and eastern suburbs. A spur off I-690 directly west of the city, NY-695, provides freeway access to the southwestern suburbs.
Interstate 481 forms an eastern loop around the city and continues to the northwest as NY-481 to Fulton and Oswego, on the shore of Lake Ontario.
U.S. Highway 11 (Canada to New Orleans) passes through Syracuse, including downtown, and it follows the route of Salina and State Streets.
U.S. Highway 20 (Boston to Newport, Oregon) passes south of Syracuse.
Government
Executive
The city is headed by an elected mayor who is limited to two, four-year terms. The incumbent is former Syracuse Common Council President Matthew Driscoll, who first assumed the position in 2001 after the former mayor, Roy Bernardi, resigned upon his appointment by President George W. Bush to a position in the Department of Housing and Urban Development. After serving the remaining term, Driscoll was re-elected that year.
Legislative
The legislative branch of Syracuse is the Syracuse Common Council. It consists of a president and nine members.
Judicial
The Onondaga County Supreme and County Court is the trial court of general jurisdiction for Syracuse. It is also the administrative court for the Fifth District of the New York State Unified Court System. Judges for these courts are elected at-large.
The U.S. District Court for the Northern District of New York also has its chambers in Syracuse.
Media
Newspapers
Syracuse has one daily morning newspaper, The Syracuse Post-Standard. There is also a weekly free newspaper that focuses on events in Syracuse, The Syracuse New Times.
Up until 2001, Syracuse also had an evening paper, The Syracuse Herald-Journal.
Television
Syracuse has eight broadcast television stations:
Syracuse's cable television provider is Time Warner Cable, which, as a part of its regular and digital offerings, provides a 24-hour local news channel (News 10 Now), local sports channel, public access channel, and an additional PBS channel.
Dish Network and DirectTV also provide local satellite television subscribers with local broadcast stations.
Religion
Buddhism: Buddhism has its presence in Syracuse with the Zen Center of Syracuse on the Seneca Turnpike; as well as a center on Park Street, on the city's north side.
Christianity: Syracuse has two cathedrals, the Episcopalian St. Paul's Cathedral and the Roman Catholic Cathedral of the Immaculate Conception. Both are home to their respective diocese, the Diocese of Central New York (Episcopalian) and the Diocese of Syracuse (Roman Catholic). In addition there are dozens of churches in Syracuse for virtually every kind of Christian, including Jehovah's Witness, Christian Science, and Metaphysical Christian. Complete List (http://syr-area.com/how.html)
Eckankar: The ECK Center of Central New York provides service for Syracuse-area Eckankar believers.
Hinduism: Hindu houses of worship include the Hindu Mandir of Central New York in Syracuse, and the Sikh Foundation of Syracuse, in Liverpool.
Islam: Islam also has a presence in Syracuse, with the Islamic Society of Central New York Mosque on Comstock Avenue and Muhammad's Study Group on West Kennedy Street.
Judaism: There are several Jewish houses of prayer in Syracuse, including the Temple Society of Concord, Temple Beth El, and Temple Adath Yeshurun.
Unitarian Universalist: There are two Unitarian Universalism churches in Syracuse.
A complete list of Syracuse's Houses of Worship (http://syr-area.com/how.html)
Sports
Missing image
Syracuse_Shot_Clock_Monument.jpg
Main article: Sports in Syracuse
Professional
Syracuse was once home to the NBA's Philadelphia 76ers. Known as the Syracuse Nationals (1946-1963), they played seventeen seasons in Syracuse, and even won the NBA championship in 1955. The NBA's 24-second clock was invented in, and first came into use in Syracuse. In March 2005 the city dedicated a monument to this fact. It is a 125% scaled model of the original shot clock used.
College
Museums and libraries
Colleges and universities
Missing image
SyracuseUniversityStairwaytoHL.jpg
Syracuse's major university is Syracuse University, located on University Hill. It had an enrollment of 18,604 students (12,645 undergraduates, 5,176 graduates, and 783 law students) in 2003.
Surrounding Syracuse University are two State University (SUNY) schools, the SUNY College of Environmental Science and Forestry and SUNY Upstate Medical University.
Also in Syracuse are LeMoyne College on the city's eastern border, and Onondaga Community College, which has its main campus in the city's South Valley neighborhood, along with two smaller campuses downtown and in Liverpool. A branch of SUNY's Empire State College is located in downtown Syracuse, along with a campus of the nationwide Bryant & Stratton College.
Other colleges and universities in the area include Cornell University and Ithaca College in Ithaca, Oswego State University in Oswego, SUNY Cortland in Cortland, SUNY Morrisville in Morrisville, Colgate University in Hamiliton, and Wells College in Aurora.
List of famous Syracusans
Missing image
Vanilla_Sky_poster.jpg
From City:
From Metropolitan Area:

Attended Syracuse University:
See Syracuse University for more
Syracuse in film and television
Sites of interest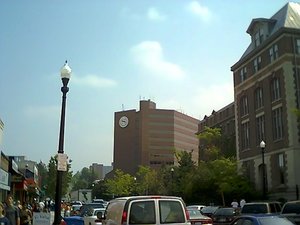 Events
External links
Template:Wiktionary Template:Commons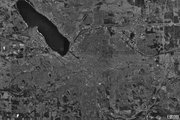 de:Syracuse fr:Syracuse (New York) nl:Syracuse (New York) pt:Syracuse simple:Syracuse, New York