Phoenix, Arizona
From Academic Kids
Missing image
Phxdowntown.jpg
Phoenix is the capital, largest city and largest metropolitan area in the state of Arizona, United States. Phoenix ranked:
the sixth-largest city in the U.S., with a population of 1,321,045 (as of the 2000 census); however, according to a 2004 US Census estimation, Phoenix is now the fifth-largest city, surpassing Philadelphia, Pennsylvania with 1.5 million people
the 14th largest metropolitan area of the United States, with a population of 3,251,876 (2000 census)
the largest capital city by area and population in the U.S. (including Washington, DC)
the eighth-fastest growing metropolitan area in the U.S. (2000 census)

Phoenix was incorporated on February 5, 1881. It is the county seat of Maricopa County and the principal city of the Phoenix metropolitan area.
Phoenix is called Hoodzo (lit. 'the place is hot') in Navajo (a language spoken in Arizona & New Mexico) and Fiinigis in Western Apache (a language spoken in Arizona).
History
Prehistory
The earliest settlers in the Valley of the Sun were the Hohokam people, who lived there as early as 300 BC. They were the first to farm there, building an elaborate canal system that brought water from the Salt River. Their name is derived from the Pima (Akimel O'otham) phrase, Ho Ho Kam, "the people who have gone". They also lived in the Pueblo Grande ruins between 700 and 1400 A.D. They were industrious, enterprising, and imaginative. Their irrigation system comprised some 135 miles (217 km) of canals. Their disappearance ca. 1450 A.D. remains a mystery. Prolonged drought may have destroyed or displaced them; or, they may be the ancestors of the modern Pima Indians who now live on the Salt River and Gila River reservations, or the Tohono O'odham Indians who live in southern Arizona.
Origin of the city
In 1867, Jack Swilling of Wickenburg stopped to rest his horse at the foot of the north slopes of the White Tank Mountains. He looked down across the expansive Salt River Valley and his eyes caught the rich gleam of the brown, dry soil turned up by the horse's hooves. He saw farmland, predominantly free of rocks, and beyond the reach of heavy frost or snow. All it needed was water. By 1868, he and others from Wickenburg had dug a short canal from the Salt River and founded a small farming colony approximately four miles (6 km) east of the present city (about 22 miles west of Mesa, which was already a city of 1,000 people; and a few miles northwest of a similar farming community at Hayden's Ferry, which would become Tempe).
The area was named Swilling's Mill in his honor. It would later become Hellinwg Mill, Mill City, then East Phoenix. As for the town that was to be built, Swilling, a former Confederate soldier, wanted to name it Stonewall, after Stonewall Jackson; others suggested Salina.
Darrel Duppa recommended the name Phoenix, memorializing the birth of a new civilization from the ruins left by the Hohokam.
The town of Phoenix was officially recognized on May 4, 1868, when the Board of Supervisors of Yavapai County (which at the time encompassed Phoenix), formed an election precinct there. The Phoenix post office was established June 15, 1868, with Jack Swilling as postmaster.
The area was surveyed in 1870 and mass meeting of the citizens of Salt River Valley was held on October 20, 1870, to select a suitable piece of unimproved public land for a town site. They recommended the North 1/2 of section 8 Township 1 N., Range 3 E. and that the town be called Phoenix.
On February 12, 1871, the territorial legislature created Maricopa County, the sixth in the state, by dividing Yavapai County. Maricopa county gave up portions in 1875 and 1881 to help form Pinal and Gila counties, respectively. The first county election in Maricopa County was held in 1871, when Tom Barnum was elected the first sheriff of Maricopa County.
The first public school in Phoenix opened on September 5, 1872, in the courtroom of the county building. By October 1873, a small adobe school building was completed on Center Street (now Central Avenue), a short distance north of where the San Carlos Hotel now stands. Miss Nellie Shaver, a newcomer from Wisconsin, was appointed as the first female schoolteacher in Phoenix.
On April 10, 1874, President Grant issued a land patent for the present site of Phoenix. The total cost of the Phoenix Townsite of 320 acres (1.3 km2) was $550, including all expenses for services.
By 1881, Phoenix had outgrown its original townsite-commissioner form of government. The 11th Territorial Legislature passed the Phoenix Charter Bill, incorporating Phoenix and providing for a mayor-council government. The bill was signed by Governor John C. Fremont on February 25, 1881. Phoenix was incorporated with a population of approximately 2,500, and on May 3, 1881, Phoenix held its first city election, in which Judge John T. Alsap defeated James D. Monihon, 127 to 107, to become the city's first Mayor.
Prosperity and modernity
The coming of the railroad in the 1880s was the first of several important events that revolutionized the economy of Phoenix. Merchandise now flowed into the city by rail instead of wagon. Phoenix became a trade center with its products reaching eastern and western markets. In recognition of the increased tempo of economic life, the Phoenix Chamber of Commerce was organized on November 4, 1888.
In early 1888, the city offices were moved into the new City Hall, built where the downtown bus terminal now stands. This building also provided temporary offices for the territorial government when it moved to Phoenix from Prescott in 1889.
In 1902, President Theodore Roosevelt signed the National Reclamation Act making it possible to build dams on western streams for reclamation purposes. Valley of the Sun residents were quick to supplement this federal action by organizing the Salt River Valley Waters Users' Association on February 4, 1903, to assure proper management of the precious water supply. It functions to this day as the major agency for controlled use of irrigation water in the Valley.
On May 18, 1911, the Theodore Roosevelt Dam, then the largest masonry dam in the world, began operation. It created Roosevelt Lake, expanded irrigation of land in the Valley for farming, and increased the water supply for the growing population.
On February 14, 1912, President William Howard Taft approved Arizona's statehood, making Phoenix the state capital.
In 1913, Phoenix changed its form of government from mayor-council to council-manager. Phoenix was one of the first cities in the United States to have this form of city government.
In 1924, President Calvin Coolidge sold 13,000 acres (53 km²) of South Mountain to the city of Phoenix for $17,000. At its present size of 16,500 acres (67 km2), South Mountain Park is the largest metropolitan park in the world, and it entertains 3 million visitors each year.
Phoenix began to grow into a young metropolis. By 1920, Phoenix had a population of 29,053 inhabitants, which by 1930 had grown by 60%, to 48,118.
1940 marked another turning point, as the war changed Phoenix from a farming center to a distribution center. Phoenix rapidly turned into an embryonic industrial city with mass production of military supplies. Luke Field, Williams Field and Falcon Field, coupled with the giant ground-training center at Hyder, west of Phoenix, brought thousands of men into Phoenix.
In 1950, 105,000 people lived within the city limits and thousands more lived in adjacent communities and depended upon Phoenix for their livelihoods. The city had 148 miles (238 km) of paved streets and 163 miles (262 km) of unpaved streets, a total of 311 miles (501 km) of streets within the city limits.
Phoenix has been selected four times since 1950 as an All-America City, rare among larger cities. The hallmark of an All-America City is the extent to which its private citizens get involved in the workings of their government. Thousands of citizens have served on various city committees, boards and commissions to assure that major decisions are in the best interest of the people.
Geography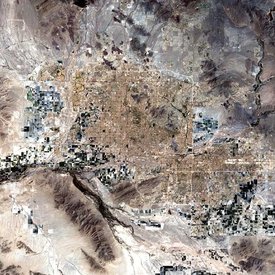 Phoenix is located at 33°31'42" North, 112°4'35" West (33.528370°, -112.076300°)Template:GR in the Phoenix Valley or "Valley of the Sun" in central Arizona. It lies at a mean elevation of 1,117 feet (340 m) in the heart of the Sonoran Desert.
The Greater Phoenix area has a population of 3.2 million and includes Mesa, Scottsdale, Glendale, Tempe, Chandler, Gilbert, Peoria and many smaller communities such as Goodyear, Fountain Hills, Litchfield Park, and Anthem. Major retirement communities include Sun Lakes, Sun City, and Sun City West. The community of Ahwatukee is a part of the City of Phoenix itself, but is almost entirely separated from it by South Mountain.
The Salt River runs westward through the city of Phoenix; it is typical to see the riverbed entirely dry except when unexpected runoff forces the release of water from any of the several dams upriver. The city of Tempe has built two inflatable dams in the Salt River to create a year-round recreational lake, called Tempe Town Lake. The dams are deflated to allow the river to flow unimpeded during releases. During periods of increased precipitation such as late 2004/early 2005 its current can become quite strong and regular.
The Phoenix metropolitan area is surrounded by the McDowell Mountains to the northeast, the White Tank Mountains to the west, the Superstition Mountains far to the east, and the Sierra Estrella to the southwest. Within the city are the Phoenix Mountains and South Mountains. Current development (as of 2005) is pushing rapidly beyond the geographic boundaries to the north and west, south through Pinal County towards Tucson, and beginning to surround the large Salt River and Gila River reservations.
According to the United States Census Bureau, the city has a total area of 1,230.5 km² (475.1 mi²). 1,229.9 km² (474.9 mi²) of it is land and 0.6 km² (0.2 mi²) of it is water. The total area is 0.05% water.
Climate
Clear blue skies are typical, with an average of 300 sunny days a year. The temperature reaches or exceeds 100 °F (38 °C) on an average of 89 days during the year, including most days from early June through early September. In every year except 1911, the temperature has soared to 110 °F (43 °C) or higher. On June 26, 1990, the temperature reached an all-time high of 122 °F (50 °C). The dry Arizona air makes the hot temperatures more tolerable early in the season; however, the influx of monsoonal moisture has been known to make August in Phoenix almost as humid as summers in the Southeastern United States.
Missing image
Sunset_in_phoenix.jpg
The normal annual rainfall at Sky Harbor International Airport is 8.29 inches (211 mm). March is the wettest month of the year (1.07 inches or 27 mm). Rain is particularly scarce from April through June. Although thunderstorms occur on occasion during every month of the year, they are most common during the monsoon season from July to mid-September as humid air surges in from the Gulf of California. Winter storms moving inland from the Pacific Ocean occasionally produce significant rains but occur infrequently. Fog is observed from time to time during the winter months. Blowing dust and sand, which also can restrict visibility, accompany the collapse of monsoonal thunderstorms. The wind-front creates a haboob, a wall of dust thousands of feet high. Severe thunderstorms—bringing strong winds, large hail, or tornadoes—can occur during any month of the year, but only happen an average of once or twice per year somewhere in the metropolitan area.
At the airport, the mean date of first frost is December 12 and the last is February 7; however, these dates do not represent the city as a whole because the frequency of freezes varies considerably among terrain types and elevations. Some areas of Phoenix may see frost for a month or more before and after the airport readings. The earliest frost on record occurred November 3, 1946, and the latest April 4, 1945. Successive winters without any frosts at the airport have been recorded, and the longest period without a freeze stretched from November 23, 1979 to January 31, 1985.
Snow falls roughly one year in four, but since recording commenced in 1896 it has accumulated to 0.1 inch (0.25 cm) only 7 times. The heaviest snowstorm occurred on January 20-21, 1937, when 1 to 4 inches fell (2 to 10 cm) in parts of the city and did not melt entirely for four days. Another 1.0 inch (2.5 cm) fell on January 20, 1933. On February 2, 1935, 0.5 inches (1 cm) fell. Most recently, 0.4 inches (1 cm) fell on December 21-22, 1990. Snow also fell on March 12, 1917, November 28, 1919, and December 11, 1985.
Government
The city of Phoenix is served by a council-manager form of government. The current mayor of Phoenix is Phil Gordon. There is an 8-person city council that represents 8 individual districts in the city of Phoenix.
Phoenix is divided into 15 "urban villages". Their primary purpose is to assist the City Council with zoning and planning ordinances. 14 of the urban villages are:
Ahwatukee Foothills
Alhambra
Camelback East
Central City
Deer Valley
Desert Ridge
Desert View
Encanto
Estrella
Laveen
Maryvale
North Gateway
North Mountain
Paradise Valley
South Mountain
The 15th remains unnamed; it is listed as "New Village" on the city's Village Planning Committee website [1] (http://phoenix.gov/PLANNING/vpcommtt.html). This village was created in 2004 after the approval of new annexations in extreme northern Maricopa County. The new annexation is sparsely populated (if at all) and new development is not expected in the near future.
Education
Public education in Phoenix if provided by about 30 school districts.
High schools

North Canyon High School is located in the north valley and features an International Baccalaureate program. It has had many students with prestigious distinctions.
Economy
Formerly an agricultural economy dependent mostly on cotton and citrus farming, Phoenix in the last two decades has diversified as rapidly as the population has grown. Many of the area's residents are employed by the state government since Phoenix is the capital of Arizona. Numerous high-tech and telecommunications companies have located in the Valley of the Sun. Arizona State University has enhanced the area's population through education and its growing research capabilities. Due to the warm climate in winter, Phoenix benefits greatly from seasonal tourism and recreation, and has a particularly vibrant golf industry.
Public corporations headquartered in the area
Companies with Large Presence in the Area
Military
The military has a significant presence in Phoenix with Luke Air Force Base located in the western suburbs. At its height, in the 1940s, the Phoenix area had 3 military bases: Luke Field (still in use), Falcon Field, and Williams-Gateway Field, with numerous auxillary air fields located throughout the region.
Demographics
Missing image
Phoenix_sunrise.jpg
At the census of 2000, there were 1,321,045 people, 465,834 households, and 307,450 families residing in the city. The population density was 1,074/km² (2,782/mi²). There were 495,832 housing units at an average density of 403/km² (1,044/mi²). The racial makeup of the city was 71.07% White, 5.10% African American, 2.02% Native American, 2.00% Asian, 0.13% Pacific Islander, 16.40% from other races, and 3.28% from two or more races. 34.06% of the population were Hispanic or Latino of any country origin.
There were 465,834 households out of which 35.7% had children under the age of 18 living with them, 46.9% were married couples living together, 12.9% had a female householder with no husband present, and 34.0% were non-families. 25.4% of all households were made up of individuals and 6.3% had someone living alone who was 65 years of age or older. The average household size was 2.79 and the average family size was 3.39.
In the city the population age distribution was 28.9% under the age of 18, 10.9% from 18 to 24, 33.2% from 25 to 44, 18.8% from 45 to 64, and 8.1% who were 65 years of age or older. The median age was 31 years. For every 100 females there were 103.5 males. For every 100 females age 18 and over, there were 102.7 males.
The median income for a household in the city was $41,207, and the median income for a family was $46,467. Males had a median income of $32,820 versus $27,466 for females. The per capita income for the city was $19,833. 15.8% of the population and 11.5% of families were below the poverty line. Out of the total population, 21.0% of those under the age of 18 and 10.3% of those 65 and older were living below the poverty line.
Media
Television
Phoenix is served by several major television stations:
This list is incomplete.
AM
550 - KFYI - Conservative Talk Radio - Fox - Clear Channel
620 - KTAR - News/Talk Radio - ABC
710 - KMIA - Spanish News/Talk (Radiovisa network) - Black Canyon City
740 - KDIR - Spanish talk (Radio Formula network from Mexico) - Phoenix
860 - KMVP - Sports - ESPN
910 - KGME - Sports - Clear Channel
960 - KKNT - "The Patriot" - News/Talk Radio - Salem Broadcasting
1010 - KXXT - Air America Radio - Tolleson
1060 - KDUS - Sports - Sporting News - Tempe
1100 - KFNX - News/Talk - CNN - - Cave Creek
1150 - KCKY - Spanish Christian - Coolidge
1190 - KMYL - Talk - NBC - Tolleson
1230 - KOY - Nostalgia - CNN - Clear Channel
1280 - KXEG - Christian - Phoenix
1310 - KXAM - Talk - CNN - Mesa
1360 - KPXQ - Religious/Talk - Glendale
1400 - KSUN - Regional Mexican Music - Phoenix (Radio Fiesta)
1440 - KAZG - Oldies - Scottsdale
1480 - KPHX - Comedy Radio (via satellite) - Phoenix
1510 - KFNN - Finance - Fox - Mesa
1580 - KMIK - Radio Disney - Mesa
FM
88.3 - KNAI - Spanish Regional (La Campesina)
89.5 - KBAQ - Classical - Phoenix
91.5 - KJZZ - NPR, Jazz: M-F evenings; Blues: Sunday evening
92.3 - KKFR - R&B and Hip Hop (Power 92)
92.7 / 101.1 KNRJ-FM - Dance/Club Music - Payson
93.3 - KDKB - Album Rock - Mesa
94.5 - KOOL - Oldies
95.5 - KYOT - Smooth Jazz
96.9 - KMXP - Rock Adult Contemporary
97.9 - KUPD - Album Rock (98 KUPD)
98.7 - KPKX - 70's, 80's and whatever we want (The Peak)
99.3 / 104.3 - KAJM - R&B oldies
99.9 - KESZ - Soft rock - Beth and Bill Morning Show- Delliah Night Show (KEZ)
100.3 / 106.3 - KOMR - Spanish Love Songs (AMOR)
100.7 - KSLX - Classic Rock
101.5 - KZON - Alternative Rock (The Zone)
102.5 - KNIX - Country
103.5 - KLNZ - Spanish Regional (Radio Tricolor)
103.9 - KEDJ - Alternative Rock (The Edge)
104.7 - KZZP - Contemoporary Hits (KISS FM)
105.9 - KHOT - Spanish Regional (La Nueva)
106.9 / 107.1 - KDVA - Spanish Contemporary (Super Estrella)
107.9 - KMLE - Country (Camel Country 108)
Newspaper
Phoenix's first publication was the Salt River Valley Herald. It later changed its name to the Phoenix Herald in 1880. By this time, the paper had progressed from a weekly publication to semiweekly.
The city has two major newspapers: The Arizona Republic serves the greater metropolitan area and The East Valley Tribune tends to focus on East Valley issues. In addition, the city is also served by numerous free neighborhood papers and weeklies such as the Phoenix New Times, Arizona State University's State Press, and the College Times. For 40 years, The Bachelor's Beat, a paid weekly newspaper has covered local politics while selling ads for area strip clubs and escort services.
Sports
Sport teams
Nine Major League Baseball teams conduct spring training in Greater Phoenix; these teams, plus three that train in Tucson, are collectively known as the Cactus League.
Sport venues
Sport events
Museums, attractions and other places of interest
Transportation
List of famous former and current Phoenix residents
Athletics
Entertainment
Literature
Politics
Miscellaneous
Phoenix in film
External links