Nantucket, Massachusetts
From Academic Kids
This article is about the island, town, and county; there is also a census-designated place called Nantucket.
---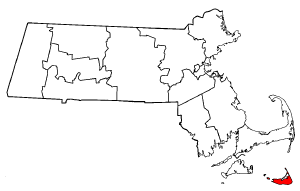 Nantucket is an island south of Cape Cod, Massachusetts, formed of glacial moraine. Together with the small islands of Tuckernuck and Muskeget, it constitutes the town of Nantucket, Massachusetts and the coextensive Nantucket County.
The village of Surfside on Nantucket is the southernmost settlement in Massachusetts.
Nantucket is known as a tourist destination and summer colony. It has some of the highest property values in Massachusetts due to the summer influx of wealthy visitors who have bought second homes there.
It is also the source of the mythical "man from Nantucket" made famous in numerous limericks.
History
Nantucket was part of Dukes County, New York until 1691, when it was transferred to Massachusetts and made its own county.
Missing image
Andrea_Doria_at_Dawn.jpg
Nantucket was formerly the world's leading whaling port (and still serves as home port for a small fishing industry). Herman Melville comments on Nantucket's whaling dominance in Moby Dick, Chapter 14: "Two thirds of this terraqueous globe are the Nantucketer's. For the sea is his; he owns it, as Emperors own empires; other seamen having but a right of way through it."
On July 25, 1956, in the Atlantic Ocean 45 miles south of Nantucket, the Italian ocean liner SS Andrea Doria sank after colliding with the SS Stockholm in heavy fog. 51 were killed in the crash but none lost their lives in the sinking.
Along with the island of Martha's Vineyard, Nantucket voted in 1977 to secede from the Commonwealth of Massachusetts. The secession movement was sparked by a proposed change to the Massachusetts Constitution, which would cut eighty members from the 240-strong state House of Representatives, reducing the islands' representation. Needless to say, the movement was not carried to fruition, as the islands remain a part of Massachusetts.
On October 31, 1999, EgyptAir Flight 990 traveling from New York City to Cairo crashed off the coast of Nantucket, killing all 217 on board.
Missing image
Nantuckmap.png
Geography
According to the U.S. Census Bureau, Nantucket County has a total area of 786 km² (304 mi²). 124 km² (48 mi²) of it is land and 663 km² (256 mi²) of it is water. The total area of the county is 84.25% water. The area of Nantucket Island proper is 123.8 km² (47.8 mi²).
The triangular region of ocean northeast of Nantucket, between it and Cape Cod, is Nantucket Sound.
Demographics
As of the census2 of 2000, there are 9,520 people, 3,699 households, and 2,104 families residing in Nantucket. The population density is 76.9/km² (199.1/mi²). There are 9,210 housing units at an average density of 74.4/km² (192.6/mi²). The racial makeup of the town is 87.85% White, 8.29% African American, 0.64% Asian, 0.04% Pacific Islander, 0.01% Native American, 1.60% from other races, and 1.58% from two or more races. 2.23% of the population are Hispanic or Latino of any race.
There are 3,699 households out of which 26.9% have children under the age of 18 living with them, 45.7% are married couples living together, 8.0% have a female householder with no husband present, and 43.1% are non-families. 29.8% of all households are made up of individuals and 8.0% have someone living alone who is 65 years of age or older. The average household size is 2.37 and the average family size is 2.90.
In the town the population is spread out with 19.2% under the age of 18, 7.4% from 18 to 24, 40.4% from 25 to 44, 22.5% from 45 to 64, and 10.5% who are 65 years of age or older. The median age is 37 years. For every 100 females there are 105.3 males. For every 100 females age 18 and over, there are 105.0 males.
The median income for a household in the town is $55,522, and the median income for a family is $66,786. Males have a median income of $41,116 versus $31,608 for females. The per capita income for the town is $31,314. 7.5% of the population and 3.0% of families are below the poverty line. Out of the total population, 2.3% of those under the age of 18 and 7.1% of those 65 and older are living below the poverty line.
External links