Wichita Falls, Texas
From Academic Kids
Wichita Falls is a city in Wichita County, Texas, United States. As of the 2000 census, the city had a total population of 104,197. It is the county seat of Wichita CountyTemplate:GR.
Sheppard Air Force Base, a United States Air Force base, is located in Wichita Falls.
Wichita Falls is sister city to Fürstenfeldbruck in Bavaria, Germany.
Geography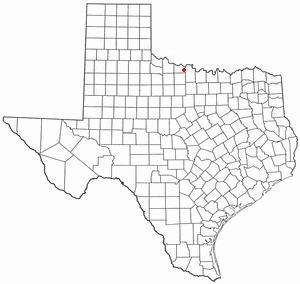 Wichita Falls is located at 33°53'49" North, 98°30'54" West (33.897047, -98.514881)Template:GR.
The city is about 15 miles from the border with Oklahoma.
According to the United States Census Bureau, the city has a total area of 183.1 km² (70.7 mi²). 183.1 km² (70.7 mi²) of it is land and 0.1 km² (0.04 mi²) of it is water. The total area is 0.03% water.
Demographics
As of the censusTemplate:GR of 2000, there are 104,197 people, 37,970 households, and 24,984 families residing in the city. The population density is 569.1/km² (1,474.1/mi²). There are 41,916 housing units at an average density of 228.9/km² (593.0/mi²). The racial makeup of the city is 75.11% White, 12.40% African American, 0.86% Native American, 2.20% Asian, 0.10% Pacific Islander, 6.39% from other races, and 2.95% from two or more races. 13.98% of the population are Hispanic or Latino of any race.
There are 37,970 households out of which 33.1% have children under the age of 18 living with them, 49.7% are married couples living together, 12.3% have a female householder with no husband present, and 34.2% are non-families. 28.7% of all households are made up of individuals and 10.7% have someone living alone who is 65 years of age or older. The average household size is 2.46 and the average family size is 3.04.
In the city the population is spread out with 24.7% under the age of 18, 15.2% from 18 to 24, 29.3% from 25 to 44, 18.6% from 45 to 64, and 12.3% who are 65 years of age or older. The median age is 32 years. For every 100 females there are 106.2 males. For every 100 females age 18 and over, there are 106.7 males.
The median income for a household in the city is $32,554, and the median income for a family is $39,911. Males have a median income of $27,609 versus $21,877 for females. The per capita income for the city is $16,761. 13.9% of the population and 10.8% of families are below the poverty line. Out of the total population, 17.7% of those under the age of 18 and 10.3% of those 65 and older are living below the poverty line.
Transportation
Highways
Wichita Falls is the western terminus for Interstate 44. U.S. Highways leading to or through Wichita Falls includes 287, 277, 281, and 82. Texas State Highway 240 ends at Wichita Falls and State Highway 79 runs through it.
Air Travel
The Wichita Falls Municipal Airport is served by American Eagle with six flights daily to the Dallas-Fort Worth International Airport. The Kickapoo Downtown Airpark and the Wichita Valley Airport serve smaller, private planes.
Van Service
Greyhound Lines provides intercity bus service from Wichita Falls to other locations served by Greyhound. Skylark Van Service shuttles passengers to and from DFW on several runs during the day all week long.
Education
Wichita Falls is home to Midwestern State University, an accredited 4-year college offering both bachelor's and master's degrees.
Public primary and secondary education is covered by the Wichita Falls Independent School District, the City View Independent School District, and the Bright Ideas Charter School. There are several parochial schools, the largest of which is Notre Dame Catholic School. Other private schools operate in the city, as does an active home-school community.
Three schools in the Wichita Falls Independent School District participate in the International Baccalaureate programmes. Hirschi High School offers the IB Diploma Programme, Zundelowitz Junior High School had offered the Middle Years Programme, and Lamar Elementary will soon (as of this writing in March 2005) offer the Primary Years Programme.
Sports and Recreation
Wichita Falls is the home of the annual Hotter'N Hell Hundred, the largest century (one hundred mile) bicycle ride in the US.
Soccer legend Mia Hamm spent most of her childhood in Wichita Falls.
External links