Brownsville, Texas
From Academic Kids
Brownsville is a city located in Cameron County, Texas, United States. As of the 2000 census, the city had a total population of 139,722. It is the county seat of Cameron CountyTemplate:GR.
Geography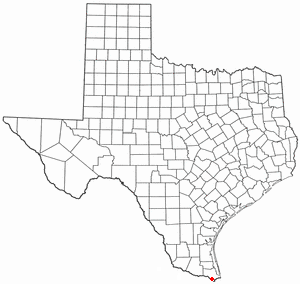 Brownsville is located at 25°55'49" North, 97°29'4" West (25.930307, -97.484424)Template:GR, across the Rio Grande (Rio Bravo) from Matamoros, Tamaulipas, Mexico.
According to the United States Census Bureau, the city has a total area of 215.0 km² (83.0 mi²). 208.2 km² (80.4 mi²) of it is land and 6.8 km² (2.6 mi²) of it is water. The total area is 3.16% water.
Demographics
As of the censusTemplate:GR of 2000, there are 139,722 people, 38,174 households, and 32,180 families residing in the city. The population density is 671.0/km² (1,737.8/mi²). There are 42,323 housing units at an average density of 203.2/km² (526.4/mi²). The racial makeup of the city is 81.65% White, 0.41% African American, 0.42% Native American, 0.54% Asian, 0.03% Pacific Islander, 14.66% from other races, and 2.29% from two or more races. 91.28% of the population are Hispanic or Latino of any race.
There are 38,174 households out of which 50.1% have children under the age of 18 living with them, 59.3% are married couples living together, 20.9% have a female householder with no husband present, and 15.7% are non-families. 13.7% of all households are made up of individuals and 6.7% have someone living alone who is 65 years of age or older. The average household size is 3.62 and the average family size is 3.99.
In the city the population is spread out with 34.6% under the age of 18, 11.2% from 18 to 24, 27.5% from 25 to 44, 17.2% from 45 to 64, and 9.5% who are 65 years of age or older. The median age is 28 years. For every 100 females there are 89.0 males. For every 100 females age 18 and over, there are 82.5 males.
The median income for a household in the city is $24,468, and the median income for a family is $26,186. Males have a median income of $21,739 versus $17,116 for females. The per capita income for the city is $9,762. 36.0% of the population and 32.4% of families are below the poverty line. Out of the total population, 45.0% of those under the age of 18 and 31.0% of those 65 and older are living below the poverty line.
Government
Brownsville has a Council-Manager style of Government. The Mayor and 6 City Commissioners, 2 At-Large and 4 District, serve staggered 4 year terms. Every 2 years, 3 Commission seats are voted for. A candidate for local office must receive a majority of the vote in order avoid a runoff. In the event that a Commissioner or the Mayor must vacate his/her seat a special election will be held to fill the vacancy.
At current Brownsville's elected officials are:
Mayor: Eddie Treviņo Jr.
Commissioner At-Large "A": Sally Arroyo
Commissioner At-Large "B": Ernie Hernandez
Commissioner District 1: Ricardo Longoria Jr.
Commissioner District 2: David Betancourt
Commissioner District 3: Carlos Cisneros
Commissioner District 4: Edward Camarillo
The next regular elections for the City will occur in the following years:
Mayor: 2006
At-Large "A": 2007
At-Large "B": 2009
District 1: 2007
District 2: 2007
District 3: 2009
District 4: 2009
Brownsville also has officials that are appointed by the City Commission among those are the:
City Manager: Charlie Cabler
Assistant City Manager: Carlos Ayala
The City Commission also appoints a 6 member Public Utilities Board. The Current Board Members are:
Oscar E. Garcia, Chairman
Cristobal M. Valadez, Jr., Vice-Chairman
Robert A. Sanchez, Secretary
Billy R. Bradford, Jr., Member
Pat M. Ahumada, Jr., Member
Eddie Treviņo, Jr., Ex-Officio Member
Interesting Facts
Because of it's proximity to Mexico, English and Spanish have equal status in Brownsville.
Brownsville has 3 international bridges:
The Brownsville & Matamoros International Bridge, known locally as the "Old Bridge".
Gateway International Bridge, known locally as the "new bridge".
The Veteran's Bridge at Los Tomates, or locally simply known as the "Veteran's Bridge".
Brownsville is home to 50 public schools ranging all the grades from Pre Kindergarten to 12th Grade. See Education in Brownsville, Texas for more details on the education available.
Local attractions include the Gladys Porter Zoo, Camille Lightner Playhouse, a historical downtown with buildings over 150 years old, The University of Texas at Brownsville/Texas Southmost College, The Brownsville & South Padre Island International Airport (BRO), a port known as the Port of Brownsville. There is also easy access to South Padre Island and Matamoros, Mexico.
A number of the famous historical homes in downtown Brownsville are becoming the homes of local Law Offices.
Brownsville is the hometown of the heroine in the song "Delta Dawn".
Pre-Brownsville History
The very next day on May 9, 1846 The Battle of Resaca de la Palma was fought.
Brownsville History
Brownsville was established in January 13, 1849 by Charles Stillman.
On May 15, 1865 a month after the surrender had been signed at Appomattox Court House the Battle of Palmito Ranch was fought.
On Valentine's day, 1895, 2 inches of snow fell in Brownsville. This was the first recorded instance of snow in recorded history of the region.
On December 8, 1911 Brownsville's first international bridge was opened, which was called the Brownsville & Matamoros Bridge.
On September 8, 1926 The Junior College of the Lower Rio Grande Valley now known as Texas Southmost College as in the University of Texas at Brownsville/Texas Southmost College admitted its first class.
In 1991 Brownsville receives a University via the partnership between the University of Texas at Brownsville and Texas Southmost College.
Brownsville was declared an All-America City in the year 2001.
On December 25, 2004, Brownsville and the Rio Grande Valley had their first instance of measurable snow in 109 years, with 1 1/2 inches, and with this their very first White Christmas. This was part of the 2004 Christmas Eve Snowstorm.
Brownsville Independent School District, at current, is the 17th. largest school district in Texas.
External links
Template:Geolinks-US-cityscale