College Station, Texas
From Academic Kids
College Station, Texas is a city located in Brazos County, and is situated in East Texas. The city is centrally located in the heart of Texas, approximately equidistant from three of the 10 largest cities in the United States. It is 95 miles north of Houston, 166 miles northeast of San Antonio and 169 miles south of Dallas. It is 104 miles east of Austin, the state capital of Texas. 75% of the Texas and Louisiana populations (13.1 million people) live within 3.5 driving hours of College Station. The population estimate as of January 2005 is 80,254. College Station boasts many of the amenities of a large city while maintaining a small town atmosphere.
College Station is home to the main campus of Texas A&M University, one of the premiere universities of Texas and the flagship institution of the Texas A&M University System. The city owes both its name and existence to the University's location along the railroad. Texas A&M's triple designation as a Land-, Sea-, and Space-Grant institution reflects the broad scope of the research endeavors it brings to the city, with ongoing projects funded by such prominent and diverse agencies as NASA, the National Institutes of Health, the National Science Foundation and the Office of Naval Research.
Law and Government
The City of College Station was incorporated in 1938 and has been operated under a council-manager form of government. The council-manager form is the system of local government that combines strong political leadership, representative democracy through elected officials, and professional management. The form establishes a representative form of government by concentrating all power in the elected city council. The council hires a professionally trained and educated city manager to oversee the delivery of public services and the daily operations of the City. Council members are part time volunteers who serve as the policy making board for the City's government.
Historical Events
Missing image
CollegeStationSkyline.JPG
1860: The Houston and Texas Central Railway built through the area.
1871: The site was chosen as the location for the proposed A&M College of Texas.
1876: The first public institution of higher education in Texas was opened, Texas A&M University.
1910: Electric Interurban service is established between Texas A&M College and Bryan, Texas
1910: Business district known as Northgate began development.
1920: The interurban was replaced by the city bus system.
1930: Community north of College Station (North Oakwood) incorporated with Bryan, Texas
1938: College Station is incorporated ( John H. Binney was the first mayor )
1942: Ernest Langford, called by some the "Father of College Station," was elected mayor, an office he held for the next twenty-six years.
Missing image
DSCN6793-vi.jpg
Geography and Climate
College Station is located at 30°36'5" North, 96°18'52" West (30.601433, -96.314464)Template:GR.
According to the United States Census Bureau, the city has a total area of 104.4 km² (40.3 mi²). 104.3 km² (40.3 mi²) of it is land and 0.1 km² (0.04 mi²) of it is water. The total area is 0.10% water.
Area Lakes cover 180,000 acres (728 km²) and include Lake Somerville, Lake Conroe, Gibbon's Creak Reservoir, Lake Limestone, Lake Bryan and many others.
The local climate is subtropical and temperate and winters are mild with periods of low temperature usually lasting less than two months. Snow and ice are extremely rare. Summers are warm and hot with occasional showers being the only real variation in weather.
Average annual rainfall: 39 inches (1 m)
Average elevation: 367 feet (112 m) above sea level
Average Temperature: 68 degrees Fahrenheit (20 degrees Celsius)
Agricultural Resources: Cattle, corn, cotton, eggs, hay, sorghum
Mineral Resources: Sand, gravel, lignite, gas, oil
Demographics
As of the censusTemplate:GR of 2000, there are 67,890 people, 24,691 households, and 10,370 families residing in the city. The population density is 651.1/km² (1,686.5/mi²). There are 26,054 housing units at an average density of 249.9/km² (647.2/mi²). The racial makeup of the city is 80.53% White, 5.45% African American, 0.30% Native American, 7.29% Asian, 0.06% Pacific Islander, 4.47% from other races, and 1.89% from two or more races. 9.96% of the population are Hispanic or Latino of any race.
There are 24,691 households out of which 21.0% have children under the age of 18 living with them, 32.2% are married couples living together, 6.8% have a female householder with no husband present, and 58.0% are non-families. 27.1% of all households are made up of individuals and 2.4% have someone living alone who is 65 years of age or older. The average household size is 2.32 and the average family size is 2.98.
In the city the population is spread out with 14.4% under the age of 18, 51.2% from 18 to 24, 21.3% from 25 to 44, 9.4% from 45 to 64, and 3.6% who are 65 years of age or older. The median age is 22 years. For every 100 females there are 104.3 males. For every 100 females age 18 and over, there are 104.0 males.
The median income for a household in the city is $21,180, and the median income for a family is $53,147. Males have a median income of $38,216 versus $26,592 for females. The per capita income for the city is $15,170. 37.4% of the population and 15.4% of families are below the poverty line. Out of the total population, 16.4% of those under the age of 18 and 7.7% of those 65 and older are living below the poverty line.
Districts
Missing image
Spence_Street.JPG
A mixed use district just north of Texas A&M University and what some may call the original downtown of College Station. Northgate is a vibrant part of the city and is known for its live music scene and eclectic mix of restaurants and bars.
Business parks
Transportation
Mass Transit
Texas A&M Transporation Services (http://transport.tamu.edu) provides public bus transportation throughout Central College Station and Bryan. On Texas A&M football game days, the department provides additional park-and-ride service to and from Kyle Field.
Airports
Regional
Intercontinental
Major roads
Railroads
Economy
Local unemployment hovers under two percent, among the lowest in the nation.
Cost of living is as affordable as anywhere in the state.
List of Major Employers
Sports facilities
Missing image
KyleField.jpg
Missing image
Reedarena.jpg
Media and journalism
Television stations
KBTX (Channel 3; Owner: Gray Communications of Texas) CBS affiliate (Satellite of KWTX, though has separate news department)
KSCM (Channel 12; Owner: R.D. HARRIS)
KAMU-TV (Channel 15; Owner: TEXAS A&M UNIVERSITY)
KMAY-TV (Channel 23; Owner: CHANNEL 6, INC.) NBC affiliate (Simulcast of KCEN-TV)
KYLE (Channel 28; Owner: COMCORP OF BRYAN LICENSE CORP.) FOX affiliate
KNAK (Channel 28; Owner: CLEAR CHANNEL BROADCASTING LICENSES, INC.)
KRHD (Channel 40; Owner: Drewry Broadcasting) ABC affiliate(Satellite of KXXV, with newscasts taped and produced by the station)
KNED (Channel 47; Owner: TRINITY BROADCASTING NETWORK)
Radio stations
FM

KAMU-FM (90.9 FM; Owner: TEXAS A&M UNIVERSITY)
KORA-FM (98.3 FM; Owner: EQUICOM, INC)
KNFX-FM (99.5 FM; Owner: CCB TEXAS LICENSES, L.P.)
KNDE (95.1 FM; Owner: BRYAN BROADCASTING LICENSE SUBSIDIARY, INC.)
KNDH (100.9 FM; Owner: HOUSTON CHRISTIAN BROADCASTERS, INC.)
KEOS (89.1 FM; Owner: BRAZOS EDUCATIONAL RADIO)
KNAI (93.3 FM; Owner: KSBJ EDUCATIONAL FOUNDATION)
KKYS (104.7 FM; Owner: CCB TEXAS LICENSES, L.P.)

AM

KZNE (1150 AM; 10 kW; Owner: BRYAN BROADCASTING LICENSE SUBSIDIARY, INC.)
WTAW (1620 AM; 10 kW; Owner: BRYAN BROADCASTING LICENSE SUBSIDIARY, INC.)
KTAM (1240 AM; 0 kW; Owner: EQUICOM, INC)
KAGC (1510 AM; daytime; 1 kW; Owner: DIVCON ASSOCIATES, INC.)
Area newspapers
Area magazines
Education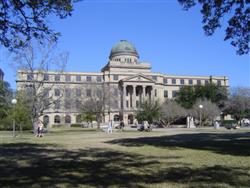 Area colleges and universities
Area school districts
Tallest buildings
Buildings with 7 or more floors
Surrounding cities
Nearest cities
Cities within 30 miles (50 km)
Nearest major cities
Cities with population over 500,000 within 200 miles (300 km)
Notable people who have lived in College Station
Sister Cities
Internal Links
External links