Corpus Christi, Texas
From Academic Kids
Corpus Christi is a coastal city located in Texas. The name means "body of Christ" in Latin. As of the 2000 census, the city had a total population of 277,454. It is the county seat of Nueces CountyTemplate:GR.
The city is often referred to as "The Sparkling City by The Sea", particularly in literature promoting tourism.
Corpus Christi is home to the Days Inn where Tejano star Selena was shot to death. It is also where Marshall Applewhite, leader of the Heaven's Gate cult, grew up. Other notable personages who have either grown up or resided in Corpus Christi include the actors Lou Diamond Phillips, Farrah Fawcett, Eva Longoria, and Dabney Coleman, musician Freddy Fender, and local newscaster & Guiness record holder Walter Furley.
The city is served by Corpus Christi International Airport, on the west side of the city.
Various sections of Corpus Christi maintain distinct senses of identity and community from the city proper, especially the Calallen and Flour Bluff areas, and, less often, Clarkwood and Annaville. These areas are sometimes mistakenly believed to be separate municipalities.
Sites of interest
The city is home to a number of popular destinations for both tourists and residents. The most visited are probably on the North Beach portion of the city, where the Texas State Aquarium and USS Lexington Museum on the Bay are located. Nearby is Corpus Christi's museum district. Located there are the Museum of Asian Cultures, Corpus Christi Museum of Science and History, and the South Texas Museum of Art. Heritage Park is also in the museum district, where a number of older restored houses can be found. The downtown area, of which the museum district is a part, is home to skyscrapers, companies, various shops, and a very popular center of marinas. Also in the city is the Corpus Crhisti Botanical Garden which hosts gardening programs from time to time.
South Padre Island Drive (locally abbreviated as "SPID", with the letters pronounced individually), is the city's main retail corridor, with two shopping malls facing each other and a number of large shopping centers, small strip centers, and scores of restaurants of various kinds.
Directly east of Corpus Christi are Padre Island and Mustang Island, home to various municipal, state, and national parks, most notably Padre Island National Seashore. The city is also near King Ranch, one of the world's largest ranches.
Geography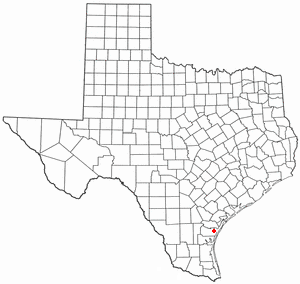 Corpus Christi is located at 27°44'34" North, 97°24'7" West (27.742857, -97.401927)Template:GR.
According to the United States Census Bureau, the city has a total area of 1,192.0 km² (460.2 mi²). 400.5 km² (154.6 mi²) of it is land and 791.5 km² (305.6 mi²) of it is water. The total area is 66.40% water.
Demographics
As of the censusTemplate:GR of 2000, there are 277,454 people, 98,791 households, and 70,437 families residing in the city. The population density is 692.7/km² (1,794.2/mi²). There are 107,831 housing units at an average density of 269.2/km² (697.3/mi²). The racial makeup of the city is 71.62% White, 4.67% African American, 0.64% Native American, 1.28% Asian, 0.08% Pacific Islander, 18.58% from other races, and 3.13% from two or more races. 54.33% of the population are Hispanic or Latino of any race.
There are 98,791 households out of which 36.1% have children under the age of 18 living with them, 50.9% are married couples living together, 15.4% have a female householder with no husband present, and 28.7% are non-families. 23.2% of all households are made up of individuals and 7.9% have someone living alone who is 65 years of age or older. The average household size is 2.75 and the average family size is 3.27.
In the city the population is spread out with 28.1% under the age of 18, 10.6% from 18 to 24, 29.2% from 25 to 44, 21.0% from 45 to 64, and 11.1% who are 65 years of age or older. The median age is 33 years. For every 100 females there are 95.6 males. For every 100 females age 18 and over, there are 92.2 males.
The median income for a household in the city is $36,414, and the median income for a family is $41,672. Males have a median income of $31,863 versus $22,616 for females. The per capita income for the city is $17,419. 17.6% of the population and 14.1% of families are below the poverty line. Out of the total population, 22.9% of those under the age of 18 and 15.5% of those 65 and older are living below the poverty line.
Education
Corpus Christi is home to two institutions of higher learning: Del Mar College, a community college, and Texas A&M University-Corpus Christi, formerly Corpus Christi State University (CCSU) but now a component of the Texas A&M University System.
Five school districts provide primary and secondary education for area residents: Calallen ISD, Corpus Christi ISD, Flour Bluff ISD, Tuloso-Midway ISD, and West Oso ISD.