Amarillo, Texas
From Academic Kids
Amarillo is a city located in Texas, USA and is part of the West Texas region. As of the 2000 census, the city had a total population of 173,627; however its MSA population is now estimated at well over 200,000. It is the county seat of Potter CountyTemplate:GR and a portion the city extends to Randall County. The famous Route 66 passes through Amarillo. Amarillo's name derives from the nearby Amarillo Lake and Amarillo Creek, named in turn for the yellow soil along their banks and shores (Amarillo is the Spanish word for yellow, the color).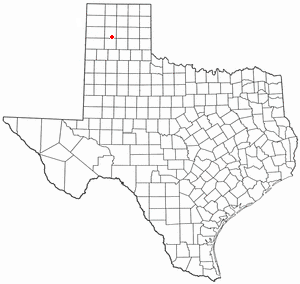 History
Missing image
Amarillo_Texas_Cadillac_Ranch2_2005-05-29.jpg
Geography
Amarillo is located at 35°11'57" North, 101°50'43" West (35.199252, -101.845163)Template:GR.
According to the United States Census Bureau, the city has a total area of 233.9 km² (90.3 mi²). 232.7 km² (89.9 mi²) of it is land and 1.2 km² (0.4 mi²) of it is water. The total area is 0.50% water.
Economy
Missing image
Amarillo_Texas_Downtown.jpg
Amarillo is an economic hub serving portions of five states. One known as the "Helium Capital of the World", Amarillo lies just south of the heart of one America's most productive natural gas fields and is in the middle of the most concentrated beef producing areas in the United States. As the dairy industry flees California, Amarillo serves what is fast becoming a major milk producing area as many multi million dollar state of the art dairies are built west of the city. Other major employers include Bell Textron (final assembly point of the V-22 Osprey hyrid aircraft and future site of Marine One assembly), Owens Corning (a fiberglass plant), Tyson Fresh Meats Plant, and the Pantex nuclear weapons plant.
Amarillo is also home to major medical facilities including Baptist St. Anthony's and Northwest Texas Hospitals and the Harrington Cancer Center. All three are located in the Harrington Regional Medical Center, one of the largest land masses in the United States dedicated to health care.
The city is also surrounded by farmers with wheat and irrigated corn as the main crops. In the past Amarillo was home to a U.S. Air Force base that was closed on December 31, 1968.
Airport
Rick Husband Amarillo International Airport is located in Amarillo, and was named after the Amarillo native Rick Husband, who died aboard the Space Shuttle Columbia. The airport is served by Soutwest Airlines, Continental Express, and American Eagle, with non stop service to Dallas, Dallas-Fort Worth, Houston, ABQ and Las Vegas.
List of major freeways & highways
Demographics
As of the censusTemplate:GR of 2000, there were 173,627 people, 67,699 households, and 45,764 families residing in the city. The population density is 746.0/km² (1,932.1/mi²). There are 72,408 housing units at an average density of 311.1/km² (805.8/mi²). Given Amarillo's growth rate, however, the numbers have increased, and the MSA population is now well over 200,000.
The racial makeup of the city is 77.50% White, 5.97% African American, 0.78% Native American, 2.05% Asian, 0.04% Pacific Islander, 11.32% from other races, and 2.34% from two or more races. 21.86% of the population are Hispanic or Latino of any race.
There are 67,699 households out of which 33.9% have children under the age of 18 living with them, 50.6% are married couples living together, 12.8% have a female householder with no husband present, and 32.4% are non-families. 27.7% of all households are made up of individuals and 9.9% have someone living alone who is 65 years of age or older. The average household size is 2.53 and the average family size is 3.10.
In the city the population is spread out with 27.9% under the age of 18, 10.2% from 18 to 24, 28.8% from 25 to 44, 20.5% from 45 to 64, and 12.6% who are 65 years of age or older. The median age is 34 years. For every 100 females there are 92.4 males. For every 100 females age 18 and over, there are 88.5 males.
The median income for a household in the city is $34,940, and the median income for a family is $42,536. Males have a median income of $31,321 versus $22,562 for females. The per capita income for the city is $18,621. 14.5% of the population and 11.1% of families are below the poverty line. Out of the total population, 19.6% of those under the age of 18 and 9.3% of those 65 and older are living below the poverty line.
Sites of interest
Missing image
Amarillo_Texas_Amarillo_Museum_of_Art_2005-05-15.jpg
Amarillo is the home of The Big Texan, which was made famous by offering visitors a free 72 ounce (2 kg) beef steak if they eat it in under an hour.
Palo Duro Canyon State Park is America's second largest canyon, after the Grand Canyon. The canyon is located south of Amarillo.
In Palo Duro Canyon, an outdoor musical called Texas Legacies plays nightly during the summer.
Near I-40, the Cadillac Ranch is a monument of painted Cadillac automobiles that were dug into the ground head first funded by local artist Stanley Marsh 3.
The Amarillo Museum of Art is located in the campus of Amarillo College. It underwent a major renovation in early 2004.
Notable natives
Colleges and universities
Missing image
Canyon_Texas_West_Texas_AandM_University_Classroom_Center_Building_2005-03-30.jpg
Amarillo has 2 higher education institutions. Amarillo College is a two-year fully-accredited community college with over 10,000 students. Wayland Baptist University, a private university which is based in Plainview, has a branch campus in Amarillo but only offers one degree program in general eduacation.[1] (http://www.wbu.edu/a/a06b05/am/default.htm) West Texas A&M University which is in nearby Canyon, Texas is the primary mecca for higher eduacation in Amarillo Metro, and Texas Panhandle . Amarillo is the largest city in Texas with out a substantial 4-year degree granting institution. Which has unfortunately contributed to Amarillo's title as the second most uneducated city in the United States, of any city over 150,000. Roughly only 14 percent of all adults over 25 in Amarillo have obtained a Bachelor's degree.
Sports teams
The city is home to the indoor minor league football team called the Amarillo Dusters, which play in the AF2. There is also the Amarillo Gorillas which is part of the Central Hockey League. Amarillo, formerly home of the AA Amarillo Gold Sox and the independent Amarillo Dillas, is now without a profesional baseball team.
West Texas A&M features a full slate of NCAA Division II teams; however, Amarillo College is one of the few community colleges in Texas without an athletic program.
Media and journalism
Amarillo's primary newspaper is the Amarillo Globe-News.
Television stations
Amarillo featured in entertainment
References
Template:Note Template:Web reference
External links