Osaka, Osaka
From Academic Kids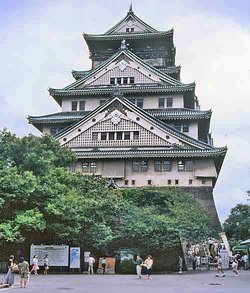 Missing image
Location_OsakaJapan.jpg
Osaka City Template:Audio (大阪市; Ōsaka-shi) is the third-largest city in Japan, with a population of 2.7 million. However, its day time (9am~5pm) population is second in Japan after Tokyo. It is located on the main island of Honshu, at the mouth of the Yodo River on Osaka Bay. The city is one of Japan's major industrial centers and ports, as well as the capital of Osaka Prefecture and a central part of the Osaka-Kobe-Kyoto metropolitan area which has a population of 16.6 million. It is part of the Kansai region.
History
Osaka city was named originally Naniwa and appears in early Japanese historical documents. Emperor Kōtoku made this area his capital, and named it Naniwa-no-miya (The Capital of Naniwa). It has always been a vital connection, by land and sea, between Yamato (modern day Nara Prefecture), Korea, and China. Settsu, a former province of Japan, consisted of the northern part of modern Osaka prefecture and the seaside part of Hyogo Prefecture.
In 1496 the Jodo Shinshu Buddhist sect set up their headquarters, the heavily fortified Ishiyama Honganji temple, in Ishiyama, today a part of Osaka. In 1576, Oda Nobunaga started a siege of the temple that went on to last for four years. The monks finally surrendered in 1580, the temple was razed and Toyotomi Hideyoshi took the place for his own castle, Osaka Castle.
Osaka was called Ōzaka (大坂) from the middle ages until the premodern period. In the beginning of Meiji Era the government renamed the city to Ōsaka, which remains its name today. In those days Osaka was the second largest city of Japan and economically the most important, because most of the important markets, rice, exchange and so on were there.
The modern city was designated on September 1, 1956 by government ordinance.
Attractions
Central Osaka is divided into two sections: Kita (north) and Minami (south). The retail district of Umeda is located in Kita, while the entertainment area around Dotonbori Bridge with its famous giant motorised crab, Triangle Park and Amerikamura ("America Village") is in Minami. Minami is also home to the Shinsaibashi and Tenjinbashi shopping districts. The central business district, including the courts and major banks, is primarily located in Yodoyabashi and Hommachi, between Kita and Minami. Business districts have also formed around the city's secondary rail termini, such as Tennoji Station and Kyobashi Station.
Osaka is known for bunraku (traditional puppet theatre) and kabuki theatre. Tourist attractions include:
Transportation
Kansai International Airport is the main airport: it is a rectangular artificial island which sits off-shore in Osaka Bay and services Osaka and its surrounding satellite cities of Nara, Kobe and Kyoto. Kansai is the geographical term for the area of western Honshu surrounding Osaka. The airport is linked by a bus and train service into the centre of the city and major suburbs.
Osaka International Airport in Itami and Toyonaka still houses most of the domestic service from the metropolitan region: its proximity to the Osaka, Kobe, and Kyoto city centers outweighs its noise restrictions.
Besides the subway system there is a network of both JR and private lines connecting the suburbs of the city, and Osaka to its neighbours. Keihan and Hankyu line connect to Kyoto, Hanshin and Hankyu line connect to Kobe, the Kintetsu line connects to Nara and Nagoya, and the Nankai line to Wakayama.
Wards
Osaka has 24 wards (ku):
Demography
As of 2003, the city has an estimated population of 2,624,129 and the density of 11,857.79 persons per square kilometre. The total area is 221.30 km².
The people of Osaka speak a dialect of standard Japanese called Osaka-ben, characterised, most prominently amongst other particularities, by the use of the suffix hen instead of nai in the negative of verbs.
Osaka people are considered by other Japanese to be rowdy and boisterous with a robust and coarse sense of humour, befitting people engaged in the commercial life of the region. Compare to American stereotypes of New Yorkers.
About 118,000 foreign residents are registered in the city. Its 96,000 Korean residents are mainly concentrated around Ikuno Ward, where a famous Korean town, Tsuruhashi, is included.
Economy
Historically, Osaka was the center of Japanese commerce, especially in the middle and premodern ages. Today, many major companies have moved their main offices to Tokyo, especially from the end of 1990s, but several major companies are still based in Osaka. Below are some of the companies based in Osaka.
Major Companies based in the Osaka city limits
In addition, Matsushita (Panasonic) is based in nearby Kadoma, Daihatsu Motor is based in nearby Ikeda and Nintendo is based in nearby Kyoto.
Culture
Missing image
Osakastation.jpg
As Osaka has always been the centre of commerce, people from Osaka have a reputation of being very good businessmen. On top of this they are popularly considered to be some of the most outgoing Japanese people. Their dialect, "Osaka-ben", has become the standard for stand-up comedians and actors often train in the dialect so they can be seen as even funnier on the stage.
Food from Osaka is said to be Japan's best. Osaka regional cuisine includes okonomiyaki (a type of pancake), takoyaki (octopus dumplings), udon (a noodle dish), as well as regional sushi and other traditional Japanese foods. Though natto, a dish of sticky, fermented beans, is enjoyed in other parts of Japan, it is not widely eaten in Osaka, which illustrates key differences in the regional palate. It is said that to succeed in the Osaka food service business, the food must taste above-average, have larger servings than normal, be inexpensive and fast.
Being a big, business-based city, Osakans are thought of as always being in a rush. People consider a waiting period of more than 5 minutes too long in most cases. They apparently also walk the fastest in Japan - at an average speed of 1.6 metres per second (surpassing even Tokyoites who also walk fast at 1.56 metres per second). They are known for jumping lanes and running yellow lights when driving.
One difference between the Osaka region and the rest of Japan is that it is customary in Osaka to stand on the right side of the escalator and allow people to pass on the left. In Tokyo and other parts of Japan, the opposite custom holds sway. While the difference is arbitrary, it is also emblematic of the iconoclastic reputation that Osaka has within Japan.
Although it is thought that Tokyo is the fashion centre of Japan, fashion experts say Osaka is where the big trends actually start. Because people from Osaka are more likely to live with their family, they are likely to spend their higher disposable income on clothes.
External links
---
The FM frequency 87.0 is not used by commercial radio stations in the Kansai region and can be used for FM transmitting audio equipment throughout Osaka city without interference.
af:Osaka da:Osaka de:Ōsaka es:Osaka eo:Osako fi:Osaka fr:Osaka id:Osaka is:Osaka it:Osaka ja:大阪市 ko:오사카시 nl:Osaka pl:Osaka pt:Osaka (cidade) simple:Osaka sv:Osaka zh:大阪