Iowa City, Iowa
From Academic Kids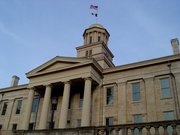 Iowa City is a city located in Johnson County, Iowa, USA. As of the 2000 census, the city had a total population of 62,220. It is the county seat of Johnson CountyTemplate:GR and the home of the University of Iowa. Iowa City was the first state capital of Iowa, until the capital was moved to Des Moines in the 1850s. The Old Capitol building, now home to University of Iowa offices, is a major landmark.
The Iowa City metro area is comprised of Iowa City, Coralville, North Liberty, and University Heights. The total metro area population is approximately 114,000 people.
On June 9, 1856 500 Mormons left Iowa City and headed west for Salt Lake City, Utah, carrying all their possessions in two-wheeled handcarts. They had arrived by train. At that time, Iowa City was the westernmost rail terminus.
Geography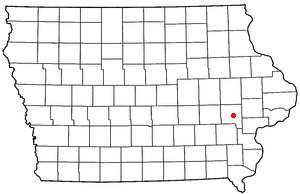 Iowa City is located at 41°39'21" North, 91°31'30" West (41.655816, -91.524991)Template:GR.
According to the United States Census Bureau, the city has a total area of 63.3 km² (24.4 mi²). 62.6 km² (24.2 mi²) of it is land and 0.7 km² (0.3 mi²) of it is water. The total area is 1.15% water.
The elevation at the Iowa City Municipal Airport is 668 ft. (203.6 m) above sea level.
Demographics
As of the censusTemplate:GR of 2000, there are 62,220 people, 25,202 households, and 11,189 families residing in the city. The population density is 994.3/km² (2,575.0/mi²). There are 26,083 housing units at an average density of 416.8/km² (1,079.4/mi²). The racial makeup of the city is 87.33% White, 3.75% African American, 0.31% Native American, 5.64% Asian, 0.04% Pacific Islander, 1.25% from other races, and 1.68% from two or more races. 2.95% of the population are Hispanic or Latino of any race.
There are 25,202 households out of which 21.2% have children under the age of 18 living with them, 35.2% are married couples living together, 2% are households with same-sex couples (2000 U.S. Census), 6.7% have a female householder with no husband present, and 55.6% are non-families. 33.8% of all households are made up of individuals and 6.1% have someone living alone who is 65 years of age or older. The average household size is 2.23 and the average family size is 2.90.
In the city the population is spread out with 16.2% under the age of 18, 32.8% from 18 to 24, 28.1% from 25 to 44, 15.9% from 45 to 64, and 7.0% who are 65 years of age or older. The median age is 25 years. For every 100 females there are 96.2 males. For every 100 females age 18 and over, there are 94.3 males.
The median income for a household in the city is $34,977, and the median income for a family is $57,568. Males have a median income of $35,435 versus $28,981 for females. The per capita income for the city is $20,269. 21.7% of the population and 6.7% of families are below the poverty line. Out of the total population, 10.2% of those under the age of 18 and 3.0% of those 65 and older are living below the poverty line.
Local Color
Local historian Irving Weber distinguished himself through his articles about architectural landmarks.
Folk singer Greg Brown plays frequently at The Mill Restaurant.
The car-free "Pedestrian Mall" serves as a gathering place for students and townies, and draws large crowds for example during performances in its summer concert series.
Hancher Auditorium often hosts nationally touring theater and musical shows.
The many entertainment options draw in hundreds of 20-somethings from the surrounding areas.
Hamburg Inn No. 2 is a popular family restaurant and favorite campaign stop for political candidates. It was featured in a 2005 episode of the political drama The West Wing.
See also
External links