11 March 2004 Madrid attacks
From Academic Kids
The 11 March 2004 Madrid attacks (also known as 11/3, 3/11, M-11 and 11-M) were a series of coordinated terrorist bombings against the commuter train system of Madrid, Spain on the morning of 11 March 2004, which killed 191 people and wounded more than 1,800.
Summary
The 11 March 2004 attacks consisted of a series of ten explosions that occurred at the height of the Madrid rush hour aboard four commuter trains (Cercanías in Spain). Thirteen improvised explosive devices were reported to have been used, all but three of which detonated.
The attacks were the deadliest assault by a terrorist organisation against civilians in Europe since the Lockerbie bombing in 1988 and the worst terrorist assault in modern Spanish history. The number of victims in this attack far surpassed Spain's previous worst bombing incident at a Hipercor chain supermarket in Barcelona in 1987, which killed 21 and wounded 40; on that occasion, responsibility was claimed by the Basque armed terrorist group ETA:Euskadi Ta Askatasuna ("Basque Fatherland and Liberty") or ETA.
Official statements issued shortly after the Madrid attacks identified ETA as the prime suspect, but the group, which usually claims responsibility for its actions, denied any wrong-doing. Later evidence strongly pointed to the involvement of extremist Islamist groups, with the Moroccan Islamic Combatant Group named as a focus of investigations. As of early April 2004, fifteen people had been arrested, and seven more were detained in connection with the attacks.
An attempted bombing of the track of the high-speed AVE train took place on April 2 but was unsuccessful. Shortly afterwards, police identified an apartment in Leganés, south of Madrid, as being the base of operations for the individuals suspected of being the material authors of the Madrid and AVE attacks. The suspected terrorists, headed by Jamal Zougam, Serhane Abdelmaji "the Tunisian" and Jamal Ahmidan "the Chinese", were trapped inside the apartment by a police raid on the evening of Saturday April 3rd. At 9:03 pm, when the police started to assault the premises, the terrorists committed suicide by setting off explosives, killing themselves and one of the policemen in the blast.
Investigators subsequently found that the explosives used in the Leganés explosion were of the same type as those used in the March 11th attacks and the thwarted bombing of the AVE line. It is generally presumed that the terrorists killed at Leganés were, indeed, the individuals responsible for both attacks. An investigation on how they obtained their explosives (a total of around 200 kg) is currently in progress. It is believed that others involved in the March 11th attacks may have managed to escape.
The attacks
Missing image
Atentado11M2004Oraciones.JPG
The explosions occurred during the morning rush hour, targeting a busy commuter rail line that runs just south of downtown Madrid. Four bombs (planted at the front, middle and rear of a single train) exploded at 7:39 at Atocha station, and three bombs planted on a single train went off simultaneously just outside of Téllez street, near Atocha station. Two more bombs on one train detonated at 7:41 at El Pozo del Tío Raimundo station. One further bomb exploded on a train at Santa Eugenia station at 7:42. Most of the casualties occurred at Atocha/Téllez (89 confirmed dead) and El Pozo (70) with another 17 at Santa Eugenia.
By 23 March, 191 people were confirmed dead (177 at the scene, 13 while under medical care), of whom 12 were yet to be identified; and more than 1,800 were wounded (about 100 remained hospitalised.) Initial reports of 202 deaths were later revised down due to the misidentification of body parts.
Initially it was feared that families of illegal immigrants would be afraid to contact the authorities for fear of being deported for immigration violations, but Spanish Prime Minister José María Aznar announced an immigration amnesty for victims of the attack.
The explosion at Téllez street appears to have been timed to coincide with the explosion at Atocha. However, the train carrying the bombs was held up by a red signal and so exploded just outside of the station.
Two unexploded bombs were found at the centre and rear of the train. The nine bombs aboard the Atocha and Téllez trains were, according to experts, designed to bring down the roof of the entire station at Atocha.
Security forces carried out a controlled explosion of a suspicious package found near the Atocha station and subsequently deactivated the two undetonated devices on the Téllez train. A third unexploded device was later brought from the station at El Pozo to a police station in Vallecas, and became a central piece of evidence for the investigation. It appears that at least the El Pozo bomb failed to detonate because a cell-phone alarm used to trigger the bomb was set 12 hours late.
All of the devices are thought to have been hidden inside backpacks. Despite Spanish Government's claims that the explosive used was titadine, a type of compressed dynamite used by ETA in recent years, forensic analysis of one of the remaining unexploded devices found at El Pozo revealed the explosive used there to be Goma-2, manufactured in Spain and not used by ETA since the 1980s. The police investigated reports of three people in ski masks getting on and off the trains several times at Alcalá de Henares between 7:00 and 7:10. A van was found parked outside the station at Alcalá de Henares containing detonators, audio tapes with Qur'anic verses, and cell phones.
The commuter rail line that was bombed begins its journey at Alcalá de Henares, which is home to large Latin American and Eastern European immigrant communities, and serves industrial middle class towns, suburbs, and neighbourhoods to the southeast of Madrid. Many of the 250,000 people using the line each day are students, blue-collar workers, and middle-class people who cannot afford to live in the city of Madrid and so commute from neighbouring communities.
Forty-one of the dead came from thirteen countries outside of Spain, including fifteen from Romania, five each from Ecuador and Peru, four from Poland, three from Colombia, two from Honduras, and one each from Bulgaria, Chile, Cuba, the Dominican Republic, Guinea-Bissau, France, and Morocco.
Timeline
Missing image
Anónimo11M04.JPG
Four commuter trains bound for Atocha station stopped at Alcalá de Henares between 06:55 and 07:15. During this time, they were loaded with bombs concealed in backpacks or duffel bags.
06:45 - Train 17305 leaves Guadalajara, en route to Chamartín.
07:00 - Train 21431 leaves Alcalá de Henares, en route to Alcobendas.
07:10 - Train 21435 leaves Alcalá de Henares, en route to Alcobendas.
07:15 - Train 21713 leaves Alcalá de Henares, en route to Príncipe Pío.
07:39 - Three bombs explode on train 17305 by Téllez street, 500 meters (547 yards) short of entering Atocha station. Seconds later, four bombs explode on train 21431 on track 2 inside Atocha station.
07:41 - Two bombs explode on train 21435 at El Pozo del Tío Raimundo station.
07:42 - A bomb explodes on train 21713 at Santa Eugenia station. [1] (http://www.elmundo.es/elmundo/2004/03/11/espana/1079010638.html) [2] (http://horarios.renfe.es/cer/hjcer300.jsp?&NUCLEO=10)
Responsibility
Although ETA has a history of mounting bomb attacks in Madrid, planting delayed-action bombs to kill rescue workers and using booby traps (such as explosives in wallets), as well as also having attempted to attack trains, the 11 March attacks were on a scale far exceeding anything previously attempted by a European terrorist organisation. This has led some to point out that the tactics used were more typical of Islamic militant extremist groups. Observers have also noted that ETA customarily issues warnings before its mass bombings and that there was no warning for this attack. Europol director Jürgen Storbeck has commented that the bombings "don't correspond to the modus operandi which ETA has adopted up to now".
Moreover, the attacks came exactly 30 months after the September 11, 2001 attacks on the World Trade Center in New York City. The 11 March attacks came 912 days after the September 11 ("9-11") attacks in 2001, hence there were 911 days in between the two events. It is possible that the choice of this date was intended to be a deliberate reference to 11 September. This would follow the noted pattern of terrorist groups choosing to strike on days of significance to them - or it could just be a result of commentators' desire to find significance in such patterns. (For example, the 12 October 2002 Bali bombing was one year, one month and one day after the September 11 Attacks.)
It is also worth noting the similarities between the Madrid attack and the 11 September attacks: both were highly calculated, utilizing public transportation to inflict civilian casualties and mass devastation in a spectacular fashion.
ETA suspicions
Immediately after the blasts prime minister José María Aznar began a campaign to convince the public, opinion-makers and journalists that ETA, who has claimed responsibility for more than 800 deaths since 1968, was behind the bombings and that they were the prime suspect. These suspicions were also voiced by Spanish Interior Minister Ángel Acebes, who said "It is absolutely clear that the terrorist organisation ETA was seeking an attack with wide repercussions." In his first public statement on the day of the attacks, Aznar made it clear that he believed that ETA was responsible, referring to the perpetrators as "the terrorist band" – the Spanish government's usual term for ETA. Spanish diplomacy was also successful in getting the United Nations Security Council to condemn ETA for the attacks in Resolution 1530 of 11 March.
Also on 11 March, foreign correspondents in Spain received unsolicited phone calls from the office of the Prime Minister assuring them that ETA was responsible, and Foreign Minister Ana Palacio sent a communication to all Spanish embassies instructing them to assure foreign governments and press that it was the work of ETA, "helping to dispel any doubts that interested parties may cast". On the evening of 12 March, government officials contacted newspapers across Spain to assure them that the attacks could be attributed to ETA without a doubt. EU foreign policy chief Javier Solana went on television, saying that he thought it was ETA. He later said he felt he had a duty to believe the government as a patriotic Spaniard. As late as 15:00 on Saturday, 13 March, Acebes claimed not to have any information from security forces casting doubts on ETA involvement. On 16 March The Washington Post reported [3] (http://www.washingtonpost.com/wp-dyn/articles/A64633-2004Mar16.html) that the government knew early on that there was evidence pointing to Islamic terrorism, but they instructed the police to keep quiet about it and instead pushed the idea that ETA was behind it. Also many journalists were contacted and asked to report that ETA was indeed the perpetrator.
However, just few hours after the attacks, Arnaldo Otegi, a spokesman for Batasuna -which has been outlawed for its ties to ETA-, went on record categorically dismissing the possibility that ETA was involved, and voiced the hypothesis that "elements of Arab resistance" were behind the attacks. On 12 March, Basque TV station Euskal Telebista and the Basque newspaper Gara reported receiving notes from individuals claiming to represent ETA, denying any responsibility for the explosions.
The government had recently expressed cautious optimism that ETA was near defeat after mass arrests, seizures of weapons and explosives, increased co-operation from France and the banning of Batasuna. Spanish police had recently disarmed other bombs attributed to ETA and, on February 29, seized 500 kg of explosives and arrested two suspected ETA members. The number of people killed in ETA attacks dropped to three in 2003.
Al-Qaida suspicions
Immediately following the attacks, commentators began to suggest that al-Qaida, and not ETA, could have been responsible. Arnaldo Otegui, leader of Batasuna, said he could not believe the attacks were the work of ETA, "even as a hypothesis" and suggested that the "Arab resistance" was the most probable perpetrator. On the evening of 11 March, Acebes told a news conference that a van, stolen on February 28 and containing several detonators and an Arabic-language cassette tape with Qur'anic verses, had been found in the town of Alcalá de Henares, where three of the four bombed trains originated and all four stopped. However, the tape was commercially available and contained no material specific to the attacks; thus it could have been planted to confuse the investigators.
Al-Qaida had certainly shown an interest in Spain in the period preceding the attacks. In November 2001, Spanish authorities arrested eight men suspected of being al-Qaida operatives, one of whom reportedly had past links with Basque ETA. Osama bin Laden issued a public threat in October 2003 to carry out suicide bombings against any countries joining the US-led invasion of Iraq: "We reserve the right to retaliate at the appropriate time and place against all countries involved, especially Britain, Spain, Australia, Poland, Japan and Italy." At the time, Spain had some 1,300 soldiers stationed on Iraqi soil. In addition, bin Laden had spoken earlier of wishing to return the southern Spanish region of Andalusia to Muslim control, reversing the Reconquista of 1492.
Precedent
Information made public on 12 March by the Norwegian Defence Research Establishment (FFI) revealed that intelligence agencies had known for two months that a terrorist attack was being planned against a country entering into an election period. However, they mistakenly believed that country to be Iraq. The supporting documents, written in Arabic, belonged to a senior al-Qaida leader, Yusuf al-Airi, and had been obtained by the FFI over the Internet, after his death in May 2003.
According to the FFI Muslim fundamentalism expert Thomas Hegghammer, the documents described in detail the tactics and strategies that were to be employed. The tactic was to break the U.S.-led occupation of Iraq by performing successive strikes on the co-operating member states, starting with the one which would most easily lose its resolve to keep its troops stationed in Iraq, and then following on with the rest. The Iraq war was very unpopular in Spain, and so this would make a likely first target.
Reactions
Immediate
At 08:00 emergency relief workers began arriving at the scenes of the bombings. The police reported "numerous victims" and spoke of 50 wounded and several dead. By 08:30 SAMUR, the emergency ambulance service, had set up a "field hospital" at a sports facility at Daoiz y Velarde. Hospitals were told to expect the arrival of many casualties. Bystanders and local residents helped relief workers. At 08:43 firefighters reported 15 dead at El Pozo. By 09:00 the police had confirmed the death of at least 30 people; 20 at El Pozo and about 10 in Santa Eugenia and Atocha.
Also at 08:00, a "cage operation" (operación jaula in Spanish), designed to prevent terrorists from fleeing the city went into effect and started affecting transportation in, out and around the city. At 08:45 RENFE, the national railway operator, shut down all rail traffic in to and out of Madrid, and Line One of the Madrid metro was closed for security reasons. At 08:56 the police sealed off all streets adjacent to Atocha and evacuated the station. At the same time, RENFE closed the stations at Chamartín and Príncipe Pío, the other train stations in Madrid.
Consequently, all railway traffic to and from Madrid was shut down, including commuter, regional, and intercity trains as well as the high-speed AVE service to Seville. International rail traffic to and from Madrid was also interrupted due to security concerns, although trains to and from France departed from Chamartín, Madrid's second largest train station. According to the French SNCF, this was done at the request of the Spanish authorities.
RENFE organized alternative transportation, and moved 3,000 passengers by road. Around 18:30, traffic to and from Chamartín and Príncipe Pío was restored, including some commuter rail lines and north-bound national and international traffic out of Chamartín. In France, the Vigipirate plan was upped to the orange level. In Italy, the Government declared a state of high alert.
Political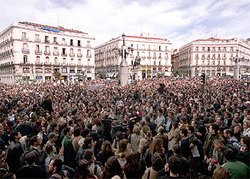 The attacks came on the morning of the penultimate day of campaigning before the Sunday elections. At 08:40, the ruling People's Party suspended all electoral campaigning. Shortly after, Mariano Rajoy, the People's Party candidate for prime minister, cancelled all his electoral activity for the day. The opposing Socialist Party cancelled all campaigning at 08:59. At 09:02 Prime Minister Aznar also cancelled all public appearances.
Prime Minister Aznar spoke with King Juan Carlos, then with leaders of the political parties in parliament and with the heads of government of Spain's autonomous communities. At 10:36 a "Crisis Cabinet" was convened, including Aznar, Deputy Prime Ministers Rodrigo Rato and Javier Arenas and Interior Minister Acebes.
A decree declaring three days of official mourning was issued by the government, and demonstrations were called for Friday evening in cities across the country, under the motto "With the victims, with the constitution and for the defeat of terrorism." The Catalan government led by Pasqual Maragall also declared official mourning in Catalonia.
The first government official to make a public statement, two hours after the attacks, was Juan José Ibarretxe Markuartu, head of government in the Basque Country. He unequivocally blamed ETA and said "those who commit these atrocities are not Basque" and "ETA writes its own ending with terrible actions". In another early public appearance, Interior Minister Acebes pointed in unambiguous terms to ETA, although by the end of the day he was forced to retract his accusations and admit that "no possibilities have been discarded".
Catalan Prime Minister Maragall said, "We are all Madrileños today," and continued: "if terrorists intended to divide us, they will have achieved the exact opposite, and the best way to reject terror is to vote on Sunday."
Josep-Lluís Carod-Rovira of the Catalan nationalist party, the Republican Left of Catalonia, who had recently come under fire for secretly meeting with ETA and advocating dialog, said that he would not communicate with ETA again, but that someone else should do to prevent them from committing any more bloodshed. "We thought we had already seen everything, but unfortunately that was not the case," he lamented.
By the time Aznar and the King had made their public statements in the afternoon, doubts over ETA's involvement were substantial enough that both of them avoided naming a culprit, and they referred just to "terrorists". Aznar insisted on the need to stay the course, echoing his Interior Minister's earlier remarks.
National
Most TV stations reported the attack during their regular morning news programs, starting around 08:00. The program on Antena 3 lasted until 14:00. Madrid newspapers issued special midday editions and TV stations rearranged their regular programming schedules. The public stations TVE (national) and Telemadrid (regional) did not break for commercials at all during the day. All TV stations replaced their logos with black ribbons at 18:00.
People across Spain flocked to hospitals and mobile blood donation units in such numbers that the need for blood for transfusions was more than satisfied by 10:30, although continued donations were requested for the coming days. The deceased were moved to IFEMA, the largest convention center in Madrid, for identification by their relatives.
Riay Tatary Bakry, president of the Union of Muslim Communities in Spain, stated on 1 April 2004 that his organisation has no plan to publicly urge mosques to step up their battle against terrorism. He said the union will continue to work privately with government officials.
International
Sympathy poured in from governments worldwide immediately following the bombings, led by Spain's partners in the European Union; France raised its terror alert level, and in Athens security was tightened at train stations and the Spanish Embassy. Similar measures were adopted in Italy.
World leaders were united in their condemnation of the attacks. The United States, the United Kingdom and Russia said the attacks demonstrated the need for a toughened resolve against terrorists. Queen Elizabeth II sent a message of condolence to the Spanish King on behalf of the British people. A PLO/Palestinian National Authority official also condemned the attacks targeting civilians.
U.S. President Bush called Prime Minister Aznar and King Juan Carlos to offer his condolences to the Spanish people and condemn the "vicious attack of terrorism." He expressed "our country's deepest sympathies toward those who lost their life...I told them we weep with the families. We stand strong with the people of Spain." The U.S. Senate observed a moment of silence and unanimously passed a resolution expressing outrage and urging Bush to "provide all possible assistance to Spain" in pursuing those responsible for the attacks. Bush led a memorial service at the Spanish ambassador's residence in Washington and gave an interview with a Spanish television network the following day. [4] (http://www.whitehouse.gov/news/releases/2004/03/20040312-7.html)
European Commission President Romano Prodi called the attack "ferocious and senseless". The European Parliament observed a minute of silence; its president Pat Cox expressed the parliament's condolences, and a resolution was introduced proposing 11 March as a European Day of Remembrance of Victims of Terrorism. Pope John Paul II condemned the bombings in a message to Catholic church leaders in Spain. Many nations extended offers of material support to the Spanish government. By 17 March, governments around Europe had voiced their concerns that the Spanish government had jeopardized their security by feeding them false information about ETA's involvement. An unprecedented rebuke of Prime Minister Aznar by his peers is expected at an upcoming European Union summit.
The UN Security Council unanimously passed Resolution 1530 condemning the bombings. This happened early in the day and, at the request of the Spanish government, the resolution accused ETA unambiguously of being responsible. The resolution "condemns in the strongest terms the bomb attack in Madrid, Spain, perpetrated by the terrorist group ETA." After al-Qaida involvement became clear, Germany and Russia voiced their concern over Spain's hasty assurances. On 15 March, Spain's ambassador submitted an unapologetic letter updating the Security Council on the progress of the investigation, repeating that the Spanish government had "the strong conviction" that ETA was involved. UN Secretary General Kofi Annan said "I think there is a lesson here for everybody, including the council members".
The human rights group Amnesty International condemned the attack saying that attacks targeting civilians could never be justified. The organistation also pointed out that murder of civilians on such a scale may constitute a crime against humanity.
UEFA and the Spanish Government and Football Federation decided that Spanish football teams due to play matches on 11 March and 12 should do so, lest they give the impression that the terrorists had disrupted normal life, and the teams complied with this decision. Out of respect for the victims, members of Spanish football teams wore black armbands. The Spanish Government and Football Federation asked that all games involving Spanish teams begin with a moment of silence for the victims.
Leaders across the world sent letters of mourning to King Juan Carlos and Prime Minister José María Aznar. Most EU countries declared 12 March a day of national mourning as a sign of solidarity. There were demonstrations in cities across Europe and the Spanish-Speaking world on 12 March, including Brussels, Paris, Lisbon, Helsinki, Geneva, Berlin, Stockholm, Buenos Aires, Mexico City and Bogotá.
Cuban president Fidel Castro was more critical, however. Speaking during a television interview on 13 March 2004 in Havana, Castro accused Spain's government of deceiving its citizens over the Madrid train bombings for electoral gain. He went on to assert that Prime Minister José María Aznar had known an Islamic group was behind the explosions on 11 March, but preferred to blame ETA ahead of the general elections which were due just three days away.
Germany hastily arranged an urgent meeting of European Union security chiefs on 14 March 2004 as possible al-Qaida involvement in the Madrid bombings set alarm bells ringing across the world. On the same day, Queen Elizabeth II asked that the Spanish national anthem be played during the Changing of the Guard at Buckingham Palace.
The attacks also reawakened fears of terrorism amongst investors with most European stock markets falling between 2 and 3 percent on 11 March. Stocks dropped in London and in New York, with the U.S. Dow Jones Industrial Average diving after speculation of involvement by al-Qaida. Airline and tourism related stocks were particularly affected by sharp declines in share prices. In Tokyo, stocks opened sharply lower the next day.
On 15 March, all of Europe observed 3 minutes of silence at noon Central European Time (CET). Irish Prime Minister Bertie Ahern, the European Union president, requested it.
See also
External links
In English
In Spanish
cy:Ymosodiadau bom yn Madrid, 11 Mawrth 2004 de:Madrider Zuganschläge eo:Madridaj atakoj de 11-a de marto 2004 es:Atentados del 11 de marzo de 2004 fr:Attentats à Madrid du 11 mars 2004 id:Bom Madrid, 11 Maret 2004 ja:スペイン列車爆破事件 nl:Bomaanslagen in Madrid van 11 maart 2004 pl:Zamach w Madrycie 11 marca 2004 pt:Atentados de 11 de Março de 2004 em Madrid ro:Atentatele din 11 martie 2004 de la Madrid sv:Terrordådet i Madrid zh-cn:马德里三一一爆炸案