Elizabeth II of the United Kingdom
Missing image
Ac.thequeen.jpg
Her Majesty Queen Elizabeth II (Elizabeth Alexandra Mary Windsor), styled HM The Queen ( born 21 April 1926) is the Queen regnant and head of state of Antigua and Barbuda, Australia, the Bahamas, Barbados, Belize, Canada, Grenada, Jamaica, New Zealand, Papua New Guinea, Saint Kitts and Nevis, Saint Lucia, Saint Vincent and the Grenadines, the Solomon Islands, Tuvalu and the United Kingdom of Great Britain and Northern Ireland.
She is also Head of the Commonwealth, Supreme Governor of the Church of England, Commander-in-Chief of the UK Armed Forces and Lord of Mann; she has reigned in these positions since the death of her father, King George VI on 6 February 1952. She is the longest serving current Head of State in Europe, The Americas, and Australasia, and is the second-longest-serving current head of state in the world, after King Bhumibol Adulyadej of Thailand.
About 125 million people live in the countries of which she is Head of State. Her reign has seen ten different Prime Ministers of the United Kingdom and numerous Prime Ministers in the other personal union nations of which she is or was Head of State. She is married to Prince Philip, Duke of Edinburgh, and is the mother of the heir-apparent to the British throne, Charles, Prince of Wales.
Early life
Missing image
Time-magazine-cover-p'incess-lilybet.jpg
Elizabeth was born at 21 Bruton Street in Mayfair, London on 21 April, 1926. Her father was HRH The Prince Albert, Duke of York (later King George VI), the second eldest son of King George V and Queen Mary. Her mother was HRH The Duchess of York (n饠Lady Elizabeth Bowes-Lyon), the daughter of Claude George Bowes-Lyon, 14th Earl of Strathmore and Kinghorne and his wife, the Countess of Strathmore. She was named after her mother, while her two middle names are those of her paternal great-grandmother Queen Alexandra and grandmother Queen Mary respectively.
As a granddaughter of the British sovereign in the male line, she held the title of a British princess with the style Her Royal Highness. Her full style was HRH Princess Elizabeth of York. At the time of her birth, she was third in the line of succession to the crown, behind her father and her uncle, HRH The Prince of Wales, later King Edward VIII.
Education
The young Princess Elizabeth was educated at home under the supervision of her mother, then the Duchess of York. Her governess was Marion Crawford, better known as "Crawfie". She studied history with C. H. K. Marten, Provost of Eton, and also learned modern languages. She now speaks fluent French, as she has shown on several occasions, most recently during her 2004 state visit to France to commemorate the centenary of the Entente Cordiale and numerous visits to Canada. She was instructed in religion by the Archbishop of Canterbury and has always been a strong believer in the Church of England.
Heiress Presumptive
When her father became King in 1936 upon her uncle King Edward VIII's abdication, she became heiress presumptive and was henceforth known as HRH The Princess Elizabeth. She was thirteen years old when World War II broke out. She and her younger sister Princess Margaret were evacuated to Windsor Castle, Berkshire. There was some suggestion that the princesses be sent to Canada, but their mother the Queen refused to consider this, saying, "The children could not possibly go without me, I wouldn't leave without the King, and the King won't leave under any circumstances". In 1940 Princess Elizabeth made her first broadcast, addressing other children who had been evacuated.
Military service
In 1945 Princess Elizabeth convinced her father that she should be allowed to contribute directly to the war effort. She joined the Auxiliary Territorial Service (the ATS) where she was known as No 230873 Second Subaltern Elizabeth Windsor, and was trained as a driver. This training was the first time she had been taught together with other students. It is said that she greatly enjoyed this and that this experience led her to send her own children to school rather than have them educated at home. She was the first (and as of 2005 the only) female member of the royal family to actually serve in the military, though other royal women have been given honorary ranks.
Elizabeth made her first official visit overseas in 1947, when she accompanied her parents to South Africa. On her 21st birthday she made a broadcast to the British Commonwealth and Empire, pledging to devote her life to the service of the people of the Commonwealth and Empire.
Marriage and motherhood
Elizabeth married HRH The Duke of Edinburgh on 20 November 1947. The Duke is Queen Elizabeth's third cousin; they share Queen Victoria as a great-great-grandmother. They are also both descended from Christian IX of Denmark (she being a great-great granddaughter through Alexandra of Denmark, and the Duke is a great-grandson through George I of Greece). Prince Philip had renounced his claim to the Greek throne and was simply referred to as Lieutenant Philip Mountbatten before being created Duke of Edinburgh before their marriage. This marriage, although not arranged as such, was eminently suitable for a female heir to the throne, as Philip had been trained for royal responsibilities.
After their wedding Philip and Elizabeth took up residence at Clarence House, London. On 14 November 1948 she gave birth to her first child Prince Charles of Edinburgh. Several weeks earlier letters patent had been issued so that her children would enjoy a royal and prince status they would not otherwise have been entitled to. Otherwise they would have been styled merely as children of a duke. They had four children (see below) in all. Though the Royal House is named Windsor, it was decreed via a 1960 Order-in-Council that the descendants of Queen Elizabeth II and Prince Philip should have the personal surname Mountbatten-Windsor.
Children and grandchildren
Succession
King George's health declined during 1951 and Elizabeth frequently stood in for him at public events. She visited Greece, Italy and Malta (where Philip was then stationed) during the year. In October she toured Canada and visited Washington, DC In January 1952 Elizabeth and Philip set out for a tour of Australia and New Zealand. They had reached Kenya when word arrived of the death of her father, on 6 February 1952. At the exact moment of succession, she was in a treetop hotel – a unique circumstance for any such event. She was the first British monarch since the Act of Union in 1801 to be out of the country at the moment of succession. Treetops Hotel where she went up a princess and came down a queen is now a very popular tourist retreat in Kenya. Elizabeth's coronation took place in Westminster Abbey on 2 June 1953.
Life as Queen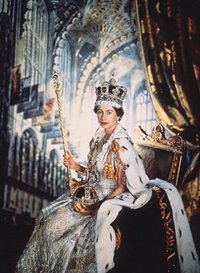 After the Coronation, Elizabeth and Philip moved to Buckingham Palace in central London. It is believed, however, that like many of her predecessors she dislikes the Palace as a residence and considers Windsor Castle, west of London, to be her home. She also spends time at Balmoral Castle in Scotland and at Sandringham House in Norfolk.
Queen Elizabeth is the most widely travelled head of state in history (in front of Pope John Paul II). In 1953–54 she and Philip made a six-month round-the-world tour, becoming the first reigning monarch to circumnavigate the globe, and also the first to visit Australia, New Zealand and Fiji (which she visited again all at once during the 1977 jubilee). In October 1957 she made a state visit to the United States, and in 1959 she made a tour of Canada. In 1961 she toured India and Pakistan for the first time. She has made state visits to most European countries and to many outside Europe. She regularly attends Commonwealth Heads of Government meetings.
At the time of Elizabeth's accession there was much talk of a "new Elizabethan age". Elizabeth's role has been to preside over Britain as it has shared world economic and military power with a growing host of independent nations and principalities. As nations have developed economically and in literacy, Queen Elizabeth has witnessed over the past 50 years a gradual transformation of the British Empire into its modern successor, the Commonwealth. She has worked hard to maintain links with former British possessions, and in some cases, such as South Africa, she has played an important role in retaining or restoring good relations.
Elizabeth is a conservative in matters of religion, moral standards and family matters. She has a strong sense of religious duty and takes seriously her Coronation Oath. This is one reason why it is considered highly unlikely that she will ever abdicate. Like her mother, she never forgave Edward VIII for, as she saw it, abandoning his duty, and forcing her father to become King, which she believed shortened his life by many years. She used the authority of her position to prevent her sister, Princess Margaret, from marrying a divorced man, Peter Townsend. For years she refused to acknowledge her son Prince Charles's relationship with Camilla Parker-Bowles but since their marriage an appearance of acceptance has been established.
Elizabeth's political views are supposed to be less clear-cut (she has never said or done anything in public to reveal what they might be). She preserves cordial relations with politicians of all parties. It is believed that her favourite Prime Ministers have been Winston Churchill, Harold Macmillan and Harold Wilson. Her least favourite was undoubtedly Margaret Thatcher, whom she has said to "cordially dislike". She was thought to have very good relations with her current Prime Minister, Tony Blair, during the first years of his term in office; however, there has been mounting evidence in recent months that her relationship with Blair has hardened. She reportedly feels that he does not keep her informed well enough on affairs of state.
The only public issue on which Elizabeth makes her views known are those affecting the unity of each of her Realms, including Canada and the United Kingdom. She has spoken in favour of the continued union of England and Scotland, angering some Scottish nationalists. Her statement of praise for the Northern Ireland Good Friday Agreement raised some complaints among some Unionists in the Democratic Unionist Party who opposed the agreement. Also, while not speaking directly against Quebec Sovereignty in Canada, she has publicly praised Canada's unity and expressed her wish to see the continuation of a unified Canada. This desire was also revealed in her acceptance of advice to call for Canadian unity during a separatist referendum campaign when she was tricked into speaking with a DJ pretending to be then Canadian prime minister Jean Chr鴩en.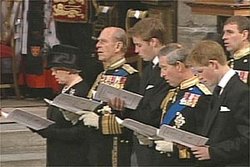 Despite a series of controversies about the rest of the royal family, particularly the marital difficulties of her children throughout the 1980s and 1990s, Queen Elizabeth remains a remarkably uncontroversial figure and is generally well-respected by the people of her Realms. However, her public persona remains formal, though more relaxed than it once was.
Queen Elizabeth has never suffered from severe public disapproval. However, in 1997 she and other members of the Royal Family were perceived as cold and unfeeling when they were seen not to participate in the public outpouring of grief at the death of Diana, Princess of Wales. This brought sharp criticism from the normally royalist tabloid press.
It is widely believed that Elizabeth held negative feelings towards Diana and thought that she had done immense damage to the monarchy. However, the sight of the entire Royal Family bowing to Diana's coffin as it passed Buckingham Palace, together with a rare live television broadcast by Queen Elizabeth, addressed the public grief. Elizabeth's change of attitude is believed to have resulted from strong advice from the Queen Mother and Tony Blair.
Elizabeth remains a highly respected head of state. However, she and her family have come under increasing pressure from U.K. based newspapers. In 2002 she celebrated her Golden Jubilee, marking the 50th anniversary of her accession to the Throne. The year saw an extensive tour of the Commonwealth Realms, including numerous parades and official concerts.
The Jubilee year coincided with the deaths, within a few months, of Elizabeth's mother and sister. Elizabeth's relations with her children, while still somewhat distant, have become much warmer since these deaths. She is particularly close to her daughter-in-law Sophie, Countess of Wessex. She is known to have disapproved of Prince Charles's long-standing relationship with Camilla Parker-Bowles, but with their recent marriage, has come to accept it. On the other hand, she is very close to her grandchildren, noticeably Prince William and Zara Phillips.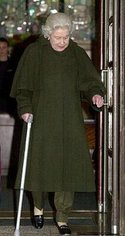 In 2003 Elizabeth, who is often described as robustly healthy, underwent three operations. She had two operations by the end of the year concerning both of her knees, and also had several lesions removed from her face. This had prompted some debate in the media about whether the evolving monarchy should have monarchs abdicating as in some other nations, or even enforce a retirement age for reigning monarchs. In June 2005 she was forced to cancel several engagements after contracting what the Palace described as a bad cold.
As Elizabeth approaches her 80th birthday, she has made it clear that she has no intention of abdicating. Those who know her best have stated that she intends to reign as Queen until the day she dies. She has, however, begun to hand over some public duties to her children, as well as other members of the royal family. It was rumoured in 2005, that she, along with Prince Philip, would be reducing their international travel. The subsequent, perhaps pointed, announcements that they would be visiting Canada, Malta, Australia, and Singapore in the space of the next year served to effectively deny these rumours, however. It is often made clear that she intends to do as much as she can until she is physically unable.
Elizabeth's public image has noticeably softened in recent years, particularly since the death of the Queen Mother. Although she remains reserved in public, she has been seen laughing and smiling much more than in years past, and to the shock of many she has been seen to shed tears during emotional occasions such as at Remembrance Day services, the memorial service at St Paul's Cathedral for those killed in the 11 September terrorist attacks and in Normandy, France for the 60th anniversary of D-Day, where, for the first time, she addressed the Canadian troops.
Political role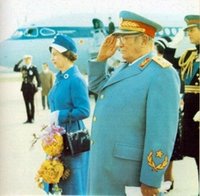 In theory, the Queen is an essential part of the legislative process of her Realms. The Queen-in-Parliament (the Queen, acting with the advice and consent of Parliament), in each country, is an integral part of Parliament, along with the upper and lower houses. In practice, however, the Queen's role in the legislative process is entirely ceremonial. The Queen may legally grant or withhold Royal Assent to bills, but no monarch has refused his or her assent to a bill since 1708. The Queen, or her Governors-General in the realms outside of Britain, also gives a speech at the annual State Opening of Parliament, outlining the government's legislative agenda for the year, but the speech is written by ministers.
The Queen also has a ceremonial role in executive government. Governments are known as "Her Majesty's Government" and the Queen appoints the ministers who serve in it. In practice, again, the Government's composition is determined not by the Queen but by the Prime Minister, who "advises" the Queen. The Government is accountable in the first instance not to the Queen but to the lower house of Parliament. The Queen's role in the judiciary is again ceremonial: the courts act in her name and prosecutions are brought on her behalf.
The Queen may not be brought to trial in the courts in her capacity as head of state, nor can she be sued personally for any official act carried out by her or in her name (although the Crown may be sued as a legal entity). The Queen is, however, a natural person under common law, subject to the law like any other person. The question of whether the monarch could be tried for an offence committed in their personal capacity has never been tested. During the English Revolution of the 17th century, Parliament tried Charles I for treason, but after the Restoration of Charles II these proceedings were deemed to have been unlawful.
British Prime Ministers take their weekly meetings with the Queen very seriously. One Prime Minister said he took them more seriously than Prime Minister's Questions in the House of Commons, because she would be better briefed and more constructive than anything he would face at the dispatch box. Elizabeth also has regular meetings with her individual British ministers, and occasional meetings with ministers from her other Realms. Even ministers known to have republican views speak highly of her and value these meetings.
As with her British Prime Ministers, some Canadian Prime Ministers have commented on The Queen's knowledge of Canadian and international affairs. Former Prime Minister Pierre Trudeau stated: "I was always impressed not only by the grace she displayed in public at all times, but by the wisdom she showed in private conversation." (Memoirs, Pierre E. Trudeau)
The Queen also meets the Scottish First Minister. The royal palace in Edinburgh, the Palace of Holyroodhouse, once home to Scottish kings and queens like Mary, Queen of Scots, is now regularly used again, with at least one member of the Royal Family (often the Prince of Wales or Princess Royal) in residence. She also receives reports from the new Welsh Assembly, and is continually kept abreast of goings on with her other governments.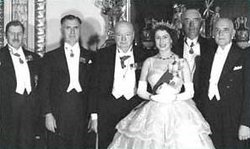 Though bound by convention not to intervene directly in politics, her length of service, the fact that she has been a confidante of every prime minister since Winston Churchill in Britain, Louis St. Laurent in Canada, Alexander Bustamante in Jamaica, Sidney Holland in New Zealand, and many others, combined with her knowledge of world leaders, means that when she does express an opinion, however cautiously, her words are taken seriously. In her memoirs, Margaret Thatcher offered this description of her weekly meetings with Elizabeth:
"Anyone who imagines that they are a mere formality or confined to social niceties is quite wrong; they are quietly businesslike and Her Majesty brings to bear a formidable grasp of current issues and breadth of experience."
During a row within the Commonwealth over sanctions on South Africa, Elizabeth made a pointed reference to her role as Head of the Commonwealth which was interpreted at the time as a disagreement with Thatcher's policy of opposing sanctions.
Elizabeth has been involved in some political controversies during her reign, in which her actions appear to have stated her political views. On 18 November 1965, the Governor of Rhodesia (Sir Humphrey Vicary Gibbs) was made a Knight Grand Cross of the Royal Victorian Order, an honour in the personal gift of the Queen, a week after Ian Smith had made his Unilateral Declaration of Independence. Gibbs was intensely loyal to Rhodesia and although he had refused to accept UDI, the award was criticised as badly timed at the very least.
In her speech to Parliament at the Silver Jubilee in 1977, Elizabeth stated "I cannot forget that I was crowned Queen of the United Kingdom of Great Britain and Northern Ireland". This reference came at a time when the Labour government was attempting to introduce a controversial devolution scheme to Scotland and Wales, and was interpreted as opposition to devolution. However, in the late 1990s after referenda approved a devolution scheme, Elizabeth sent her best wishes to the new Scottish Parliament.
Elizabeth has developed friendships with many foreign leaders, including Nelson Mandela, Mary Robinson and George H. W. Bush, whose son, George W. Bush, was the first American president in more than 80 years to stay at Buckingham Palace. On occasion such contacts have proved highly beneficial for Britain. For example, John Major as prime minister once had difficulty working with a particular Commonwealth leader. The Queen informed Major that he and the leader shared a mutual sporting interest. Major then used that information to establish a personal relationship, which ultimately benefited both countries. Similarly she took the initiative when Irish President Mary Robinson began visiting Britain, by suggesting that she invite Robinson to visit her at the Palace. The Irish Government enthusiastically supported the idea. The result was the first ever visit by an Irish President to meet the British monarch.
Elizabeth's reign has also seen an increase in a republican movement in Britain and Commonwealth realms. See British republicanism.
Religious role
According to British tradition, the Queen rules over the United Kingdom thanks to the will of God, and is the Supreme Governor and Defender of the "true faith", the Church of England. However, perhaps strangely, the Monarchy claims to preside over the true faith only in England. In Scotland there is a different official church (the Church of Scotland) in which the Queen is an ordinary lay member, and in Wales, Northern Ireland and the other Realms, there is no official religion.
In practise, the Queen is merely a figurehead for the Church of England and does not proselytise, delegating authority to the Archbishop of Canterbury.
Ancestry
Queen Elizabeth is a descendant of the German principal house of Saxe-Coburg-Gotha (Sachsen-Coburg-Gotha), which inherited the British throne after Queen Victoria (of the House of Hanover) died in 1901. She is also descended from English monarchs extending back to the House of Wessex in the 7th century, and from the Scottish royal house, the House of Stuart, which can be traced back to the 9th century. Through her great-grandmother Queen Alexandra she is descended from the Danish royal house Schleswig-Holstein-Sonderburg-Gl?rg, a line of the North German house of Oldenburg, one of the oldest in Europe. As a great-great-granddaughter of Queen Victoria, Queen Elizabeth is related to the heads of most other European royal houses. She is a cousin of Albert II of Belgium, Harald V of Norway, Juan Carlos I of Spain and Carl XVI Gustaf of Sweden, as well as former kings Constantine II of Greece and Michael of Romania, and is more distantly related to the former royal houses of Germany and Russia.
Titles
Missing image
E_II_R_in_Uniform.JPG
In the United Kingdom, her official title is Elizabeth the Second, by the Grace of God, of the United Kingdom of Great Britain and Northern Ireland and of Her other Realms and Territories Queen, Head of the Commonwealth, Defender of the Faith. In common practice Queen Elizabeth II is referred to simply as "The Queen" or "Her Majesty".
At her succession, the title Elizabeth II caused some controversy in Scotland, where there has never been an Elizabeth I (although there had been no similar controversy during the times of William IV and Edward VII). In a rare act of sabotage in Scotland, new Royal Mail post boxes bearing the initials E.R.II were blown up. As a result, post boxes in Scotland now bear only a crown and no royal initials. A legal case, MacCormick v. Lord Advocate (1953 SC 396), was taken to contest the right of the Queen to style herself Elizabeth II within Scotland, arguing that to do so would be a breach of the Act of Union (1707). The case was lost on the grounds that the pursuers had no title to sue the Crown, and also that the numbering of monarchs was part of the royal prerogative and not governed by the Act of Union. There are also two other matters of controversy, which are much less publicised. Firstly, the argument that the monarch was addressed as Your Grace, rather than Majesty, in pre-Union Scotland and secondly, that the preferred title had been King/Queen of Scots rather than of Scotland (although this was by no means unknown).
Future British monarchs are now to be numbered according to either that of their English or Scottish predecessors, whichever number is higher. Applying this policy retroactively to monarchs since the Act of Union yields the same numbering.
Following a decision by Commonwealth Prime Ministers at the Commonwealth conference of 1953, Queen Elizabeth uses different styles and titles in each of her realms. In each state she acts as the monarch of that state regardless of her other roles.
Properly styled as "Her Majesty The Queen" (and when the distinction is necessary e.g. "Her Britannic Majesty" or "Her Canadian Majesty"), her previous styles were:
Her Royal Highness The Princess Elizabeth (1936–1947)
Her Royal Highness The Princess Elizabeth, Duchess of Edinburgh (1947–1952)
Personality and image
Elizabeth has never given press interviews, and her views on political issues are largely unknown except to those few heads of government who have private conversations with her. She is also regarded privately as an excellent mimic. Rather conservative in dress, she is well-known for her solid-colour overcoats and decorative hats, which allow her to be seen easily in a crowd. Although she attends many cultural events as part of her public role, in her private life Elizabeth is said to have little interest in culture or the arts. Her main leisure interests include horse racing, photography, and dogs, especially her Pembroke Welsh Corgis.
Elizabeth has given an annual Christmas Message to the Commonwealth every year apart from 1969 since she became Queen.
In diplomatic situations Elizabeth is extremely formal, and royal protocol is very strict. Though some of the traditional rules for dealing with the Monarch have been relaxed during her reign (bowing is no longer required, for example) other forms of close personal interaction, such as touching, are still discouraged. Several foreign leaders have been criticized in the British press for breaking this latter rule of touching.
Her former prime ministers speak highly of her. Since becoming Queen, she spends an average of three hours every day "doing the boxes" — reading state papers sent to her from her various departments, embassies, and government offices. Having done so since 1952, she has seen more of public affairs from the inside than any other person, and is thus able to offer advice to Tony Blair based on things said to her by Harold Wilson, Harold Macmillan, Edward Heath, Winston Churchill and many other senior leaders. She takes her responsibilities in this regard seriously, once mentioning an "interesting telegram" from the Foreign Office to then-Prime Minister Winston Churchill, only to find that her prime minister had not bothered to read it when it came in his box.
Coat of arms
The Queen bears quarterly, I and IV England, II Scotland, III Ireland, which serves as the Royal Coat of Arms of the United Kingdom. This coat of arms has been unchanged since Queen Victoria. The Queen's Royal Standard (her flag) is a banner of the arms. The Queen has separate flags for use in her other Commonwealth realms, such as Canada, Australia, New Zealand, and Jamaica, each being a banner of the country's coat of arms.
See also
External links