Romano Prodi
From Academic Kids
Romano Prodi (Scandiano, Reggio Emilia August 9, 1939) is an Italian politician and a former President of the European Commission. He earned a degree in law from the Catholic University of Milan and later studied at the London School of Economics. This began a career in Italy's academia as a professor and researcher in Economics, which included brief visiting appointments at Stanford and Harvard universities in the United States. He was for several years professor at the University of Bologna (1971 – 1999), city where he lives.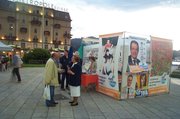 During the mid-1970s, he began to enter Italian politics, and was appointed Minister of Industry in 1978; he held posts on various commissions through the 1980s and early 1990s. In 1995 he became Chairman of the centre-left Ulivo coalition, and in 1996 Prime Minister. His government fell in 1998 when the Communist Refoundation Party withdrew support, allowing the formation of a new government under Massimo D'Alema.
From September 1999 until November 18, 2004 he was the President of the European Commission.
As leader of Italy's Ulivo coalition, Prodi currently leads the opposition to Silvio Berlusconi's House of Freedoms right-wing government. Prodi is expected to lead the Ulivo coalition in the 2006 general election campaign.
See also
External link