Michael Jackson
From Academic Kids
For other people with the same name, see Michael Jackson (disambiguation)
Missing image
MICHAEL_JACKSON_Bad-Front.JPG
Michael Joseph Jackson (born August 29, 1958 in Gary, Indiana), is an American singer, dancer, songwriter, and record producer. Jackson began his career as the lead singer of Motown act The Jackson 5 in the 1960s and 1970s. After beginning a full-fledged solo career in 1979, Jackson went on to become the most successful African-American solo artist in music history, and one of the most successful popular music singers of all time. He is also known as the King of Pop. Jackson's successful career has gained him legions of fans, both devoted and obsessive. He has, however, been dogged by media fascination with his transracially changing physical appearance and what some perceive as an eccentric lifestyle, resulting in his being nicknamed Wacko Jacko.
Jackson is fond of children, and, apart from having his own, he has had friendships with a number of other children, ranging from disadvantaged children to child celebrities. He has invited many groups of children to his ranch and has sponsored a variety of charitable activities. However, he has also repeatedly been accused of child molestation. In a 2005 trial for alleged child molestation and other offenses in Santa Maria, California, Jackson denied all charges, and was found not guilty of all charges on June 13, 2005.
Jackson has received numerous music industry awards including 18 Grammys. He has sold more than 200 million records worldwide as a solo artist and another estimated 100 million records with The Jackson 5. His Thriller video is considered the greatest music video of all time and a large step forward in artistic quality for music videos. MTV and Rolling Stone magazine in a list compiled in 2000 named four of his songs ("Billie Jean" #5, The Jackson 5's "I Want You Back" #9, "Beat It" #22, and "Rock with You" #82) among the 100 greatest pop songs of all time. [1] (http://www.twin-music.com/lists/rsmtvtop100.html)
His hit album Thriller is the biggest-selling album of all time worldwide with over 58 million copies sold. The album is also the best-selling album containing all-original material in terms of domestic US sales--27 million copies sold. It is second to The Eagles' greatest hits collection Their Greatest Hits (1971-1975), which has sold 28 million copies.
Personal background
Missing image
Music_album_record_thriller.jpg
Jackson was born the seventh of nine children in Gary, Indiana to Joseph Jackson and Katherine Jackson. The entire family--including older siblings Rebbie, Jackie, Tito, Jermaine, LaToya, and Marlon, and younger siblings Randy and Janet--lived in a tiny two-bedroom house, and Jackson's father Joseph Jackson earned a meager living working in a steel mill. Jackson and his sister LaToya both claimed that their father was cruel and physically abusive to his children. Jackson broke down and wept during a television interview when asked about this, and said that even as an adult just meeting his father often made him physically ill.
At the behest of their mother Katherine but against Joseph's wishes, the Jackson children were raised as Jehovah's Witnesses and practiced door-to-door evangelization. Jackson continued to do so after becoming famous, but then in disguise. His career and flamboyant style led to friction with congregation elders. At one point, his sister LaToya was shunned by Jehovah's Witnesses, and in 1987, he formally left the religion.
Due to Joseph Jackson's strict rules, the Jackson children were kept locked in their house while he worked the night shift. However, the children would sneak out of the house to their neighbors where they practiced singing and playing music. Eventually, Jackson found out about their musical abilities and decided to capitalize upon it in order to leave Gary for California. Michael Jackson later attended and graduated from Montclair College Preparatory School.
Missing image
Neverland_Valley_Ranch_Map.jpg
Jackson has been living at his 11 km² (2600 acres) Neverland Ranch in Santa Ynez, California, named after the magical kingdom Neverland featured in the children's story Peter Pan since purchasing the property in 1988. In December 2003, he said that after it had been searched by police (see below), it no longer felt like a home, and is now a house he just visits. He lived for some time in Beverly Hills in a $70,000-a-month rented home, but as of 2005 seems to live at Neverland again.
Jackson told reporters that he always felt a strong connection to both children and animals. He says that they do not give the complications that adult people often do, like negatively judging him, and betraying him.
He said that, like Peter Pan, he did not want to grow up. He says he compensates for his "lost childhood", during which he always had to practice and perform. Neverland contains a small zoo and amusement park. About once a week he has been inviting a bus full of (especially sick and poor) children there to have a day of fun.
His favorite pastimes include playing with children, e.g. having water balloon and water gun fights, and having rides with them in his golf carts (which children are often allowed to drive themselves), small steam train, and the other rides of the amusement park, and having long telephone conversations with young friends. He had had sleepovers in the past with children (who have reportedly been primarily boys), but stated in 2005 that he now feels that it violates a social norm in the eyes of many people, and places him in a vulnerable position with regard to suspicions and allegations of sexual abuse. He has publicly stated he will no longer have them with children not related to him.
Jackson kept a chimpanzee, Bubbles, in Neverland, which he valued highly, treating him more like a friend than a pet. Bubbles was moved from the ranch after reaching maturity because adult chimpanzees are very strong and can be dangerous.
He likes climbing trees; he has written several songs sitting in his favorite tree at Neverland, which he calls Giving Tree, because, he says, it is so inspiring.
Jackson's celebrity friends have included Quincy Jones, Diana Ross, Rick James, Usher, Marlon Brando, comedians Steve Harvey and Chris Tucker and actress Elizabeth Taylor and former child actors Emmanuel Lewis and Macaulay Culkin. Both Taylor and Culkin are godparents to Jackson's children Prince Michael and Paris. He is also friends with paranormalist Uri Geller. He has also been friends with rabbi Shmuley Boteach, with whom Jackson founded the now defunct "Heal the World" and "Heal the Kids" foundations. (For the related song and video "Heal the World" see below.) Michael is also the godfather of Lionel Richie's adopted daughter Nicole Richie.
It has been rumored that Jackson has used extensive plastic surgery to modify his appearance, although he claims to have had only three operations: Two rhinoplastic surgeries (the first of which he claims was to repair a broken nose resulting from a dancing accident in 1978, and the second to correct imperfections in the first surgery) and the surgical creation of a cleft in his chin (Jackson often omits mentioning the cleft when listing his cosmetic surgery, but he confirms the surgery in his 1988 autobiography Moon Walk). Some critics have characterized his plastic surgery and purported "skin bleaching" as an attempt to hide his African-American ancestry, but destruction of the melanin-producing cells, which looks like bleaching, is a common treatment for advanced vitiligo, a condition which leaves the skin with disfiguring white patches, especially on the face and hands. Jackson has insisted that he only uses heavy makeup to mask the effects of the vitiligo.
Jackson's extensive use of plastic surgery has now caused increased concerns for possible cartilage and nose collapse. Surgeons agree that Jackson's nose structure could easily collapse during an altercation. In June 2004, CNN has mentioned that when Michael Jackson cries, the tears come through his nose; however, this may have been a verbal typo. The degradation from his plastic surgeries have resulted in people comparing it to when he dressed as a zombie in his Thriller music video.
Jackson's marriages and children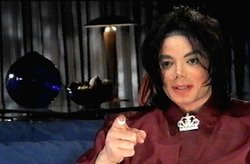 In 1994 Jackson married Lisa Marie Presley, the daughter of Elvis Presley; the marriage lasted less than two years, ending in divorce. In 1996, he married Debbie Rowe, with whom he had a son, Prince Michael, and a daughter, Paris Katherine. They were divorced in 1999. Rowe later said that she let Jackson have the children as a "gift". Rowe had given up her parental rights to the children, but as of 2005 a family court case is under way regarding visitation.
Around February 2002 Jackson had another son, Prince Michael II, also called "Blanket", apparently with a surrogate mother whose identity has not been disclosed. In late 2002, Jackson stirred up controversy while staying at the Adlon hotel in Berlin by briefly suspending him over the edge of the railing of a balcony. In what Jackson explains as a security measure against kidnapping, the children's faces are masked or veiled when they are in public.
In December 2003 Jackson's parents promised they would look after the three children if they were taken away from their son. Reportedly the children have been interviewed by social workers. In March 2004 it was confirmed there was an unspecified family matter between Michael Jackson and Debbie Rowe, to be handled in mediation. In July 2004 news was released that Jackson is to be the father of quadruplets, via artificial insemination. The mother is said to be a "struggling actress". Jackson however, strongly denied the allegations.
Rumors in 2003 claimed that Jackson had another son, seventeen-year-old Michael Joseph Jackson, Jr., who apparently has an almost identical resemblance to Jackson as a young man. The child, however, was shown not to be Michael Jackson's son.
Musical career
Missing image
Mj1971-got-to-be-there.jpg
The Jackson 5 and Motown
Main entry: The Jackson 5
Five of the Jackson brothers, Jackie, Tito, Jermaine, Marlon and Michael, formed the Jackson 5, an R&B musical act, in the mid 1960s. With Michael as the lead singer, the group built up a following and a buzz by playing at clubs and bars throughout the Midwest, and even winning an Amateur Night competition at the Apollo Theater in Harlem, New York. It is alleged that they were beaten and abused by their father if they performed poorly. The Jackson 5 signed their first recording contract with the local Steeltown label in 1967, and had a regional hit with "Big Boy" in 1968.
The Jackson 5 were discovered by both Gladys Knight & the Pips and Bobby Taylor & the Vancouvers, who brought them to Motown Records in 1968. Label head Berry Gordy bought out the Jackson 5's Steeltown contract and signed the group to Motown in March 1969. Gordy then moved the Jackson family to Los Angeles, California, and proceeded to turn them into international stars. In fall 1969, The Jackson 5 were presented to the public by Diana Ross and were officially launched as the next big Motown act. The group's first four singles, "I Want You Back" from 1969, and "ABC", "The Love You Save", and "I'll Be There" from 1970 all became #1 hits in the US. Later hits included "Mama's Pearl" & "Never Can Say Goodbye" (1971), "Lookin' Through the Windows" (1972), "Get It Together" (1973) and "Dancing Machine" (1974). Most of the Jackson 5 hits were produced by The Corporation™, a collective of songwriters and record producers including Gordy, Freddie Perren, Alphonzo Mizell, and Deke Richards.
With Motown Records, the Jackson 5 made 14 albums, and Michael also recorded four albums as a solo artist. Among Michael's early solo hits were "Got to Be There" (1971, his solo debut); and "Rockin' Robin", "I wanna Be Where You Are", and the #1 hit "Ben" (all 1972).
The Jacksons and Epic Records
In 1976, the Jackson brothers signed a deal with CBS Records, first joining the Philadelphia International division and later moving over to Epic Records. The new deal with CBS provided more creative freedom and larger royalties that they were not allowed at Motown. By leaving Motown behind, they lost the rights to use the "Jackson 5" name and logo. Additionally Jermaine, who had married Berry Gordy's daughter Hazel, opted to remain at Motown for a full-time solo career. Now known as The Jacksons, and featuring younger brother Randy in Jermaine's place, the brothers continued their successful career, touring internationally and releasing 6 albums between 1976 and 1984. Hits during this period included "Enjoy Yourself" & "Show You The Way To Go" (1976), "Find Me A Girl" (1977), "Blame It On The Boogie" (1978), "Shake Your Body (Down to the Ground)" (1979), "Can You Feel It" & "Heartbreak Hotel" (1980) and "Torture" & "State of Shock" (1984).
Jackson starred in the film The Wiz alongside mentor Diana Ross in 1978. It was here that he met Quincy Jones, the music producer for The Wiz, who would later produce Michael's three most acclaimed solo albums, Off the Wall, Thriller and Bad. Off the Wall, released in 1979, produced a record four Top 10 hits and sold seven million copies in the United States.
Solo career
Missing image
Mj-1979-off-the-wall.jpg
Off The Wall to Thriller
Michael Jackson's 1979 album Off the Wall was a worldwide hit and spawned the #1 hit singles and music videos "Rock With You" and "Don't Stop 'Til You Get Enough". A ballad, "She's Out Of My Life" reached the top 10 in 1980.
In the 1980s, Jackson released a progression of solo albums of slickly-produced synthesizer-heavy pop. In what was perhaps the "Golden Age" of the video clip, some of Jackson's videos were virtually short films with considerable plots, impressive special effects, and featuring Jackson's distinctive dance style.
His Thriller album was released in 1982, produced 7 Top 10 hit singles, broke records and quickly became the world's best selling album (as of 2003 it has sold over 50 million copies). The "Billie Jean" music video, released to promote Thriller, became the first video by a black artist to be aired on MTV, and the "Thriller" short film, included with The Making of Michael Jackson's Thriller, became the world's best selling home video at the time.
"Billie Jean" and "Thriller", as well as "Beat It", were the three music videos released from the album, and have since become three of MTV's most significant videos in history, placing highly on several MTV and VH1 countdowns, and receiving substantial airplay on MTV2 to this day. The album's other singles were "Human Nature" and "P.Y.T. (Pretty Young Thing)", both of which were also hits, despite neither having music videos.
While performing "Billie Jean" during the Motown 25: Yesterday, Today, Forever special on television on May 16, 1983, Jackson publicly performed the moonwalk (later his signature dance move) for the first time, stunning TV audiences. In January 1984 at the American Music Awards, Jackson was nominated for 9 awards and won a record 8 awards (tied by Whitney Houston's The Bodyguard soundtrack in 1994). In February at the Grammy Awards Jackson was nominated for 12 awards and won a record-breaking 8 awards (now equaled by Carlos Santana's 1999 Supernatural) – 7 for Thriller and 1 for his narrative on The E.T. Storybook. In May, Thriller was certified by the Guinness Book of Records as the biggest selling popular music album of all time. In addition in 1984, he was also awarded the H. Claude Hodson Medal of Freedom at the NAACP Image Awards, feted at the White House by President Ronald Reagan with the Presidential Special Achievement Award and in November was awarded a star on the Hollywood Walk of Fame.
"We are the World" to Dangerous
Inspired by Band Aid, he was instrumental in organizing the single "We Are the World" (co-written with Lionel Richie) in 1985. "We Are the World" was sung by 44 different singers including Harry Belafonte, Cyndi Lauper, Diana Ross, Ray Charles and Stevie Wonder and sold 7 million copies in the United States, becoming the best selling single of all time (eclipsed by Elton John's "Candle In The Wind" in 1997), to raise money for USA for Africa – a charity working to raise awareness about and help starving people in Africa.
Missing image
Movie_eo_smile.jpg
Jackson starred in the George Lucas/Francis Ford Coppola 3-D film Captain Eo in 1986, which was shown in Disney theme parks until 1998. Minute for minute it was the most expensive film ever produced at the time, costing an estimated US $17 million to make. The film contained the songs "We Are Here To Change The World" and "Another Part Of Me".
In 1987, Jackson released Bad and began his first solo world tour. He performed to sold out audiences at each concert. The following year Jackson released a silly, playful movie entitled "Moonwalker" and a serious, personal autobiography titled Moon Walk. At one time Bad was the No2 biggest selling album of all time.
Bad was another smash success for Jackson. Its singles and music videos "I Just Can't Stop Loving You", "Bad", "The Way You Make Me Feel", "Man In The Mirror", "Dirty Diana", "Another Part Of Me", "Smooth Criminal" and "Leave Me Alone" provided Jackson with another string of hits. The album's only relatively unsuccessful single, "Liberian Girl", remains to this day as one of Jackson's least seen music videos and least heard singles. Nonetheless, he made history by becoming the first artist to generate 6 number one singles off of one album. Of the 7 singles released in the USA, the first 5 went to #1 on the Billboard Hot 100 charts, "Another Part Of Me" peaked at #11 (#1 on Billboard's R&B charts) and "Smooth Criminal" went to #7. However, despite the success of its singles, Bad's album sales were disappointing. While Thriller sold 25 million copies in America, Bad only sold 8 million. Jackson had hoped Bad would outsell Thriller.
The title track from Bad was intended as a duet with longtime rival Prince. Prince was approached and briefly considered taking part in the project, but eventually decided against it because of the first line ("Your butt is mine"). He later remarked that the album was called "Bad" because "they didn't have enough room to spell 'Pathetic'".
Missing image
Michael_jackson-dangerous_a.jpg
Jackson was awarded a record breaking $890 million contract by Sony and released an album Dangerous in 1991. During the Dangerous world tour Jackson announced the creation of his Heal the World Foundation. Dangerous contained the singles and music videos "Who Is It", "Give In To Me", "Gone Too Soon" (a tribute to young AIDS victim Ryan White), and "Will You Be There", which would later become the theme song to the movie Free Willy. But the album's most successful and memorable singles and videos were "Jam", "Remember The Time", "Black Or White", "In The Closet", and "Heal The World". As was becoming the standard for Jackson, the album's music videos were among the most costly, creative, and innovative of their time. "Give In To Me" featured Slash from Guns n' Roses in its video. The video for "Heal The World", to correspond to Jackson's charity of the same name, featured children and adults from throughout the world. "Will You Be There" showed Jackson singing in front of scenes from Free Willy. Several of the other videos had complex storylines and dance sequences, and featured cameo appearances by celebrities. The video for "Jam" showed Jackson and Michael Jordan playing basketball and dancing together, while "Remember The Time" was set in a Egyptian palace and starred Eddie Murphy as the king of the palace who was trying to entertain his wife, played by Iman. Magic Johnson played the king's chief guard. Jackson's singing and dancing is the thing that finally makes Iman's character happy, in the seven-minute long video. Jackson and Naomi Campbell played lovers in "In The Closet". Again, Michael had high hopes, and planned to sell 100 million copies of Dangerous. But after a relatively small stay in the top 10, the album fell out and sold 7 million in the US and 29 million worldwide. This was hardly bad as it made the Dangerous album the second biggest selling album of all time taking over in unit sales of his previous album Bad, but it was certainly nowhere near 100 million.
Black Or White
Of all the album's groundbreaking and popular videos, "Black Or White" probably remains the most aired and most remembered today. The original video is over ten minutes long, and premiered simultaneously on November 14, 1991, on MTV, VH1, BET, and ABC, becoming one of the most-watched music video premieres in history. The original video begins in suburban America, with Macaulay Culkin playing a young Jackson fan whose father (played by George Wendt) tells him to turn his music down. Culkin's character, instead, decides to bring his speakers into the living room and cranks the speakers to full blast, which sends the father flying through the roof, in a manner somewhat similar to that used in an earlier Twisted Sister music video. He ends up landing in the middle of an African veldt. The music to "Black Or White" then starts, and Jackson proceeds to take viewers on a trip around the world, from country to country and culture to culture. As the song ends, the video features a morphing effect, whereby the faces of several different people of different ethnicities' (including Tyra Banks and voice actor Cree Summer) are morphed one into another, as a symbol of global unity. Although this was not the first music video to feature morphing technology — former 10cc members Godley & Creme used morphing even more extensively in the 1985 video to their song "Cry", though in a less technologically polished way — it was the first exposure many people had to the technology, and this effect amazed those who saw the video for the first time. Thanks in part to "Black Or White", as well as the development of computer technology, the morphing effect has since become somewhat common in music videos today, and can now be done much cheaper than in the early 1990s. The original video for "Black Or White" then continued, even after the song itself ended, for another four minutes. The last four minutes depicted Jackson doing his infamous crotch-rubbing, smashing store windows, and destroying a car with a metal crowbar. It finally ended with a cameo appearance by Bart and Homer Simpson. However, Jackson's rampage and crotch grabbing caused a good deal of controversy with many parents of young children who watched the video's premiere. MTV and other music video stations decided to cut out the last four minutes of the video for all subsequent airings, and Jackson issued an apology statement to anyone who had been offended. To date, the final four minutes of the "Black Or White" video has only since re-aired in America on MTV2 between the hours of 1 AM and 4 AM, as part of their special uncensored airing of the "Most Controversial Music Videos" of all time, however the extended version is available on Jackson's DVDs. A few years ago, VH1 Europe aired them in daytime but now cuts them out.
The "Black Or White" video was mocked by the American comedy show In Living Color in a notoriously pungent parody that tackled Jackson's well-known skin color issues and American race relations. In it, the Jackson impersonator sang that he was not sure whether he was black or white, and was immediately arrested at the end when he struck a car's shatterproof windshield with a sledgehammer. Genesis also poked fun at the infamous section of "Black Or White" in their video for "I Can't Dance". This was the best selling video of the MTV honourable year.
HIStory to Invincible
Missing image
Jackson7a.jpg
HIStory, a double-disc album, was released in 1995. Its first disc had fifteen of his greatest hits and second disc contained fifteen new songs. The album produced two new hit singles and videos in America. "Scream" was a duet with his sister Janet whose futuristic music video, with a seven million dollar price tag, is the most expensive music video ever made. Thanks to a change in Billboard's chart policy, "You Are Not Alone" became the first song to ever debut at number one on the Billboard Hot 100 Singles Chart; the video had a cameo from Jackson's then-wife, Lisa Marie Presley. The album's other singles and videos, "Childhood", "Earth Song", "Stranger In Moscow", and "They Don't Care About Us" had limited success in America, and performed far better in Europe. "Earth Song" is an emotional plea for taking care of our environment. "Childhood" is notable for having been the theme song to Free Willy 2. "They Don't Care About Us" caused a stir when it was released due to controversial lyrics which were considered by some to be anti-Semitic. This caused American MTV and VH1 to ban the song's music video, even though it garnered heavy airplay on many of America's Boxnetworks. The lyrics "Jew me, sue me/ Kick me, kike me" were modified on the album's official release in response to the criticism. Apart from the video for "Scream," singles and videos from HIStory nowadays garner little airplay in America, making the album a failure overall by Jackson's standards, though it has sold over 18 million double albums as of 2004. It was branded a failure very quickly. Executives and Jackson hoped it would stay at #1 throughout the summer, yet it only spent 2 weeks at the top with unspectacular sales. On the other hand, the album spawned his biggest hit ever in the UK, "Earth Song" stayed at the top of the chart for six weeks and sold over a million copies.
In 1997 Jackson released Blood on the Dance Floor, a remix album of several of the tracks off of HIStory, which also included 5 new songs and has since become the biggest-selling remix album of all time. The album only had one single and official music video, the title track, which failed to catch on in America, and again proved a far more popular hit in Europe. However, Jackson also produced "Ghosts", a 40-minute short film, which was shown in several movie theaters and uses the songs "Ghosts" and "2 Bad" in the film. The short film "Ghosts" is occasionally played as an hour-long special, with space made for commercials, on MTV and VH1, especially during the Halloween season. Four years later, Jackson was inducted to the Rock and Roll Hall of Fame in 2001 as a solo artist.
Jackson's 2001 album Invincible, the most expensive album ever produced, debuted at number one on the U.S. charts, selling 2 million copies in the United States and 8 million worldwide. While the numbers seemed impressive, the sales figures were nonetheless disappointing, considering Jackson's previous success and the cost of the album. As opposed to his earlier albums which each spawned at least six singles, most of which were generally worldwide smashes, Invincible produced only the singles "You Rock My World" and "Butterflies" in America. "Cry" was also issued as a third single in Europe. "You Rock My World" managed the top ten in America, but only for a week, and its big-budget, 14-minute music video received only sparse airplay on MTV, VH1, MTV2, and BET, usually in a shortened, 5-minute version. "Butterflies" was a top 20 hit in America as well as a #2 hit on the R&B charts, but did not reach the top 10, despite a popular radio remix featuring rapper Eve; the song's relative lack of success also allowed no budget for a music video.
In June 2002, Jackson was inducted for his work as a songwriter to the Songwriters Hall of Fame. In November 2002 Jackson received in Berlin Germany's Millennium Bambi 2002 award, in recognition of his status as the world's "greatest living pop icon". The awards recognize outstanding personalities and performances in various fields, including show business, film, politics and sport.
"One More Chance"
On November 20, 2003, Jackson released a new song, "One More Chance," written by R. Kelly. It was the only new track on his Number Ones greatest hits album. ";;One More Chance" went on to become the #1 track on Billboard's R&B/Hip-Hop Singles Sales chart for three straight weeks. The song was also featured as a montage video on the CBS TV special "Michael Jackson Number Ones." The special was then released on DVD as "The One." As well as the montage, there is also an original music video shot for "One More Chance" that remains unreleased.
World tour Celebration
Jackson was planning a world tour — provisionally called Celebration — with music mogul Charles Koppelman, to start if he were acquitted. The tour is scheduled to begin in early autumn of 2005.
Miscellaneous controversies
Missing image
Michaeljacksonm.jpg
In late 2002, Jackson's most recent album, Invincible, had disappointing sales figures. Jackson blamed his record label and industry executives, most notably the legendary record executive Tommy Mottola, whom Jackson likened to Satan.
Jackson recorded the song What More Can I Give featuring various celebrities on vocals in an attempt to raise funds for disaster relief following the September 11, 2001 Terrorist Attack. However, the song was never released. One possible reason was that producer Marc Schaffel has worked as a producer of homosexual pornography (his house was searched by the police in 2004; it is not clear whether this was related to Jackson).
In October 2002 various international banks claimed that Jackson was tens of millions of dollars in debt. That same month, concert promoter Marcel Avram sued Jackson in a court in Santa Maria, California, claiming that he reneged on a deal to perform on a series of millennium concerts crossing the International Date Line on the evening of December 31, 1999 - January 1, 2000. Jackson lost the case, and is appealing.
He has been involved in a legal dispute with his former financial adviser, Union Finance and Investment Corp. of South Korea, who claim that Jackson owes the firm $12 million in fees and expenses and that Jackson's extravagant spending may lead to his bankruptcy. See also Jackson's finances in connection to the trial.
He has also repeatedly been accused of child sexual abuse and was on trial for alleged child molestation and other offenses until June 2005. He denied the charges. On Monday June 13, 2005 the jury of the Superior Court of the State of California found Michael Jackson not guilty on all 10 counts. Although he was not conviced, several of the jurors said that they thought he was a pedophile and molester, but the State did not prove it in this specific case. One juror went as far to say that he believed (based upon evidence) that Jackson is a pedophile and has molested children. The jurors also said that a verdict of 'not guilty' does not translate into 'innocent' -- just that the State did not prove it's case.
Miscellaneous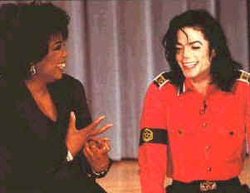 Jackson owns 50% of Sony/ATV Music Publishing, with a music catalog that includes publishing rights to songs by the Beatles, Little Richard, Elvis Presley and others. In March 2005 he indicated that some sort of battle was going on regarding this. Jackson also owns Mijac Music, which holds his own songs.
Michael Jackson is a fan of video games and helped develop the popular Sega of America video game 'Michael Jackson in Moonwalker (1990) where the player controlled the famous pop star in an effort to save the world's children from an evil criminal mastermind. The arcade and video game was especially popular for having Jackson's songs as background music and special ability to defeat enemies by making them dance.
In April 2003 the television special Michael Jackson's Private Home Movies was aired, among other things showing Jackson having fun with children. [2] (http://www.allmichaeljackson.com/newsapril03.html)
Scott Thorson, former lover of Liberace, was a friend of Jackson from 1979, for some years. In April, 2004 he claimed in The National Enquirer and on television interviews, that he twice had sex with Jackson in 1979, when both were 20 years of age. Also he claimed that he had seen what appeared to be child pornography in Jackson's possession. Jackson denies the latter two things. [3] (http://www.nydailynews.com/front/story/183843p-159444c.html)
On February 27, 2004, Jackson was stopped by police while vacationing with his children near Aspen, Colorado, where he went because his children wanted to see snow. Jackson had been shopping at a Wal-Mart earlier in the day wearing a ski mask. Employees found this suspicious and called the police with a description of his vehicle. The incident led to nothing when he was pulled over, asked to reveal his identity, and then left to go on his way.
Jackson continues to be plagued with seemingly press-invented rumors. They are partly unrelated with his current court case; tabloids allege that he is in Colorado seeking treatment at an in-patient addiction clinic. Not guilty verdict passed on all 10 counts.
Jackson was considering a tour of Africa in May or June 2004 to raise money to fight AIDS, if the court would let him. The countries he was planning to visit included Zimbabwe, South Africa, and Senegal. At some stage in April, officials in Namibia expected him, but that was due to miscommunication.
King of Pop
Michael Jackson is referred to as King of Pop in the same manner that "The King of Rock and Roll" is given to rock legend Elvis Presley.
The title "King of Pop" was allegedly first coined by Elizabeth Taylor. The term has commonly been mistaken as being "self proclaimed" by Michael Jackson, though it was his fans that first gave him the title, which was later accepted by mainstream.
Critics have questioned whether Michael Jackson is still the King of Pop. His 1982 album Thriller is the best-selling all-original album of all time, with over 58 million records sold to date. This is possibly the best claim for the title as the undisputed King of Pop.
In February of 2005, Michael Jackson's Thriller music video was voted No.1 on the UK Channel 4's vote for the 100 Greatest Pop Videos of all time. [4] (http://www.channel4.com/entertainment/tv/microsites/G/greatest/pop_videos/results.html)
Michael Jackson has broken many barriers and has set many records that are yet to be beaten before he loses his "crown". Music legend Elvis Presley still holds the title "The King" or "King of Rock" despite not releasing new chart topping material since his death in 1977.
Vocal Profile
Discography
Albums
For a detailed description of each album, see List of Michael Jackson albums.
Motown releases
Epic releases
Compilations
1976: Best of Michael Jackson
1995: HIStory (double-album: disc one is a greatest hits collection, disc two is all-new material) (US Sales: 3.5mil, World Sales: 18mil.)
1997: Blood on the Dance Floor (US Sales: 0.3mil., World Sales: 6mil.)
2003: Number Ones (US Sales: 0.9mil., World Sales: 6mil)
Singles
For a detailed list of singles, see List of Michael Jackson singles.
Top Five US and UK singles
The following singles reached the Top Five on either the Billboard US Hot 100 and R&B singles charts or UK pop singles charts:
1971: "Got to Be There" (#4 Pop, #4 R&B, #5 UK)
1972: "Rockin' Robin" (#2 Pop, #2 R&B #3 UK)
1972: "Ben" (#1 Pop, #5 R&B, #7 UK)
1979: "Don't Stop 'Til You Get Enough" (#1 Pop, #1 R&B, #3 UK)
1980: "Rock With You" (#1 Pop, #1 R&B)
1980: "She's Out Of My Life" (#3 UK)
1980: "Off The Wall" (#5 R&B, #7 UK)
1981: "One Day In Your Life" (#1 UK)
1983: "The Girl Is Mine" (with Paul McCartney) (#2 Pop, #1 R&B, #8 UK)
1983: "Billie Jean" (#1 Pop, #1 R&B , #1 UK)
1983: "Beat It" (#1 Pop, #1 R&B, #3 UK)
1983: "Wanna Be Startin' Somethin'" (#5 Pop, #5 R&B, #8 UK)
1983: "Say, Say, Say" (Paul McCartney with Michael Jackson) (#1 Pop, #2 R&B, #2 UK)
1984: "Thriller" (#4 Pop, #3 R&B, #10 UK)
1984: "P.Y.T. (Pretty Young Thing)" (#11 UK)
1984: "Farewell My Summer Love" (#7 UK)
1984: "Girl You're So Together" (#33 UK)
1987: "I Just Can't Stop Loving You" (#1 Pop, #1 R&B, #1 UK)
1987: "Bad" (#1 Pop, #1 R&B, #3 UK)
1987: "The Way You Make Me Feel" (#1 Pop, #1 R&B, #3 UK)
1987: "Another Part Of Me" (#1 R&B, #15 UK)
1988: "Man In The Mirror" (#1 Pop, #1 R&B, #21 UK)
1988: "Dirty Diana" (#1 Pop, #8 R&B, #4 UK)
1988: "Smooth Criminal" (#7 Pop, #2 R&B, #8 UK)
1989: "Leave Me Alone" (#2 UK)
1989: "Liberian Girl" (#13 UK)
1991: "Black Or White" (#1 Pop, #3 R&B, #1 UK)
1992: "Remember The Time" (#3 Pop, #1 R&B, #3 UK)
1992: "Heal The World" (#2 UK)
1993: "Give In To Me" (#2 UK)
1995: "Scream" (with Janet Jackson) (#5 Pop, #2 R&B, #3 UK)
1995: "You Are Not Alone" (#1 Pop, #1 R&B, #1 UK)
1995: "Earth Song" (#1 UK)
1996: "Why" (3T featuring Michael Jackson) (#2 UK)
1996: "Stranger In Moscow" (#4 UK)
1997: "Blood On The Dance Floor" (#1 UK)
1997: "HIStory/Ghosts" (#5 UK)
2001: "You Rock My World" (#2 UK)
2002: "Butterflies" (#2 R&B)
2003: "One More Chance" (#5 UK)
Filmography
Video games
See also
External links
de:Michael Jackson es:Michael Jackson eo:Michael JACKSON (muzikisto) fr:Michael Jackson it:Michael Jackson he:מייקל ג'קסון li:Michael Jackson nl:Michael Jackson (artiest) ja:マイケル・ジャクソン no:Michael Jackson pl:Michael Jackson pt:Michael Jackson simple:Michael Jackson fi:Michael Jackson sv:Michael Jackson tpi:Michael Jackson tr:Michael Jackson zh:米高·積遜