Peter Pan
From Academic Kids
Missing image
Peterpan.jpg
For other uses, see Peter Pan (disambiguation).
Peter Pan is a fictional character created by J. M. Barrie, and the name of a stage play, a children's book, and various adaptations of them. The character is a little boy who refuses to grow up, and spends his time having magical adventures.
Storyline
In both the play and the novel, Peter invites the girl Wendy Darling to Neverland to be a mother for his gang of Lost Boys. Her brothers John and Michael come along. Many adventures ensue, including the near-death of the fairy Tinker Bell, and a climactic confrontation with Peter's nemesis, the pirate Captain Hook. In the end, Wendy decides that her place is at home, and brings all the boys back to London. Peter remains in Neverland, and Wendy grows old.
Background
Barrie created Peter Pan in stories he told to the sons of his friend Sylvia Llewelyn-Davies, with whom he had forged a special relationship, while both were married.
The character's name comes from two sources: Peter Llewelyn-Davies, at the time the youngest of the boys, and Pan, the mischievous Greek god of the woodlands. Mrs. Llewelyn-Davies' death from cancer came within a few years of the death of her husband. Barrie was named as co-guardian of the boys and unofficially adopted them.
It has also been suggested that the inspiration for the character was Barrie's elder brother David, whose death in a skating accident at the age of thirteen deeply affected their mother. According to Andrew Birkin, author of J.M. Barrie and the Lost Boys, the death was "a catastrophe beyond belief, and one from which she never fully recovered . . . If Margaret Ogilvy drew a measure of comfort from the notion that David, in dying a boy, would remain a boy for ever, Barrie drew inspiration."
Missing image
PeterPan3.jpg
Peter Pan first appeared in print in a
1902
book called
The Little White Bird
, a fictionalised version of Barrie's relationship with the Llewelyn Davies children, and was then used in a very successful
stage play
,
Peter Pan, or The Boy Who Wouldn't Grow Up
, which premiered in
London
on
December 27
,
1904
.
In 1906, the portion of The Little White Bird which featured Peter Pan was published as the book Peter Pan in Kensington Gardens, with illustrations by Arthur Rackham. Barrie then adapted the play into the 1911 novel Peter and Wendy (but most often now published simply as Peter Pan).
There are seven statues of Peter Pan playing a set of pipes, cast from a mold by sculptor George Frampton, following an original commission by Barrie. The statues are in Kensington Gardens in London, in Liverpool, in Brussels, in Camden, New Jersey, in Perth, in Toronto, and in Bowring Park in St. John's, Newfoundland.
Wendy
Barrie is sometimes said to have "invented" the name Wendy with this story. In fact, the name was already in use in both the United States and Britain, but was extremely rare. The Peter Pan stories popularized the name, at first in Britain. Wendy is related to the Welsh name Gwendydd (pronounced Gwen-deeth), and was used by Barrie at a time when Welsh names were making a resurgence in England.
Themes
The most apparent thematic thread in the story concerns growing up (or not), with the character of Peter wanting to remain a child forever in order to avoid the responsibilities of adulthood. "Peter Pan syndrome" has become a psychiatric term used to describe an adult who is afraid of commitment and/or refuses to act his age.
Some commentators also see a sexual theme. Wendy's flirtatious (by contemporary standards) kissing of Peter, his desire for a girl close to his own age to be his "mother", his conflicting feelings for Wendy and Tinkerbell (each representing different female archetypes), and the symbolism of his fight with Captain Hook (traditionally played by the same actor as Wendy's father), all suggest a Freudian interpretation with sexual implications.
Adaptations
Peter Pan has been adapted for stage and screen many times. Following the example of Barrie's original stage version, and for practical reasons, Peter usually - but not always - has been played by an adult woman.
Missing image
PeterPan4.jpg
Paramount Pictures released the first film version of Peter Pan in 1924, a silent movie starring Betty Bronson as Peter and Ernest Torrence as Hook. Barrie selected Bronson for the role, and wrote additional scenes for it, but the director instead stuck largely to the stageplay. In 2000, the United States Library of Congress deemed it "culturally significant" and selected it for preservation in the National Film Registry.
Missing image
PeterPan1.jpg
Several
musical
versions of the play have been produced, of which the best known are
Jerome Kern
's
1924
version,
Leonard Bernstein
's
1950
version, and the
1954
version mounted by
Jerome Robbins
(originally to have only a few incidental songs with music by
Mark Charlap
and lyrics by
Carolyn Leigh
, but evolved into a musical with additional music by
Jule Styne
and lyrics by the team of
Betty Comden
and
Adolph Green
). The 1954 version became widely known as a vehicle for
Mary Martin
and later for a series of female gymnasts, including
Cathy Rigby
.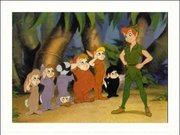 On
February 5
,
1953
Disney
released its
animated
film
version of
Peter Pan
with music by
Sammy Cahn
, Frank Churchill,
Sammy Fain
, and Ted Sears. 15-year-old film actor
Bobby Driscoll
supplied the voice of Peter.
The 1979 stage version starred Broadway and television actress Sandy Duncan.
In P. J. Hogan's 2003 live-action film version Peter Pan is notable for casting a young teenage boy (Jeremy Sumpter) to portray Peter. Wendy was played by Rachel Hurd-Wood and Hook by Jason Isaacs.
Sequels
There have been several additions to Peter Pan's story created, both authorised and not.
Gilbert Adair's novel Peter Pan and the Only Children was published in 1987. It has Peter living with a new gang of Lost Boys under the ocean, recruiting new members from children who fall from passing ships.
In 1990, Fox Studios released the short-lived cartoon series Peter Pan and the Pirates, about the daily adventures of Peter, Wendy, and the Lost Boys. Voice talents in the cast included Jason Marsden as Peter and Tim Curry as Captain Hook.
Steven Spielberg's 1991 film Hook has a grown-up Peter (played by Robin Williams) lured back to Neverland by Tinker Bell (Julia Roberts) to fight the returned Captain Hook (Dustin Hoffman).
J.E. Somma published After the Rain: A New Adventure for Peter Pan in 2001. It is set in modern times, and tells of Peter's reaction to a world that has grown to neglect him, and his rescue by three children who teach him that it's OK to grow up.
In 2002, Disney released Return to Neverland, a sequel to the 1953 Disney adaptation, in which Wendy's daughter Jane becomes involved with Peter Pan. This sequel is set during the Blitz, and deals with the issue of children being forced to grow up too fast.
Hyperion Books (a subsidiary of Disney) published the 2004 book Peter and the Starcatchers by humorist Dave Barry and suspense writer Ridley Pearson. It is an unofficial prequel to the story of Peter and Wendy, set on a ship called Never Land.
In 2005, Great Ormond Street Hospital announced that Geraldine McCaughrean had been chosen to write a hospital-authorised sequel to Barrie's novel. Her book has the provisional title Captain Pan.
Other references in entertainment
In 1980, Petula Clark starred in Never Never Land as a woman whose niece, captivated by Barrie's tale, runs away and takes refuge with a group of "lost boys" squatting in a deserted London townhouse.
The 1987 Joel Schumacher film The Lost Boys featured several teen actors as ageless vampires, loosely styled after the lost boys of Peter Pan.
The 1997 comic book mini-series The Lost by Marc Andreyko and Jay Geldhof starred a vampiric boy hustler named Peter who leads a small group of vampire boys, and lures a girl named Wendy to join them.
Finding Neverland, a 2004 film starring Johnny Depp as Barrie and Kate Winslet as Sylvia Llewelyn Davies, was a somewhat fictionalized account of their relationship and how it led to the development of Peter Pan. It was based on the 1998 play The Man Who Was Peter Pan by Allan Knee.
Copyright status
The copyright status of Peter Pan varies from one jurisdiction to another, and is disputed in at least one of them. The question is complicated somewhat by the various versions in which the story has been published. For example, elements introduced in the earliest versions of the story by Barrie may be in public domain in a given jurisdiction, but elements introduced in later editions or adaptations might not. For example, Disney holds the copyright for the character designs, songs, etc. introduced in the 1953 animated film, but not for the characters themselves.
European Union
Great Ormond Street Hospital (to which Barrie assigned the copyright as a gift before his death) claims full copyright in the European Union until the end of 2007. In the 1990s, the term of copyrights was standardised throughout the EU (see Directive on harmonising the term of copyright protection) to extend 70 years after the creator's death. Although Peter Pan was considered public domain in some jurisdictions at that time, this provision placed it back under copyright protection.
United Kingdom
The U.K. copyright for Peter Pan originally expired at the end of 1987 (50 years after Barrie's death), but was reestablished through 2007 by the European Union directive. Additionally, in 1988 the government had enacted a perpetual extension of some of the rights to the work, entitling the hospital to royalties for any performance or publication of the work. This is not a true perpetual copyright, however, as it does not grant the hospital creative control nor the right to refuse permission. Nor does it cover the Peter Pan sections of The Little White Bird, which pre-dates the play. The exact phrasing is in section 301 of the Copyright, Designs and Patents Act 1988:
301. The provisions of Schedule 6 have effect for conferring on trustees for the benefit of the Hospital for Sick Children, Great Ormond Street, London, a right to a royalty in respect of the public performance, commercial publication, broadcasting or inclusion in a cable programme service of the play 'Peter Pan' by Sir James Matthew Barrie, or of any adaptation of that work, notwithstanding that copyright in the work expired on 31 December 1987. ([1] (http://www.legislation.hmso.gov.uk/acts/acts1988/Ukpga_19880048_en_28.htm#sdiv6))
United States
The conversion of U.S. copyright terms from a fixed number of years following publication, to an extending number of years following the creator's death, has introduced confusion over Peter Pan's copyright status. Great Ormond Street Hospital claims that U.S. legislation effective in 1978 and again in 1998 extended their copyright until 2023. Their claim is based on the copyright for the play script for Peter Pan, which was not published until 1928. By then, the character of Peter Pan had appeared in three previously published books, the copyrights of which have since expired.
GOSH's claim is contested by various parties, including Disney, who had cooperated with the hospital previously, but in 2004 published Dave Barry's and Ridley Pearson's Peter and the Starcatchers without permission or royalty payments. The Library of Congress catalog states that the original edition of Peter and Wendy was published in 1911, and Disney asserts that that material, like any other work published before 1923, was already in the public domain at the time of these extensions, and was therefore ineligible to be extended.
A dispute between the hospital and writer J.E. Somma over the U.S. publication of her sequel After the Rain, was settled out of court in March 2005. GOSH and Somma issued a joint statement which characterized her novel as "fair use" of the hospital's "U.S. intellectual property rights". Their confidential settlement does not set any legal precedent, however. [2] (http://cyberlaw.stanford.edu/about/cases/emily_somma_v_gosh_peter_.shtml)
Other jurisdictions
The original versions of Peter Pan are in the public domain in Australia and in Canada (where Somma's book was first published without incident).
References
James Matthew Barrie and Scott Gustafson (illustrator): Peter Pan: The Complete and Unabridged Text. Viking Press, October 1991 (ISBN 0670841803).
J.M. Barrie and the Lost Boys by Andrew Birkin
External links
da:Peter Pan de:Peter Pan es:Peter Pan fi:Peter Pan fr:Peter Pan it:Peter Pan ja:ピーター・パン nl:Peter Pan pt:Peter Pan sv:Peter Pan