McDonald's Corporation
From Academic Kids
Template:Infobox Company McDonald's Corporation Template:Nyse is the world's largest chain of fast-food restaurants [1] (http://biz.yahoo.com/p/eatingmktd.html). Although McDonald's did not invent the hamburger or fast food, its name has become nearly synonymous with both. The company began in 1940 with a restaurant opened by brothers Dick and Mac McDonald, but it was their introduction of the "Speedy Service System" in 1948 that established the principles of the fast-food restaurant. However, the company today dates its "founding" to the opening of the first franchised restaurant under CEO Ray Kroc in 1955.
Quick facts
See the 2004 Summary Annual Report (http://www.mcdonalds.com/corp/invest/pub/2004_Summary_Annual_Report.html), 2004 financial report (http://www.mcdonalds.com/corp/invest/pub/2004_Financial_Report.html),
In 2004
Restaurants: 30,000

18,000 franchisees/licensees
8,000 company operated
4,000 are operated by affiliate
Customers per day: 50,000,000
Customers per day and store (average): 1,700
Corporate overview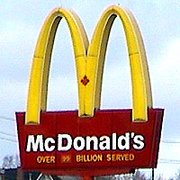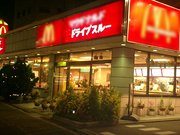 McDonald's brand is in 122 countries around the world. Thirty-thousand local locations serve 47 million customers each day. More than 70% of McDonald's restaurants around the world are owned and operated by independent, local businessmen and women.
In addition, the company operates other restaurant brands, such as Aroma Café, Boston Market, Chipotle Mexican Grill, and has a minority stake in Pret a Manger. Until December 2003 it also owned Donatos Pizza. Revenues for 2001 were US$14.87 billion, with net income at $1.64 billion.
In North America, most McDonald's offer both counter and drive-through service, with indoor and sometimes outdoor seating. Drive-through services are offered in the rest of the world, but they are not as common – with the majority of restaurants offering counter service only. Drive-throughs often have separate stations for placing, paying for, and picking up orders, though often the latter two steps are combined.
(In early 2005, it was announced that the company was experimenting with using a call center in Fargo, North Dakota to take the drive-through orders from more than a dozen stores in Oregon and Washington states. The minimum wage in North Dakota is significantly lower than that in Oregon or Washington.)
In some countries "McDrive" locations, near highways, offer no counter service or seating. Locations in high-density neighborhoods, as in many downtowns, often omit drive-through service.
Specially themed restaurants also exist, such as Rock-and-Roll McDonald's 50s themed restaurants. A select few McDonald's in many areas, such as suburban areas and certain cities feature large indoor or outdoor playgrounds, called McDonald's PlayPlace. These were primarily created in the 1970s and 1980s in the USA, but later internationally; much of Canada didn't have them until the mid-1990s. Older locations often retain the name Playland.
Missing image
Sxc_times_square_mcd.jpg
The McDonald's Corporation's business model is slightly different from that of most other fast-food chains. In addition to ordinary franchise fees, supplies, and percentage of sales, McDonald's also collects rent, partially linked to sales. As a condition of the franchise agreement, McDonald's owns the property on which most McDonald's franchises are located.
McDonald's trains its franchisees and others at Hamburger University in Oak Brook, Illinois.
According to Fast Food Nation by Eric Schlosser (2001), nearly one in eight workers in the US has at some time been employed by McDonald's. The book also states that McDonald's is the largest private operator of playgrounds in the U.S., as well as the single largest purchaser of beef, pork, and potatoes.
History
Missing image
Hxc_alexallied_mcds.jpg
Missing image
Mcdonaldsinterior.jpg
Missing image
McDonalds_in_St_Petersburg_2004.JPG
1940: The first McDonald's restaurant is founded on May 15 by brothers Dick and Mac McDonald in San Bernardino, California.
1948: The McDonald's restaurant gains fame when the brothers implemented their innovative "Speedee Service System," an assembly line for hamburgers.
1954: entrepreneur and milkshake-mixer salesman Ray Kroc becomes interested in the McDonald's restaurant when he learns of its extraordinary capacity and popularity. (Others who had visited the restaurant and come away inspired were James McLamore, founder of Burger King, and Glen Bell, founder of Taco Bell.) After seeing the restaurant in operation, Kroc approaches the McDonald brothers, who had already experimented with limited local franchising, with a proposition to open new McDonald's restaurants, with himself as the first franchisee. Kroc works hard to sell McDonald's. He even attempts to prevail on his wartime acquaintance with Walt Disney, in the failed hope of opening a McDonald's at the soon-to-be-opened Disneyland.
1955: Ray Kroc opens the Des Plaines, Illinois restaurant in suburban Chicago in 1955. The first day's revenues are $366.12. Kroc founds "McDonald's Systems, Inc." on March 2. The company's literature usually refers to this date as the "beginning" of the company, then already 15 years old.
1960: The company is renamed "McDonald's Corporation."
1961: The McDonald brothers agree to sell Kroc business rights to their operation for $2.7 million, which Kroc borrows from a number of investors (including Princeton University). The agreement allows the brothers to keep their original restaurant, but in an oversight they fail to retain rights to the name. Renamed "The Big M," it remains open until Kroc drives it out of business by opening a McDonald's just one block north. Had the brothers maintained their original agreement, which granted them 0.5% of the chain's annual revenues, they and their heirs would have been collecting in excess of $100 million per year today.
Early 1960s: One of Kroc's marketing insights is his decision to market McDonald's hamburgers to families and children. A Washington, D.C. franchisee sponsors a children's show called Bozo's Circus. Bozo was a franchised character, played (in Los Angeles) by Willard Scott. After the show was cancelled, Goldstein hires Scott to portray McDonald's new mascot, "Ronald McDonald" in the first three television advertisements featuring the character. The character eventually spreads to the rest of the country via an advertising campaign, although it is later decided that both Scott and his version of the original costume are unsuitable for the role. An entire cast of McDonaldland characters is developed.
1963: The Filet-O-Fish is introduced in Cincinnati. It is the first new addition to the original menu, and goes national the following year.
1967: The first McDonald's restaurant outside the United States opens in Richmond, British Columbia.
1967: The chain's current stand-alone restaurant design, with mansard roof and indoor seating, is introduced.
1971: The first European McDonald's outlet opens in the Netherlands, in Zaandam (near Amsterdam). The franchisee is Ahold.

Missing image
Nederland.jpg

1971: The first McDonald's opens in Germany. It is the first McDonald's to sell alcohol, as it offers beer.
1973: The Quarter Pounder is introduced.
1974: On October 12, the first McDonald's opens in the United Kingdom in Woolwich, southeast London. It is the company's 3,000th restaurant.
1975: The Drive-Thru is introduced. It would later be known as "McDrive" in some countries.
1979: The Happy Meal is introduced in the U.S.A.
1979: McDonald's opens its first outlet in Singapore.
1980: McDonald's introduces the McChicken sandwich. It flops, and is removed from the menu, but is later reintroduced after Chicken McNuggets prove successful.
1983: McDonald's introduces the Chicken McNugget.
1984: On July 18, James Oliver Huberty rakes a McDonald's restaurant with gunfire, killing 21 people in San Ysidro, California in the McDonald's massacre.
1984: The company is a main sponsor of the 1984 Summer Olympics. Its U.S. restaurants lose money on the game "When America Wins, You Win" after the Soviet bloc nations boycott the Games, leading to a high number of medals won by the U.S.
1985: McDonald's opens its first outlet in Italy, in the city of Bolzano-Bozen. A subsequent restaurant in Rome sets new standards for its interior decor.
1988: McDonald's opens its first restaurant in a communist country, in Gyor, Hungary. Belgrade, Yugoslavia follows in the same year.
1990: On January 31, the first McDonald's opens in Moscow. At the time it is the largest McDonald's in the world. For political reasons, its opening is negotiated through McDonald's Canada; to overcome Soviet supply problems, the company creates its own supply chain, including farms, within the Soviet Union. Unlike other foreign investments, the restaurant accepts rubles, not dollars, and is extremely popular, with waiting lines of several hours common in its early days.
1992: Stella Liebeck receives third degree burns from coffee purchased at a McDonald's drive-through. She sued in what became known as the McDonald's coffee case.
Circa 1995: McDonald's receives complaints from franchisers that too many franchises were being granted, leading to competition among franchisees. McDonald's started conducting market impact studies before granting further franchises.
1997: McDonald's wins the "McLibel" case, in what many consider to be a Pyrrhic victory in terms of the company's image.
2000: Eric Schlosser publishes Fast Food Nation, a book critical of Fast Food in general and McDonalds in particular.
2001: The FBI reports that employees of Simon Worldwide, a company hired by McDonald's to provide promotion marketing services for Happy Meals and the 'Millionaire'/'Monopoly' contest, stole winning game pieces worth more than $20 million.
2002: A survey in Restaurants and Institutions Magazine, ranks McDonald's 15th in food quality among hamburger chains, highlighting the company's failure to enforce standards across its franchise network.
2002: McDonald's posts its first quarterly loss ($344m) for the last quarter. It responds to the stiff competition from other fast-food restaurants, offering higher quality burgers and more variety, by attempting to move more up market by expanding its menu and refitting restaurants.
2003 McDonald's starts a global marketing campaign which promotes a new healthier and higher-quality image. The campaign was labeled "I'm lovin' it™" and began simultaneously in more than 100 countries around the world.
2003: According to Technomic, a market research firm, McDonald's' share of the U.S. market has fallen 3 percent in five years and is now at 15.2 percent. [2] (http://www.nytimes.com/2003/03/03/business/03BURG.html?ex=1047272400&en=5a465b7c664cef9e&ei=5062&partner=GOOGLE)
2003: The firm reports a $126m loss for the fourth quarter [3] (http://news.bbc.co.uk/2/hi/business/3432155.stm).
2004: Morgan Spurlock directs and stars in Super Size Me documentary film in which the protagonist eats nothing but McDonalds food for 30 days to the detriment of his health.
2005 McDonald's celebrates its 50th birthday, 65 years after the McDonald brothers opened their first restaurant.
Challenges
Missing image
Mcdonaldsdrivethru.jpg
As the world's largest restaurant chain, McDonald's is a target for criticism. Even though its foreign franchise locations are usually locally owned and use locally-produced foods, the company is seen as a symbol of American domination of economic resources. Urban legends about the company and its food abound and it is often the target of unusual lawsuits.
Some franchisees in the Middle East have been targets of arson and other acts of violence because the business represents, to the attackers, an invasion by American business and culture that they oppose based on a nationalist ideology.
However, McDonald's has modified its products to cater for local tastes, not least in countries that have special dietary laws. In Muslim countries like Malaysia, bacon is not served in McDonald's burgers or in its breakfast menu, as pork is haraam, or not permissible under Islamic dietary law. In Israel, the nature of kosher dietary laws, forbidding the mixture of meat and dairy products, means that cheeseburgers are not popular among Jewish customers; furthermore, all meat not prepared in a certain manner is considered unkosher by strict observers of the dietary laws. McDonald's has taken steps to cater to Jewish customers by opening kosher McDonald's in Jerusalem and Buenos Aires and by offering a 'Passover Bun' for the eight-day period in which practicing Jews abstain from leavened bread. In India, the fact that Hinduism forbids the eating of beef prompted McDonald's to use lamb instead. Vegetarian burgers are offered wherever there is a significant demand, including India and much of Western Europe.
Soft drinks on offer also vary from country to country, with local brands available on tap alongside Coca Cola, Fanta, etc. For example, Irn-Bru in Scotland and Guarana in Brazil are more popular in those countries than the leading international brands. For a time, British outlets offered "McDonald's Cola" rather than Coca-Cola, for legal reasons.
Criticism
Missing image
AntiMcDonaldsLeicesterSqLondon20041016_CopyrightKaihsuTai.jpg
As the world's largest fast-food company, McDonald's has been the target of criticism for allegations of exploitation of entry-level workers, ecological damage caused by agricultural production and industrial processing of its products, selling unhealthy food, production of packaging waste, exploitative advertising (especially targeted at children, minorities, and low-income people), and contributing to suffering and exploitation of livestock. McDonald's' historic tendency towards promoting high-calorie foods such as French fries has earned it the nickname "the starchy arches".
In the high profile McLibel Trial, McDonald's took two anti-McDonald's campaigners, Helen Steel and Dave Morris, to court for a trial lasting two and a half years—the longest in English legal history and part of a 20-year battle—after the pair distributed leaflets critical of the company in London's streets. McDonald's won the case in the U.K. High Court, and were awarded £60,000 damages, which later was reduced to £40,000 by the Court of Appeal. Steel and Morris then made a separate but related claim against the U.K. Government in the European Court of Human Rights, claiming that the lack of access to legal aid and the heavy burden of proof that lay with them to prove their claims (rather than McDonald's, the claimants, having to prove that the claims were false) under U.K. libel law breached the right to a fair trial and freedom of expression. The ECHR ruled against the U.K. Government, which subsequently introduced legislation to change the libel laws to remedy the defects highlighted by the ECHR judgment. Steel and Morris claim not to have paid any of the damages, and report that McDonald's have not pursued them for the money. Despite the fact that many of the campaigners' criticisms of the company were found to be libelous by the U.K. courts, the suit created a great deal of bad publicity for the company especially as many of the leaflet's claims were upheld by the judge in his summary (http://www.mcspotlight.org/case/trial/verdict/verdict0_sum.html). For more information, see McLibel case.
McDonald's has also been criticized for its approach to preserving its image and copyrights--in one case suing a Scottish cafe owner called McDonald for infringement of the name McDonald's, even though the business in question was a family business dating back well over a century. In another case, McDonald's enjoined the creator of Ronald McDonald from performing as, or displaying the likeness of, the character in any form. McDonald's also replaced the performer who portrayed Ronald in the first three television ads (Willard Scott, a former Bozo) which featured Ronald McDonald. In South Africa, however, McDonald's had to battle against the country's trademark laws, which stated that a registered trademark had to be used within a certain period of time. This resulted in a local company announcing plans to launch its own fast-food chain using the McDonald's name, although the South African High Court eventually ruled in McDonald's' favor.

In June 2004, the UK's Private Eye reported that McDonald's was handing out meal vouchers, balloons, and toys to children in pediatric wards. This was especially controversial as the report was made within weeks of a British Government report stating that the present generation may be the first to die before their parents due to spiraling obesity in the British population.
In 2004, Morgan Spurlock's documentary film Super Size Me produced negative publicity for McDonald's, with allegations that McDonald's food was contributing heavily to the [4] (http://www.surgeongeneral.gov/news/testimony/obesity07162003.htm) epidemic of obesity in American society, and failing to provide nutritional information about its food for its customers. Subsequent to the showing of the film at the Sundance Film Festival, but before its cinematic release, McDonald's phased out its Supersize meal option and began offering several healthier menu items, though no link to the film was cited in this decision. They also began a practice of putting all nutritional information for all menu items in light grey small print on the reverse of their tray liners.
The book Fast Food Nation also doles out scathing criticism of McDonald's' business practices. Among the critiques are allegations that McDonald's (along with other companies within the fast-food industry) uses its political influence to increase their own profits at the expense of the health of the nation and the social conditions of its workers. While the book does mention other fast-food chains, it focuses primarily on McDonald's.
Emblem for globalization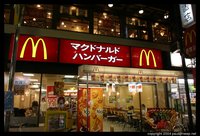 Missing image
Mcdonaldssaudireduced.JPG
McDonald's has become emblematic of globalization. The Economist magazine uses the "Big Mac index" (the price of a Big Mac) as an informal measure of purchasing power parity among world currencies. Thomas Friedman suggested that no countries with McDonald's had gone to war with each other. His theory seemed to have been disproved when NATO bombed Serbia in 1999, although it was pointed out in The Economist that NATO itself has no McDonald's. McDonald's remains a target of anti-globalization protesters worldwide.
McDonald's' impact has garnered praise as well as criticism. Some observers have suggested that many of its innovations have become commonplace and are no longer seen as such, and that the company should be given credit for increasing the standard of service in markets it enters. A Stanford University study entitled Golden Arches East (1998, edited by James L. Watson) looked at the impact McDonald's had had on East Asia, and Hong Kong in particular. Among the findings were that McDonald's had solved the problem of losing face for many customers (who might be embarrassed when someone else ordered a more expensive item in a restaurant; as the food at McDonald's is all similarly priced, this ceased to be an issue). When it opened in Hong Kong in 1975, McDonald's was the first restaurant to consistently offer clean restrooms, driving customers to demand the same of other restaurants and institutions. By popularizing the idea of a quick restaurant meal, the study suggests, McDonald's led to the elimination of various taboos, such as that on eating while standing in Japan. In most cases, McDonald's quickly became accepted, and was no longer seen as a foreign institution.
McDonald's was also an early advocate of equal opportunity in the U.S., actively seeking out women and ethnic minorities for its then-lucrative franchises.
When concern mounted that the company's restaurants produced a large amount of waste, McDonald's investigated recycling of plastic trays and styrofoam hamburger boxes. A joint project with Friends of the Earth led to a number of changes in restaurant policies, including waste reduction and the elimination of styrofoam.
Restaurants around the world
The northernmost McDonald's restaurant is located on the Arctic Circle in Rovaniemi, Finland, while the southernmost franchise is located in Invercargill, New Zealand. Also, the world's easternmost McDonald's is located in New Zealand, in the city of Gisborne; the westernmost restaurant is in Western Samoa, as they are the closest to either side of the International date line. Because of this, it is said that "the sun never sets on the Golden Arches". The world's largest McDonald's is located in Orlando, Florida, USA off of International Drive. It sports two floors, a massive game and arcade area--much like a Chuck E. Cheese, and a "McGourmet" section (in which you can buy items such as paninis and gourmet sundaes). The McDonald's at the lowest point on earth (-396 meters) is located in Israel in the village of Ein Bokek near the Dead Sea.
McDonald's TV campaigns and slogans
See: McDonald's TV campaigns and slogans
Food offered at most US McDonald's outlets
Filet-O-Fish: (Pronounced 'fill-ay') A fish burger with tartar sauce and a half-slice of American (processed) cheese. It was introduced in Cincinnati in 1963 when it was discovered that many Catholics chose to eat at Big Boy on Friday, as it had a fish sandwich.
McChicken: A mildly spicy chicken sandwich. Made from 50% white meat and 50% dark meat, topped with mayonnaise and shredded lettuce. It was introduced in 1980, later removed, then reintroduced.
Chicken McNuggets: Small chicken pieces made from chicken served with a dipping sauce. Formerly a combination of white and dark meat, they are now all white meat. Available in 4-, 6-, 10-, and 20-piece sizes. (1983)
Crispy Chicken: A breaded, fried chicken breast served on a sesame-seed bun with mayonnaise, lettuce and tomato.
Chicken McGrill: Same as the Crispy Chicken, but with a marinated, grilled chicken breast. Both the Crispy and Grilled Chicken are derivatives of the failed Arch Deluxe sandwiches.
Chicken Selects: Premium chicken breast strips served with a dipping sauce. Sold in 3-, 5-, and 10-piece sizes.(2004)
Happy Meal: A child's meal, consisting of an entree (Hamburger, Cheeseburger, or 4-piece Nuggets), fries, drink, and a promotional toy.
Egg McMuffin: Canadian bacon and egg breakfast sandwich on English muffin. (1973)
McGriddle: A breakfast sandwich with sausage, bacon, and/or egg with cheese, sidwiched between maple-syrup filled griddle cakes.
French fries which were, until the practice was discontinued in 1989, fried in a mixture of vegetable and beef oil. The U.S. fries continued to be flavored with beef extract, which McDonald's did not make public; when this was discovered in 2002 the company was threatened with lawsuits from vegetarians, Hindus, and Buddhists.
Hash browns; fried potato cakes served during breakfast.
Salads, such as the Fruit and Walnut salad, introduced as part of healthy eating alternatives.
Former menu items
The range of foods offered depends on the time of day. Lunch items such as hamburgers and fries are not served during breakfast time (from store open until 10:30 AM on weekdays, or 11 AM on weekends).
International adaptations and variations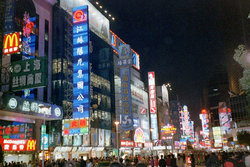 The traditional hamburger made of ground beef served at most McDonald's is varied in some countries as is the name. In India the Big Mac transmogrifies into the Maharaja Mac, a mutton burger in deference to religious injunctions against the consumption of beef and pork. Also in India vegetarian and meat dishes are prepared in separate areas of the restaurant in respect for vegetarians. In Thailand the Samurai Pork Burger, flavored with teriyaki sauce, is served. In Japan rice dishes are served and a chicken sandwich flavored with soy sauce and ginger. The Australian McDonald's menu features the McOz which is similar to the Big Mac and features beetroot, a popular addition to burgers in Australia. Names of other international dishes include the Kiwi Burger, the McHuevo, the McNifica, the McAfrika, and the McLaks.
In the early 1990s, McPizza was introduced in North America outlets; it failed quickly, due to fierce competition.
Sälen in Sweden opened the first SKI-THROUGH McDonald's in the world.
McDonald's also sold poutine, a Canadian dish of French Fries, cheese curds, and gravy, in Canadian locations. Poutine was removed from the menu in 2004 with their effort sell more healthful foods.
Possibly in an effort for European nations to become more accepting of the McDonald's concept, the first McDonald's in Rome, near the Spanish Steps, is widely heralded as the most luxurious McDonald's restaurant. It features indoor fountains, marble walls and floors among other luxuries not enjoyed by customers in other restaurants owned by the company. It now also features Wi-Fi.
In some countries McDonald's is expanding some of its restaurants to include "McCafé" counters, which sell brewed and specialty coffees, frappés, and a range of cakes, biscuits (cookies), and sandwiches in addition to the regular McDonald's menu; the first such McCafé was installed at an existing McDonald's in Maple Ridge, British Columbia, Canada.
In China there are specific McDonald's restaurants and counters for Ice Creams, Beverages, and Desserts (otherwise rare in China).
Some franchisers in America have sold doughnuts, and they are a fixture on all British resturant menues.
Hawaiian franchisers offer Spam with eggs and white rice on their breakfast menus.
See also
External links
News
Opposition
McSpotlight (http://www.mcspotlight.org/), an "Anti-McDonald's extravaganza"
McDoof (http://www.mcdoof.co.uk), a popular website and forum for "oppressed" McDonald's employees
WSWS (http://www.wsws.org/articles/2004/feb2004/fat-f09.shtml), "US blocks UN proposal to combat obesity" - describes the link between obesity & fast foodda:McDonald's
de:McDonald's es:McDonald's eo:McDonald's fr:McDonald's he:מקדונלדס hr:McDonald's nl:McDonald's ja:マクドナルド pl:McDonald's pt:McDonald's ru:McDonald's fi:McDonald's sv:McDonald's zh:麦当劳