Princeton University
From Academic Kids
Template:Infobox University2 Princeton University, located in Princeton, New Jersey, is the fourth-oldest institution of higher education in the United States. One of the nation's foremost universities, Princeton has in addition to its noted undergraduate college and graduate school important schools of architecture, engineering, and public and international affairs. Research is carried on in many areas, including plasma physics and jet propulsion. The university is affiliated with the Brookhaven National Laboratories. The Harvey S. Firestone Library (opened 1948) and the art museum house many outstanding collections. It was founded as the College of New Jersey in 1746, and was originally located in Elizabeth, New Jersey. The school moved to Princeton in 1756, still under its original name. The name was officially changed to "Princeton University" in 1896. While originally a Presbyterian institution, the university is now non-sectarian and makes no religious demands on its students. Princeton is one of the eight schools in the Ivy League and consistently ranks at the top of college and university rankings.
Shirley Tilghman is the current president of Princeton University.
History of the University
Established by the "New Light" (evangelical) Presbyterians, Princeton was originally intended to train ministers, but this purpose disappeared as higher education gained hold. The college opened at Elizabeth, New Jersey, under the presidency of Jonathan Dickinson as the College of New Jersey. Its second president was Aaron Burr. In 1756 the college moved to Princeton, New Jersey.
From the move to Princeton in 1756 to the construction of Stanhope Hall in 1803, the University's sole building was Nassau Hall, named for William III of England. During the American Revolution, Princeton was occupied by both sides, and the college's buildings were heavily damaged. The Battle of Princeton, fought in a nearby field in January of 1777, proved to be a decisive victory for General George Washington and his troops. Two of Princeton's leading citizens signed the Declaration of Independence, and during the summer of 1783, the Continental Congress met in Nassau Hall making Princeton the country's capital for four months. The much-abused landmark survived bombardment with cannonballs in the Revolutionary War when General Washington struggled to wrest the building from British control, burnings that left only its walls standing 1802 and 1855, and innumerable minor insults. Rebuilt by Joseph Henry Latrobe, John Notman, and John Witherspoon, the modern hall has been much revised and expanded from the Robert Smith-designed original. Over the centuries, its role shifted from an all-purpose building, comprising office, dormitory, library, and classroom space, to exchanging the dormitories for more classrooms, to its present role as the administrative center of the university. (APC (http://etc.princeton.edu/CampusWWW/Companion/nassau_hall.html))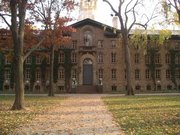 The university was on its way to becoming an obscure backwater when President James McCosh took office in 1868. During his two decades in power, he overhauled the curriculum, oversaw an expansion of inquiry into the sciences, and supervised the addition of a number of buildings to the campus. (APC (http://etc.princeton.edu/CampusWWW/Companion/mccosh_james.html)) The oft-photographed McCosh Hall is named in his honor.
In 1896, the college officially changed its name from the College of New Jersey to Princeton University to honor the town in which it resided. During this year, Princeton University also underwent large expansion and Princeton officially became a university. Under Woodrow Wilson, Princeton introduced the preceptorial system (1905), a change that led to a greater degree of individualized instruction.
In 1930, the Institute for Advanced Study was founded in Princeton and became the first residential institute for scholars in the country, with Albert Einstein appointed as one of its first professors. The 20th century has seen an influx of scholars, research personnel, and corporations from all parts of the world.
In 1969, Princeton University first admitted women as undergraduates. In 1887, the university actually maintained and staffed a sister coIlege in the town on Evelyn and Nassau streets, called the Evelyn College for Women, which was closed down after roughly a decade of operation. The administration raced to formulate the concrete steps of transforming the school's operations and facilities into a female-friendly campus. The administration barely finished these plans by April 1969, when the admission's office had to start mailing out its acceptance letters. Its five-year coeducation plan provided $7.8 million for the development of new facilities that would eventually house and educate 650 women students at Princeton by 1974. Ultimately, 148 women, consisting of 100 freshwomen and transfer students of other years, entered Princeton on September 6, 1969 amidst a frenzy of media ogling and ribbing.
Today Princeton University is still a center for learning and culture and Princeton has been home to world-renowned scholars, scientists, writers, and statesman, including three United States presidents, Woodrow Wilson, Grover Cleveland, and John F. Kennedy, who spent his freshman fall at the University before leaving due to illness and later enrolling at Harvard. Shaped by residents of all backgrounds, Princeton has been a dynamic community, growing and changing with the times yet retaining an essential small-town quality. Paul Robeson grew up in Princeton and artisans from Italy, Scotland, and Ireland have contributed to the town's rich architectural history. This architectural legacy, spanning the entire history of American architecture, is well-preserved through buildings by nationally renowned architects such as Benjamin Latrobe, Ralph Adams Cram, McKim, Mead & White, Robert Venturi, and Michael Graves.
About Princeton
Reputed to be the most undergraduate-friendly Ivy League school, Princeton offers two main undergraduate degrees: the bachelor of arts (A.B.) and the bachelor of science in engineering (B.S.E.). Courses in the humanities are traditionally either seminars or semi-weekly lectures with an additional discussion seminar, called a "precept" (short for "preceptorial"). This system was instituted by Woodrow Wilson, when he served as university president. To graduate, all A.B. candidates must complete a senior thesis and one or two extensive pieces of independent research, known as "junior papers" or "JPs". They must also fulfill a two semester foreign language requirement. B.S.E. candidates follow a different track that includes a rigorous science and math curriculum and at least two semesters of independent research.
Princeton offers postgraduate research degrees (most notably the Ph.D.), and ranks among the best in many fields, including mathematics, physics, economics, history, and philosophy. However, it does not have the extensive range of professional postgraduate schools of many other universities --- for instance, it has no medical school or business school (a short-lived Princeton Law School folded in 1852). Its most famous professional school is the Woodrow Wilson School of Public and International Affairs, founded in 1930 as the School of Public and International Affairs and renamed in 1948. The university also offers professional graduate degrees in engineering and architecture.
The university's libraries have 11 million holdings, and the main university library, Firestone Library, houses over six million volumes and ranks as one of the largest university libraries in the nation and world. In addition to Firestone Library, many individual disciplines have their own libraries, including architecture, art history, East Asian studies, engineering, geology, international affairs and public policy, and Near Eastern studies. Seniors in some departments can register for enclosed carrels in the library for private use and the storage of books and research materials.
The campus, located on 2 km² of lavishly landscaped grounds, features a large number of Neo-gothic-style buildings, most dating from the late 19th and early 20th centuries. It is situated at an ideal location, 45 minutes from two metropolitan meccas of the world, New York City and Philadelphia. The main university administration building, Nassau Hall, was built in 1756 and briefly served as the United States Capitol in 1783. Contemporary additions to the campus feature some more modern architecture, including buildings by Robert Venturi and the Hillier Group, and new buildings by Demetri Porphyrios and Frank Gehry. Much sculpture adorns the campus, including pieces by Henry Moore (Oval with Points, also nicknamed "Nixon's Nose"), Clement Meadmoore (Upstart II), and Alexander Calder (Five Disks: One Empty). At the base of campus is the Delaware and Raritan Canal, dating from 1830, and Lake Carnegie, used for rowing.
Princeton is among the wealthiest universities in the world, with an endowment of almost ten billion US dollars (Daily Princetonian, 8 Feb 2005) sustained through the continued donations of its alumni and maintained by expert investment advisors. Some of Princeton's wealth is invested in its impressive art museum, which features works by Monet and Andy Warhol, among other prominent artists. Princeton is the wealthiest Ivy League school on a per-student basis.
Among U.S. universities, Princeton has been ranked first or tied for first in U.S. News's college rankings in 2005 (http://www.usnews.com/usnews/edu/college/rankings/brief/natudoc/tier1/t1natudoc_brief.php), 2004 (http://www-old.princeton.edu/webannounce/Princeton_Announcements/Archived/2004/AUG_Text.html), 2002 (http://www-old.princeton.edu/webannounce/Princeton_Announcements/Archived/2002/SEP_Text.html), 2001 (http://www.princeton.edu/pr/pwb/01/0917/2b.shtml), and 2000 (http://www.princeton.edu/main/news/archive/A94/67/42A40/).
Financial Aid
Princeton University was named by the Princeton Review as one of the most affordable colleges in the nation. In 2001, Princeton eliminated loans for all students who qualify for aid, expanding a program instituted three years earlier in which loans were replaced with grants for low-income students. The unprecedented move followed a series of enhancements to Princeton's aid program beginning in 1998, which included: admitting international students on a "need-blind" basis along with U.S. students; removing the value of the family home from the formula that calculates how much parents are expected to contribute to college; reducing the contribution rate on student savings; and decreasing summer savings expectations for lower- and middle-income students. Princeton is also named by both US News and Princeton Review to have the least number of students graduate with debt. Since students still may wind up taking out some loans to pay for computer purchases, eating club dues or other living expenses, the Office of Financial Aid estimates that Princeton seniors on aid will graduate with average indebtedness of $2,360. That compares to the national average of about $20,000 for graduating seniors who have borrowed, according to the office. Statistics show that for the incoming class of 2009, close to 60% of the incoming students are on some type of financial aid.
Undergraduate program
Undergraduates at Princeton University agree to conform to an academic honesty policy called the Honor Code. Students write and sign the honor pledge "I pledge my honor that I have not violated the Honor Code on this examination." on every in-class exam they take at Princeton. The Code carries a second obligation: upon matriculation, every student pledges to report any suspected cheating to the student-run Honor Committee. As a result of this code, students take all tests unsupervised by faculty members. Violations of the Honor Code incur the strongest of disciplinary action, including suspension and often expulsion. Out-of-class exercises are outside the Honor Committee's jurisdiction, but students are often expected to sign a pledge on their papers that they have not plagiarized their work ("This paper represents my own work in accordance with University regulations.").
Most of the student body lives on campus in dormitories. Freshmen and sophomores live in residential colleges. Later-year students have the option to live off-campus, but very few do, as rents in the Princeton area are extremely high. (Many who live off-campus were residents of the town to begin with.) Undergraduate social life revolves around a number of coeducational "eating clubs" which are open to upperclassmen and serve a similar role to that which fraternities and sororities do at other campuses.
Admission is extremely competitive, and according to The Atlantic Monthly, it is the second most selective college in the United States, after MIT. Princeton has a "need-blind" admission policy, in which students are accepted into the incoming class on merit, regardless of their ability to pay the high tuition fees. Unlike other universities which ask students to take on the heavy burden of student loans, Princeton simply pays the remainder of costs the student's family cannot afford through grants from its endowment. Princeton was the first university to implement such a "no-loan" financial aid policy in 2001. Despite these policies, Princeton's student body is often regarded as more culturally conservative or traditional than the student bodies of peer institutions. However, most students have voted Democratic in presidential elections. To change this general perception, Princeton has aggressively pursued a diversification policy. It is a member of the Davis United World College Fund, and students from these international schools can expect to have their full needs, as assessed by Princeton, met by the fund.
In 1869 Princeton competed with Rutgers in the first ever intercollegiate football game, losing 6 to 4. Its rivalry with Yale, active since 1873, is the second oldest in American football. In more recent years, Princeton has excelled in men's basketball, both men's and women's lacrosse, and both men's and women's crew.
Princeton is also home to one of the world's top-ranked debating societies, the American Whig-Cliosophic Society, which is a member of the American Parliamentary Debating Association and has previously hosted the World Universities Debating Championships.
Residential Colleges
The undergraduate residential colleges are the residential-dining complexes that house freshmen, sophomores, and a handful of junior and senior resident advisers. Each college consists of a set of dormitories, a dining hall, a variety of other amenities (study spaces, libraries, performance spaces, darkrooms, and the like), and a collection of administrators and associated faculty.
Princeton presently has five undergraduate residential colleges. Rockefeller College and Mathey College are located in the northwest corner of the campus; their Collegiate Gothic architecture often graces University brochures. Wilson College and Butler College, located south of the center of the campus, are more recent additions, built specifically to become residential colleges. Forbes College, located slightly southwest of the southwest corner of the campus, is a former hotel, purchased by the university and expanded to form a residential college. Princeton broke ground for a sixth college, named Whitman College after its principal sponsor, eBay CEO Meg Whitman, in late 2003. The new dormitories will be constructed in the neo-Gothic architectural style and has been designed by renowned architect Demetri Porphyrios.
A variant on the present college system was originally proposed by University President Woodrow Wilson in the early twentieth century. Wilson's model was much closer to Yale's present system, which features four-year colleges. Lacking the support of the Trustees, the plan languished until 1968, when Wilson College was established, capping a series of alternatives to the Eating Clubs. A series of often fierce debates raged before the present underclass-college system emerged. A further addition to the system is slated for the completion date of Whitman College. At the same time that 500 new students will be added to the Princeton undergraduate student body under the Wythes Plan, two of the six residential colleges will be expanded to accommodate upperclassmen—representing the realization of Wilson's plan a century after he proposed it.
Princeton has one graduate residential college, known simply as the Graduate College, located beyond Forbes College at the outskirts of campus. The far-flung location of the G.C. was the spoil of a squabble (http://etc.princeton.edu/CampusWWW/Companion/west_andrew.html) between Woodrow Wilson and then-Graduate School Dean Andrew Fleming West, which the latter won. (Wilson preferred a central location for the College; West wanted the graduate students as far as possible from the noisy, dissolute undergraduates.) The G.C. is composed of a large Collegiate Gothic section, crowned by Cleveland Tower, a local landmark that also houses a world-class carillon. The attached New Graduate College houses more students. Its design departs from collegiate gothic, and is reminiscent of Butler College, the newest of the five pre-Whitman undergraduate colleges.
However, these residential colleges are much more than just residential-dining facilities. Each residential college promotes and creates a bond between students within the same residential college by hosting social events and activities , guest speakers (such as Edward Norton who showed a special sneak-preview of Fight Club on campus, and trips. Residential Colleges are best known for their performing art trips to New York City. Students are eager to sign up to take trips to see the ballet (e.g. The Nutcracker), the opera (e.g. Cavalleria Rustica, Madama Butterfly, and La Boheme), and Broadway (e.g. Dirty Rotten Scoundrels, Wicked (musical), Avenue Q, Spamalot, and The Lion King.)
Athletics
Missing image
IvyLeague_100.png
Princeton is frequently among the best athletics programs in the Ivy League. The Princeton Review declared the university the 10th strongest "jock school" in the nation. It has also consistently been ranked at the top of the Time Magazine's Strongest College Sports Teams lists. Most recently, Princeton was ranked as a top 10 school for athletics by Sports Illustrated. Princeton is best known for its men and women's lacrosse teams, winning several NCAA titles in the past number of years. And though other varsity teams may not have won the NCAA title, five teams in 1996-1997 came home as national runner-ups.
Princeton has dominated the Ivy league, winning a record 21 conference titles from 2000-2001. At the culmination of 2004, Princeton had garnered a total of 36 Ivy League conference titles from 2001-2004 sports seasons. Most recently in 2005, the Tigers' women's soccer team made the NCAA Final Four, the first Ivy League team to do so. The Tigers have completely dominated field hockey, taking every conference title since 1994.
Princeton's basketball team is perhaps the best known team within the Ivy League, nicknamed the "perennial giant killer". From 1992-2001, a nine year span, Princeton's men's basketball team had entered the NCAA tournament 6 times. The basketball team has also dominated the Ivy League, with its first losing season (2005) in 50 years of Ivy League Basketball.
Significant places
Nassau Hall
Nassau Hall is the main administrative building of the University. For more information on this historic building, please see the main article, Nassau Hall.
Cannon Green
Cannon Green is located on the south end of the main lawn. Buried in the ground at the center is a cannon, the top of which protrudes from the earth and is traditionally spray-painted in orange with the current senior class year. A second cannon is buried in the lawn in front of nearby Whig Hall. Both were buried in response to periodic thefts by nearby colleges.
The Academy Award winning movie, A Beautiful Mind, contains a scene on Cannon Green. John Nash plays Go with his college rival while sitting on stone benches in the middle of the green. (The benches do not exist; like many elements of the Princeton setting, they were introduced for the film.)
McCarter Theater
McCarter Theatre is recognized as one of this country's leading regional theaters. Under the Artistic Direction of Emily Mann, the Tony Award-winning McCarter Theatre has demonstrated a commitment to the highest professional standards. McCarter's vision is to create a theater of testimony, engaged in a dialogue with the world around it, paying tribute to the enduring power of the human spirit and scope of the imagination.
A hallmark of the Theater Series is the creation of new work. Since 1991, over 20 new plays and adaptations have had their World or American premieres at McCarter including: Emily Mann's Having Our Say, Athol Fugard's Valley Song, John Henry Redwood's The Old Settler, and Stephen Wadworth's adaptations of Marivaux. McCarter premieres have made a significant contribution to the American theater and have been produced in cities across the country. In the past, the famous shows of Rodgers and Hammersteins's South Pacific and Wilder's Our Town made their world premieres at McCarter.
As a world-class performing arts presenter, McCarter offers audiences diverse programs of music, dance, and special events featuring artists of national and international repute from a wide variety of disciplines and styles. Under the leadership of W. W. Lockwood, Jr. for 40 years, McCarter's programs rival any performing arts series in the country.
McCarter Theater is also the unofficial home of the famous Princeton Triangle Club, a comedy theater troupe whose alumni include Academy Award-winning actor Jimmy Stewart.
Princeton University Art Museum
The Princeton University Art Museum is one of the most outstanding university museums in the country. The collections have greatly exceeded those of a study collection. The founding principal of the museum was to give students direct, intimate, and sustained access to original works of art to complement and enrich the instruction and research at the University, and this continues to be its primary function. The museum also serves a much larger audience, however, as one of the richest cultural resources in the state of New Jersey and as an active participant in the international community of museums.
Numbering nearly 60,000 objects, the collections range chronologically from ancient to contemporary art, and concentrate geographically on the Mediterranean regions, Western Europe, China, the United States, and Latin America. There is an outstanding collection of Greek and Roman antiquities, including ceramics, marbles, bronzes, and Roman mosaics from Princeton University's excavations in Antioch. Medieval Europe is represented by sculpture, metalwork, and stained glass. The collection of Western European paintings includes important examples from the early Renaissance through the nineteenth century, and there is a growing collection of twentieth-century and contemporary art.
Among the greatest strengths in the museum are the collections of Chinese art, with important holdings in bronzes, tomb figurines, painting, and calligraphy; and pre-Columbian art, with remarkable examples of the art of the Maya. The museum has distinguished collections of old master prints and drawings and a comprehensive collection of original photographs. African art is represented as well as Northwest Coast Indian art. Other outstanding works include those of the John B. Putnam, Jr., Memorial Collection of twentieth-century sculpture, including works by such modern masters as Alexander Calder, Jacques Lipshitz, Henry Moore, Claude Monet and Pablo Picasso.
Notable Princeton alumni
See List of Princeton University people.
Notable Princeton professors
Professors who are also Princeton alumni are listed in italics:
Ben Bernanke - professor of economics and public affairs, member of the Federal Reserve Board
Alan Blinder A.B. 1967 - professor of economics, Vice Chairman of the Federal Reserve Board under President Bill Clinton
Richard Bott - A.B. in Chemical Engineering, current Vice Chairman of Morgan Stanley
John H. Conway - professor of mathematics
Robert George - professor of jurisprudence, constitutional law scholar
Jan Gross - professor of history
Brian Kernighan - professor of computer science, co-inventor of the C programming language, AWK, AMPL
Yusef Komunyakaa - poet, professor in the Creative Writing Program (Pulitzer prize for poetry)
Saul Kripke - professor of philosophy
Paul Krugman - professor of economics, New York Times columnist
Paul Lansky - composer, professor of music
David K. Lewis - professor of philosophy
Perry Link - professor of Chinese
John Nash Ph.D 1950 - professor emeritus of mathematics, Nobel laureate (Economics 1994)
George A. Miller - professor emeritus of psychology, author of the article The Magical Number Seven
Toni Morrison - professor in the Creative Writing Program, Nobel laureate (Literature 1993)
Joyce Carol Oates - professor in the Creative Writing Program
John McPhee A.B. 1953 - Humanities Council professor, 1999 Pulitzer Prize recipient
Harold Shapiro Ph.D 1964 - professor of economics, president of Princeton until 2001
Goro Shimura - professor emeritus of mathematics, fundamental contributions to number theory and automorphic forms, especially in Langlands Program
Yakov G. Sinai - professor of mathematics
Peter Singer - professor of human values, expert on practical ethics
Anne-Marie Slaughter A.B. 1980 - professor of politics and international affairs, Dean of the Woodrow Wilson School, president of the American Society of International Law
Elias M. Stein - professor of mathematics
Robert Tarjan - professor of computer science, inventor of many algorithms related to graph theory, winner of the 1986 Turing award, recipient of the 1982 Nevanlinna prize
Daniel Tsui - professor of applied physics and electrical engineering, Nobel laureate (Physics 1998)
Cornel West Ph.D 1980 - professor of religion and African American studies
Andrew Wiles - professor of mathematics, proved Fermat's last theorem
Yu Ying-Shih - chair professor of history and East Asia Language and Civilization
Traditions
Arch Sings - Free late-night concerts in one of the larger arches on campus offered by one or a few of Princeton's fourteen a cappella groups. Most often held in Blair Arch or Class of 1879 Arch.
Bonfire - ceremonial bonfire, held only if Princeton beats both Harvard and Yale at football in the same season.
Beer Jackets - Each graduating class (and each class at its multiple-of-5 reunion thereafter -- 5th, 10th, etc.) designs a Beer Jacket featuring their class year. The artwork is almost invariably dominated by the school colors and tiger motifs
Bicker - Competitive new-member selection process employed by selective eating clubs
Cane Spree - an athletic competition between freshmen and sophomores held in the fall
The Clapper or Clapper Theft - climbing to the top of Nassau Hall and stealing the bell clapper so as to prevent the bell from ringing and, thus, from starting class on the first day of the school year. For safety reasons, the clapper has now been removed permanently.
Communiversity - an annual street fair with performances, arts and crafts, and other activities, designed to foster interaction between the University and residents of the Princeton community
Dean's Date Theater - tradition of gathering late in the afternoon on Dean's Date (see below under "Lingo") outside McCosh Hall to watch other students run to hand in their papers before the final deadline. Some students perform cartwheels and other antics (if they are not running too late).
FitzRandolph Gate - at the end of Princeton's graduation ceremony, the new graduates process out through the main gate of the university as a symbol of their leaving college and entering the real world. According to tradition, anyone who leaves campus through FitzRandolph Gate before their own graduation date will not graduate (though entering through the gate is fine).
Holder howl - students in Holder Hall dormitory are known to wail, bellow, and screech after studying for hours on any given night
Houseparties - formal parties thrown simultaneously by all of the eating clubs at the end of the spring term
Lawnparties - parties with live bands thrown simultaneously by all of the eating clubs at the start of classes
Newman's Day - students attempt to drink 24 beers in the 24 hours of April 24th, possibly named after Paul Newman
Nude Olympics - annual frolic in Holder Courtyard during the first snow of the winter. For safety and decency reasons, the administration banned the Olympics in 2001.
Pong - Played mostly at Charter Club and Tower Club, a common drinking game played on a ping-pong table with paddles and cups of beer.
Prospect 11 - referring to the act of drinking a beer at every eating club on The Street in one night
P-rade - traditional parade of alumni and their families, organized by class year, during Reunions
Reunions - annual gathering of alumni, held the weekend before graduation
Robo-pound - unofficial drinking game of Princeton University, along with Beirut. Princeton rules require two teams, one quarter for each team, a hard surface, eight half-full cups, and one pitcher of beer.
Old Nassau
This phrase can refer to:
Old Nassau, Princeton's alma mater since 1859, with words by then-freshman Harlan Page Peck and music by Karl A. Langlotz. The text of Old Nassau is available from Wikisource (http://wikisource.org/wiki/Old_Nassau).
By metonymy, Princeton University itself.
Nassau Hall, to which the song refers, built in 1756 and named after William III of England, of the House of Orange-Nassau. When built, it was the largest college building in North America. It served briefly as the capitol of the United States when the Continental Congress convened there in the summer of 1783.
A chemical reaction, an example of a "clock reaction", dubbed "Old Nassau" because the solution turns first orange and then black, the Princeton colors. It is also known as the "Hallowe'en reaction".
Lingo
Bicker - the process by which students join selective eating clubs, similar to fraternity/sorority rush at other schools
D-Bar - the debasement bar, located in the basement of the Graduate College, hangout for grad students and badly-lit location for the purchase of cheap alcohol
Dean's Date - The last day of reading period; the day when all final papers and other written work must be turned in (see also "Dean's Date Theater" above in the "Traditions" section). Exams start the day after Dean's Date. So named because extensions beyond Dean's Date cannot be granted by a faculty member; they require the permission of a Dean.
Dinky - Short (one- or two- car) train that runs between Princeton Junction to Princeton station. Officially called the PJ & B (Princeton Junction & Back)
Getting McCoshed - when a student is sent to McCosh Infirmary (not to be confused with the McCosh Hall) for excessive drinking
Getting PMC'ed - when a student is hospitalized for drinking too much alcohol. In this case, a student is deemed too drunk to be treated by McCosh Infirmary and is instead transferred to Princeton Medical Center
Hose - As a transitive verb, to be rejected from a selective organization, e.g., in eating club bicker, interviews for selective courses, etc. (i.e. "You got hosed!")
Junior Slums - Area of undergraduate housing in the southwest part of campus. Includes Henry Hall, Foulke Hall, 1901 Hall, Pyne Hall, Laughlin Hall and Lockhart Hall. So called because these are the dormitories that are usually left over from senior Room Draw and are thus taken by the juniors.
Locomotive - Distinctive Princeton cheer... "'rah, 'rah, 'rah, tiger, tiger, tiger, sis, sis, sis, boom boom boom ahhhhhhh. Princeton. Princeton. Princeton". (It's common to replace "Princeton" with a class year to toast a particular class.)
Old Nassau - see above
Prospect 11 - Frequently performed on Dean's Date (see above), a tradition in which undergraduates visit all eleven currently-active eating clubs and drink a beer from each one.
Prox - Proximity card. RFID-based access control card used to unlock dorms and other non-public areas
Pton - Common abbreviation for the school's name.
Reading Period - A ten-day study period between the end of classes and the beginning of exams in January and May
The Prince - The Daily Princetonian, main campus newspaper (See its website (http://www.dailyprincetonian.com))
The Street - Prospect Avenue, home of the eating clubs
The Wa - The local Wawa convenience store and food market. A Wa Run is a trip there.
The Daily Princetonian hosts a detailed (if slightly dated) list of Princeton jargon, see A Princeton Dictionary (http://www.dailyprincetonian.com/archives/2003/07/14/dictionary/).
In fiction
In the movie Batman Begins, it is revealed that Bruce Wayne attended Princeton University.
The movie A Beautiful Mind from 2001 takes place at Princeton University, and contains great location shots. (This movie was a semi-fictionalized biography of Princeton Professor John Nash, rather than pure fiction.)
The movie I.Q., starring Meg Ryan and Tim Robbins with Walter Matthau as Albert Einstein. A scene where Tom Robbins' character gives a lecture is in what is now known as Room 302 of the Frist Campus Center.
The books The Rule of Four, This Side Of Paradise, The Princeton Murders, and Death of a Princeton President are set on Princeton's campus.
In Harold & Kumar Go to White Castle, Princeton is supposedly one of their destinations. However, the film was not shot on campus.
In The Princess Diaries 2: Royal Engagement, the first 10 minutes show a Princeton graduation.
In A Cinderella Story, the characters played by Hilary Duff and Chad Michael Murray will be attending Princeton at the end of the movie.
The opening shots of Scent of a Woman were of the Junior Slums (see above in Lingo). However, in the movie, the location was not called Princeton but rather a private boarding school somewhere in New England.
The American TV show House M.D. uses aerial shots of the campus to depict the fictional Princeton-Plainsboro Teaching Hospital.
In the film Risky Business, Tom Cruise as Joel Goodson proves himself to be Princeton material by becoming a pimp and seeing to his interviewer's sexual gratification.
See also
External links
de:Princeton University
es:Universidad de Princeton fr:Université de Princeton id:Universitas Princeton it:Università di Princeton ja:プリンストン大学 nl:Universiteit van Princeton sv:Princeton University zh:普林斯顿大学