James Stewart (actor)
From Academic Kids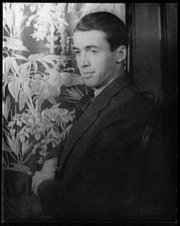 James Maitland Stewart (May 20, 1908 – July 2, 1997) was an American film actor beloved for his persona as an average guy who faces adversity and tries to do the right thing, an image which was largely reflected in his own personality.
Stewart was born in Indiana, Pennsylvania. He was studying architecture at Princeton University when fellow classmate Joshua Logan convinced him to join the newly-formed University Players in Massachusetts, where he first met Henry Fonda and Margaret Sullavan, among others. Stewart was already a Broadway veteran when Hollywood beckoned. He won the Academy Award for Best Actor in 1940 for his role in The Philadelphia Story, in which he co-starred with Cary Grant and Katharine Hepburn. He was awarded the American Film Institute's lifetime achievement award in 1980, as well as an Honorary Academy Award for 50 years of memorable performances in 1985.
Stewart spoke in a hemming-and-hawing style which was sometimes hard on sound men but came through as sincerity to his audience. His career was therefore built around playing a clean-cut person with good values (although he did play the occasional baddie). His hesitating style gave his characters a natural feel not seen in many movies of his time. His early career is perhaps most notable for the films he made with director Frank Capra, including You Can't Take It With You (1938) and Mr. Smith Goes to Washington (1939). His portrayal of George Bailey in Capra's It's a Wonderful Life (1946), his first film after returning from the war, was a defining performance in his career.
Missing image
Jimmystewartlife.jpg
Already a pilot, Stewart signed up for the U.S. Army Air Force a year before Pearl Harbor was attacked. Initially rejected for being too skinny, he gained weight and successfully reapplied. His first posting was at Moffett Field, California. American celebrities who served in World War II were generally kept out of harm's way and used for publicity purposes; Stewart objected to this special treatment, requesting the same combat duty as other pilots. By the end of the war, he had flown 20 missions over Europe with the 8th Air Force, piloting a B-24 Liberator. Among his decorations were the Air Medal, the Distinguished Flying Cross, the Croix de Guerre and 7 battle stars.
Missing image
Jimmy_Stewart_getting_medal.jpg
After WWII, he remained in the United States Air Force Reserves, achieving the rank of Brigadier General on July 23, 1959. His final mission was a bombing run over North Vietnam in a B-52 during the Vietnam War that he specifically requested as a close for his military career. He retired from the Air Force on May 31, 1968.
After World War II, he was an appropriate choice to play Charles Lindbergh, in The Spirit of St. Louis (1957), and appeared in other aviation films such as The Flight of the Phoenix (1965). In an episode of The World at War (1974), he was one of several former airmen interviewed about his World War II career.
A ladies' man, Stewart finally settled down at age 41, marrying former model Gloria Hatrick McLean on August 9, 1949, and was devoted to her until her death. He adopted her two sons; one of them, Ronald, died on June 8, 1969 in Vietnam. On May 7, 1951, their twin daughters Judy and Kelly were born.
Later in his career, Stewart tried for a slight change of image; although still the hero, he began to play more challenging parts with a harder edge. He starred in four highly regarded Alfred Hitchcock films: Rope (1948), Rear Window (1954), The Man Who Knew Too Much (1956), and Vertigo (1958). He also starred in many classic westerns, and in Harvey (1950), Anatomy of a Murder (1959), and the title role in The Glenn Miller Story (1953). It is possible that some of this change of image came from the fact that a critic stated that the role of Elwood P. Dowd in Harvey (1950) was too easy a role for him, so he began taking roles some would think unusual for him.
In his later years Stewart became a familiar figure on Johnny Carson's The Tonight Show, reading poems he had written.
Jimmy Stewart is interred in Forest Lawn Memorial Park Cemetery in Glendale, California.
For his contribution to the recording industry, Jimmy Stewart has a star on the Hollywood Walk of Fame at 1708 Vine Street. In 1972, he was inducted into the Western Performers Hall of Fame at the National Cowboy & Western Heritage Museum in Oklahoma City, Oklahoma.
A museum dedicated to his life, The Jimmy Stewart Museum, is located in his hometown of Indiana, Pennsylvania. There is also a statue of Indiana's favorite son on the lawn in front of the Indiana County Courthouse which was dedicated May 20, 1983 in celebration of Stewart's 75th birthday.
Stewart died on July 2, 1997 from a pulmonary embolism following respiratory problems. His The Big Sleep co-star Robert Mitchum died the day before.
Filmography
Missing image
It's_A_Wonderful_Life.jpg
External links
See also
Template:Livedde:James_Stewart es:James Stewart fr:James Stewart fi:James Stewart no:James Stewart (skuespiller)