B-24 Liberator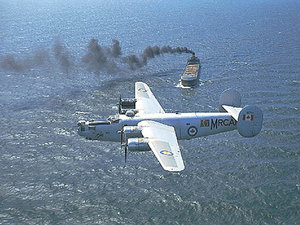 The Consolidated B-24 Liberator was produced in greater numbers than any other American combat aircraft, and was used by most of the Allied air forces in World War II. Designed as a heavy bomber, it served with distinction not only in that role, but also as a maritime patrol bomber (known as the PB4Y in U.S. Navy service) and as a heavy transport (where it was designated C-87 or C-109).
Development
Like the equally successful North American P-51 Mustang, the Liberator was designed in a great hurry. In 1939 January, the United States Army Air Corps invited Consolidated to submit a design study for a bomber with greater range, higher speed, and greater altitude performance than the B-17 Flying Fortress, then the backbone of the Army Air Corps.
The contract for a prototype was awarded in March, requiring that it be ready before the end of the year. The design was simple in concept but advanced for its time. At about 70,547 lb (32,000 kg) maximum takeoff weight it was one of the largest aircraft of the time. It was the first American bomber to use tricycle landing gear instead of a tailwheel, and it featured very long, thin wings. Such a design had a high aspect ratio, for maximum fuel efficiency.
Compared to the B-17, the B-24 was shorter, had 25% less wing area, but a 6 foot (1.8 m) greater wingspan, and substantially greater carrying capacity. Where the B-17 used 9-cylinder Wright R-1820 Cyclone engines, the B-24 used twin-row 14-cylinder Pratt & Whitney R-1830 Twin Wasp radials. Both of these engines were 8 US gal (30 L) air-cooled radial engines of 1000 hp (746 kW).
Consolidated finished the prototype, by then known as the XB-24, and had it ready for its first flight with just two days to spare before the end of 1939. Seven more YB-24 development aircraft flew in 1940 and Consolidated began preparing production tooling. Early orders - placed even before the XB-24 had flown, included 36 for the United States Army Air Corps, 120 for the French Armée de l'Air, and 164 for the RAF. Most of the first production Liberators went to Britain, including all those originally ordered by the Armée de l'Air after France collapsed in 1940.
Operational history
Initial deployment
Initial Liberator deployment in 1941 March was with British Overseas Airways Corporation on trans-Atlantic transport duties. Soon after, equipped with primitive but functional ASV Mark II radar, it entered active service with RAF Coastal Command where its long range made it indispensable for anti-submarine patrols in the Battle of the Atlantic.
Later in 1941, the first Liberator IIs entered service. This model introduced the survivability features that were essential if the Liberator was to take up its design role as a bomber: self-sealing fuel tanks and powered defensive gun turrets. At the same time, Consolidated added a 2 ft 7 in (790 mm) plug in the forward fuselage to create more space for crew members and also (it is said) to make the airplane look better. Liberator IIs were split between RAF Coastal Command, RAF Bomber Command and British Overseas Airways Corporation. Two RAF squadrons deployed to the Middle East in 1942 became the first to use the Liberator as a bomber.
At the same time, the United States Army Air Force began to take delivery of its first B-24As. Like the British, they used them as transports to begin with. Continued development work by Consolidated produced a handful of transitional B-24Cs with turbocharged engines, instead of mechanically supercharged engines; the turbocharged engines led to the flattened oval nacelles that would distinguish all subsequent Liberator models).
The first mass-produced model, the B-24D (or Liberator III in British service) was introduced in early 1943; it had turbocharged engines and increased fuel capacity. Three more 0.50 caliber (12.7 mm) machine guns brought the defensive armament up to ten guns. At 59,524 lb (27,000 kg) maximum take-off weight, it was one of the heaviest aircraft in the world; only the British Lancaster and Halifax bombers were of comparable mass.
America enters the war
Missing image
B-24_from_above.jpg



American B-24s first entered combat in 1942 June with a raid launched from Egypt. 13 aircraft flew against the German-occupied Romanian oilfields of Ploesti. The attack was described as "unsuccessful" by the Army, but it alerted the defenders. When 177 B-24s attacked Ploesti again on 1942 August 1, 54 failed to return.
Liberator production increased at an astonishing rate through 1942 and 1943: Consolidated had tripled the size of their plant at San Diego and built a big new plant outside Fort Worth, Texas. More production came from Douglas in Tulsa, Oklahoma. North American was building a plant at Dallas, Texas. None of these were minor operations, but they were dwarfed by the vast new greenfield factory built by Ford at Willow Run near Detroit, which began operation in 1942 August. This was easily the largest factory in the United States, and the largest anywhere outside the USSR.
In 1942 April, the C-87 Liberator Express transport version of the Liberator entered production at Fort Worth. It had a large cargo door, no gun turrets, a floor in the bomb bay for freight, and side windows. As the year went by, Liberator squadrons deployed to all theaters: Africa, Europe, the Atlantic, India and the Pacific. In the Pacific, the B-24 was designated the standard heavy bomber to simplify logistics, replacing the shorter-range B-17, which had not distinguished itself against Japan.
In 1943, the model of Liberator considered by many the 'definitive' version was introduced. It was 10 inches (0.25 m) longer, had a powered gun turret in the nose to reduce vulnerability to head-on attack, and was fitted with an improved bomb sight, autopilot and fuel transfer system. North American made the B-24G at Dallas, while those from the Consolidated, Douglas, and Ford factories were designated the B-24H. All five plants switched over to the almost identical B-24J in 1943 August. The later B-24L and B-24M were made to reduce weight, and differed mainly in the kinds of defensive weaponry they carried.
As the war went on, the complexity of servicing the B-24 grew greater and greater. Since B-24s were made by a number of different companies, repair depots had to keep a large stock of many kinds of parts to supply on B-24 variants. Fortunately, in the Summer of 1944, this problem was eased a bit, when three plants stopped making B-24s, leaving only the Consolidated plant in San Diego and the Ford plant in Willow Run.
18,482 Liberators were completed before production ceased in 1945. In addition to the thousands (at the most, 6043) that saw service with the U.S. Army, the Royal Air Force flew about 2100 aircraft in 46 bomber groups and 41 squadrons, the Royal Canadian Air Force 1200 B-24Js, the U.S. Navy about 1000 PB4Y-1s (and almost 800 PB4Y-2 Privateers, which were derived from the Liberator), and the Royal Australian Air Force 287 B-24Js, B-24Ls, and B-24Ms. Two squadrons of the South African Air Force, deployed in the Mediterranean Theatre, flew B-24s.
Primary roles
Maritime Patrol
The Liberator made a massive contribution to the Battle of the Atlantic. The decision to allocate early-built Liberators without full defensive armament or self-sealing tanks to Coastal Command produced results immediately. The Very Long Range (VLR) Liberator closed the vital Atlantic Gap and was the only aircraft with the range to do so. Later models were more capable of surviving trips over occupied Europe or duels with Axis fighters but, because of the extra weight allocated to their defense, they had a shorter range. Nothing was done to improve or replace the patrol aircraft until quite late in the war when the U-boat threat was waning. For twelve months, RAF Number 120 Squadron Coastal Command, with its handful of much patched and modified early model Liberators, supplied the only air cover for convoys in the Atlantic Gap, even while shipments of B-24s to bomber, transport, and ordinary long-range maritime squadrons doubled and redoubled. The sudden and decisive turning of the Battle of the Atlantic in the Allies favor in 1943 May was the result of many factors. However, it was no accident that it coincided with the long delayed arrival of more VLR Liberators for maritime patrol. In addition to very long range patrols, the B-24 was vital for patrols of a patrol radius less than 1,000 mile (1,609 km), in both the Atlantic and Pacific, where B-24s and PB4Y-1s took a heavy toll of Japanese shipping.
Daylight bombing
Transport
Early model Liberators were successful as unarmed long-range cargo carriers. They flew between Britain and Egypt with an extensive detour around Spain, across the Atlantic, and in the evacuation of Java. This success led to the development of dedicated transport models, known variously as the C-87 Liberator Express, RY-2 or Liberator Cargo VII. The U.S. only made about 300 transports (as compared with over 18,000 other types) but they were nevertheless the backbone of the Army Air Force's heavy transport operation. The Army Air Force also converted 218 B-24Ds and B24-Es into C-109 tankers. These tankers were used in all theaters but they were particularly used to fly fuel from India over the Himalayas to supply B-29 bases in China. With all armour and military equipment removed to save weight, a C-109 could carry almost 2905 gal (11,000 L) of fuel—over 22,000 lb (10,000 kg). In addition, an unknown but large number of unmodified B-24s were pressed into transport duties on an ad hoc basis.
Variants/design stages
XB-24 (http://www.wpafb.af.mil/museum/research/bombers/b2-32.htm)—(Consolidated Model 32). Designed in 1938 as an improvement on the B-17 Flying Fortress, at the request of the Army Air Corps. It featured a wing specially designed for a high aspect ratio, tricycle landing gear, and twin vertical stabilisers. It was ordered in 1939 March, and first flew on 1939 December 29. (×1)
B-24 (http://www.wpafb.af.mil/museum/research/bombers/b2-33.htm) - Service test version of the XB-24, ordered on 1939 April 27, less than thirty days after the XB-24 was ordered, before the XB-24 design was even complete. A number of minor modifications were made: elimination of leading edge slots, addition of de-icing boots. (×7; only one used for actual testing)
B-24A (http://www.wpafb.af.mil/museum/research/bombers/b2-35.htm) - Ordered in 1939, the B-24A was the first production model. Due to the stringent need for heavy bombers, the B-24A was ordered before any version of the B-24 actually flew. The main improvement over the XB-24 was improved aerodynamics, which led to better performance. (×38: ×20 LB-30A, ×9 B-24C)
XB-24B (http://www.wpafb.af.mil/museum/research/bombers/b2-36.htm) - When the XB-24 failed to reach its projected top speed, the Pratt & Whitney R-1830-33 radials rated at 1,000 hp (746 kW) it carried were replaced with R-1830-41 turbo-supercharged radials rated at 1,200 hp (895 kW), increasing its top speed by 37 mph (59 km/h). The addition of the turbo-superchargers made the engine cowlings elliptical. The XB-24B version also lacked the engine slots of the original. (×1 converted XB-24)
B-24C (http://www.wpafb.af.mil/museum/research/bombers/b2-37.htm) - Conversion of the B-24A using turbo-supercharged R-1830-41 engines. To hold the supercharger and the intercooler intake, the cowlings were made elliptical and the new items added on the sides. The tail gunner position was improved by adding an Emerson A-6 power turret with twin .50-caliber (12.7 mm) machine guns; a Martin power turret was added to the forward fuselage. (×9 converted B-24A)
B-24D (http://www.wpafb.af.mil/museum/research/bombers/b2-38.htm) - First model produced on a large scale; ordered from 1940-1942, as a B-24C with better engines (R-1830-43 supercharged engines). During the production run, the tunnel gun in the belly was replaced by a remote-sited Bendix belly turret; this was later replaced by a Sperry ball turret. In late B-24Ds, 'cheek' guns were added. (×2696: 2381 Consolidated, San Diego; 305 Consolidated, Fort Worth, 10 Douglas, Tulsa, Oklahoma)
B-24E (http://www.wpafb.af.mil/museum/research/bombers/b2-41.htm) - A slight alteration of the B-24D built by Ford, using R-1830-65 engines. Unlike the B-24D, the B-24E retained the tunnel gun in the belly. Sometimes the Martin top turret was removed and a Bendix chin turret added. Ford also built sub-assemblies for Douglas; these subassemblies were identical to Ford-built B-24Es, except that they used the same engines as the B-24D (R-1830-43 radials). (×801)
XB-24F (http://www.wpafb.af.mil/museum/research/bombers/b2-42.htm) - A prototype made to test thermal de-icers, instead of the standard inflatable rubber 'boots'. (×1 converted B-24D)
B-24G (http://www.wpafb.af.mil/museum/research/bombers/b2-43.htm) - Sperry ball turret, three .50-calibre (12.7 mm) machine guns in nose. All B-24Gs were built by North American Aviation, which was contracted in 1942. (×25)

B-24G-1 - Modified Emerson A-6 tail turret in nose instead of 2-3 .50 caliber (12.7 mm) machine guns in earlier models. The B-24G-1 was based on the design of the B-24H (×405)

B-24H (http://www.wpafb.af.mil/museum/research/bombers/b2-44.htm) - Because of obvious vulnerability of the B-24 to head-on attack, the B-24H design made by Ford used a nose turret, generally a modified Emerson A-6 tail turret. The entire aircraft was redesigned to better fit the turret; 50 airframe changes were made, including a redesigned bombardier compartment. The tail turret was given larger windows for better visibility, the top turret a higher bubble, and the waist gunner positions were offset, to reduce their interference during battle. (×3100)
B-24J (http://www.wpafb.af.mil/museum/research/bombers/b2-45.htm) - The B-24J was very similar to the B-24H, although the defensive improvements made in the B-24H were not incorporated in the B-24J. The B-24J featured an improved autopilot (type C-1) and a bombsight of the M-1 series. B-24H subassemblies made by Ford and constructed by other companies, and any model with a C-1 or M-1 retrofit, were all designated B-24Js. (×6678)
XB-24K (http://www.wpafb.af.mil/museum/research/bombers/b2-47.htm) - An experimental aircraft, made by Ford by splicing a B-23 Dragon tail empennage onto a B-24D airframe. The plane was more stable and had better handling than other models, but changing the B-24 design was too expensive to do at the time. However, the XB-24K was the ancestor of the Navy's PB4Y-1. (×1 converted B-24D)
B-24L (http://www.wpafb.af.mil/museum/research/bombers/b2-48.htm) - Because of the immense weight of the B-24J, the Army pushed for a lighter version. In the B-24L, the ball turret was replaced by a floor ring mount with two .50 calibre (12.7 mm) machine guns, and the A-6B tail turret by an M-6A. In later planes, no tail armament was installed, and when it arrived to its airfield either an A-6B, an M-6A, or a dual-mount manual .50-caliber (12.7 mm) gun was installed. (×1667)
B-24M (http://www.wpafb.af.mil/museum/research/bombers/b2-49.htm) - An enhancement of the B-24L with further weight-saving devices. The B-24M used a more lightweight version of the A-6B tail turret; the waist gunner positions were left open. For better visibility, the windshield was replaced by a 'knife-edge' dual pane versions. The B-24M became the last production model of the B-24; a number of the planes built flew only the course between the factory and the scrap heap. (×2593)
XB-24N (http://www.wpafb.af.mil/museum/research/bombers/b2-50.htm) - A redesign of the B-24J, made to accommodate a single tail. It also featured improved nose and tail turrets. While 5168 B-24Ns were ordered, World War II ended and there was no longer any need for them. (×1)
YB-24N (http://www.wpafb.af.mil/museum/research/bombers/b2-51.htm) - Pre-production service test version of the XB-24N. (×7)
XB-24P (http://www.wpafb.af.mil/museum/research/bombers/b2-52.htm) - A modified B-24D, made by Sperry Gyroscope Company to test airborne fire control systems. (×1 converted B-24D)
XB-24Q (http://www.wpafb.af.mil/museum/research/bombers/b2-53.htm) - A General Electric conversion of the B-24L, using radar-controlled tail turrets. (×1 converted B-24L).
XB-41 (http://www.wpafb.af.mil/museum/research/bombers/b3-90.htm) - Because there were no fighters capable of escorting bomber formations on deep strike missions early in W.W.II, the Army authorised tests for heavily armed bombers to act as escorts for bombing missions. It was completed in 1942. The results of 1943 testing were very negative and the project was quickly cancelled. Performance changed drastically with the addition of more turrets. Also, the escorts were unable to keep up with bomber formations once the bombs had been dropped.
The XB-41 had fourteen .50-calibre (12.7 mm) machine guns, through the addition of a Bendix chin turret and a dorsal Martin power turret on the mid-fuselage. (×1 converted B-24D)
LB-30 (http://www.wpafb.af.mil/museum/research/bombers/b2-34.htm) - Version of the B-24 sent to Britain. (LB- = 'Liberator British'):

LB-30A - YB-24 (×6)
LB-30B (Liberator Mark I) - B-24A (×20), used in British Coastal Patrol and Defense Squadron
Liberator Mark II - Improved LB-30 (×165)
Liberator Mark III - B-24D (×156)
Liberator Mark IV-IX - Improved versions, number built varies depending on source of information
Units using the Liberator
United States Army Air Force
American Senator and presidential candidate George McGovern served as a B-24 pilot in missions over Italy as part of this group; his wartime exploits and some of the characteristics of the B-24 are at the center of Stephen Ambrose's book The Wild Blue.
United States Navy
Royal Air Force
Royal Australian Air Force
Squadrons
12 Squadron
21 Squadron
23 Squadron
24 Squadron (see [1] (http://www.defence.gov.au/raaf/organisation/info_on/units/24_sqn/history.htm))
25 Squadron
99 Squadron
102 Squadrons
Independent flights
Royal Canadian Air Force
Specifications (B-24J)
General characteristics
Crew: 7-10
Length: 67 ft 8 in (20.6 m)
Wingspan: 110 ft 0 in (33.5 m)
Height: 18 ft 0 in (5.5 m)
Wing area: 1,048 ft² (97.4 m²)
Empty: 52,200 lb (23,700 kg)
Loaded: 55,000 lb (25,000 kg)
Maximum takeoff: 65,000 lb (29,500 kg)
Powerplant: 4× Pratt & Whitney R-1830 turbo-supercharged radials, 1,200 hp (900 kW)
Performance
Maximum speed: 290 mph (470 km/h)
Cruising speed: 215 mph (346 km/h)
Range: 2,100 miles (3,400 km)
Ferry range: 3,700 miles (6,000 km)
Service ceiling: 28,000 ft (8,500 m)
Rate of climb: 1,025 ft/min (312 m/min)
Wing loading: 52.5 lb/ft² (256 kg/m²)
Power/Mass: .0873 hp/lb (.144 kW/kg)
Armament
10× .50 calibre (12.7 mm) machine guns
12,800 lb (5,800 kg) of bombs
References
External links
Related content
Related development: B-32 Dominator - PB4Y Privateer
Comparable aircraft: B-17 Flying Fortress - Avro Lancaster - Handley-Page Halifax
Designation sequence: XB-21 - B-22 - B-23 - B-24 - B-25 - B-26 - XB-27
Related lists List of military aircraft of the United States - List of bomber aircraft
See also: XB-41 Liberator
de:Consolidated B-24
fr:Boeing Consolidated B-24 it:B-24 Liberator pl:B-24 Liberator