Peter Singer
From Academic Kids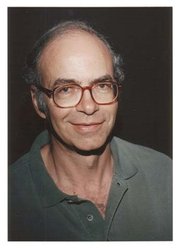 Peter Albert David Singer (born 1946 in Melbourne, Victoria, Australia) is an Australian philosopher and teacher. He is currently a professor at Princeton University in the USA. He works in practical ethics, and treats ethical issues from a utilitarian (specifically preference utilitarian) perspective.
Singer served as chair of philosophy at Monash University in Melbourne, and founded its Centre for Human Bioethics. In 1996 Singer ran as a Green candidate for the Australian Senate but failed to be elected. In 1999 he was appointed Ira W. DeCamp Professor of Bioethics of Princeton's Center for Human Values, and relocated to the United States.
Animal liberation
His book Animal Liberation (originally published in 1975, second edition 1990, third edition 2002) was a major formative influence on the modern animal rights movement. (Although he does not support animal rights himself, he derives many of the same conclusions from his utilitarian animal liberation philosophy). In this work he argues against "speciesism": the discrimination against certain beings based only on their belonging to a certain (almost always non-human) species. He holds the interests of all beings which are capable of suffering to be worthy of equal consideration of interests, and concludes that the use of animals for food is unjustifiable because it creates unnecessary suffering. He therefore considers veganism the only ethically justifiable diet. He also condemns most vivisection, though he believes a few animal experiments may be acceptable if the benefit (in terms of improved medical treatment, etc.) outweighs the harm done to the animals used. Due to the subjectivity of the term "benefit", controversy exists about this and other utilitarian views.
Practical ethics
His most comprehensive work, Practical Ethics (1979, second edition 1993), analyses in detail why and how beings' interests should be weighed. He states that a being's interests should always be weighed according to that being's concrete properties, and not according to its belonging to some abstract group.
Abortion, euthanasia and infanticide
Consistent with his general ethical theory, Singer holds that the right to physical integrity is grounded in a being's ability to suffer, and the right to life is grounded in the ability to plan and anticipate one's future. Since the unborn, infants and severely disabled people lack the latter (but not the former) ability, he states that abortion, painless infanticide and euthanasia can be justified in certain special circumstances, for instance in the case of severely disabled infants whose life would cause suffering both to themselves and to their parents.
Criticism
Singer's position has been vigorously attacked by many different groups concerned with what they see as an attack upon human dignity, from advocates for disabled people to religious groups, including right-to-life supporters.
Critics argue that Singer is in no position to judge the quality of life of disabled people. In Germany, his position has been compared to the Nazi practice of murdering "unworthy life", and his lectures have been repeatedly disrupted. Some claim that Singer's utilitarian ideas lead to eugenics. His conclusions in controversial areas such as abortion, infanticide and euthanasia, and his refusal to hide his conclusions behind euphemisms, may help explain why his works have attracted particular attention.
Proponents of other ethical systems like deontology or virtue ethics have found in Singer's work ammunition against utilitariansm and its consequentialism (the morality of an act is evaluated after its consequences). They claim that his conclusions show by themselves that utilitarism may lead to eugenism, infanticide, or even justification of torture in certain circumstances.
Singer has replied that many people judge him based on secondhand summaries and short quotations taken out of context, not his books or articles. (To make his writings more accessible, Singer has collated the most important into a single book, Writings on an Ethical Life.) For example, when people hear that Singer thinks that a dog has the same moral importance as a new born baby, they might interpret the statement as dehumanising. It is contextually important that Singer places considerable value on both the dog and the baby.
Singer experienced the complexities of some of these questions in his own life. Singer's mother had Alzheimer's disease, which rendered her, in Singer's system, a "nonperson". He did not euthanise her, saying, "I think this has made me see how the issues of someone with these kinds of problems are really very difficult." In an interview with Ronald Bailey he explained that he is not the only person who is involved in making decisions about his mother (he has a sister). He did say that if he were solely responsible, his mother might not be alive today. This incident has led to accusations of hypocrisy. However, Singer has never argued that a non-person who is not suffering has to be euthanised- only that it could be morally acceptable to euthanise.
World poverty
In Famine, Affluence, and Morality, one of Singer's most well known philosophical essays, he states that the injustice of some people living in abundance while others starve is morally indefensible. Singer proposes that anyone able to help the poor should donate at least 10% of their income to aid poverty and similar efforts. Singer reasons that, when one is already living comfortably, a further purchase to increase comfort will lack the same moral importance as saving another person's life. Singer himself donates 20% of his salary to Oxfam and UNICEF.
Views on inter-species sexual relationships
In a 2001 review of Midas Dekkers' Dearest Pet: On Bestiality[1] (http://www.nerve.com/Opinions/Singer/heavyPetting/main.asp), Singer stated that humans and animals might be able to have "mutually satisfying" sexual relationships. Zoophilia should remain illegal if it involves cruelty, but otherwise is no cause for shock or horror, writes Singer, because "we are animals, indeed more specifically, we are great apes." Sex between humans and non-humans, while abnormal, "ceases to be an offence to our status and dignity as human beings." In the essay, Singer concludes that the typical reasons we have to support the taboo do not stand up to scrutiny and so we logically either need to reject the taboo or devise alternative arguments in support of the taboo. Some, including Jewish, Christian and Muslim fundamentalist groups, have condemned Singer's views, although he himself does not consider that his views on this subject are important enough to merit so much attention. Others such as Ingrid Newkirk, a leading American animal rights activist, and her organization PETA have spoken supportively [2] (http://www.nytimes.com/2001/06/09/arts/09TANK.html).
See also
Publications
His other publications include:
How Are We to Live?: Ethics in an Age of Self-Interest, 1995
One World: The Ethics of Globalization, 2002
Pushing Time Away : My Grandfather and the Tragedy of Jewish Vienna, 2003
Rethinking Life and Death : The Collapse of Our Traditional Ethics, 1996
The President of Good & Evil, the Ethics of George W. Bush
Interview, Penthouse Magazine, July 2003
References
External links
Peter Singer's website (http://www.princeton.edu/~psinger)
Peter Singer (http://utilitarian.net/singer). Resources on Singer, including book excerpts, articles, interviews, reviews and writings about him.
Links to anti-Singer sites
de:Peter Singer fr:Peter Singer fi:Peter Singer pt:Peter Singer sk:Peter Singer sv:Peter Singer