Lamb
From Academic Kids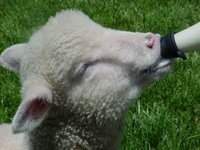 Missing image
Lammetje_(Nunspeet_2004).jpg
For other uses, see Lamb (disambiguation).
A lamb is a young sheep. When eaten as meat, lamb is taken from an animal between one month and one year old, with a carcass weight of between 5.5 and 25 kg. The meat of an older sheep is known as mutton.
Milk-fed lamb is from an unweaned lamb, typically 4 to 6 weeks old and weighing 5.5 to 8 kg; this is almost unavailable in countries such as the USA and the UK, where it is considered uneconomic. The flavour and texture of milk-fed lamb when grilled (such as the tiny lamb chops known as chuletillas in Spain) or roasted (lechazo asado) is generally agreed to be finer than that of older lamb. The areas in northern Spain where this can be found include Asturias, Cantabria, Castile-Leon, and La Rioja.
See also: List of animal names