Family Guy
From Academic Kids
Template:Infobox television 2 Family Guy is an animated television series originally created by Seth MacFarlane for the FOX Network in 1999. The show was first cancelled in 2002, but after an unprecedented positive response to DVDs and reruns on other networks, production of new episodes for FOX resumed in 2005.
The title character is the head of an Irish-Catholic, lower-middle class family frequently beset by the consequences of his antics. Though the series is best described as an animated situation comedy, its brand of humor is radically different from similarly described series such as The Simpsons; brief cutaways and flashbacks to various points in history, geography, and reality involving the characters and their ludicrous actions are a staple of the show's comedy (see "Structural and comedic approach" below). Creator MacFarlane also serves as a writer on the show, and voices many of the characters. The cast also includes That '70s Show star Mila Kunis, actor Seth Green, MADtv star Alex Borstein, and comedic actor Patrick Warburton.
Characters
Missing image
Family_guy_promo_pic.jpg
Main article: List of characters from Family Guy
The show revolves around the adventures of Peter Griffin and his family. Peter is an incompetent blue-collar worker and a bumbling, drunken father, yet still a dedicated family man. His wife, Lois, is a stay-at-home mom/piano teacher and the daughter of wealthy socialites. Their children are the socially awkward and status-conscious Meg, the mentally slow, yet artistically gifted Chris, and the diabolically super-intelligent and potentially matricidal baby Stewie. The family also lives with an intelligent, cynical, alcoholic, talking dog named Brian, though it may be somewhat of a misnomer to call him a pet.
Other common characters include Griffin family's neighbors (paraplegic Joe Swanson, sex-crazy Glen Quagmire, and deli-owner Cleveland Brown), as well as various coworkers and town personalities. Unlike The Simpsons, Family Guy does not have an especially large cast of recurring minor characters, and most episodes center chiefly around the exploits of the Griffin family.

Structural and comedic approach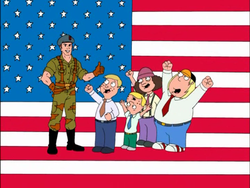 The characters live and work in fictional Quahog (pronounced "KOH-hog", IPA ), a hyperrealistic version of a small Rhode Island town. Characters' lives largely revolve around items and ideas of popular culture, which are incorporated into everyday conversation and events. Some of these references have exaggerated grounding in reality — Adam West serves as Quahog's mayor, and public schools are named for Rhode Island natives James Woods and Buddy Cianci, Jr. — while others unabashedly delve into the realm of fantasy without question.
Although Family Guy sometimes maintains a rough sense of continuity, complicated plots are most often traded for a concentration on comedy that is based largely on pop culture and non sequiturs. Though this style is often played within the characters' world, the series is also known for its use of cutaways, where the plot is interrupted and segues into unrelated, self-contained sketches of variable length. Often initiated when a character refers to a past event (accompanied by phrases such as "remember the time that..." or "I haven't felt like this since..."), these sketches are wildly divergent in topic—ranging from classic film scenes to historical events to contemporary television commercials—though many times they encapsulate twisted, humorous takes on reality. The use of this style has been parodied by the show itself; an entire episode was revealed to have been a dream concocted by Pam Ewing, a character from the television series Dallas, which retconned an entire season to the same conceit.
Because of this approach, the series reverts to normalcy by the end of most episodes, and occurrences in past episodes are rarely referenced or outright ignored. Though there have been several drastic changes to the show's plot structure, such as Peter's occupation being shifted from a toy factory assembly line worker to a fisherman, this is decidedly the exception rather than the rule.
Being a native of Kent, Connecticut and a graduate of the Rhode Island School of Design, MacFarlane has written a number of in-jokes and references into Family Guy which allude to real life cities in Rhode Island and the surrounding New England area, including Pawtucket, Rhode Island, Newport, Rhode Island, Natick, Massachusetts and Webster, Massachusetts.
Episodes
Main article: List of Family Guy episodes
In keeping with the humorous tone of the series, most episode titles of Family Guy are parodies of popular television shows, movies, and mottos.
Opening song
Missing image
Family_Guy_dance.png
The familiar opening theme song of the show begins as a parody of the opening theme of All in the Family, where Peter and Lois sing at the family piano, a la Archie and Edith Bunker. The song then breaks from the Griffins' living room into a giant chorus performance performed by the rest of the immediate family and a line of Rockettes-like dancers.
In keeping with the series' malleable comedy, the traditional opening song has been occasionally dropped in favor of different themes, including parodies of Law & Order and the Hope-Crosby Road movies.
Lois:
It seems today, that all you see
Is violence in movies and sex on TV.
Peter:
But where are those good old fashioned values,
Meg, Chris, Stewie and Brian:
On which we used to rely?
Entire Family:
Lucky there's a Family Guy
Lucky there's a man who
Positively can do
All the things that make us
Stewie:
Laugh and cry!
Entire Family:
He's... a.. Fam..'ly... Guy!
There has been some much-discussed confusion over Stewie's solo line. Because it is the lone spoken line of the song and immediately follows a music sting, "laugh and cry" has been mistaken for "effin' cry," by both viewers and closed captioning transcribers. Although a clearer recording of the line has been featured from the third season onwards, MacFarlane maintains the lyric has always been "laugh and cry."
History
While studying at the Rhode Island School of Design, Seth MacFarlane created a short film entitled The Life of Larry about a middle-aged slob named Larry and his talking dog, Steve. After being hired at Hanna-Barbera Productions, MacFarlane was given a chance to direct a sequel to the short entitled Larry and Steve which was broadcast as an episode of the What-A-Cartoon! Show. Executives at the Fox Television Network saw both shorts, and MacFarlane was given the opportunity to develop a show based on Larry and Steve, who eventually evolved into Peter and Brian Griffin.
The first episode was aired in the U.S. on the Fox Network on January 31, 1999, appearing after Super Bowl XXXIII. The first season contained seven episodes and introduced the viewer to the show's main characters. The second season began on September 23, 1999 and contained 22 episodes. The third season contained 21 episodes and began its run on July 11, 2001. During its second and third season runs, Fox frequently moved the show around different days and timeslots with little or no notice. Ratings suffered, and after only two episodes of the second season, Family Guy was taken off the network's permanent schedule and was shown irregularly thereafter.
There was a great deal of debate and rumor during both the second and third seasons about whether Family Guy would be cancelled or renewed. The show was cancelled at the end of the second season. In an attempt to convince Fox to renew the show, dismayed fans created websites, signed petitions, and wrote letters; some even sent diapers and baby food to the network for Stewie. A shift in power at Fox resulted in thirteen new episodes being ordered that formed the basis of the third season. The show's writers, aware of the uncertainty of the show's future, would frequently make reference to this in several episodes. During the third season, Fox announced that the show was cancelled for good.
Due to exceptional ratings for the repeats on Cartoon Network's Adult Swim block (where the show has been given a regular time slot) and the sale of 2.2 million DVD units in the first yearTemplate:Ref (reportedly surpassing every other TV-based DVD released in 2003, including Sex and the City and Friends compilations), it made a return to Fox on May 1, 2005, and repeat on Adult Swim starting June 5, 2005. MacFarlane had never given up on the characters and had been working on putting together a straight-to-DVD film as a result of the great sales, but now all attention has been shifted towards producing new episodes. However, the movie will be released in either 2006 or 2007.
Controversy
Being a largely adult-oriented program, Family Guy has become a lightning rod of controversy for its brusque approach to comedy, which deals with politically sensitive topics without enormous concern for the boundaries of good taste – often considered one of the primary reasons for its initial cancellation. Many episodes were trimmed for controversial content, and one episode of the third season, "When You Wish Upon a Weinstein," was initially refused airtime on FOX because its plotline – where Peter attempts to convert Chris to Judaism in hopes of making his son financially successful – was deemed inappropriate under accusations of anti-Semitism. (The episode later aired on Cartoon Network, and eventually FOX, with some content altered for television.) Other subjects that have been called to attention are the series' controversial jokes about the disabled, alcoholism, terrorism, and sexual situations.
When reruns of Family Guy episodes began to air, controversial episodes were often restricted to broadcast times after 9 PM Eastern and Pacific time, in order to avoid more family-friendly prime time slots; FOX Network executives feared that viewer complaints to the FCC could have prompted an investigation and a "Notice of Apparent Liability." All new episodes on FOX are preceded by a title card stating that "viewer discretion is advised."
Other stations that have aired the series have also dealt with concerns of controversy. While reruns on Cartoon Network's Adult Swim block are generally unaffected because of its late timeslot (after 11 PM Eastern/Pacific), TBS removed afternoon airings of the series, also instigated by fear of FCC intervention, necessitating that a new block of adult-oriented programming, entitled "Too Funny to Sleep," be created for late night timeslots.
DVDs
Region 1
Family Guy Volume 1, Seasons 1 & 2 is a four-disc DVD box set containing all the episodes from Seasons 1 and 2. Select episodes (6 total) have audio commentary tracks.
Family Guy Volume 2, Season 3 is a three-disc box set that includes all episodes from the third season of Family Guy, including the previously un-aired episode, "When You Wish Upon a Weinstein". The set contains six audio commentary tracks.
Family Guy – The Freakin' Sweet Collection, released in December 2004, is a five-episode sampler including the episodes "When You Wish Upon a Weinstein", "Road to Rhode Island" (including the restored scene involving bin Laden), "To Live and Die in Dixie", "I Am Peter, Hear Me Roar", and "Lethal Weapons". The set includes new commentaries and previews for Family Guy Season 4 and American Dad!, another cartoon created by MacFarlane, which premeired after Super Bowl XXXIX, and continued as of June 22, 2005 on Fox.
Region 2
Family Guy Season One contains all fourteen episodes from Season 1, including the seven episodes that were produced in the first season but aired in the second.
Family Guy Season Two contains all fifteen episodes produced for season 2 (which aired along with some season one episodes, see above), including the unaired "When You Wish Upon A Weinstein".
Family Guy Season Three contains all episodes of season 3 in a boxset.
Family Guy Family Sized DVD Collection is a box set containing the above three sets (the Season 3 collection is repackaged in one plastic case) plus a bonus 2-disc set, Family Guy Uncovered, containing special features, including deleted scenes, featurettes, and 14 previously-released episodes with added audio commentaries.
Some British critics complained about the omission of the audio commentaries from the Region 2 releases. The Family Size Collection goes some way to address those complaints, although inevitably some buyers complained about having to buy the same discs a second time in order to get the bonus material, which was not released separately.
Region 4
Family Guy Season One contains all fourteen episodes produced for season 1, including those that aired during season 2.
Family Guy Season Two contains all fifteen episodes produced for season 2, including the unaired "When You Wish Upon A Weinstein".
Family Guy Season Three contains all twenty-one episodes from season 3
Like the Region 2 releases, no special features are contained on the discs, but it is expected that a box set of the first three seasons – like Region 2 – will eventually emerge, with extras.
Revival efforts
The news of Fox's cancellation in the third season was met with dismay by fans, and renewed efforts were made to convince Fox to resurrect the show. An online petition was launched, which garnered over 10,000 signatures within only a few weeks. The petition contained the following message, addressed to Gail Berman and Sandy Grushow, the President of Entertainment and Chairman of Fox at the time:
To: FOX Broadcasting

Dear Ms. Gail Berman and Mr. Sandy Grushow,

We are avid watchers of FOX programming, especially the show "Family Guy". We have recently heard that FOX Broadcasting has cancelled this show. We are informing you of a boycott of FOX Broadcasting, FX, FOX Sports Channel, and all products shown on FOX Broadcasting, FX, and FOX Sports Channel. We are all willing to comply with the boycott and do whatever it takes to get our favorite FOX show ("Family Guy") back on the air.

We will not only be boycotting your stations, we will be boycotting every product shown on those stations. These products include, but are not limited to: Nyquil, Schick, Valvoline, Gold Bond, Subway Sandwiches, Buick Motor Vehicles, Alka-Seltzer, Monistat 7, Diflucan, Kentucky Fried Chicken (KFC), Heartguard, Frontline, any product on TimeLife.com, Ranger Bass Boats, The Xtractor, any product made by MGM, 1-800-COLLECT, Hunt's Manwich, any product made by Reeses', any product made by Walt Disney, and Gevalia coffee and coffee makers.

As you can see, we are taking this cancellation very seriously. We will contact our local newspapers, and television stations; and with that we will gain more people in our "quest" to get "Family Guy" back on television.

Sincerely,

The Undersigned [1] (http://www.petitiononline.com/savefg2/petition.html)
The petition gained over 100,000 signatures but this, along with mass e-mailing and letter writing to Fox executives and organized street protests failed to save Family Guy. Later efforts to get other networks, particularly UPN, to buy Family Guy also failed.
Fox cited poor viewing figures as part of their reason for not renewing the show but critics claimed this was due to the erratic scheduling the show had received and the fact that it was shown at the same time as Friends and Survivor, two very popular shows at the time. Also, reported costs of around $1.1 million per episode may have played a part in the decision.
At the current time, however, Cartoon Network is playing reruns of the show in their Adult Swim late-night block. According to a Cartoon Network press release, "FAMILY GUY ranks #1 in its time period on cable among Adults and Men 18-34 and Adults and Men 18-24, and also beats both The Late Show with David Letterman and The Tonight Show with Jay Leno in head-to-head competition among Men 18-34 and Men 18-24" (This was only an occasional ratings outcomeTemplate:Ref). The network aired the previously unseen "When You Wish Upon a Weinstein" on November 9, 2003, although it was slightly censored, particularly the song sung by Peter in the first act, a parody of "When You Wish Upon A Star" from Walt Disney's movie Pinocchio, entitled "I Need A Jew". The uncensored version of this episode can be found on the Volume 2 Family Guy DVD box set, disc 3.
On November 19, 2003, the E! Entertainment Television channel and its website (see below) reported that Fox was negotiating with Family Guy creator Seth MacFarlane to revive the show with 35 new episodes. On February 27, 2004, in an interview with IGN, Seth MacFarlane confirmed that Family Guy would resume production. MacFarlane provided even more information in a BBC interview. (IGN interview) (http://dvd.ign.com/articles/495/495464p1.html?fromint=1) (BBC interview) (http://www.bbc.co.uk/cult/news/cult/2004/02/17/13587.shtml)
On March 26, 2004, it was officially announced that 20th Century Fox Television has committed to producing at least 22 more episodes of Family Guy to be broadcast on Adult Swim in early 2005. The Fox Network has retained a window to run these episodes, starting on May 1, 2005. Seth MacFarlane was quoted as saying, "I'm just incredibly excited that we're back in business on Family Guy. Now all those crazy kids who've been hounding me to bring the show back can stop bothering me and move onto more serious matters – like saving Coupling."
On September 18, 2004, the Family Guy Reference Files [2] (http://www.familyguyfiles.com) reported that Fox has announced the titles of the 4th Season episodes and entered the episodes into their episode database.
A Family Guy direct-to-DVD movie will be released on September 27th, 2005 entitled "Family Guy Presents Stewie Griffin: The Untold Story!", which revolves around Stewie trying to find his real father. The 87 minute film will be unrated and will include commentary, deleted material, and other bonus features.
The season premiere of Family Guy Season Four took place on Sunday, May 1, 2005, 9:00 PM EDT on Fox. To celebrate the relaunch, Fox sales representatives were dispatched to numerous colleges in an attempt to sign students up for a special "Stewie's Ultimate Dorm Room" contest; the winner got prizes to create the "ultimate dorm room," including a laptop, a DVD player, and a television. Also, the the Family Guy website [3] (http://www.familyguy.com) was relaunched as Stewie welcomed visitors with one of the following random remarks:
"I am your infant overlord. Surrender now or I'll poop on your lap."
"At last a web site that doesn't require you to surrender your credit card or your dignity."
"Congratulations, you've finally managed to ween yourself from the cathode teat."
"How did you find me? Who sent you? You shall pay dearly for this intrusion. Release the Africanized Bees!"
"I say, is this Orlando Bloom's home page? God, I must've typed in the wrong address."
"Welcome to my web site. Pop on a diaper and make yourself at home."
On the menu buttons, the following comments from Stewie were noted:
About The Show — "It's me and a bunch of drooling Neanderthal dullards. What more do you need to know?"
Upcoming Events — "Tuesday: Kill Lois. Wednesday: Try on all her shoes."
Store — "Authentic Stewie Griffin stool. $9.95. Get it while it's hot!"
Multimedia — "If you're hoping to see a video of Meg in a compromising position, believe me, so is she."
Blog — "Dear Diary: Today the dog (Brian) wiped his privates on my blankie. It smelled like SeaWorld."
Community — "Hey, give it a shot. I heard this is how Ernest Borgnine met his fourth wife."
Downloads — "I say, if you're looking for a photo of the dog humping Lois, you're at the wrong web site."
Other rumours state that, there is a Family Guy video game in the works, and will possibly be for a portable system, such as the Nintendo DS or the PSP. In addition, FOX announced on May 19, 2005 that the show has been renewed for another season, their fourth which will begin in May of 2005.
Notes
Template:Note Jennifer Netherby, "DVD keeps Family alive", Video Business, March 29, 2004.
Template:Note Stephen Battaglio, "The Second Life of Brian", TV Guide, May 1-7, 2005.
See also
External links
Template:Wikiquote Template:Wikinews