The Late Show with David Letterman
From Academic Kids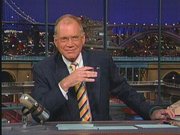 The Late Show with David Letterman is an hour-long weeknight comedy and talk show broadcast by CBS from the Ed Sullivan Theater on Broadway in New York City. The show debuted on August 30, 1993 and is produced and hosted by David Letterman. The show's music director and bandleader of the house band, the CBS Orchestra, is Paul Shaffer. The head writers are brothers Justin Stangel and Eric Stangel.
Letterman had previously been the host of Late Night on NBC.
According to an August 2004 edition of the show's official newsletter, in eleven years there have been 2264 shows, 4082 guests, 1382 cameo appearances, 1668 musical performances, 473 guests and substitute musicians who have sat in with the CBS Orchestra, 275 stand-ups, and at least 130 demonstrations.
The show will begin broadcasting in HDTV in fall 2005.
Regular sketches
When Letterman moved to CBS and began the Late Show, several of Late Night's long-running comedy bits made the move with him, including the Top Ten List. Letterman renamed a few of them to avoid legal problems over trademark infringement (NBC cited that what he did on Late Night was "intellectual property" of the network). For example, "Viewer Mail" on NBC became the "CBS Mailbag," and (the no-longer-appearing) Larry "Bud" Melman began to use his real name.
One recurring sketch on both the NBC and CBS shows has been the destruction of household items by various methods including explosives, steamrollers, and - most frequently - throwing them off the roof of a building.
The Late Show is well known for its repeated absurdist segments, often taking the form of competitions or audience participation. The charm of these segments is often that they are completely pointless, yet are taken seriously by Letterman and all involved.
Is This Anything?
In the Is This Anything? segment the curtain is raised to reveal a costumed performer performing an unusual stunt. Next to this performer, who varies, are two other performers who became regulars for the segment:
the "hula hoop girl" (played by Anna Jack), who spins numerous hula hoops around different parts of her body, and
the "grinder girl" (played by Kiva Kahl), who operates a hand-held grinder against metal parts of her costume, producing sparks.
After about thirty seconds the curtain is lowered and Dave discusses with Paul whether the act was 'something' or 'nothing'.
Know Your Current Events
In this segment ("America's Fastest Growing Quiz Sensation"), Dave picks an audience member to play a quiz game. He or she first gets to choose the category. Besides the title category, one of the "six big ways to win big" is always "Know your cuts of meat"; other categories are topical and often esoteric, and rarely reappear. Some of these have included "Know your Home Depot locations in Delaware," "Know your Late Show Production Accountant Joe DeGeorge" and "Know your shocking facts about Peter Jennings."
In the case of "Know your cuts of meat", the audience member sees a photo of a cut of meat, and is asked to identify it; other categories are similar. If they win (and they always do, as the answers are given secretly to the contestant), they are given a set of prizes: dinner for two at a local restaurant, (since 1997) the CD Live On Letterman : Music From The Late Show, and most recently added, a box of Explod-O-Pop Atomic popping corn. Winning "Know your cuts of meat" also gets the contestant a special additional prize: a box of USDA Prime beef from Lobel's of New York, worth (back in April 2000 (http://www.lobels.com/onair/ws.htm)) $300.
Will It Float?
In this segment an item is dropped into a tank of water by two attractive models (Andrea Sande and Nadine Hennelly). Before this happens, announcer Alan Kalter tells Letterman and Shaffer what the item is; the latter two then discuss whether it will float or sink.
The dropping of the item is often accompanied by performances from the "grinder girl" and the "hula girl".
Others
The show sometimes uses Shaffer and Kalter in comedy routines. Crew members also make occasional appearances, such as stage manager Biff Henderson, stagehands Pat Farmer and Kenny Sheehan, handyman George Clarke, cue card boy Tony "Inky" Mendez, producer Maria Pope, and assistant Stephanie Birkitt.
Some comedy bits also include Rupert Jee, owner of the nearby Hello Deli. Dave's Mom, Dorothy Letterman, also makes appearances from time-to-time, including each Thanksgiving.
Former recurring players from the show include Sirajul and Mujibur (owners of a nearby gift store), Calvert DeForest, now-retired writer Gerard Mulligan, and the late scenic designer Kathleen Ankers.
Dozens of cameo appearances have been made by Tony Randall and Regis Philbin.
Letterman involves his audience in routines such as "Stump The Band" (a bit originated by Johnny Carson), "Know Your Current Events", and "Audience Show and Tell"; he brings Rupert Jee and outside bystanders into bits such as "May We See Your Digital Photos, Please?"
For a while, Letterman took great delight in making fun of his employer, continuing a tradition established at NBC. Senior executive Les Moonves was often the target of his abuse. For example, on hearing that Moonves had met with Fidel Castro in 2001, Letterman asked his audience to:
"Imagine the lunch...on one side of the table you've got an egomaniacal dictator surrounded by sniveling yes-men, and, of course, on the other side of the table you've got Fidel Castro."
Letterman's relationship with Moonves has improved; a segment titled "More with Les" features jocular phone calls between Letterman and Moonves.
The following is a partial list of other recurring or notable comedy bits:
Stupid Pet Tricks
Stupid Human Tricks
Dumb Ads
Small Town News
How Many Men in a Bear Suit (etc.) Will Fit in a Donut Shop (etc.)?
Pat & Kenny Read Oprah Transcripts
Pat Farmer's Movie Gaffes
Celebrity X-Ray Challenge
Dave's Record Collection
Throwing items off the roof (usually done by Pat Farmer)
Fun with Rupert, a Candid Camera-style bit
George W. Bush Joke That's Not Really a Joke
A Moment With George W. Bush
Dr. Phil's Words of Wisdom
Trump or Monkey?
Paul Shaffer does James Brown's cape routine (with various celebrities, including James Brown himself on one occasion, caping Paul)
Dick Assman, who made several appearances in 1995
Dwight the Troubled Teen
"Late Show Unfair Edit," later "Late Show Fun with Editing," later " Late Show Editing Fun"
Guess the Puddle
Rejected FDA Items
Biff Henderson's Fun with a Bullhorn
Biff Henderson's Fun with a Stopwatch
September 17, 2001
On September 17, 2001, The Late Show with David Letterman returned to the television airwaves six days after the September 11th attacks, a high-profile appearance given the anxiety and grief still felt by many at the time, especially in New York City. Letterman reportedly was considering not resuming the show (a comment that later attracted criticism). In his opening monologue, an emotional David Letterman said:
We're told that they were zealots fueled by religious fervor... religious fervor... and if you live to be a thousand years old will that make any sense to you? Will that make any goddamn sense?
External links