Autumn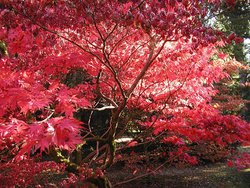 Autumn (fall in North America) is one of the four temperate seasons, the transition between summer and winter.
In the temperate zones, autumn is the season during which most crops are harvested, and deciduous trees lose their leaves. Astronomically, it begins with the autumnal equinox (around 23 September in the Northern hemisphere, and 21 March in the southern hemisphere), and ends with the winter solstice (around 21 December in the Northern hemisphere and 21 June in the Southern hemisphere). However, meteorologists count the entire months of March, April and May in the Southern hemisphere, and September, October and November in the Northern hemisphere as autumn. An exception to these definitions is found in the Irish Calendar which still follows the Celtic cycle, where Autumn is counted as the whole months of August, September and October.
Either definition, as with those of the seasons generally, is flawed because it assumes that the seasons are all of the same length, and begin and end at the same time throughout the temperate zone of each hemisphere.
Autumn and tourism
The New England region of the United States is famous around the world for the brilliance of its "fall foliage," and a seasonal tourist industry has grown up around the few weeks in autumn when the leaves are at their peak. Some television and web-based weather forecasts even report on the status of the fall foliage throughout the season as a service to tourists. Fall foliage tourists are often referred to as "leaf peepers".
The mix of coniferous and deciduous tree forest in Canada make for a multi-colored display. The image on the right is taken in Algonquin Provincial Park, Ontario, Canada.
We love the autumn
See also
External links
Fall Foliage Trees (http://landscaping.about.com/od/fallfoliagetrees/) Information on fall foliage trees for home landscaping, including pictures.
"The Mirage of Fall - Foliage Trees" (http://www.urbanext.uiuc.edu/fallcolor/trees.html) at University of Wisconsin has fall pictures of around 50 trees and 20 shrubs
Virginia Tech's picture gallery (http://www.cnr.vt.edu/dendro/dendrology/fall/biglist_frame.cfm) from their dendrology department with over 100 images of trees and shrubs