Gerd von Rundstedt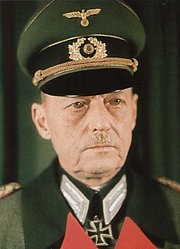 Karl Rudolf Gerd von Rundstedt (December 12, 1875 - February 24, 1953) was a Field Marshal of the German Army during World War II. He remains known as one of Germany's best generals, as well as for being apolitical throughout his career.
Born into an aristocratic Prussian family, von Rundstedt joined the Army in 1893, then entered Germany's elite military academy in 1902 – an institution that accepted only 160 new students annually and weeded out 75% of the students through exams. During World War I he rose in rank until 1918 when he was a major and was chief of staff of his division.
After the war Rundstedt rose steadily in the small 100,000 man army and in 1932 was appointed commander of the 3rd Infantry Division. Later that year he threatened to resign when Franz von Papen declared martial law and ordered his troops to eject members of the Nazi party from state government offices. He was likewise just as upset by the growing power of the Nazis, and eventually resigned in October 1938.
In September 1939 World War II began, and von Rundstedt was recalled to lead Army Group South during the successful invasion of Poland. Turning to the west, he supported Manstein's "armored fist" approach to the invasion of France, and this was eventually selected as Fall Gelb. During the battle he was placed in command of seven panzer divisions, three motorized infantry divisions, and 35 regular infantry divisions.
By May 14, 1940, the armored divisions led by Heinz Guderian had crossed the Meuse and had opened up a huge gap in the Allied front. General von Rundstedt had doubts about the survivability of these units without infantry support, and asked for a pause while they caught up. Hitler agreed, and the short delay was enough for the British and French troops to escape at Dunkirk.
Missing image
Von_Rundstedt.jpg
Von Rundstedt was promoted to Field Marshal on July 19, 1940 and took part in the planning of Operation Sealion. When the invasion was called off, von Rundstedt took control of occupation forces and was given responsibility to develop the coastal defences in the Netherlands, Belgium and France.
In June 1941 von Rundstedt took part in Operation Barbarossa as commander of Army Group South, where he led 52 infantry divisions and five panzer divisions into the Soviet Union. At first his progress was slow, but in September they captured Kiev, along with 665,000 Russian prisoners. After this he moved east to attack Kharkov and Rostov. He strongly opposed continuing the advance into the Soviet Union during the winter and advised Hitler to call a halt, but his views were rejected.
In November Rundstedt had a heart attack, but he refused to be hospitalized and continued the advance, reaching Rostov on November 21. A counter-attack forced the Germans back. When Rundstedt demanded he should be allowed to withdraw, Hitler became furious and replaced him with General Walther von Reichenau.
Hitler recalled von Rundstedt to duty in March 1942, placing him once again in command of the west. There he formed the defensive system known as the Atlantic Wall, permanent fortifications along 1,700 miles of coastline. After the D-Day landings in June 1944, von Rundstedt urged Hitler to negotiate a peace settlement with the Allies. Hitler responded by replacing him with General Günther von Kluge.
As a result of the July 20 Plot, which outraged Rundstedt, he agreed to join Guderian and Wilhelm Keitel on the Army Court of Honour that expelled hundreds of officers suspected of being opposed to Hitler. This removed them from court martial and turned them over to Roland Freisler. Many were executed.
In mid August von Kluge's front collapsed, and von Rundstedt was once again placed in command in the west. He quickly rallied the troops just in time to fight Operation Market Garden, winning the battle. He later oversaw the planning of the offensive to retake Antwerp, but failed against hopeless odds in what would be known as the Battle of the Bulge. He was relieved of command once gain in March 1945 after telling Wilhelm Keitel that Hitler should make peace with the Allies, rather than continue to fight a hopeless war.
Rundstedt was captured by the US 36th Infantry Division on May 1, 1945. While being interrogated he suffered another heart attack, and was taken to Britain where he was held in captivity. He was released in July 1948, and lived in Hanover until his death.
References