Fedor von Bock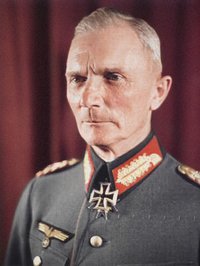 Fedor von Bock (December 3, 1880 - May 4, 1945) was a German field marshal during World War II.
He was born in Küstrin, Germany. During World War I, he joined the German army and by 1918, had attained the rank of major. He remained in the army after Adolf Hitler came to power in 1933.
He was one of the few officers not removed from his position when Hitler reorganized the German military in 1939 at the onset of World War II. In September 1939 World War II began, and von Bock was assigned to lead Army Group North during the successful invasion of Poland. After his success with the blitzkrieg against France, Belgium, and The Netherlands, von Bock was promoted to field marshal. He was then given his most famous mission; Operation Barbarossa, the capture of Moscow and the defeat of the Soviet Union. In 1941, von Bock invaded Soviet Poland, destroying the non-aggression pact between Germany and the Soviets. By December, all of Poland had been subdued, as well as the Ukrainian SSR, Belarus, and most of western Russia.
However, von Bock was unfortunate enough to get caught in the vicious Russian winter, when some of his men were within 19 miles of Moscow. Temperatures dropped to an average of -22º F, but his men only had their thin fall jackets (Hitler had diverted resources to the Western Front). Tank engines routinely failed, and their weapons jammed frequently. However, Hitler ordered von Bock to stand his ground. The Russian forces, commanded by Marshal Georgy Zhukov, quickly went on a counter-offensive, driving the Germans back 90 miles from Moscow. German casualties were listed in the thousands, and Moscow would not be threatened the rest of the war.
While privately opposing the atrocities being committed against Soviet civilians, von Bock never protested directly to Hitler (although at one time, he had a subordinate file a formal complaint). After Hitler's suicide, von Bock gave his services to Admiral Karl Dönitz, the new leader of Germany. While in Hamburg, von Bock was killed in an Allied bombing raid on May 4, 1945.