Firth of Forth
From Academic Kids
Missing image
Edinburgh-Firth_of_Forth.jpg
Missing image
Bb-forthbridges.jpg
The Firth of Forth is the estuary or firth of Scotland's River Forth, where it flows into the North Sea between Fife to the north, and West Lothian, the City of Edinburgh, and East Lothian to the south. The river is tidal as far inland as Stirling, but generally it is considered that the inland extent of the firth ends at the Kincardine Bridge.
A large number of towns line the shores, as well as the petrochemical complexes at Grangemouth and Burntisland, the commercial docks at Leith, oilrig construction yards at Dalgety Bay and Methil and the naval dockyard at Rosyth, with numerous other industrial areas including the Forth Bridgehead area.
The Kincardine Bridge and the famous Forth Road Bridge and Forth Bridge carry traffic across the Firth.
The inner Firth, i.e. between the Kincardine and Forth bridges, has lost about half of its former intertidal area as a result of land being reclaimed, partly for agriculture, but mainly for industry.
The Firth is important for nature conservation. The Firth of Forth Islands SPA (Special Protection Area) is host to over 90,000 breeding seabirds every year. There is a bird observatory on the Isle of May.
Firth of Forth islands
Towns and villages on the shoreline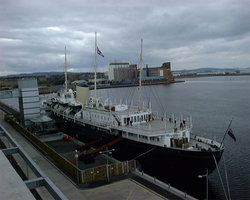 Places of interest along the Firth
External link