Leith
From Academic Kids
This article is about Leith, Scotland; see also other places called Leith .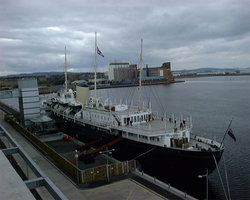 Leith is a town at the mouth of the Water of Leith and is the port of Edinburgh, Scotland. It lies on the south shore of the Firth of Forth, in the unitary local authority of City of Edinburgh.
History
Historically Leith and Edinburgh were separate, but growth over the centuries means that Leith and Edinburgh now form a contiguous urban area. Leith merged with Edinburgh in 1920.
Leith gained a charter as a royal burgh after the English army was successfully repelled at the Battle of Leith. An archway of the old Leith Citadel still stands.
The remains of the battlefield are now a park called the Leith Links. This was also the site of an early five hole golf course built in the 18th century. Leith lays claim to being "the home of golf" because the official rules of golf were initially formulated at Leith then later adopted by St Andrews.
The docks at Leith underwent severe decline in the post Second World War period, with the area gaining a reputation for roughness, drugs and prostitution.
At the end of the 20th century Leith saw redevelopment of the port area, initially because The Scottish Office, a government department - now the Scottish Executive - purchased a low cost site for one of its civil service offices. This in turn led to further service and tourist development including the Ocean Terminal complex and the permanently moored Royal Yacht Britannia.
Other points of interest
Leith is home to Hibernian FC, who play at the Easter Road ground.
Many of Irvine Welsh's books, most famously his debut novel Trainspotting, are partly set in Leith.
The Proclaimers had a hit with "Sunshine on Leith" describing the view from Fife.
The Pop Artist and sculptor Eduardo Paolozzi came from Leith.
Grand Theft Auto computer game developers Rockstar North are based in Leith.
Notable streets in Leith
Constitution Street | Great Junction Street | Leith Walk | Timber Bush