Brigham Young University
From Academic Kids
This is an article on a university; for the German airport (IATA-Code BYU) see Bindlacher Berg Airport.
---
Brigham Young University

Missing image
BYU_logo.png
Seal of Brigham Young University



Name

Brigham Young University

location (main campus)
Established
Community

Urban

Type

Private coeducational

Classification

Parochial

Religion

Owned by the LDS Church

Enrollment

32,400

Faculty

2,100

President
Nickname

Cougars

Mascot

Cougar

School Colors

Dark blue and beige

Motto

"Enter to learn, go forth to serve"

Newspaper

Daily Universe

Yearbook

Banyan (no longer issued)

Website

Link (http://home.byu.edu/webapp/home/index.jsp)

Email

Link (http://home.byu.edu/webapp/home/level3/feedback.jsp)
Brigham Young University (BYU, or simply the Y) was founded as Brigham Young Academy in 1875 by The Church of Jesus Christ of Latter-day Saints (LDS Church; see also Mormon).
It has grown to become the largest private university in the United States and one of the world's largest church-affiliated schools, with an enrollment of roughly 32,400 undergraduate students at the beginning of 2003. BYU is located in Provo, Utah, with sister schools in Lā'ie, Hawai'i (Brigham Young University-Hawaii) and Rexburg, Idaho (Brigham Young University-Idaho) serving an additional 12,000 students. The main campus sits on approximately 600 acres (2.43 km²) at the foot of the Wasatch Mountains and includes 333 buildings. Additional facilities include the BYU Jerusalem Center, the BYU Salt Lake Center, and the Joseph Smith Academy.
Demographics
Students from every state in the nation and from many foreign countries attend BYU (in 2001, 110 different countries were represented by more than 1,600 BYU students). Although students are not required to be Mormons, about 98% do belong to the church.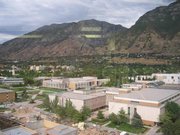 Academics
BYU offers bachelor's degrees in 198 academic programs, master's degrees in 69, doctorates in 27 and juris doctorates in one. The university is organized into 11 colleges.
BYU's Harold B. Lee Library, which in 2004 the Princeton Review ranked as the #1 "Great College Library", has more than 6 million items in its collections, contains 98 miles of shelving, and can seat 4,600 people.
Honor Code
All students and faculty must agree to adhere to a strict honor code. The BYU honor code governs academic behavior, morality, and dress and grooming standards of students and faculty, with the aim of providing an atmosphere consistent with church principles. Students must commit to being honest, chaste and virtuous; abstaining from illicit drugs, alcohol, tobacco, coffee and tea (substances forbidden by the Word of Wisdom); using clean language; and abiding by the guidelines for dress, grooming, and housing. For example, skirts and shorts must reach to the knee and shirts may not be sleeveless. Male students may not sport beards or goatees without permission, usually granted to men with severe skin conditions aggravated by shaving; or to men whose religious beliefs, such as Islam or Sikhism, require them to wear beards. Students must live either in on-campus housing or in off-campus housing which has been approved by the University. The specifics of the honor code provide a perpetual topic for discussion among the students and alumni.
Subsidization and religious education
LDS tithing funds subsidize roughly 80% of the cost of education at BYU, allowing affordable tuition for its students regardless of their membership in the LDS church, although tuition for students who are not Mormon is fifty percent above usual rates. In addition to fulfilling general-education requirements, students must complete 14 semester hours of specialized religious education which include some mandatory classes on LDS scripture.
Missing image
BYU_North.jpg
Reputation
BYU consistently receives national recognition for its strong undergraduate and graduate programs. U.S. News & World Report ranks BYU's Marriott School of Management and the J. Reuben Clark Law School in the top 40 in the country.
In the July 2002 edition of the Chronicle of Higher Education, BYU was recognized as the best in the nation at turning research dollars into inventions and new companies. Some notable inventions originating at BYU include a drug for treating a rare form of leukemia, water modeling software, and the modern word-processor. Philo T. Farnsworth developed some of his ideas for the creation of the television while attending BYU. Harvey Fletcher, a BYU alumnus, went on to carry out the now famous oil-drop experiment with Robert Millikan, and was later Founding Dean of the BYU College of Engineering.
Academic freedom
Like many other religious schools, BYU is often at the center of controversies regarding academic freedom. In 1992, the university drafted a new Statement on Academic Freedom. After receiving comment from faculty and others, the document was implemented by BYU administrators on September 14, 1992. This document specified that: "Because the gospel encompasses all truth and affirms the full range of human modes of knowing, the scope of integration for LDS scholars is, in principle, as wide as truth itself." However, citing BYU's role as a religious institution, the document allowed limitations to be placed upon "expression with students or in public that:
1. contradicts or opposes, rather than analyzes or discusses, fundamental Church doctrine or policy;
2. deliberately attacks or derides the Church or its general leaders; or
3. violates the Honor Code because the expression is dishonest, illegal, unchaste, profane, or unduly disrespectful of others.
...The ultimate responsibility to determine harm to the University mission or the church, however, remains vested in the University's governing bodies—including the University president and central administration and, finally, the board of Trustees."
Also in 1992, the university began including a clause in its faculty contracts requiring LDS faculty to "accept the spiritual and temporal expectations of wholehearted Church membership". In 1993, contracts further required LDS faculty to "accept as a condition of employment the standards of conduct consistent with qualifying for temple privileges." (referring to entry into LDS temples, for which one must meet certain standards such as the paying of tithing and the wearing of temple garments). In 1996, LDS faculty were required, as a condition of employment, to obtain the yearly endorsement of their local ecclesiastical leaders, which certified the faculty were "temple worthy".
Since its adoption in 1992, BYU's new academic freedom policy and its implementation have been widely criticized. In late 1992, the university's board of trustees vetoed without comment a BYU proposal to invite Pulitzer Prize winner and Harvard University professor Laurel Thatcher Ulrich, an active and devout Mormon feminist, to address the annual BYU Women's Conference. The university also began to dismiss or deny tenture to a number of its more dissident professors. In 1993, BYU denied tenure to Cecilia Konchar Farr, who had taken a personal pro-choice position on abortion, and to David Knowlton, who had critically discussed the church's missionary system at an indepentent Mormon forum. In 1996, BYU denied tenure to Gail T. Houston, a feminist, despite overwhelmingly positive votes from her English Department and the College Committee. Also in 1996, professor Brian Evenson resigned in protest after receiving a stern warning from BYU administration over some violent images in one of his short stories. Also in 1996, assistant professor Steven Epperson was dismissed after his local church leader refused to endorse him because of his failure to pay tithing, which made him ineligible for temple attendance.
In 1997, the American Association of University Professors (AAUP) issued a report (http://www.aaup.org/Com-a/Institutions/archives/1997/Brigham.pdf) documenting the cases of Houston, Farr, Knowlton, Evenson, Epperson, and others, concluding "that infringements on academic freedom are distressingly common and that the climate for academic freedom is distressingly poor". In 1998, the AAUP voted to enter BYU on its list of censured organizations, on which it remains to the present. The president of BYU at the time of the investigation and censure left office in 2003; the AAUP has subsequently sent the new president a description of the steps needed to have the censure removed.
Notable Programs
Study abroad program
BYU runs the largest study-abroad program in the United States, with satellite centers in London, Jerusalem, and Paris, as well as more than 20 other sites. The Institute of International Education ranks BYU as the number one university in the US to offer students study abroad opportunities; nearly 2,000 students take advantage of these programs yearly. BYU's motto is "The World is Our Campus".
(The BYU Jerusalem Center closed indefinitely in 2002 due to safety concerns related to the Second Intifada.)
Missing image
BYU_East.jpg
Language program
Seventy-five percent of the men and twelve percent of the women at BYU have served as missionaries for The Church of Jesus Christ of Latter-day Saints, with roughly half serving in non-English speaking regions. Seventy-two percent of the student body speaks a second language, and many faculty are fluent in at least one language other than English. During any given semester, roughly twenty-five percent of the student body may be enrolled in language courses—a rate three times the national average. BYU is renowned for its depth of foreign language and linguistic training, offering courses in 74 different languages (according to President Bateman, Fall 2002), many with advanced courses which are seldom offered elsewhere. The multi-lingual student body proved to be a valuable resource for the 2002 Winter Olympics.
Foreign film program
BYU's International Cinema is the largest and longest-running foreign film program in the country, showing 20 screenings per week to roughly 1,000 people. Its main purpose is to supplement the curriculum of the College of Humanities and the Honors Program with culturally and linguistically diverse films.
Independent study program
BYU's Department of Independent Study is accredited by the Northwest Association of Accredited Schools (NAAS), the Northwest Commission on Colleges and Universities (NWCCU), and the Commission on International and Transregional Accreditation (CITA). The department offers courses to nearly 500,000 students every year, many to students in countries outside the United States.
Dance performance and DanceSport programs
The BYU Ballroom Dance Company is known as one of the best formation ballroom dance teams in the world. The NDCA National DanceSport championships have been held at BYU for many years, and BYU holds dozens of ballroom dance classes each semester, totalling thousands of students per semester, making it by far the largest ballroom dance program in the US.
Sports programs
From the late 1970s until the mid-1990s, BYU had an outstanding football program. In 1984, BYU's football team went undefeated to become the NCAA Division I-A national football champions. This was the first and only time that BYU won the football national championship. They became champs by beating Michigan in the Holiday Bowl in San Diego, marking the first time that a number-one ranked college football team did not play in a New Year's Day bowl game. Some like NBC's Bryant Gumbel and Oklahoma coach Barry Switzer criticized BYU for having a weak schedule in 1984. It didn't matter however, since BYU was undefeated and they had attained the number one ranking in the AP, UPI, and other polls.
In 1990, quarterback Ty Detmer won college football's most prestigious individual award, the Heisman Trophy. Detmer is the only BYU football player ever to win the award. During the 1990 season, BYU defeated the number-one ranked Miami Hurricanes in Provo. Detmer passed for 5,188 yards and 41 touchdowns during this season.
The head football coach during BYU's football glory years was LaVell Edwards. Edwards is a legend among college football coaches, winning 257 games over a span of 29 years. Only five other head coaches have won more games. He was twice awarded with coach of the year awards (in 1979 and in 1984). Edwards' last season as head coach was in 2000; upon his retirement, BYU renamed its football venue from Cougar Stadium to LaVell Edwards Stadium in his honor. (Sources:http://www.byucougars.com/football/history/honors.html; http://web.ksl.com/TV/byufb/01year.htm).
During BYU's football glory days, the school colors were bright royal blue and white. At the beginning of the 1999 season, the school colors got a makeover, switching to dark blue and tan.
The BYU women's cross-country team won the NCAA National Championship in 1997, 1999, 2001, and 2002. BYU has also won NCAA National Championships in golf, track, and men's volleyball (3 times: in 1999, 2001, and 2004). The school colors are blue, white and tan and its mascot is Cosmo the Cougar and its primary conference is the Mountain West Conference. Its men's volleyball team plays in the Mountain Pacific Sports Federation. BYU's men's soccer club participates as a university-owned franchise in the United Soccer Leagues' Premier Development League.
BYU also has a strong intramural sports program, offering more than 30 sports and involving more than 10,000 participants each year.
Culture
BYU's social and cultural atmosphere is unique and often conflicted. The high rate of enrollment at the University by members of the LDS Church results in an amplification of LDS cultural norms which is often caricatured.
What makes BYU most unique is probably that most of its students abstain from all forms of alcohol, tobacco, and drugs. The majority of the students likewise avoid premarital sex. This surely sets the university apart from other American universities. They avoid these things because of their LDS (Mormon) beliefs.
The confluence of students from predominantly Mormon communities from Utah and other parts of the Western United States with that of students from regions where Mormonism is much less prevalent results in intrareligious conflicts that are played out on a campus-wide stage.
One of the characteristics of BYU most often noted (and derided) is its reputation for emphasizing a "marriage culture". LDS Church members highly value marriage and family, as well as marriage within the faith. Consequently, the enormous population of LDS single adults in and around Provo makes it a mecca for singles in the church, irrespective of their affiliation with BYU. BYU's "meat market" reputation is well known both within and without the BYU community, and is encouraged to some extent by the school's administrators and ecclesiastical leaders, who publicly highlight "successful" marriage statistics (http://saas.byu.edu/depts/graduation/statistics.aspx).
The perception of BYU as a glorified Mormon dating service, combined with the high esteem in which most Mormons hold stay-at-home mothers and breadwinner/homemaker marriages, has resulted in stereotype of the female BYU student more interested in marriage than education—in a popular phrase, "Pursuing her MRS." (MRS. aspirants traditionally major in Child Development or Marriage & Family Home Development [MFHD], programs regarded by most within the LDS church as a "vocational homemaker's major"). Derogatory nicknames for the school include "B-Y-Woo", "Bring'em Young University" and "Breed'em Young University".
Most BYU students are acutely aware of the marriage stereotype, and many female students who attend the school go out of their way to defy it (earning the unflattering nickname of "Mormon nuns"), even as others contribute by dropping out before graduation due to marriage and subsequent pregnancy. The reality is slightly more nuanced, as statistical analysis bears out. 56.3% of the men and 42.4% of the women in BYU's class of 2004 were married (the average age at graduation being 24.3). Marriage statistics for the state of Utah as a whole indicate that BYU's marriage rate falls well within that of the state in general, with the median age at marriage in Utah being 23 for men, and 21 for women. It should be noted, however, that the percentage of married students at BYU is much higher than at most other universities, and the median age of marriage in Utah is significantly lower than in the United States as a whole. In regards to marriage, BYU is thus best described as a reflection of the cultural practices of the Mormon population as a whole (and particularly that of the Mountain West, which is significantly more culturally conservative than Mormon populations elsewhere within the United States), rather than as an outlier.
BYU's large body of students who have served as missionaries for the LDS Church significantly shapes the institution's culture. Young men are strongly encouraged to serve full two-year missions for the LDS (Mormon) church at age 19. Consequently, most men attend BYU for their freshman year and then take a two year break from school to serve the mission. The average male sophomore at BYU is thus 21 years old. Although LDS girls can also serve missions, the church does not encourage them to do so. Additionally, missions for LDS females are only 18 months in duration, and females are not permitted to serve missions until reaching 21 years of age.
Perceptions
Although BYU is held in high regard by many employers, there is a good deal of antagonism toward BYU both from inside and outside of the Mormon community. The LDS Church's racial policies attracted a great deal of protest in the 1960s, with African-American athletes frequently boycotting athletic events at which BYU competed. (The most notable examples of this were a football game forfeited by the heavily black University of Wyoming team in 1969, and the refusal of Texas El-Paso long jumper Bob Beamon--who set a world record in the long jump at the 1968 Olympic Games in Mexico City--to participate in a track meet against BYU in the spring of that year.) While the LDS church's 1978 renunciation of its previous doctrines on race eliminated most of this hostility, traces of lingering resentment against the school remain in many African-American communities.
Some of the most vitriolic opinions about BYU are held by LDS students at colleges and universities elsewhere in the US, proud to be in "the real world" instead of immersed in BYU's "bubble" of shallowness, focus on appearances, and casualness toward marriage. (The fiercely secular University of Utah, in particular, is perceived as the nearly complete opposite of BYU, and is renowned as an outpost of leftism in the nation's most conservative state.) BYU students and alumni often contribute (with varying levels of knowingness) to this perception, displaying chauvinistic attitudes toward even the most elite secular universities such as the Ivy League schools, and often adopting the much-despised Utah practice of referring to areas outside of the mountain West as "the mission field". The nonchalance of many BYU students toward the weekly (and sometimes even more frequent) visits by the LDS Church's General Authorities is also a source of frustration for students in places where such visits occur once or twice a year, if at all.
On the other hand, many visitors to BYU, and the Utah Valley as a whole, report being surprised at the genuinely wholesome environment. Very few BYU students consume alcohol, tobacco, and illegal substances. According to the Uniform Crime Reports, crime is low; violent crime is also low. Provo and Orem are, however, major centers of methamphetamine manufacturing and distribution, perhaps owing to the drug's popularity among Utah teenagers and the proximity of Interstate 80 and Interstate 15. The Princeton Review has rated BYU the "#1 stone cold sober school" for several years running, an honor on which LDS Church president Gordon B. Hinckley has often commented with pride. The school's straight-laced reputation is a major selling point in athletic recruiting: as non-LDS players (particularly African-Americans from inner cities) have become ever more important to the school's teams, BYU's wholesomeness is often attractive for parents who have raised their children in conservative environments.
Notable alumni
See also
External links
Template:Mountain West Conferencees:Brigham Young University fr:Brigham Young University