U.S. presidential election, 2008
From Academic Kids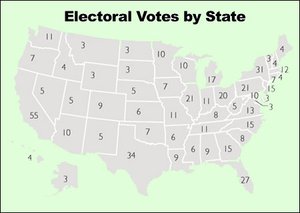 The U.S. presidential election of 2008 is scheduled to occur on November 4, 2008. The allocation of electoral votes to each state will remain the same for this election as it was for the election in 2004, relying on the 2000 Census.
The shape of presidential battles
Recent elections have revolved around the dominant Democratic and Republican parties, although many candidates seek election to the presidency. In recent presidential elections, however, minor parties such as the Green, Libertarian, and Reform parties, as well as Ross Perot's 1992 independent candidacy, have occasionally had a significant impact on both the tone of the campaigns and sometimes the outcome of the election. Modern third parties allow a broad choice to voters who are not satisified that their views are represented by either of the major parties. They raise the potential of affecting the outcome in close races by pulling votes away from one major party that might have gone to it if the ballot didn't include those alternatives and thereby potentially leading to victory for the other major party less affected by appeal of a particular third party to its voter base. Some political observers believe that in the 2000 race the extremely close vote total balance between Republicans and Democrats in Florida was affected by the votes that went instead to other parties and that the outcome might have been different if they were not on the ballot.
In 2008, President Bush will be prohibited from seeking a third term by Amendment XXII to the US Constitution. In the last three eight-year administrations, the incumbent vice president has gone on to run for president at the end of the eight years: Dwight D. Eisenhower's vice president Richard Nixon in the 1960 election, Ronald Reagan's vice president George H. W. Bush in the 1988 election and Bill Clinton's vice president Al Gore in the 2000 election.
However, current Vice President Dick Cheney announced in 2001 that he would never run for President. In 2008 he will be 67 years old. In 2004, while appearing on Fox News Sunday, he said "I will say just as hard as I possibly know how to say ... 'If nominated, I will not run,' 'If elected, I will not serve,' or not only no, but 'Hell no,' I've got my plans laid out. I'm going to serve this president for the next four years, and then I'm out of here." Nonetheless, Bob Woodward raised eyebrows in 2005 by stating that Cheney was a "serious darkhorse" candidate for the GOP nomination 2008 [1] (http://news.yahoo.com/news?tmpl=story&u=/ep/20050519/en_bpiep/helenthomasproposesplatformforcheney08). Assuming that George W. Bush, who was re-elected in 2004, remains in office through 2008, then the 2008 race will be a non-incumbent or open seat election; that is, one in which a sitting president is not a candidate. Furthermore, the 2008 race will be the first time since 1952 and only the second time since 1928 that neither the sitting president nor the sitting vice-president is a candidate for president if Cheney does not run.
Timeline
Early fundraising and primaries
Candidates of the Constitution, Democratic, Green, Libertarian, Republican, Socialist and other parties have begun making their plans known as early as 2005, and candidates will emerge during 2006 and 2007 because of the long lead time for fund-raising. Federal election laws require the reporting of funds raised for the primary elections, and in the past the media has anointed "front-runners" on the basis of reported fund-raising totals. For example, this occurred with Howard Dean in the 2004 electoral cycle, although he was initially considered a long-shot.
Beginning in January 2008, the first primary contests will be held in Iowa (caucus) and New Hampshire (primary) and perhaps other states to select delegates to the party conventions. The primaries continue through June, but in previous cycles, including 2004, the candidates were effectively chosen by the March primaries.
Later events
Politicians pursuing a 2008 candidacy
While it is rare for candidates to officially declare their candidacy prior to late in the year preceding the presidential election (in this case, 2007), some potential candidates may have expressed their interest in running, and are listed below. At this early stage, many of the strongest candidates have yet to emerge, and these lists include few of the political figures who excite speculation amongst political activists, insiders, and media commentators.
Democrats
Declared Candidates
Possible Candidates
(a) This was backed up by an AP wire story at http://politicalwire.com/archives/2005/03/25/barbara_bush_says_hillary_clinton_will_lose_in_2008.html, but this link is no longer active.
Republicans
Since George W. Bush will not be able to run again, unless the 22nd Amendment to the United States Constitution is overturned by another Amendment, and since Dick Cheney has said he will not run for office, a statement generally believed, this will put the burden on the Republicans to find a new candidate. It will be the first time that the incumbent party has put forth a candidate for President who is not currently President or Vice President since the U.S. presidential election of 1952. It will be the first time the Republicans have faced this situation since the U.S. presidential election of 1928.
George Felix Allen -- Current U.S. Senator and former governor of Virginia as of May 2nd, 2005, a survey of 75 Washington insiders conducted by National Journal's The Hotline reveals that he is considered to be the current front-runner for the GOP party nomination.
Sam Brownback, senior U.S. senator from Kansas. In April 2005, the Associated Press reported that Brownback, who is little known outside his home state, "is using a network of social conservatives and Christian activists to raise his profile" in such battleground states as Iowa and New Hampshire. [16] (http://story.news.yahoo.com/news?tmpl=story&cid=548&ncid=696&e=10&u=/ap/20050402/ap_on_el_ge/brownback2008) [17] (http://www.msnbc.msn.com/id/8017004/site/newsweek/)
Newt Gingrich, former Speaker of the U.S. House of Representatives and former U.S. Representative from Georgia. According to the Associated Press, "The former House speaker who led Republicans to power a decade ago said he soon will visit Iowa and New Hampshire to promote his book, try to influence public policy and keep his political options alive." The AP reported him as saying "Anything seems possible," including a White House race. [18] (http://www.usatoday.com/news/washington/2005-01-08-gingrich-white-house_x.htm?csp=34)
Mike Huckabee, governor of Arkansas. An Arkansas News Bureau Report[19] (http://www.arkansasnews.com/archive/2005/05/22/JohnBrummett/321715.html) indicates that Huckabee has told close friends that he will seek the nomination. There is at least one Draft Huckabee site online -[20] (http://mikehuckabeepresident2008.blogspot.com/).
John McCain, U.S. Senator from Arizona. Often characterized as a Republican maverick in the Senate, he is a well-known political figure in America. Despite his strong pro-life stance, his willingness to compromise on judicial nominations has drawn the ire of conservative groups, many of which have vowed to work against any McCain campaigns for the Republican nomination in 2008. In 2000 he lost the Presidential nomination to George W. Bush. [21] (http://www.washingtonpost.com/wp-dyn/content/article/2005/05/24/AR2005052401253.html) [22] (http://www.thehill.com/thehill/export/TheHill/News/Frontpage/052505/mccain.html)
George Pataki, governor of New York. Considered something of a dead man walking as Governor, and unlikely to defeat Hillary Clinton for her Senate seat, Pataki has held meetings with his advisors and has quietly indicated that he's very interested in the Republican nomination.[23] (http://www.ny1.com/ny1/content/index.jsp?&aid=50607&search_result=1&stid=3)
Mike Pence, U.S. Congressman from Indiana, Chairman of the Republican Study Committee, has been mentioned in several articles [24] (http://thehill.com/thehill/export/TheHill/News/Frontpage/031705/gop.html) [25] (http://www.washingtonpost.com/wp-dyn/articles/A54940-2005Mar21.html) [26] (http://acuf.org/issues/issue21/040928news.asp) lately as a rising star in the Republican party and as a presidential contender [27] (http://acuf.org/issues/issue34/050415pol.asp) for 2008. There are already at least three websites up hoping to recruit Mike Pence into the 2008 race - [28] (http://mikepence2008.blogspot.com/), [29] (http://www.tblog.com/templates/index.php?bid=ajhankin), and [30] (http://presidential2008.blogspot.com/).
Mitt Romney, governor of Massachusetts. WFXT, a Boston FOX affiliate, reports that Romney supporters have been quietly laying the groundwork for a presidential campaign. On February 21, 2005 he spoke before South Carolina Republicans; the winner of the South Carolina primary has gone on to be the Republican nominee in every election since 1980. [31] (http://www.cnn.com/2005/ALLPOLITICS/02/22/gop.romney.ap/index.html). Romney is supported by Utah Governor Jon Huntsman, Jr., who has been working on issue papers for Romney. [32] (http://deseretnews.com/dn/view/0,1249,600136538,00.html).
Tom Tancredo, U.S. Congressman from Colorado and leading advocate for securing U.S. borders. The Associated Press reported Jun 12, 2005 that "he is so dissatisfied with the pace and direction of immigration reform, he is considering running for president to deal with it himself." Tancredo has visited early presidential primary states New Hampshire and Iowa to begin building popular support.
Libertarians
Michael Badnarik, 2004 presidential nominee. Badnarik announced his intentions to run in 2008 in November 2004.
Independents
Jesse Ventura, former governor of Minnesota. According to the USA Today, Ventura "speaks like a man preparing to be a candidate" and will make a decision in 2005 in order to have time to obtain ballot access should he run. [33] (http://www.usatoday.com/news/politicselections/2004-04-15-ventura-white-house_x.htm) He says that as with his tenure as governor, if elected President he would govern from his family home in Minnesota rather than move to Washington.
Opinion polling
General election
| Poll Source | Date | Democrat | % | Republican | % |
| --- | --- | --- | --- | --- | --- |
| Rasmussen Reports Poll (http://www.rasmussenreports.com/2005/McCain%20Giuliani%20Hillary.htm) | April 25-26, 2005 | Hillary Clinton | 38% | John McCain | 45% |
| Rasmussen Reports Poll (http://www.rasmussenreports.com/2005/McCain%20Giuliani%20Hillary.htm) | April 25-26, 2005 | Hillary Clinton | 40% | Rudy Giuliani | 42% |
| Marist College Poll (http://www.pollingreport.com/2008.htm) | April 18-21, 2005 | Hillary Clinton | 42% | John McCain | 50% |
| Marist College Poll (http://www.pollingreport.com/2008.htm) | April 18-21, 2005 | Hillary Clinton | 46% | Rudy Giuliani | 47% |
| Marist College Poll (http://www.pollingreport.com/2008.htm) | April 18-21, 2005 | John Kerry | 41% | John McCain | 51% |
| Marist College Poll (http://www.pollingreport.com/2008.htm) | April 18-21, 2005 | Hillary Clinton | 55% | Jeb Bush | 38% |
| Marist College Poll (http://www.pollingreport.com/2008.htm) | April 18-21, 2005 | John Kerry | 46% | Rudy Giuliani | 48% |
| Marist College Poll (http://www.pollingreport.com/2008.htm) | April 18-21, 2005 | John Edwards | 43% | John McCain | 46% |
| Marist College Poll (http://www.pollingreport.com/2008.htm) | April 18-21, 2005 | John Edwards | 48% | Rudy Giuliani | 45% |
| Moore Information (R) (http://www.pollingreport.com/2008.htm) | March 21-23, 2005 | Hillary Clinton | 38% | John McCain | 49% |
| Moore Information (R) (http://www.pollingreport.com/2008.htm) | March 21-23, 2005 | Hillary Clinton | 41% | Rudy Giuliani | 47% |
| Democracy Corps Poll (D) (http://www.pollingreport.com/2008.htm) | March 15-21, 2005 | Hillary Clinton | 50% | Jeb Bush | 47% |
| Quinnipiac University Poll (http://www.pollingreport.com/2008.htm) | March 2-7, 2005 | Hillary Clinton | 43% | Rudy Giuliani | 44% |
| Quinnipiac University Poll (http://www.pollingreport.com/2008.htm) | March 2-7, 2005 | Hillary Clinton | 41% | John McCain | 43% |
| Marist College Poll (http://www.pollingreport.com/2008.htm) | Feb. 14-16, 2005 | Hillary Clinton | 42% | John McCain | 54% |
| Marist College Poll (http://www.pollingreport.com/2008.htm) | Feb. 14-16, 2005 | John Kerry | 37% | John McCain | 55% |
| Marist College Poll (http://www.pollingreport.com/2008.htm) | Feb. 14-16, 2005 | Hillary Clinton | 47% | Rudy Giuliani | 49% |
| Marist College Poll (http://www.pollingreport.com/2008.htm) | Feb. 14-16, 2005 | John Kerry | 44% | Rudy Giuliani | 50% |
| Marist College Poll (http://www.pollingreport.com/2008.htm) | Feb. 14-16, 2005 | John Edwards | 39% | John McCain | 51% |
| Westhill Partners/Hotline Poll (http://www.pollingreport.com/2008.htm) | Jan. 25-27, 2005 | Hillary Clinton | 46% | Jeb Bush | 37% |
| Marist College Poll (http://www.pollingreport.com/2008.htm) | Feb. 14-16, 2005 | John Edwards | 43% | Rudy Giuliani | 49% |
| Westhill Partners/Hotline Poll (http://www.pollingreport.com/2008.htm) | Feb. 24-27, 2005 | Bill Richardson | 36% | Arnold Schwarzenegger | 27% |
| Marist College Poll (http://www.pollingreport.com/2008.htm) | Feb. 14-16, 2005 | Hillary Clinton | 51% | Condoleezza Rice | 43% |
| Rasmussen Reports Poll (http://www.rasmussenreports.com/2005/Election%202008--Kerry,%20Clinton,%20Rice.htm) | Jan. 29-30, 2005 | Hillary Clinton | 47% | Condoleezza Rice | 40% |
| Rasmussen Reports Poll (http://www.rasmussenreports.com/2005/Election%202008--Kerry,%20Clinton,%20Rice.htm) | Jan. 29-30, 2005 | John Kerry | 43% | Condoleezza Rice | 45% |
| FOX News/Opinion Dynamics (http://www.pollingreport.com/2008.htm) | Dec. 14-15, 2004 | John Kerry | 45% | Jeb Bush | 37% |
| FOX News/Opinion Dynamics (http://www.pollingreport.com/2008.htm) | Dec. 14-15, 2004 | Hillary Clinton | 46% | Jeb Bush | 35% |
| FOX News/Opinion Dynamics (http://www.pollingreport.com/2008.htm) | Dec. 14-15, 2004 | Hillary Clinton | 41% | George Pataki | 35% |
| FOX News/Opinion Dynamics (http://www.pollingreport.com/2008.htm) | Dec. 14-15, 2004 | Hillary Clinton | 40% | Bill Frist | 33% |
| Quinnipiac University Poll (http://www.pollingreport.com/2008.htm) | Dec. 7-12, 2004 | Hillary Clinton | 43% | Rudy Giuliani | 45% |
Democratic candidate
| Poll Source | Date | Highlights |
| --- | --- | --- |
| FOX News/Opinion Dynamics Poll (http://www.pollingreport.com/2008.htm) | June 14-15, 2005 | Hillary Clinton 44%, John Kerry 17%, John Edwards 13%, Joe Biden 6%, Wesley Clark 2%, Evan Bayh 1%, Mark Warner 1% |
| Marist College Poll (http://www.pollingreport.com/2008.htm) | April 18-21, 2005 | Hillary Clinton 40%, John Kerry 18%, John Edwards 16%, Joe Biden 7%, Wesley Clark 4%, Russ Feingold 2%, Bill Richardson 1% |
| Marist College Poll (http://www.pollingreport.com/2008.htm) | Feb. 14-16, 2005 | Hillary Clinton 39%, John Kerry 21%, John Edwards 15%, Joe Biden 5%, Wesley Clark 4%, Russ Feingold 2%, Bill Richardson 2%, Mark Warner 1%, Evan Bayh 1% |
| CNN/U.S.A Today/Gallup (http://www.usatoday.com/news/polls/tables/live/2005-02-07-poll-results.htm#2008) | Feb. 10th, 2005 | Hillary Clinton 40%, John Kerry 25%, John Edwards 17%, Other 6% |
| CNN/U.S.A Today/Gallup (http://www.pollingreport.com/2008.htm) | Feb. 4-6, 2005 | Hillary Clinton 40%, John Kerry 25%, John Edwards 18%, Other 6% |
| Ipsos-Public Affairs (http://www.pollingreport.com/2008.htm) | Dec. 17-19, 2004 | Hillary Clinton 33%, John Kerry 19%, John Edwards 15%, Wesley Clark 11% |
| Gallup Poll (http://www.pollingreport.com/2008.htm) | Nov. 7-10, 2004 | Hillary Clinton 25%, John Kerry 15%, John Edwards 7% |
Republican candidate
| Poll Source | Date | Highlights |
| --- | --- | --- |
| FOX News/Opinion Dynamics Poll (http://www.pollingreport.com/2008.htm) | June 14-15, 2005 | Rudy Giuliani 29%, John McCain 26%, Newt Gingrich 9%, George Allen 3%, Bill Frist 3%, Mitt Romney 2% |
| Marist College Poll (http://www.pollingreport.com/2008.htm) | April 18-21, 2005 | Rudy Giuliani 27%, John McCain 20%, Jeb Bush 10%, Newt Gingrich 8%, Bill Frist 3%, Rick Santorum 3%, George Pataki 2%, Mitt Romney 1%, Chuck Hagel 1%, Haley Barbour 1% |
| Marist College Poll (http://www.pollingreport.com/2008.htm) | Feb. 14-16, 2005 | Rudy Giuliani 25%, John McCain 21%, Condoleezza Rice 14%, Jeb Bush 7%, Newt Gingrich 5%, Bill Frist 3%, Rick Santorum 1%, George Pataki 1%, Mitt Romney 1%, Bill Owens 2% |
| CNN/U.S.A Today/Gallup (http://www.usatoday.com/news/polls/tables/live/2005-02-07-poll-results.htm#2008) | Feb. 10th, 2005 | Rudy Giuliani 34%, John McCain 29%, Jeb Bush 12%, Bill Frist 6%, Other 7% |
| CNN/U.S.A Today/Gallup (http://www.pollingreport.com/2008.htm) | Feb. 4-6, 2005 | Rudy Giuliani 33%, John McCain 30%, Jeb Bush 12%, Bill Frist 7%, Other 6% |
| Ipsos-Public Affairs (http://www.pollingreport.com/2008.htm) | Dec. 17-19, 2004 | Rudy Giuliani 29%, John McCain 25%, Bill Frist 7%, Jeb Bush 7% |
| Gallup Poll (http://www.pollingreport.com/2008.htm) | Nov. 7-10, 2004 | John McCain 10%, Rudy Giuliani 10%, Colin Powell 7%, Jeb Bush 3% |
List of Polls (http://www.pollingreport.com/2008.htm)
See also
Template:Uspresidentialelections
References
External links