John McCain
From Academic Kids
Alternative meanings: John S. McCain, Sr., John S. McCain, Jr.
John Sidney McCain III (born August 29, 1936) is an American politician. Considered a maverick Republican, McCain has been a U.S. Senator from Arizona since 1987, winning re-election in 1992, 1998, and 2004. He was a presidential candidate in the 2000 election, but was defeated in the Republican primaries by then-Texas Governor and now President George W. Bush.
Prior to entering Federal politics, McCain was a commissioned officer in the United States Navy and a Vietnamese prisoner of war. He was honorably discharged from the Navy in 1981.
Early life
McCain was born in the Panama Canal Zone, the son and grandson of prominent U.S. Navy admirals (John S. McCain, Jr. and John S. McCain, Sr.). He attended Episcopal High School and graduated in 1954. McCain then followed in his fathers' footsteps to the United States Naval Academy, graduating in 1958. In 1965, McCain married Carol Shepp, a model originally from Philadelphia, Pennsylvania. The couple would divorce in 1980.

Vietnam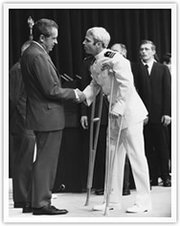 A naval aviator, John McCain was stationed aboard the USS Forrestal where, on July 29, 1967, he escaped death when a missile accidentally launched across the ship, striking John McCain's A-4 Skyhawk. The impact ruptured the fuel tank on McCain's aircraft, the leaking fuel instantly ignited, and knocked a bomb into the fire. John McCain escaped from his jet by climbing out of the cockpit, walking down to the nose of the plane, and jumping off the nose boom. A minute and a half after the impact, the bomb exploded underneath McCain's plane, starting a major fire which killed 134 sailors and nearly threatened to destroy the ship.
Video tape shot aboard the Forrestal shows McCain narrowly escaping the explosion.
Later in 1967, he was shot down over Vietnam, and was held as a prisoner of war in Hanoi for five-and-a-half years. When the North Vietnamese discovered he was the son and grandson of admirals, he was offered a chance to go home, but he refused to break the military code that POWs are released in the order that they are captured.
He was finally released from captivity in 1973, having survived the injuries he received when he was shot down, the beatings from an angry crowd and his captors, a year of torture, and two years of solitary confinement. Once released, his POW injuries prevented him from receiving a sea command, so in 1977, he became a Navy's liaison to the Senate. He was discharged from the Navy in 1981 as a Captain, on the day he watched his father buried next to his grandfather, in Arlington National Cemetery. During his military career he received a Silver Star, a Bronze Star, the Legion of Merit, the Purple Heart, and a Distinguished Flying Cross.
Political career
When John Jacob Rhodes, the longtime congressman from Arizona's First Congressional district, announced his retirement, McCain ran for the seat in 1982 and won it. In 1986, upon Senator Barry Goldwater's retirement, McCain was elected to succeed him. His campaign was partially financed by Charles Keating, who had also contributed to his House campaigns. McCain's involvement in the Keating Five scandal may have led to his later support of campaign finance reform.
Race for President 2000
In 1997, TIME magazine named him as one of the "25 Most Influential People in America." His best-selling book, Faith of my Fathers (1999, ISBN 0375501916), helped propel his presidential run. McCain ran in the 2000 presidential Republican primary, winning in New Hampshire, Michigan, Arizona, Rhode Island, Connecticut and Vermont. He also gave a strong showing in Washington State, where he lost by 2,730 votes statewide, as well as in South Carolina and Maine. The primary in South Carolina was especially important, as a McCain victory probably would have put him on the track to nomination. His loss has been attributed to a combination of a saturation campaign by George W. Bush to mobilise the state's religious vote and the general reluctance of the American people to elect a senator to an executive position.

Many current polls have him as one of the leading candidates in the 2008 Republican Primary, but McCain has not given a definitive answer as to whether or not he will pursue the nomination in 2008. He will be 72 by the time the elections roll around in 2008, making him 2 years older than the oldest elected president Ronald Reagan.
Campaign finance reform
One of McCain's main passions in his national political career has been the topic of campaign finance reform. In spite of voting against such measures initially, since 1992, McCain has repeatedly tried to pass legislation regulating campaign financing, finally achieving a major victory in 2002. That year, Congress passed a key campaign finance reform bill, the Bipartisan Campaign Reform Act of 2002, co-sponsored by Senator Russ Feingold and hence also known as the McCain-Feingold bill. It was immediately challenged on constitutional grounds, but was narrowly upheld by the Supreme Court on December 10, 2003, in an expedited hearing and ruling.
Political views
McCain doesn't fit neatly into any one political wing. He is conservative on many military and social issues, but more liberal on fiscal issues. Some Republicans have called him a Republican In Name Only. He once fought against funding the construction of a new aircraft carrier, saying the money should be spent on the 12,000 families of the enlisted who were on food stamps. He is strongly pro-life and equally strong against tobacco. He was also one of the strongest supporters of the War in Iraq and his speech at the 2004 Republican National Convention centered around that theme. His appeal during the 2000 presidential campaign was based on honesty, style and personal image rather than any label of liberal or conservative. Because of this, some of his supporters have encouraged him to seek higher office, including the presidency, and he has been suggested as a Republican Presidential possibility in the 2008 election.
In 2004, the idea of Democratic presidential nominee John Kerry naming McCain as his vice-presidential nominee was floated. Many political pundits in the United States, especially those who support the Democratic Party, supported the idea, but McCain remained supportive of the Republican Party. Kerry eventually chose fellow Democratic Senator (and primary opponent) John Edwards. McCain and Kerry remain good friends and political opponents.
Because of his quick temper and independence in the Senate, he is sometimes called a "maverick senator." He fights against pork barrel spending and supports expanded legislation on health care and education. McCain was principally responsible for forcing a re-evaluation of the USAF KC-767 leasing contract. He criticized the Pentagon several times, also about troop strength in Iraq (this is viewed by some as a political move). [1] (http://www.cnn.com/2004/ALLPOLITICS/12/05/mccain.pentagon/index.html) He has also been noted for opposition to President Bush's tax cuts.
At the 2004 Republican National Convention, he referred to Michael Moore as a disingenuous filmmaker without actually naming him by name. This was met with thunderous applause from the audience, after which he repeated the phrase. McCain has also generally supported moves to expand immigration to the US[2] (http://grades.betterimmigration.com/testgrades.php3?District=AZ&VIPID=33)-including expansion of the H-1b visa program. In 2005, he co-sponsored a bill [3] (http://www.dailykos.com/story/2005/5/13/112653/285) with Ted Kennedy that would expand use of guest worker visas.
McCain hasn't been afraid to criticize the Bush Administration. After a controversial meeting in Kuwait, he demanded the resignation of Secretary of Defense Donald Rumsfeld. (This could also be seen as a political move as Don Rumsfeld was not popular at this time.) However, he has been a very strong supporter of the Bush White House's decision to remove Saddam Hussein from power and their foreign policy in general. John McCain can be seen as a mix between a neo-conservative and a centrist.
McCain lives with his second wife Cindy Hensley McCain, chair of the large Anheuser-Busch beer and liquor distributor Hensley Distributing founded by her father, [4] (http://www.mccain2000.com/contents/welcome/biographies/cindy.shtml) in Phoenix. He has seven children; three with his first wife and four with his second. He and Cindy adopted their youngest daughter after discovering her in a Bangladeshi orphanage. He has four grandchildren.
"The Gang of 14"
On May 23, 2005, McCain was one of fourteen moderate senators to forge a compromise on the Democrats' use of the judicial filibuster, thus blocking the Republican leadership's attempt to implement the so-called "nuclear option". Under the agreement, the Democrats would retain the power to filibuster a Bush judicial nominee only in an "extraordinary circumstance", the Republicans involved agreed to vote against the nuclear option if implemented, and three of the most contested Bush appellate court nominees (Janice Rogers Brown, Priscilla Owen and William Pryor) would receive a vote by the full Senate. See Gang of 14.
2008
In an interview in the June 2005 edition of Men's Journal magazine, McCain said that he "absolutely" would like to be President of the United States, but has not yet decided whether or not he will run again in 2008. He indicated that he would probably not make a firm decision until 2007 about another run at the White House citing family and Senate responsibilities. He also dismissed concerns about his age and past health concerns stating that his condition was "excellent."
Works
Why Courage Matters: The Way to a Braver Life by John McCain, Mark Salter (Random House, April 2004) ISBN 1400060303
Odysseus in America by Jonathan Shay, Max Cleland, John S. McCain (Scribner, November 2002) ISBN 0743211561
Worth the Fighting for: A Memoir by John McCain, Mark Salter (Random House, September 2002) ISBN 0375505423
Unfinished Business: Afghanistan, the Middle East and Beyond--Defusing the Dangers That Threaten America's Security by Harlan Ullman, John S. McCain (Citadel Press, June 2002) ISBN 0806524316
Faith of My Fathers by John McCain, Mark Salter (Random House, August 1999) ISBN 0375501916
The Reminiscences of Admiral John S. McCain, Jr., U.S. Navy (retired) by John S. McCain (U.S. Naval Institute, 1999) ISBN B0006RY8ZK
External links