Royal Jordanian
From Academic Kids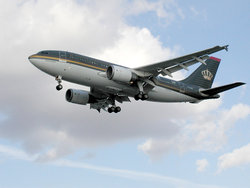 Royal Jordanian Airlines is an airline based in Amman, Jordan. It operates scheduled international services over four continents. Its main base is Queen Alia International Airport (AMM), Amman.
Code Data
History
The airline was established on 9 December 1963 and started operations on 15 December 1963 after a decree by His Majesty the late King Hussein. The airline was named Alia to honor the King's daughter. It was founded with capital from private shareholders who were later bought out by the Jordanian government to provide substantial funding to expand operations. Alia Jordanian Airlines started with only a handful of airplanes and three international routes, to Kuwait City, Beirut and Cairo. Two Handley Page Dart Heralds and a Douglas DC-7 were used. 1964 saw another DC-7 arrive and services to Jeddah inaugurated. In 1965, Alia touched down in Europe for the first time, with Rome added to the route system. All the progress the airline made was threatened by the Israeli air raid during the 1967 war when the DC-7's were destroyed. These planes were replaced by two Fokker F27 planes. 1968 saw expansion to Nicosia, Benghazi, Dhahran and Doha. 1969 saw further expansion into Europe and other parts of Asia, including Munich, Tehran and Istanbul.
The 1970s loomed and Alia realized it needed to join the jet age. They began to phase out the F-27s and ordered Boeing 707 aircraft. Frankfurt and Abu Dhabi become Alia cities in 1970 and in 1971 the 707s arrived. In 1971 Madrid, Copenhagen and Karachi were also added to the network. The rest of the decade saw Boeing 720s Boeing 727s and Boeing 747's added. In 1975 Alia made history by allowing the first Arab female plane crew member into one of Alia's cockpits. A catering department was established, as well as duty free shops in Amman's airport. Services were added to several other cities, including:Bahrain, Dubai, Muscat, Rabat, Geneva, Amsterdam, Baghdad, Bangkok, Vienna, Larnaca, Damascus, New York City, Ras al-Khaimah and Houston. In 1979, Alia became a founding member of the Arab Airlines Technical Consortium (AATC).
The 1980s were a time that would reshape the airline. Tunis and Tripoli joined the route map, and Alia's IBM computer center was inaugurated. Lockheed L-1011s and Airbus A310s and A320s joined the fleet and in 1986, Alia changed its name to Royal Jordanian. The airline's first woman pilot flew one of their aircraft for the first time during this decade, and services were added to other cities, including Belgrade, Chicago, Bucharest, Los Angeles, Singapore, Riyadh, Kuala Lumpur (in cooperation with Malaysian Airlines), Sana'a, Moscow, Miami, Montreal, New Delhi Calcutta and Ankara. This decade also saw the opening of the Gabriel Automated Ticket System, (GATS).
The 1990s saw the expansion continue. Royal Jordanian and nine other Arabian airlines signed up with the Galileo reservations system, the IMCS maintenance and engineering system was added, a new city terminal was opened in Amman, services to Gaza were inaugurated, making Royal Jordanian the first airline to fly to the new Gaza International Airport, Royal Jordanian restarted flights to Tehran and Tripoli and the cities of Toronto, Colombo, Jakarta, Berlin, Mumbai and Milan were added to the route network. Royal Jordanian became code sharing partners with TWA and a local subsidiary, Royal Wings, started Royal Jordanian's only domestic service, to Aqaba, using a Fokker F-27 plane. Since October 1998 the airline has been undergoing a restructuring and privatisation programme.
In 2000 the FAA renewed the airlines maintenance and engineering department's license, and the duty free shop was among the services to be privatised. A holding company, RJI, wholly owned by the government, was incorporated as a public limited company in February 2001 to hold all the airline and associated investments. The name has been officially changed to Alia, The Royal Jordanian Airline, although to its clients it is still known simply as Royal Jordanian.
Services
Royal Jordanian operates the following services (at January 2005):
International scheduled destinations: Abu Dhabi, Aden, Al Arish, Amsterdam, Athens, Bahrain, Bangkok, Barcelona, Beirut, Brussels, Cairo, Chicago, Colombo, Damascus, Dammam, Delhi, Detroit, Doha, Dubai, Frankfurt, Geneva, Istanbul, Jeddah, Karachi, Khartoum, Kolkata, Kuwait, Larnaca, London, Madrid, Moscow, Mumbai, Munich, New York, Paris, Riyadh, Rome, Sanaa, Tel Aviv, Tripoli, Tunis, Vienna and Zurich.
Fleet
The Royal Jordanian fleet consists of the following aircraft (at June 2005):
External Links