Kolkata
From Academic Kids
This article is about the city formerly known as Calcutta. Calcutta is essentially an inaccurate transliteration into the English language originating from the very different phonological structure of the English language from native languages in the area of Kolkata. For other uses of this word, see Calcutta (disambiguation).

Kolkata (Bangla: কলকাতা), is the proper Bengali language name for the city formerly known as Calcutta, is the capital of the Indian state of West Bengal, and was once the most populous city in India. It has since been now overtaken in population by Mumbai (Bombay). Bengali itself is also an inaccurate transliteration into the English language of the word Bangla that natives of this region use to describe their language. Including the surrounding urban agglomeration, it is third largest metropolitan city in India and 14th largest metropolitan city in the world, at a population of about 15 million. It is situated on the banks of the Hoogli River (a distributary of the Ganges). Ganges is a variation on the river's Sanskrit name, Ganga. Some of the renowned engineering marvels associated with Kolkata include the bridges that span across this river: Howrah Bridge, Vivekananda Setu and Vidyasagar Setu. The city has among its more famous residents almost all of the Nobel laureates of India.

The city's name was officially changed to the more culturally appropriate and linguistically accurate "Kolkata" in January 2001. In spite of that, "Calcutta" is still quite often used both abroad and even in India and the city itself, perhaps due to dialectical similarities in pronuncations. Its original name was Kolikata (কলিকাতা) and it is, in higher literature, still referred to as such. Speakers of the region's native language, Bangla, have always known it as "Kolkata" (কলকাতা), and there is consequently no standardized phonetic back-transcription of the English 'Calcutta' into written Bangla. The name is sometimes thought to have originated from 'Kaali' and 'Ghat' meaning the place for Kaali's vibes to be enhanced, the name of a very famous temple in Kolkata worshipping the Vedic entity Kaali. Given the characteristic pronounciation in Bangla, 'Kaalighat' is likely to have been the accepted name among its residents. It has two well-known nicknames: City of Joy and City of Palaces. Sometimes, it is also referred to as the "Michhil Nagari" (িমিছল নগরী), or jokingly as the City of Processions and "City of Bandhs" or City of Strikes due to the large number of political and religious processions that take place in the city.
Missing image
Procession-in-Kolkata.jpg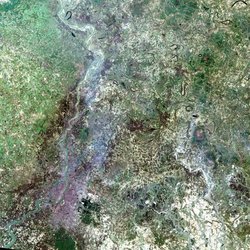 History
Missing image
Calcutta.jpg
Geography

Kolkata is located in the eastern part of India at Template:Coor dm.
Extreme temperatures: max: 44; min: 5 [1] (http://www.mherrera.org/temp.htm)
Economy
Missing image
Kolkata-Street1.gif
Kolkata is among those cities in India where the gap between rich and poor is huge and this gap is expanding day-by-day.Kolkata is also one of the cheapest metros in India to live in.
Civic administration
The City of Palaces
Kolkata has a nickname, the "City of Palaces".
During the British colonial era in the period from 1700-1912, when Kolkata was the capital of British India, Kolkata witnessed a spate of frenzied construction activity of buildings largely influenced by the conscious intermingling of Gothic, Baroque, Roman, Oriental and Islamic schools of design. Unlike many north Indian cities, whose construction stresses minimalism, the layout in architectural variety in Kolkata owed its origins to the Occident and hence is not representative of now-lost superior Vedic architecture. Thus it was possible to walk on a street in the European sector in Kolkata in the 1900s and confuse it for Saville Row, Southall or Pont des Artes.
The buildings were designed, and inspired by the tastes of the English gentleman around and the aspiring Bangali Baboo (literally a nouveau riche Bangali who aspired to cultivation of English etiquette, manners and custom as such practices were favorable to monetary gains from the British). Such people are generally looked down upon even today by upper class Bangalis.
Missing image
Another-street-view.jpg
This spate of construction by the Bangalis to rival the English did not go unnoticed. It was fully appreciated and fostered by the British who went on to construct some of the most recent visible monuments in the city.
Nirad C. Chaudhuri has remarked that the Victoria Memorial was the only original architectural design by the British in Kolkata and not, as was believed by the ignorant British, a copy of the Taj Mahal of Agra.
Kolkata's skyline was European in form; in content it was Indian; thus earning the appelation of the City of Palaces.
Government House
Government House, Kolkata, built in the early 19th century, is modelled on Kedleston Hall. The House was once the seat of the Viceroys of India; later, when the Government moved to New Delhi, it became the residence of the Governor of Bengal, a function that it fulfils to this day. While the basic features of Kedleston have been faithfully copied (the Palladian Front, the Dome etc.), Government House is a much larger, three storeyed structure. Also, the Government of India evidently did not have the funding constraints that forced the Curzons to leave their house incomplete: Government House has all four wings originally conceived for Kedleston. So today, a 'complete', brick built Kedleston, on a much grander scale, is located in its acres of gardens at the heart of the Kolkata business district.
Important Monuments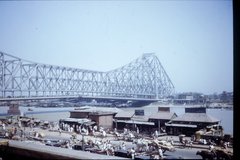 The city is home to the National Library of India and famous in India for the grand book-fairs it hosts every winter. The oldest museum in Asia, the Indian Museum (established 1814), is also in Kolkata. Other places to visit in the city are the Victoria Memorial, Calcutta High Court, Bankshall Court, Writer's Building, Jorasanko Thakur Bari, Marble Palace, Dakshineswar Kali Temple, Birla Temple, Rabindra Setu (previously called Howrah Bridge), Vidyasagar Setu (second Hooghly bridge), Nandan - Rabindra Sadan Cultural Complex, Shahid Minar (previously called Ochterlony Monument by the British), Kalighat, Bhoothnath, Science City , St. Thomas, Kolkata, Town Hall, Calcutta , Millennium Park promenade, Eden Gardens (a massive international cricket stadium), Whiteways and Laidlaw Building (currently known as Life Insurance Corporation of India building), Governor's House, Esplanade Mansion, Howrah Station, South Eastern Railway Headquarters, Calcutta Maidan and many more notable places.
Museums
Gurusaday Museum, Diamond Harbour Road
Jawahar Shishu Bhawan
Birla Technological and Science Museum
Science City
Education
Primary and Secondary
There are six systems of education ---
University and Professional Education
The seat of nine public universities, and numerous colleges, including at least four medical colleges, Kolkata still enjoys a prominent position in education, though it has slipped in national indexes in the recent past. The universities or autonomous institutions of national importance located in Kolkata are listed below:
Universities
West Bengal University of Health Sciences,
West Bengal University of Animal and Fishery Sciences,
West Bengal University of Technology,
and numerous colleges affiliated to some of the above mentioned universities.
Institutions of National Importance
Other Autonomous Institutes/Centres of Excellence
Anthropological Survey of India
Bose Institute
Botanical Survey of India
Central Glass & Ceramic Research Institute
Central Inland Capture Fisheries Research Institute
Central Research Institute for Jute & Allied Fibres
Centre for Studies in Social Sciences
Electronics Research and Development Centre of India
Geological Survey of India
Indian Institute of Information Technology
Mining, Geological and Metallurgical Institute of India
National Institute of Research on Jute & Allied Fibres Technology
National Institute of Homoeopathy
S.N.Bose National Centre for Basic Sciences
Zoological Survey of India
Max Mueller Bhavan - Goethe Institut
British Council
United States Educational Foundation in India
National Institute of Fashion Technology.
Other public universities or institutions which operate in Kolkata or conduct courses in affiliated colleges or institutes are IIT Kharagpur, Visva Bharati University, Vidyasagar University, University of Kalyani, Aligarh Muslim University, Himachal Pradesh University, Madurai Kamaraj University, IGNOU and the Indian School of Mines, Dhanbad. Foreign and private universities like the University of London, University of Cambridge (Local Exams Syndicate), Troy State University, Ashington University, TAFE Australia, Birla Institute of Technology, Mesra, XLRI Jamshedpur, International Management Institute (Delhi), Rai University, EIILM University, Sikkim Manipal University and Wigan and Leigh College, UK also operate in Kolkata.
The Geological Survey of India, and the National Council of Science Museums have their headquarters in Calcutta. Financial institutions like ICAI, ICWAI, ICFAI and technological institutions like ICE(I), IE(I), NIIT, APTECH have branch offices in Kolkata.
Sports
The Games and the Players
Football or soccer is a passion for many Calcuttians with the national clubs Mohun Bagan and East Bengal being the best known teams. Kolkata has produced summer Olympic medalists like Norman Pritchard (Athletics --- 1900), Richard James Allen, Leslie Claudius Field Hockey (1924, 1928, 1936), Gurbux Singh, Dr. Vece Paes Field Hockey (1980), Leander Paes (Men's singles Tennis,1996). The current, and most successful, cricket captain of India Saurav Ganguly is a Calcuttian.
Other sportspersons who have won laurels for Kolkata are Gobor Goho (World Amateur Wrestling Championship USA 1900-2), Manotosh Roy (former Mr Universe) and Manohar Aich (former Mr. World) [both in the 1950s], Mihir Sen (Guinness Record holder of being the first person to swim across the English Channel in 1948 and the seven straits across all major continents), Jyotirmoyee Sikdar ( 1998 Asian Games Gold medallist in four events in racing), Leander Adrian Paes ( Wimbledon and French Open Men's Doubles, with Mahesh Bhupathi and Mixed Doubles Champion 1999 and Wimbledon Mixed Doubles Champion 2003, with ace Martina Navratilova), Arjun Atwal (PGA Golf champion 2003), Dibyendu Barua and Surya Sekhar Ganguly (current FIDE Chess Grandmasters) and trans-continental wizards Mohd. Salauddin and wife Neena, who were first team to race across the world in their 'Contessa Classic' 1989 car in 1993 and in a Nissan jeep in 1998; in the shortest possible time, a record acknowledged by the Guinness Book of World Records.
Another noteworthy Calcuttian associated with sports is the former president of the International Cricket Council and former president of the Board of Control for Cricket in India, Mr. Jag Mohan Dalmiya.
The Amphitheatres
Calcutta has a world-class football stadium in the 'Yuva Bharati Krirangan' (also called Salt Lake Stadium) and a 100,000-capacity stadium, mostly used for cricket, called the Eden Gardens. The Eden Gardens Stadium is the largest stadium of its kind for the game of cricket. Kolkata boasts of one of the largest race courses in Asia, the finest golf courses of its kind in the world (Royal Calcutta Golf Club) and one of the most beautiful tennis courts in the world (South Club) . Together they reflect remnants of a thriving sports culture based on the British inspired love for cricket, golf, tennis and equestrian events.
Ethnicity
Kolkata is a multicultural cosmopolitan city. Apart from the diversity of India, the cultures represented are that of the Europeans (Including Germans, Armenians, and others), and other Asians (Including Chinese, Sinhalese, and Tibetans).
Transport
The two major railway stations of the city are at Howrah and Sealdah with the latter having a more local character. The city has an international airport at Dum Dum and it is called Netaji Subhash Chandra Bose International Airport. Kolkata is the only city in India to have a tram network (see Tramways in Calcutta) and till 2003, the only underground metro railway in the Indian subcontinent . As per the latest development, Kolkata no longer holds the distinction of having the only underground metro railway within the Indian Subcontinent. New Delhi, incorporating modern technology, is the second Subcontinental city to have this network.
Trivia
Kolkata and Mumbai were two of the main export/import destinations for British beer, which would go stale and sour during the sea voyage. So the IPA (India Pale Ale) style of beer was created specifically to withstand the rigors of the sea between London and these Indian ports. Link (http://www.brewingtechniques.com/library/styles/2_2style.html)
Born into brothels, a documentary about the children of prostitutes in Sonagachi (Kolkata's red light district) won the Oscar award for the best documentary feature in 2005.
See also
External links
Template:Metropolitan Cities of India Template:India state and UT capitalsbg:Калкута da:Calcutta de:Kolkata es:Calcuta fr:Kolkata hi:कोलकाता id:Calcutta nl:Calcutta ja:コルカタ nb:Calcutta nn:Kolkata pl:Kalkuta ro:Kolkata simple:Kolkata sk:Kalkata fi:Kolkata sv:Kolkata zh:加尔各答