Tehran
From Academic Kids
Tehran (also transcribed Teheran) (تهران in Persian), population 9,000,000 (metropolitan: 14,000,000), and a land area of 254 square miles, is the capital of Iran and the center of Tehran Province. Tehran is located at 35°40' North, 51°25' East (35.667, 51.41667). [1] (http://earth-info.nga.mil/gns/html/cntry_files.html)

More than half of the country's industry is based there. Industries include the manufacturing of cars, electronics and electrical equipment, weaponry, textiles, sugar, cement, and chemical products. It is also a leading center for the sale of carpets and furniture. There is an oil refinery nearby.
Tehran is a lively city at the foot of the Alborz mountain range with an immense network of highways unparalleled in western Asia. It is also the hub of the country's railway network. The city has numerous large museums, art centers, palace complexes and cultural centers. Besides Persians there are Azeri, Armenian, Jewish and Afghani communities in Tehran. Persian-speakers constitute 98.3 percent of Tehran's residents.[2] (http://www.hamshahri.org/ostans/iraninfo/tehran/farbomi/leftfar.htm). The city is dotted with mosques, churches and synagogues.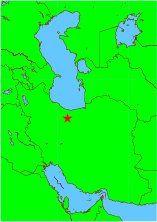 History
Excavations place the existence of settlements in Tehran as far back as 6000BC. Tehran was well known as a village in the 9th century, but was less well-known than the city of Rages which was flourishing nearby in the pre-Mongol era. In the 13th century, following the destruction of Rages by Mongols, many of its inhabitants fled to Tehran. In some sources of the Mongol era the city is mentioned as "Rages's Tehran" (طهرانِ ری). The city is later mentioned in Hamdollah Mostowfi's Nezhat ol-Gholoob (written in 1340) as a famous village.
Tehran became a residence of the Safavid rulers in the 17th century. Tahmasp I built a bazaar and a wall around the city, but it somewhat fell out of favour after Abbas I turned sick when he was passing the city to go to a war with the Uzbeks.
In the early 18th century, Karim Khan Zand ordered a palace, a harem, and a government office to be built in Tehran, possibly to declare the city his capital, but later moved his government to Shiraz. Tehran finally became the capital of Persia in 1795, when the Qajar king Agha Mohammad Khan was crowned in the city. It remains the capital to this day.
During World War II, British and Soviet troops entered the city. Tehran was the site of the Teheran Conference in 1943, attended by US President Franklin D. Roosevelt, British Prime Minister Winston Churchill, and Soviet Premier Joseph Stalin.
On September 8 1978, demonstrations against the Shah led to riots. The army reportedly opened fire on the demonstrating mob. Martial law was installed in the wake of the ensuing revolution, from 1978-80.
During the 1980-88 Iran-Iraq War, Tehran was the scene of repeated Scud missile attacks and air strikes against random residential and industrial targets within the city, resulting in thousands of civilian casualties.
About Tehran
Missing image
Tehran-arjantin.jpg
The Azadi Tower is the first thing visitors come across when coming from the Mehr-abad International Airport. The tower has become an icon of sorts for Tehran and Iran.
Like many of the world's large cities, Tehran suffers from serious traffic congestion and pollution problems. Tehran has become so congested in the past 10 years, that the government has considered moving the nation's capital to another city to alleviate these problems and help de-centralize the economy and population. This is especially true in light of predictions of an imminent major earthquake in Tehran. Yet millions choose to live and work in Tehran despite these problems. The appealing side of Tehran, it seems, outweighs these concerns.
Missing image
Teatreshahr11.jpg
The
Peacock Throne
of the Persian
Shahs
can be found in Tehran's
Golestan Palace
. Some of the important museums are
National Museum of Iran
,
Sa'dabad Palaces Complex
,
Glassware and Ceramics Museum of Iran
,
The Carpet Museum of Iran
,
Tehran's Underglass painting Museum
,
Niavaran Palace Complex
etc. The Tehran Museum of Contemporary Art is also appealing to many because it features the works of great artists such as
Van Gogh
,
Pablo Picasso
and
Andy Warhol
.
The huge Tehran International Fair organises many expositions. Its book expositions are especially popular. Tehran is also the seat of Iran's Parliament (the Majles).
Tehran is also a city of parks and possesses more than 800 well-kept parks. The Tehran Stock Exchange which is a full member of the FIBV and a founding member of the Federation of Euro-Asian Stock Exchanges, is one of the world's best performing stock exchanges, in recent years.[3] (http://news.bbc.co.uk/1/hi/business/3129995.stm)
Among the unusual attractions in Tehran (especially for tourists) are its many electronic stores and the buildings encompassing them where unlicensed copies of music and software CDs, in addition to VCD and DVD movies, are sold at very low prices. Tehran has eight TV channels broadcast by IRIB, and is in receiving range of satellite stations that broadcast over 100 free channels from Europe and Asia. Although technically banned by Iran's government, the four foot dishes are a commodity in millions of homes in Iran.
Tehran is home to the world's fourth tallest free standing structure, the Milad Tower.
Neighborhoods and Districts of Tehran
The city of Tehran is divided into 20 municipal zones, each with its own administrative centers. Tehran contains the following districts and major neighborhoods within these 20 zones:
Shemiran, Elahiyeh, Abbas Abad, Amir Abad, Yusef Abad, Darakeh, Dar Abad, Darband, Sadeghiyeh, Gholhak, Tehran Pars, Afsariyeh, Jordan, Gisha, Narmak, Ekhtiyariyeh, Niyavaran, Jamaran, Dehkadeh Olampik, Sa'adat Abad, Evin, Moniriyeh, Ray, Gomrok, Park Shahr, Hasan Abad, Baharestan, Punak, Bagh Feiz, Jomhuri, Navvab, Yaft Abad, Javadiyeh, Vanak, Shahrak Gharb, Nazi Abad, Shahr Ara, Jannat Abad, etc.
For full list, see List of the localities around Tehran.
Transportation
In
2001
a
metro
system that had been in planning since the
1970s
opened the first two of seven envisaged lines. Development of the Tehran metro system had been interrupted by the
Islamic Revolution
and the
Iran-Iraq War
. Problems arising from the late completion of the metro led to buses taking on the role of the metro lines, serving mainly long distance routes.
Taxis
filled the void for localised routes, not carrying passengers to their final destinations but operating along main routes and arteries. This has all led to extreme
congestion
and
air pollution
within the city.
Tehran is served by Mehrabad International Airport, the old airport located in the western part of the city, and Imam Khomeini International Airport, outside the city and to the south, which was scheduled to be operational in 2004 but currently resides in the hands of Islamic Revolutionary Guards Corps (IRGC).
Tehran also has a central train station with connecting services round the clock to various cities in the country. There are four bus terminals that also provide connections at low fares. These are the South, East, West, and Bei-haghi Park-Drive Terminals.
While the center of the city contains the government ministries and headquarters, the commercial centers are more located toward Taleghani Ave. and Beheshti Ave. further north. Although administratively separate, Rey, Shemiran, and Karaj are often considered part of the larger Tehran metropolitan area.
Tehran is also in the final stages of constructing a monorail innercity transport line.
See also: List of Tehran metro stations
Colleges and universities
Missing image
Tehran-blvd.jpg
Tehran's major colleges and universities are:
Tehran also contains Iran's largest military academy, and several religious schools and seminaries.
Sports
Tehran was the first city in the Middle East to host the Asian Games. The 7th Asian Summer Games in
1974
, was held with the participation of 2363 athletes and officials from 25 countries.
In football (soccer), Tehran is host to six football clubs in Iran's Premier Football League, namely, Esteghlal, Saba Battery, SAIPA, Peykan FC, Pas and Pirouzi/Persepolis. These clubs have on numerous occasions won Asian titles, and many of their players are well known internationally.
Tehran is also the site of Iran's national football stadium Azadi Stadium with 100000 seating capacity. Many of the top matches of Iran's Premier League are held here.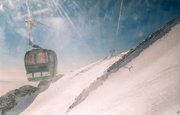 Within 10 minutes of driving distance from Tehran lies an excellent ski resort.
Tochal
is the world's fifth highest ski resort at over 3730m at its highest
7th station
. The resort was completed in 1976 shortly before the overthrow of the Shah.
Here, one must first ride the eight km (five mile) long gondola lift which covers a huge vertical. The 7th station has three major slopes. The resort's longest slope is the south side U shaped slope which goes from the 7th station to 5th station. The other two slopes are located on the north side of the 7th station. Here, there are two parallel chair ski lifts that go up to 3900m near Tochal's peak (at 4000m), rising higher than the gondola 7th station station. This altitude is higher than any of the European resorts including Mont Blanc.
From the Tochal peak, one has a spectacular view of the Alborz range, including the 5671 metre (18606 ft) high Mt. Damavand, an extinct volcano.
At the bottom of the lifts in a valley behind the Tochal peak is Tochal hotel, located at 3500m altitude. From there a T lift takes skiers up the 3800 metres of Shahneshin peak, where the third slope of Tochal is.
Tochal 7th station has skiing eight months of the year. But there are also many glaciers and year-round snow fields near Tehran where skiing began in 1938, thanks to the efforts of two German railway engineers. Today, 12 ski resorts operate in Iran, but the most famous are Tochal, Dizin, and Shemshak, all within an hour or so of Tehran.
See also: List of the localities around Tehran, Kilan
Attractions
Missing image
Keshavarz.jpg
Tehran's popular attractions are:
Palaces
Golestan Palace (http://www.golestanpalace.org/)
Niyavaran Palace (http://niavaranpalace.org/)
Sa'd Abad Palace (http://www.saadabadpalace.org/)
Saltanat Abad Palace
Firouzeh Palace, (which belongs to Tehran's Zoroastrian community)
Soleymaniyeh Palace
Baharestan Palace, (where Iran's first parliament was located at)
Morvarid Palace, Karaj, designed by the Frank Lloyd Wright Foundation. [4] (http://www.iranian.com/Kasraie/2004/June/Design/)
Galleries, theaters, and museums
Parks and Recreation
Missing image
Elahiyeh.jpg
Tochal Ski resort (http://www.tochalcomplex.com)
Darband hiking trail
Darabad hiking trail
Darakeh hiking trail
Jahan-e Kudak Park
Azadi Sports complex
Enghelab Sports Complex and Golf course
Several caves, springs, and waterfalls outisde Tehran.
Latyan Lake
Lavizan Forest Park
Vard-Avard Forest Park
Khajeer National Park
Kaveer National Park
Tar Lake
Amir Kabir Lake
Lar Protected Natural Habitat
Varjeen Protected Natural Habitat
Mosques, shrines, mausoleums, and tombs
Missing image
Borj-toghrul.jpg
Soltani Mosque, built by Fath Ali Shah
Atiq Mosque, built in 1663.
Mo'ezz o-dowleh mosque, built by Fath Ali Shah
Haj Seyd Azizollah mosque, built by Fath Ali Shah
Al-javad mosque, Iran's first modernist design mosque.
The Old Sepahsalar mosque, another prominent Qajar era mosque.
The new Sepahsalar mosque (Madreseh e Motahari)
Filsuf o-dowleh Mosque, Qajar era
Moshir ol-Saltaneh Mosque, Qajar era
Mo'ayyer ol-Mamalik Mosque, Qajar era
Shahr Banu Mausopleum
Javan-mard Qassab Mausoleum, a pre-Islamic semi-mythical hero
Dozens of Imam-zadeh shrines, hundreds of years old, including that of Imam Zadeh Saleh.
Dozens of Saqa Khanehs: traditional places of prayer
Several Tekyehs: traditional places for mourning Muharram ceremonies for Husayn ibn Ali.
Ibn Babviyeh cemetery, where many Iranian giants such as Takhti and Ali Akbar Dehkhoda are buried.
Zahir o-dowleh cemetary, where many Iranian giants of art and culture such as Iraj Mirza, Mohammad Taghi Bahar, Forough Farrokhzad, Abolhasan Saba, Ruhollah Khaleghi, and Darvish-khan are buried.
Maydanak Tomb, 13th century, Karaj
The Polish cemetary north of Tehran, where numerous WW2 western allied soldiers are buried.
Churches
Surep Georg Church, 1790
Thaddeus Bartoqimus Church, 1808
Tatavus Church, from the Qajar era
Enjili Church, 1867
Assyrian Church
Castles and Forts
Missing image
Bagh-melli.jpg
Arzhang Fort, Taleqan, 1149CE
Iraj Fort, Varamin
Tabbarok Fort, Abbasid era
Sorkheh-Hesar Fort, Seljuqi era.
Kei-Ghobad Fort, Taleqan, Ismaili era
Several other forts and castle ruins, such as Ghal'eh Dokhtar Tang Goseel, near Karaj. Like all the other forts of this area, these have been ruined by earthquakes. Seljuqi era.
Harun Prison. Sassanid era. South of Tehran.
Bagh e Melli foreign ministry compound.
Traditional Houses
Dozens of houses of antiquity with splendid traditional architectural design remain standing in Tehran today. Most are from the Qajar era. Some of these are:
Etehadiyeh House, Qajar era
Amir Bahador House, Qajar era
Emam Jomeh House, 1863CE
Amin ol-Soltan House, Qajar era
Shaghaghi (Kushak) House, Qajar era
Emarat e Bagh e Ferdows, Qajar era
Emarat Farmaniyeh, Qajar era
Shahid Modarres House, Uladjan district.
Vothuq House, 1837CE
Moshir o-Dowleh Pir Nia House
However, there exist plenty of houses of historical heritage also open to the public, such as: House of Nima Yooshij, House of Mohammed Mossadegh, House of Ayatollah Taleghani, House of Ghavam o-Dowleh, House of Imam Khomeini, and House of Mahmoud Hessaby.
Archeological sites
An abundance of ancient archeological historicl sites exists in and around Tehran. Some of the more prominent ones are:
Cheshme Ali Teppe, 5th millenium BCE. Excavated by Jaques Demorgan.
Shoghali Teppe, 6th millenium BCE.
Qeytariyeh ancient Cemetery, 2nd Millenium BCE.
Teppe Meel, excavated by Jaques De Morgan, believed to be the temple of the legendary ancient leader Bahram Gur.
Vavan Teppe, Sassanid era
Ghareh Teppe, 6th millenium CE, excavated by the British Burton Brown.
Ozbaki Teppe, Hashtgerd.
Others
Missing image
Tehran_cemetary_WW2.jpg
Iran National Library (http://www.nli.ir/)
Darolfonoon institute of higher education
Morvarid Canon, Afsharid dynasty era
Shebeli Tower, Damavand, Samanid era
Tughrul Tower, Seljuqi era
Ala-o-dowleh Tower, Varamin, 1276CE
Tehran Bazaar, 1523CE.
Several Ab anbars (traditional water reservoirs) of antique age.
Several Qanats of antiquity.
Several Yakh-chals (traditional refrigerators) of antiquity.
Several bridges of antiquity. Example: Pol e Rumi, located in Northern Tehran, from the Ottoman era, today a property of the Embassy of Turkey.
Several Caravanserais of antiquity.
Several fire temples of antiquity
The older neighborhoods of Tehran
Tehran's old city fabric changed dramatically during the first Pahlavi era. Some of the older remaining districts of Tehran are: Uladjan, Sanglaj, Bazaar, Chaleh Meydan, Dowlat. Chaleh Meydan is the oldest neighborhood of the aforementioned.
More information
de:Teheran es:Teherán eo:Tehrano et:Teheran fa:تهران fi:Teheran fr:Téhéran he:טהרן id:Teheran ja:テヘラン ko:테헤란 nl:Teheran no:Teheran pl:Teheran pt:Teerão ro:Teheran ru:Тегеран sv:Teheran zh:德黑兰