Key schedule
From Academic Kids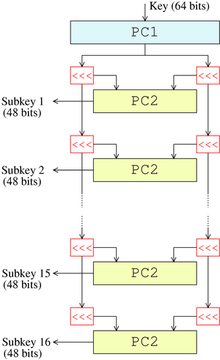 In cryptography, the algorithm for computing the subkeys for each round in a product cipher from the encryption (or decryption) key is called the key schedule. Some ciphers have simple key schedules. For example, the block cipher TEA simply splits the 128-bit key into four 32-bit pieces and uses them repeatedly in successive rounds. RC5, Rijndael (AES), and Blowfish have much more elaborate key-schedules.
Knudsen and Mathiassen (2004) give some experimental evidence that indicate that the key-schedule plays a part in providing strength against linear and differential cryptanalysis. For toy Feistel ciphers, it was observed that those with complex and well-designed key schedules can reach a uniform distribution for the probabilities of differentials and linear hulls faster than those with poorly-designed key schedules.
See also
References
Lars R. Knudsen and John Erik Mathiassen, On the Role of Key Schedules in Attacks on Iterated Ciphers, ESORICS 2004, pp322–334.