History of the People's Republic of China (4/4)
From Academic Kids
The Fourth Generation of Leaders and the 16th CPC Congress
In November 2002 Jiang Zemin stepped down from the powerful Politburo Standing Committee of the Communist Party of China to make way for a younger "fourth generation" of leadership led by Hu Jintao. Speculation remained, however, that Jiang would continue to wield significant influence. This speculation quickly subsided after Jiang voluntarily stepped down as Chairman of the Central Military Commission in September 2004, allowing Hu to take over all three top posts -- in control of the State, Party, and military. This marked the first time in the PRC that a power transfer was completed in peace.
It was believed at the time that six out of the nine new members of the powerful Standing Committee (Wu Bangguo, Jia Qinglin, Zeng Qinghong, Huang Ju, Wu Guanzheng, and Li Changchun) are close to Jiang's so-called "Shanghai clique." Hu is not associated with this "clique." The 22-member Politburo is elected by the Party's central committee. Real power in the PRC lies with this committee, which works as a kind of inner cabinet and groups together the country's most influential leaders. At the 2002 16th Party Congress, the Standing Committee was expanded to include nine members.
President Hu Jintao, a hydraulic engineer who graduated from China's prestigious Qinghua University, is believed to be highly intelligent and have a photographic memory. His career is remarkable for his rapid ascendancy to power, attributed to his moderate views and careful attention not to offend or alienate his older backers. He is the first party chief to have joined the Communist Party after the Revolution over 50 years ago. In his 50s, Hu was the youngest member by far of the then seven-member Standing Committee.
Since taking over as Party General Secretary, Hu Jintao has appeared to have an more egalitarian style than his predecessor. He has focused on sectors of the Chinese population which have been left behind by the economic reform, and has taken a number of high profile trips to the poorer areas of China with the stated goal of understanding these areas better.
Nevertheless, the effects of leadership differences should not be overstated. Within the top leadership of the PRC, there is widespread agreement that Chinese economic reform should continue and policy differences are confined to relatively minor matters.
SARS
Main article: Severe acute respiratory syndrome
In November 2002, a mysterious string of deaths, associated with the flu-like symptoms later known to be the SARS epidemic, took place in Guangdong. To stop the SARS panic, and to avoid possible economic damage and to preserve face and public confidence, local officials applied tight media control. Thus the international community failed to notice the existence of a new breed of deadly virus.
In early April, there appeared to be a change in official policy when SARS began to receive a much greater prominence in the official media. However, it was also in early April that accusations emerged regarding the undercounting of cases in Beijing military hospitals. After intense international pressure from individual countries, as well as the WHO, PRC officials allowed international officials to investigate the situation. In late April, major revelations came to light as the PRC government admitted to underreporting the number of cases due to the problems inherent in the health care system. A number of PRC officials were fired from their posts, including the health minister and mayor of Beijing, and systems were set up to improve reporting and control in the SARS crisis. The PRC government delivered an official apology for early slowness in dealing with the SARS epidemic. Chinese President Hu Jintao promised a total disclosure of SARS data and permitted WHO experts to examine the SARS cases.
This revealed major problems plaguing the aging mainland Chinese health care system, including increasing decentralization, bureaucratic red tape, and a lack of communication. In February, 2003, as the virus spread to other parts of mainland China, Hong Kong, Singapore, Canada, Vietnam, Taiwan and Europe, the WHO issued a worldwide alert and many countries had barred the travels to and from China. Finally in July 2003, the WHO declared SARS contained, but warned the disease could emerge in next winter.
The openness in the latter stage of the SARS crisis showed an unprecedented stance in the central government's policies. In the past, rarely had officials stepped down purely because of administrative mistakes, there were never completely disclosure of classified data and no project in China had been under such international inspection. This change in policy has been largely credited to President Hu Jintao and Premier Wen Jiabao. At the heart of the crisis, Hu made a high-profile trip to Guangdong and Wen ate lunch with students at Beijing University. Some analysts believe the crisis was a blow to former CPC chief Jiang Zemin, who stayed out of the national spotlight during its duration, and whose political allies, such as Health Minister Zhang Wenkang, were sacked.
China today
Social welfare
Chinese society has been revolutionized from the top down, going through its own industrial revolution of sorts, rapidly moving from an agrarian society to an urbanized one and perhaps witnessing the most substantial improvements in day-to-day living standards in history, with a rate of poverty of only 12% (by official estimates) with few lacking basic amenities like food, shelter, and health care. Along with Vietnam, these two East Asian Communist states, which have embraced "market socialism" over the past two decades, have been the most rapidly developing Third World nations. Over the 1990s the GDP of China, which has rejected neoliberal democratization and privatization, has roughly doubled while that of Russia, which has adhered to the dictates of the Washington Consensus, has roughly halved.
Before 1949 the illiteracy rate in China was 80 percent. Now, illiteracy has declined to less than seven per cent. Before the founding of the People's Republic of China, the life expectancy of the Chinese people averaged 35 years. Now it is in the low 70s. The average life expectancy of Chinese residents was eight years lower than that of the residents of developed countries, but 10 years higher than that of the residents of other developing countries.
China's urban and rural primary health care network has persisted in prophylactic health work. China had basically eliminated snail fever by the end of the 1950s; filarial infection by 1994; and poliomyelitis by 1995. It plans to fundamentally wipe out leprosy soon, and iodine deficiency the upcoming years. Despite the huge increases in life spans, China's population growth has been stabilizing due to lowering birth rates since enacting the one or two-child policies in the late 1970s. Population growth exploded under Mao's rule, failing to enact population controls, due to stability, improving nutritional intakes, and increasing life expectancy (so-called "barefoot doctors" used to establish clinics even in the remotest regions of the countryside, bringing free access to vaccination, preventative medicines, birth control and promoting better standards of sanitation). Thus, China has largely resolved the problems of over-population and malnourishment. As a result, China's prospects for maintaining stability are relatively good, enabling one to project that continued growth is likely.
Remaining challenges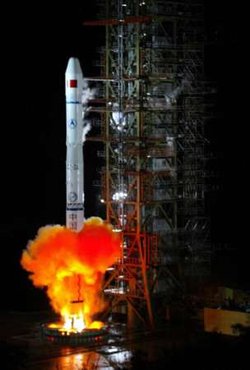 The leaders of Communist China now face a daunting task of pushing ahead with major economic reforms while managing its vast population of 1.3 billion people. The recent economic reforms have undermined the socialist state's safety net and forced people to look to the private sector for work and services. As the economy faces structural changes, 25 to 30 million state workers have been laid off since 1998 while only 8 million jobs are created annually at the current growth rate. With millions of laid off workers roaming the cities, keeping social order will prove a difficult task. Workers' protests have not been too infrequent, with the government usually heeding to the protestors' demands, while arresting their leaders.
Another potential crisis is the advent of AIDS, which by UN estimates, could reach 10 million cases in 2010. In the Henan province, where perhaps hundreds of thousands of people have been infected with HIV by selling their blood, the government is only beginning to pay attention to the problem. Public awareness and widespread acknowledgement has yet to come.
While there have been major economic reforms, the government has been slow on political reform, citing that social stability is vital for a developing economy. Few analysts believe the PRC will democratize quickly, but many see democratization as an inevitable end of the economic reforms. Many in mainland China see one-party rule as effective and any talk of political reform is meant to change the way the party governs, rather than remove it from power. In recent years, local elections with more candidates than positions available have become regular, yet talking about major changes at higher levels remains taboo.
A number of leaders, including Jiang Zemin, have acknowledged that corruption could threaten the party's ongoing existence. Opinion polls continually show that corruption (in all sectors of society) is the main complaint of the people. However, the Communist Party still asserts a monopoly on exposing corrupt officials and businessmen, and critics accuse the party of selective punishment. Analysts say the authorities are reluctant to pursue senior figures and their allies and punishment comes in the form of political purges rather than genuine law enforcement. Nonetheless, the government has taken some measures to address the situation, strengthening the legal system and trying to make the civil service more professional.
Chinese leaders understand that news media could be a very effective means to fight against corruption. Media controls have been reduced, as market forces have encouraged tabloid reporting. Yet, the government occasionally fires reporters or shuts down newspapers that stray outside the party-line. For details, see the main article Media in China.
The introduction of internet and SMS has increased the difficultly in complete control. Moreover, the news media from Hong Kong, protected by Basic Law, has become increasingly involved in news reporting in China and are usually the only media within the PRC that can report the news. (See Internet in the People's Republic of China)
Taiwan
Main article: Political status of Taiwan
With Hong Kong and Macau reunited with the mainland, and independence movements in Tibet and Xinjiang largely contained, the main outstanding issue is Taiwan. The strategy of the PRC government was to wait out the term of pro-Taiwan independence President Chen Shui-bian in hopes that the pro-Chinese reunification ticket of Lien Chan and James Soong will win the elections of 2004 (although this apparently failed since Chen was reelected). Though Chen will unlikely pledge to the One-China Policy to begin negotiations, he has pledged the Four Noes and One Without, which quells any armed conflict in the near future. The situation in the Taiwan strait is considered stable for the moment.
Future prospects
The next 5 years represent a critical period in the PRC's existence. The Olympics are scheduled to take place in Beijing in August 2008. To investors and firms, mainland China represents a vast market that has yet to be fully tapped. This point is best illustrated by the rapid growth of cell phone and Internet users in mainland China. Educationally, the PRC is forging ahead as partnerships and exchanges with foreign universities have helped create new research opportunities for its students. However, there is still much that needs to change in China. Human rights issues remain a concern among members of the world community. To the extent that the PRC Government responds positively to these concerns, relations with concerned countries will grow stronger.
Mainland China's meteoric growth over the past two decades has accounted for well over half of all growth in the developing world. If China becomes the world's largest economy, as is projected to occur within a couple of decades and if China reaches the per capita income of a developed country, projected to occur within roughly fifty years, one could expect China to become a larger international lender, investor, and market. And this development, projected to continue due to China's record of rapid but steady growth and socio-political stability despite formidable obstacles, could challenge Western global preeminence economically, culturally, technologically, and intellectually.
Related articles
External links