Bill Frist
From Academic Kids
Dr. William Harrison Frist (born February 22, 1952 in Nashville, Tennessee) is a Republican U.S. Senator from Tennessee and a cardiac surgeon. Since 2003, he has served as Senate Majority Leader.
Childhood and medical career
Frist is a fourth-generation Tennessean. His great-great grandfather was one of the founders of Chattanooga, Tennessee, and his father was a doctor.
Frist graduated from Montgomery Bell Academy (MBA) in Nashville, TN and then from Princeton University in 1974, where he specialized in health care policy at the Woodrow Wilson School of International and Public affairs. In 1972 he held a summer internship with Tennessee Congressman Joe Evins, who advised Frist that if he wanted to pursue a political career, he should first have a career outside of politics. Frist proceeded to Harvard Medical School, where he received a Doctor of Medicine with honors in 1978.
While in medical school, Frist adopted cats from Boston animal shelters, telling shelter staff he intended to keep them as pets. He would then experiment on and kill the animals as part of his medical studies. Later, in his 1989 book "Transplant," he commented: "It was a heinous and dishonest thing to do. I was going a little crazy." Although Frist's practice has been known for 11 years, the matter appears to be gathering new attention since his election as Senate majority leader [1] (http://www.upi.com/view.cfm?StoryID=20021231-071056-3546r). PETA has recently called on him to apologize (http://www.troyrecord.com/site/news.cfm?newsid=6576303&BRD=1170&PAG=740&dept_id=226958&rfi=6).
Frist joined the lab of W. John Powell Jr., M.D., at Massachusetts General Hospital in 1977, where he continued his training in cardiovascular physiology. He left the lab in 1978 to become a resident in surgery at Massachusetts General Hospital. In 1983 he spent time at Southampton General Hospital, Southampton, England as senior registrar in cardiothoracic surgery. He returned to Massachusetts General in 1984 as chief resident and fellow in cardiothoracic surgery. From 1985 until 1986, Frist was senior fellow and chief resident in cardiac transplant service and cardiothoracic surgery at the Stanford University School of Medicine. After completing his fellowship, he became a faculty member at Vanderbilt University Medical Center, where he began a heart and lung transplantation program. He also became staff surgeon at the Nashville Veterans Administration Hospital. In 1989, he founded the Vanderbilt Transplant Center.
He is currently licensed as a physician, and is certified in general surgery and heart surgery. He has performed over 150 heart transplants and lung transplants, including pediatric heart transplants and combined heart and lung transplants.
Entering politics
Though he was a public policy major in college, Frist was late to take an interest in politics; he did not vote for the first time until he was 36.[2] (http://slate.msn.com/id/2114621/) In 1990, he met with former Senate Majority Leader Howard Baker about the possibilities of public office. Baker advised him to pursue the Senate, and in 1992 suggested that Frist begin preparations for a 1994 campaign. Frist began to build support. He served on Tennessee's Governor's Medicaid Task Force from 1992 to 1993, the Republican National Committee's Health Care Coalition's National Steering Committee, Bush-Quayle '92, and was deputy director of the Tennessee Bush-Quayle '92 campaign. As part of Frist's preparations for political office, in December 1993 he ended his membership in Nashville's all-white Belle Meade Country Club, which he had joined in the 1980s following family tradition.
During his first campaign, Frist repeatedly accused his opponent, incumbent Senator Jim Sasser, of "sending Tennessee money to Washington, to Marion Barry ... While I've been transplanting lungs and hearts to heal Tennesseans, Jim Sasser has been transplanting Tennesseans' wallets to Washington, home of Marion Barry." During that campaign, he also attacked Sasser for his attempt to become Senate Majority Leader, claiming that his opponent would be spending more time taking care of Senate business than Tennessee business. Frist won the election by 13 points, becoming the first physician in the Senate since 1928. Frist himself is now Senate Majority Leader.
In 1998 he visited African hospitals and schools with the Christian aid group Samaritan's Purse.
In 1998 Frist participated in the Republican filibuster to stall the nomination of openly gay James C. Hormel to be ambassador to Luxembourg. (In the end, Hormel received a recess appointment from President Bill Clinton, bypassing a Senate vote.)
In 2000, Frist easily won reelection with 66 percent of the vote. He was elected by the largest vote total ever received by a candidate for statewide election in the history of Tennessee, although Al Gore won a higher percentage of the vote (70%) in his 1990 Senate re-election.
National prominence
Frist first entered the national spotlight when two Washington police officers were shot outside the United States Capitol. Frist, the closest doctor, provided immediate medical attention. He also was the Congressional spokesman during the 2001 Anthrax attacks.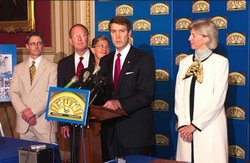 As the chairman of the National Republican Senatorial Committee, he helped Republicans win back the Senate in the 2002 midterm elections. His committee collected $66.4 million in soft money for 2001-2002, 50% more than the previous year. Shortly afterwards, Senator Trent Lott made comments at a Strom Thurmond birthday celebration in which he said that if Thurmond's segregationist presidential bid of 1948 had succeeded, "we wouldn't have all these problems today". In the aftermath, Lott resigned his position as Senate Majority Leader and Frist was chosen by Senate Republicans as his replacement; the administration of George W. Bush was widely credited with helping him attain the post.
On January 2, 2003, while on vacation, Frist happened upon an SUV crash near Fort Lauderdale, Florida. Frist stopped his car and helped the victims of the accident until emergency workers arrived. "It made all the difference; his help was invaluable, he really went above and beyond the call to help," emergency workers said.
In the 2003 legislative session, Frist enjoyed many successes. He was able to push many initiatives through to fruition, including the third major tax cut of the Bush administration and a ban on so-called partial-birth abortions. However, his tactics used to achieve those victories alienated many Democrats. In 2004, by comparison, he saw no major legislative successes, with the explanations ranging from delay tactics by Democrats to lack of unity within the Republican Party.
After the 2004 elections, Frist played a role in the controversy over Arlen Specter's post-election remarks. Frist demanded a public statement from Specter in which Specter would repudiate his earlier remarks and pledge support for President George W. Bush's judiciary nominees. Frist rejected an early version of the statement as too weak, and gave his approval to the statement which Specter eventually delivered.
Frist is widely seen as a potential presidential candidate for the Republican party, much in the same tradition as Bob Dole, a previous holder of the Senate Majority Leader position. However, there has been increasing dissent within the Republican caucus over his handling of the Majority Leader position, and his near invisibility as a spokesman for the Republican caucus, which has damaged his reputation. His supporters within the caucus point to his success in moving tax legislation important to the executive branch as a sign that he is simply filling his place on the team, namely to bring important bills to a vote, and then ensure that gains made on the floor are preserved in the conference committee process.
Many of Frist's opponents have attacked him for what they see as pandering to future Republican primary voters; they claim that he has taken extreme positions on social issues such as the Terri Schiavo matter in order to please them. Specifically, controversy has focused on the "nuclear option," under which the Republicans would change a rule in the Senate to prevent the filibuster of judges (the filibuster has been allowed by Senate rules since 1806, and was an established tradition by 1825).[3] (http://www.nytimes.com/2005/05/06/opinion/06chernow.html) The "nuclear option" is one of the highest priorities of social conservatives; Democrats have vowed to shut down the Senate in retaliation. Although Frist claimed that "[n]ever before has a minority blocked a judicial nominee that has majority support for an up-or-down vote on the Senate floor," critics pointed to the nearly two century history of the filibuster, including the successful four-day 1968 Republican filibuster of Lyndon Johnson's chief justice nominee Abe Fortas.[4] (http://www.washingtonpost.com/wp-dyn/articles/A45149-2005Mar17.html)[5] (http://www.nytimes.com/2005/05/10/opinion/10Mitchell.html); some Republicans, however, dispute the claim that Fortas enjoyed majority support in the Senate. Frist's advocacy of the "nuclear option" provoked a sustained protest by students and faculty at his alma mater.[6] (http://www.princeton.edu/~petehill/filibuster.html)
More criticism of perceived weakness came in the midst of an extended confirmation fight over Bush's pick for US ambassador to the United Nations, John R. Bolton. Twice Frist failed to garner the 60 votes to break cloture, getting less votes the second time and even losing one Republican (George Voinovich). On June 21, 2005 Frist said the situation had been "exhausted" and there would be no more votes. Only an hour (http://www.cnn.com/2005/POLITICS/06/21/bolton.vote.ap/index.html) later, after speaking to the White House, Frist said: "The president made it very clear he wants an up-or-down vote." The sudden switch in attitude led to charges of "flip-flopping".
Frist has pledged to leave the Senate after two terms, which would be in 2006; this would leave him ideally placed to pursue a presidential run.
Personal life
Senator Frist has been married to Karyn Frist, a former flight attendant, since 1982. They have three sons, Harrison, Jonathan, and Bryan. As of 2004, Harrison is a sophomore at Princeton University, and Jonathan and Bryan attend St. Albans School in Washington, D.C.. Senator Frist has refused to answer reporters' questions about the drunk-driving arrests of Harrison (21 years old at the time of his arrest, May 2004) and Jonathan (17 years old at the time of his arrest, May 2003). Through a spokesman, Frist called the charges against his sons a "personal matter."[7] (http://www.tennessean.com/local/archives/04/05/51600159.shtml)[8] (http://www.wbir.com/printfullstory.aspx?storyid=18056)
The Frist family are members of the National Presbyterian Church in Washington, D.C..
Frist has been a pilot since the age of 16. He holds commercial, instrument and multi-engine ratings. He has also run seven marathons and two half-marathons.
In June, 1989, Frist published his first book, Transplant: A Heart Surgeon's Account of the Life-And-Death Dramas of the New Medicine. With J.H. Helderman, he edited "Grand Rounds in Transplantation" in 1995. In October, 1999, Frist co-authored Tennessee Senators, 1911-2001: Portraits of Leadership in a Century of Change with J. Lee Annis, Jr. In March, 2002, Frist published his third book, When Every Moment Counts: What You Need to Know About Bioterrorism from the Senate's Only Doctor. While generally well received, the book later spurred accusations of hypocrisy regarding his remarks about Richard Clarke. When Clarke published his book Against All Enemies in 2004, Frist stated "I am troubled that someone would sell a book, trading on their service as a government insider with access to our nation's most valuable intelligence, in order to profit from the suffering that this nation endured on September 11, 2001." In response, readers "monkeywrenched" the Amazon.com user reviews of his book. In December of 2003, Frist and coauthor Shirley Wilso released Good People Beget Good People: A Genealogy of the Frist Family, to lukewarm reviews. Frist has also written medical articles.
Frist has a $20 million (or more) fortune, most of it in stock in Hospital Corporation of America, the for-profit hospital chain founded by his brother and father. Frist and his brother's family have been major donors to Princeton University, pledging a reported $25 million in 1997 for the construction the Frist Campus Center. [9] (http://www.princeton.edu/~paw/archive_old/PAW97-98/03-1022/1022note.html) A few years after his 1974 graduation, "I made a commitment to myself that if I was ever in a position to help pull together the resources to establish a center [on the Princeton campus] where there could be an informal exchange of ideas, and to establish an environment that is conducive to the casual exchange of information, I would do so." [10] (http://www.princetonspectator.com/news/2001/05/09/Interview/An.Interview.With.Senator.Bill.Frist.74-75174.shtml)
Ideology and issues
Frist's primary legislative focus has been on issues of concern to the health care industry. He opposes guarantees that health care be provided to all Americans, favoring instead free markets for health care services. The senator also opposes abortion. In the Senate, he led the fight against intact dilation and extraction (also known as partial-birth abortion). He voted for the Partial-Birth Abortion Act of 2003 and voted against an amendment to include a women's health exception, and he is opposed to all federal funding of abortion. Despite this, Senator Frist retains a large personal stock holding in the Frist family's for-profit hospital chain (Hospital Corporation of America), which provides abortions. At least one pro-life mutual fund refuses to invest in HCA because of its abortion services. [11] (http://www.worldnetdaily.com/news/article.asp?ARTICLE_ID=30124)[12] (http://www.freerepublic.com/focus/news/809651/posts) Frist supports a total ban on human cloning, even for purposes of stem cell research. Dr. First supports programs to fight AIDS and African poverty. He travels to Africa frequently to provide medical care.
Frist's family business, Hospital Corporation of America, was the subject of a decade-long Federal investigation into double-bookkeeping and suspected criminal fraud involving the bilking of Medicare, Medicaid, and Tricare (the federal program covering the military and their families). HCA has paid a total of $1.7 billion in fines, the largest fraud settlement in U.S. history. Shortly after Frist assumed his Senate Majority position, a final fine of $631 million was assessed and the ongoing Justice Department investigation into HCA was dropped. Rick Scott, who had been hired to run the company after Frist's brother's retirement, quickly left the company. Frist's brother, a billionaire, returned to HCA to get the company back on track; in addition, HCA was allowed to continue its Medicare contracts.[13] (http://www.laweekly.com/ink/03/08/news-ireland.php)[14] (http://www.cbsnews.com/stories/2000/12/14/national/main257330.shtml)
During an interview on December 5, 2004 Frist, who is a supporter of abstinence-only education, was asked about a government-funded abstinence education program that falsely stated AIDS could be transmitted by sweat and tears. Despite there being no medical evidence to support such a statement, Frist responded: "I don't know. You can get the virus in tears and sweat. But in terms of infecting somebody, it would be very hard." He has also drew fire for announcing his belief that Terri Schiavo was not in a persistent vegetative state, despite his not being a neurologist and basing his judgment solely on videotapes provided by her parents. "When the neurologist said, 'Look up,' there is no question in the video that she actually looked up," Frist said in March 2005. (Schiavo's autopsy results, announced in June 2005, cast doubt on Frist's assertions, finding that Schiavo was blind and the condition of her brain was consistent with a diagnosis of a persistent vegetative state.) [15] (http://www.washingtonpost.com/wp-dyn/content/article/2005/06/15/AR2005061500512_pf.html)
On education, Frist supports the controversial No Child Left Behind Act.
Campaign finance
From 1997 to 2002, Frist's primary donors were health professionals ($600,000) and money-management companies ($265,000), Federal Express ($30,000), Vanderbilt University ($30,000), Powell Construction ($25,000), and HCA ($25,000).
In December 2004 Frist's campaign account reported being $524,000 in debt (http://www.nydailynews.com/news/wn_report/story/258374p-221310c.html) due to losses in the stock market.
External links and references