Howard Baker
From Academic Kids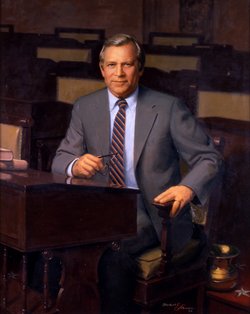 Howard Henry Baker, Jr. (born November 15, 1925) is an American statesman and was most recently United States Ambassador to Japan. He was appointed by President George W. Bush in 2001.
Baker, a Republican from Tennessee, was formerly a US Senator. Baker served in the U.S. Senate from 1967-1985—the first Republican Senator to be elected from Tennessee since Reconstruction. For the last eight of those years, he led the Senate Republicans, with two terms as Senate Minority Leader (1977-1981) and two terms as Senate Majority Leader (1981-1985). Baker was also the influential ranking minority member of the Senate committee, chaired by Senator Sam Ervin, that investigated the Watergate scandal. He famously asked aloud, "What did the President know and when did he know it?," a question given him to ask by his counsel and former campaign manager, future U.S. Senator Fred Thompson.
Baker did not seek reelection in 1984. He served as Chief of Staff in the administration of President Ronald Reagan (1987-1988). Both his father, Howard Baker, Sr. and his stepmother had served as members of the United States House of Representatives.
Baker also made a brief run for President of the United States in 1980 for the GOP nomination, dropping out when the dominance in the Republican primaries of Ronald Reagan made it impossible for Baker or any other candidate to be able to continue to raise the amount of funds necessary to contest the race further.
Since 1996 Baker has been married to former U.S. Senator Nancy Landon Kassebaum. His late first wife, Joy, was the daughter of former Senate Minority Leader Everett Dirksen. Reportedly, Baker dated current North Carolina senator Elizabeth Dole (then Elizabeth Hanford) in the 1970s.
In December 2004 Ambassador Baker announced his intent to retire as soon as his successor could be confirmed. J. Thomas Schieffer was nominated by President Bush to replace Baker on January 21, 2005 and confirmed by the Senate on March 17.
In March 2005, he joined Citigroup as a advisor to senior management on international matters.
External link
Further reading
Annis, James. Howard Baker: Conciliator in an Age of Crises. Lanham, MD: Madison Books, 1994
U.S. Congress. Senate. Tributes to the Honorable Howard Baker, Jr., of Tennessee in the United States Senate, Upon the Occasion of His Retirement from the Senate. 98th Cong., 2d sess., 1984. Washington: Government Printing Office, 1984.