Fixed-wing aircraft
From Academic Kids
Fixed-wing aircraft is a term used to refer to what are more commonly known as aeroplanes in Commonwealth English (excluding Canada) or airplanes in North American English.
Fixed-wing aircraft include
monoplanes
,
biplanes
and
triplanes
; in fact all conventional
aircraft
that are neither
balloons
,
airships
,
autogyros
,
helicopters
or
tiltrotors
are fixed-wing aircraft.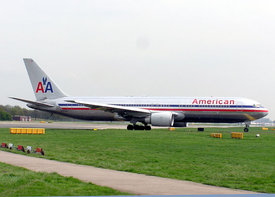 The term embraces a minority of
aircraft
that have folding wings, intended to fold when on the ground, perhaps to ease stowage or facilitate transport on, for example, a vehicle trailer or the powered lift connecting the hangar deck of an
aircraft carrier
to its flight deck. It also embraces an even smaller number of aircraft, such as the
General Dynamics
F-111 Aardvark
,
Grumman
F-14 Tomcat
and the
Panavia
Tornado
, which can vary the sweep angle of their wings during flight. In the early days of their development, these were termed "variable geometry" aircraft. When the wings of these aircraft are fully swept, usually for high speed cruise, the trailing edges of their wings abut the leading edges of their tailplanes, giving an impression of a single
delta wing
if viewed from above or below. There are also rare examples of aircraft which can vary the
angle of incidence
of their wings in flight, such the
F-8 Crusader
, which are also considered to be "fixed-wing".
Sir George Cayley, the inventor of the science of aerodynamics, was building and flying models of fixed wing aircraft as early as 1803, and he built a successful passenger-carrying glider in 1853, but it is known the first practical self-powered aeroplanes were designed and constructed by Clément Ader. On October 9, 1890, Ader attempted to flight the Éole, which succeeded in taking off and flying a distance of approximately 50 metres before witnesses. In August 1892 the Avion II flew for a distance of 200 metres, and on October 14, 1897, Avion III flew a distance of more than 300 metres.
On August 28, 1903 in Hanover, the German Karl Jatho made his first flight. The Wright Brothers made their first successful test flights in December 17, 1903 and by 1904 the Flyer III was capable of fully-controllable stable flight for substantial periods. Strictly, its wings were not completely fixed, as it depended for stability on a flexing mechanism named wing warping. This was soon superseded by the competitive development of ailerons, attached to an otherwise rigid wing.
See also
de:Flugzeug es:Avión fi:Lentokone fr:Avion it:Aeroplano ja:固定翼機 la:Aeroplanum nl:Vliegtuig nv:Chidí naat'a'í pl:Samolot pt:Avião sv:Flygplan sq:aeroplani zh:飞机 ru:Самолёт simple:Aircraft