Panavia Tornado
From Academic Kids
Missing image
RSAF_Panavia_Tornado.JPG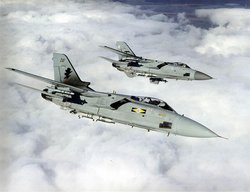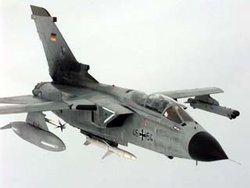 The Panavia Tornado is a jet engine fighter-bomber jointly developed as the Multi-role combat aircraft - or MRCA - by Italy, Germany and the United Kingdom. It first flew on August 14th, 1974. International co-operation continued after its entry into service within a tri-nation training and evaluation unit operating from RAF Cottesmore in Rutland in the English Midlands.
Variants
Interdictor/Strike (IDS) - UK, Germany, Italy, Saudi Arabia
One of the world's most sophisticated and capable interdiction and attack aircraft, with large payload, long range and high survivability. The Tornado was cleared to carry almost all the air-launched weapons in the NATO inventory, including cluster bombs, anti-runway munitions, and nuclear weapons. Known as the Tornado GR4 in the RAF, which is an upgrade of the original Tornado GR1 featuring GPS navigation and the ability to deploy more advanced munitions. A major feature of the GR1 was its terrain-following radar, which allowed all-weather hands-off low-level flight, but current doctrine eschews extreme low-level flight and relies on inertial navigation with GPS updates rather than TFS. The GR1A was a reconnaissance variant equipped with the internally mounted TIRRS (Tornado Infra-Red Reconnaissance System) replacing the 27 mm cannon. GR1B was a maritime strike aircraft brought into service to replace the Blackburn Buccaneer and deliver the Sea Eagle anti-ship missile. The aircraft could only track targets via the missile's radar seeker. The reconnaissance variant of the GR4 is the GR4A. The GR1 was delivered in a grey/green camouflage, but this was changed to dark grey during the late 1990s. In operations over Iraq some GR1s received a sandy pink scheme. GR4s participating in the 2003 Iraq War were painted in a light grey scheme. German Navy examples normally sport a distinctive black/blue/grey camouflage pattern. The UK is researching possible replacements under the Future Offensive Air System study, which could be a piloted aircraft, a UAV or a cruise missile-based system. Currently no other aircraft (in service or planned) matches the Tornado's strike capabilities.
Air Defence Variant (ADV) - UK, Saudi Arabia
In answer to an RAF requirement for a long-range interceptor, an air-defence version of the Tornado was developed in the late 1970s. Its fuselage was stretched to reduce drag and allow the carriage of four British Aerospace Skyflash semi-active radar homing missiles (based on the American Sparrow) as well as additional fuel. Mk 104 engines, with longer afterburner nozzles, were optimized for high-altitude use. The IDS's ground-attack systems were replaced by a Marconi/Ferranti Foxhunter air-interception radar, and the port cannon was deleted. Despite extensive development problems with the Foxhunter radar, Tornado F3s finally reached service in 1984. In addition to the internal cannon, armament was originally four Skyflash and four AIM-9L Sidewinders, eventually replaced by AMRAAM medium-range and ASRAAM short-range missiles. Surviving aircraft have recently been modified to be able to fire the ALARM anti-radiation missile, and thus be able to take on the mission of Suppression of Enemy Air Defences or SEAD. There are also rumoured plans to equip the F3 with TIALD pods, giving them the ability to drop laser guided bombs, making them true multirole aircraft. The F3 is painted in standard air-defence grey. Although the F3 is capable of good high-altitude speed and has great endurance in stand-off interception, its high wing loading makes it substantially less agile than other modern fighters, limiting its dogfighting ability. British Tornado F3s are scheduled to be replaced by the Eurofighter Typhoon as they come into service. Some original RAF F3s were loaned to the Italian Air Force as an interim replacement for the F-104 Starfighter, until the Eurofighter Typhoon enters service. However faced with delays to the Typhoon's In Service Date (ISD) the Italian Air Force has leased F-16s and returned the RAF aircraft.
Electronic Combat & Reconnaissance (ECR) - Germany, Italy (see picture)
The ECR is primarily a SEAD aircraft. The aircraft features an emitter-locator system (ELS) which is capable of locating enemy radar sites. The ECR is equipped with the AGM-88 HARM. Luftwaffe ECRs were delivered new, Italy converted 16 IDSs.
Missing image
Tornado.za463.arp.jpg
Specifications
Crew: 2
Wing Span: (Variable geometry wing)

At 25° wing position : 13.91 m (45.6 ft)
At 67° wing position: 8.60 m (28.2 ft)

Wing Area: 26.6 m² (286 ft²)
Length:

IDS/ECR: 16.72 m (54.9 ft)
ADV: 18.7 m (61.3 ft)

Height: 5.95 m (19.5 ft)
Weights:

empty (IDS): 14,091 kg (31,065 lb)
empty (ADV): 14,500 kg (32,000 lb)
maximum take-off: 28,000 kg (61,700 lb)

Engines: Two Turbo-Union RB199-34R afterburning turbofans, version depending on model:

Early IDS/GR.1: Mk 101, each with 36.5 kN (8,210 lbf) dry thrust or 72.5 kN (16,300 lbf) in reheat
Later IDS/GR.1/GR.3/GR.4: Mk 103, each with 43.8 kN (9,850 lbf) dry thrust or 76.8 kN (17,270 lbf) in reheat
ADV: Mk 104, each with 40.8 kN (9,170 lbf) dry thrust or 77.1 kN (17,330 lbf) in reheat
ECR: Mk 105, each with 44.0 kN (9,890 lbf) dry thrust or 83.0 kN (18,660 lbf) in reheat

Max. Speed: clean: 2,338 km/h (1,452 mph) (Mach 2.27)
Service Ceiling: 15,240 m (50,000 ft)
Ferry Range (four external tanks):

IDS: 3,890 km (2,420 mi)
ADV: 4,265 km (2,650 mi)

Combat radius, typical hi-lo-hi: 1,390 km (869 mi)
Weapons

(GR1/GR1A, IDS) two or (F3, GR4) one Mauser BK-27 cannon with 180 rounds per gun; ECR and GR4A have no cannon
(GR.1/GR.1A, IDS) three fuselage pylons and four swiveling underwing pylons for a maximum of 9000 kg (19,800 lb) of weapons, fuel, and ECM pods; inner wing pylons have shoulder rails for two AIM-9 Sidewinder or ASRAAM self-defence missiles
(ADV) semi-recessed fuselage attachments for four BAe Skyflash or AMRAAM, four AIM-9 Sidewinder or ASRAAM on dual rails on inner wing pylon; outer wing pylons not usually fitted.
Development timeline
2002

GR4 deliveries completed.
Flight testing and aircraft integration of Storm Shadow begins.

2003

March-April - Operation Iraqi Freedom (UK portion- Operation Telic)U.S. led war against Iraq. - RAF Tornado GR4's and GR4A's play a prominent role, employing the Storm Shadow missile in combat for the first time. GR4's also employed Paveway (laser-guided), Enhanced Paveway (GPS guided), ALARM (Air-Launched Anti Radar Missile), and unguided bombs as well. One RAF Tornado GR4 was lost to fratricide when it was engaged and shot down by a U.S. Patriot missile battery. Both crew members were killed.

2004

RAF GR4's and GR4A's continue to form part of UK contribution to stability operations in Iraq.
See also
de:Panavia Tornado
fr:Panavia Tornado it:Panavia Tornado ja:トーネードIDS (攻撃機) no:Panavia Tornado