Delta Kappa Epsilon
From Academic Kids
Missing image
Deke_Crest.JPG
ΔΚΕ (Delta Kappa Epsilon) (also pronounced D K E or "Deke") is the oldest secret college men's fraternity of New England origin. Founded at Yale College by 15 men of the sophomore class who, upon hearing that some but not all of them had been invited to join the two existing societies (Alpha Delta Phi and Psi Upsilon), instead elected to form their own fraternity. These men sought to establish a fellowship "where the candidate most favored was he who combined in the most equal proportions the gentleman, the scholar, and the jolly good fellow."
Founding and history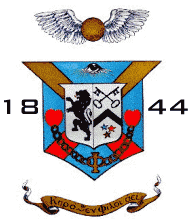 The society was founded June 22, 1844, in number 12 Old South Hall, Yale College. At this meeting, the Fraternity's secret and open Greek mottos were devised. The open motto is "Kerothen Philoi Aei" ("Friends from the Heart, Forever"). The pin and secret handshake was also devised. The DKE pin shows ΔΚΕ on a scroll, upon a diamond with a star in each corner. DKE's heraldic colours are azure (blue), or (gold), and gules (crimson) and its flag is a triband of those colours with a left-facing rampant lion in the middle.
Within three years of the founding at Yale, chapters were founded at Bowdoin, Princeton University, Colby College, and Amherst College. Since that time, DKE has grown to over 64 chapters and has initiated over 85,000 members across North America.
DKE is inextricably linked to the history of the United States of America, as its members have included five of forty-three Presidents of the United States: Rutherford B. Hayes, Theodore Roosevelt, Gerald Ford, George H. W. Bush, and George W. Bush.
During the Civil War, the first Union officer killed in battle was a Deke, Theodore Winthrop of Phi. Six weeks after Lee's surrender at Appomattox, Philip Spence of Zeta commanded Confederate troops in their last organized battle of the war.
In the election of 1876, the Republican Party chose between two Dekes, nominating Hayes rather than rival and fellow DKE
James G. Blaine
, who later served two administrations as Secretary of State and who authored the Fourteenth Amendment; Blaine also ran unsuccessfully for President.
During the Spanish-American War, the first American officer to be killed was a DKE, Surgeon John B. Gibbs (Rutgers), and his brother in DKE J. Frank Aldritch (DePauw) dies when the USS Maine is sunk. In this same war, DKE Theodore Roosevelt distinguishes himself and starts on his path to the Presidency.
Franklin Delano Roosevelt
was a member of a DKE Chapter (Alpha at Harvard) that had been suspended for conflict with the international organization, and for this reason he is not typically numbered among the Presidents who were Dekes. The fraternity's membership has also included dozens of American and Canadian politicians, businessmen, sports figures, and artists who have achieved iconic status, including among many others
J.P. Morgan
,
William Randolph Hearst
,
Cole Porter
,
Henry Cabot Lodge
,
Dick Clark
,
Tom Landry
, and
George Steinbrenner
. Deke flags have been carried to the
North Pole
, by Admiral
Robert Peary
(Theta), and to the
Moon
, by astronaut Alan Bean (Omega Chi).
Delta Kappa Epsilon administers a charitable organization called the Rampant Lion Foundation. As well, Deke has championed an organization call ROAR, which stands for Restore Our Associational Rights. ROAR campaigns for the freedom of fraternities and greek organizations in general to operate without interference and discrimination from university administrations or others.
During the presidency of George W. Bush, questions were raised as to whether DKE initiates were branded with a small Δ on their buttocks in an act of hazing. Though apparently some dekes (the number ranges from 2-5 between sources) were branded, it was entirely voluntary and was not part of any initiation rite; in fact those who were branded had already been members for several years.
Famous alumni
Presidents of the United States
Vice Presidents of the United States
Sitting state governors
Newspaper publishers and editors
Justices of the United States Supreme Court
Businessmen
Famous political figures
Sports and entertainment
Other famous Dekes
Active chapters
1) Phi - Yale
2) Zeta - Princeton
3) Sigma - Amherst
4) Gamma[1] (http://www.gammadke.com/) - Vanderbilt
5) Psi - Alabama
6) Chi - Mississippi
7) Beta - UNC
8) Kappa - Miami
9) Lambda[2] (http://www.lambdadke.org/) - Kenyon
10) Eta - Virginia
11) Alpha Alpha - Middlebury
12) Omicron[3] (http://www.umdke.com/) - Michigan
13) Rho[4] (http://ww2.lafayette.edu/~dke/) - Lafayette
14) Tau - Hamilton
15) Mu - Colgate
16) Beta Phi[5] (http://www.cif.rochester.edu/~dke/) - Rochester
17) Zeta Zeta - LSU
18) Phi Chi - Rutgers
19) Gamma Phi[6] (http://people.brynmawr.edu/clorah/DKEmain.htm) - Wesleyan
20) Beta Chi[7] (http://www.bxdeke.org/index2.php) - Case Western
21) Delta Chi - Cornell
22) Delta Delta[8] (http://dke.uchicago.edu) - Chicago
23) Phi Gamma[9] (http://www.phigamma.com/) - Syracuse
24) Theta Zeta - Berkeley
25) Phi Epsilon[10] (http://www.mndke.com/) - Minnesota
26) Sigma Tau - MIT
27) Theta Chi - Union College
28) Tau Lambda - Tulane
29) Alpha Phi - Toronto
30) Delta Kappa - Pennsylvania
31) Sigma Rho[11] (http://dke.stanford.edu/) - Stanford
32) Rho Delta - Wisconsin
33) Kappa Epsilon - Washington
34) Omega Chi[12] (http://www.texasdekes.com/) - Texas
35) Alpha Tau[13] (http://www.dkemb.org/) - Manitoba
36) Delta Phi[14] (http://www.dke.ca/index2.htm) - Alberta
37) Phi Alpha[15] (http://www.ubc-dke.org/) - British Columbia
38) Tau Delta - Sewanee
39) Psi Delta[16] (http://www.wfu.edu/Student-organizations/dke/) - Wake Forest University
40) Sigma Alpha[17] (http://www.dke.org.vt.edu/) - Virginia Tech
41) Phi Delta[18] (http://www.dke.ca/phidelta/) - Western Ontario
42) Alpha Mu - Rowan
43) Epsilon Rho[19] (http://www.duke.edu/web/dke/) - Duke
44) Nu Zeta[20] (http://www.dke-nz.org/) - Pace
45) Zeta Epsilon[21] (http://www.davisdke.cjb.net/) - UC, Davis
46) Phi Sigma - Bryant
47) Phi Rho[22] (http://www.greeks.psu.edu/ifc/dke/) - Penn State
48) Chi Rho[23] (http://orgs.bloomu.edu/dke/) - Bloomsburg
49) Zeta Chi[24] (http://www.dkezx.com/) - Bentley
50) Sigma Beta - UC, Santa Barbara

51) Beta Gamma[25] (http://www.dkenyu.com/) - NYU
52) Alpha Beta - DePaul
53) Sigma Kappa - Michigan State
54) Delta Tau - Ohio State
55) Delta Psi[26] (http://www.indiana.edu/~dke/) - Indiana
56) Mu Chi - Maryville
57) Upsilon Omega - South Alabama
58) Kappa Omega - Lake Forest
59) Rho Beta[27] (http://www.richmonddke.com/) - Richmond
60) Phi Beta - Stephen F. Austin
For a complete list of all historical chapters, see DKE's Chapter Website (http://www.dke.org/S1a.htm).
External links and references
Missing image
Db780722.gif
Image:db780722.gif

de:Delta Kappa Epsilon